Houston Texans:

Wade Smith
March, 11, 2014
3/11/14
9:45
AM ET
The
Houston Texans
have four starters, and two more players who spent most of the season starting due to injuries, hitting the market this afternoon.
Smith
Yesterday I reported nose tackle
Earl Mitchell
was moving on from the Texans, having better financial options elsewhere
with six teams interested
. Defensive end
Antonio Smith
already had
two visits lined up for later in the week
as of Monday morning. Starting inside linebacker
Joe Mays
, and backup running back
Ben Tate
and backup tight end
Garrett Graham
are also set to become free agents at 4 p.m. EST.
And finally, starting left guard
Wade Smith
will join the free-agent offensive line pool.
When I talked to Smith after the season ended, he said he had no idea what his future held because a new coaching staff meant all kinds of uncertainty.
Now it's clear Smith will enter the market and he's doing it healthy. I'm told, having healed from the nicks he played through during the 2013 season, Smith wants to continue a career that's already lasted 11 seasons. According to a source, the Texans have urged Smith to test the market, which is a sign they're not exactly planning to re-sign him, but aren't necessarily closing the door, either.
Smith's durability and versatility will help his quest to stick around the league in some role. I've documented the injuries he's played through, which included broken ribs during the 2012 season. He also had a knee scope, also known as arthroscopic knee surgery, shortly before the 2013 season started and didn't miss a regular-season game despite it.
Without Smith, here are some scenarios I could see playing out for the Texans offensive line. Three positions are solidly set:
Duane Brown
at left tackle,
Chris Myers
at center and
Brandon Brooks
at right guard. This is purely my speculation, but I could see a scenario next season in which
David Quessenberry
is moved to guard and
Brennan Williams
, or a rookie draft pick, plays right tackle. Alternately, you could see
Ben Jones
at left guard and Quessenberry at right tackle.
The picture of what the roster will look like next season only starts its process today.
January, 21, 2014
1/21/14
5:45
PM ET
Until his staff is complete, Texans head coach Bill O'Brien won't announce any member of it officially, despite the fact that many of them have already been working for weeks and are in Mobile, Ala., scouting players at the Senior Bowl.
One of the vacancies is offensive line coach. The Texans are hoping to land former Titans coach
Mike Munchak
, a Hall of Fame player as an Oilers lineman. That gives him instant credibility for a line that will need a little bit of tweaking before next season.
That's where we pick up our "What went wrong?" series. We've already examined
safeties
,
running backs
,
inside linebackers
,
receivers
,
outside linebackers
,
tight ends
and
defensive linemen
.
Key Players:
LT
Duane Brown
, LG
Wade Smith
, C
Chris Myers
, RG
Brandon Brooks
, RT
Derek Newton
, T
Ryan Harris
, G
Ben Jones
What went wrong?:
There will be a large swath of Texans fans who don't want to hear this, but this unit got beat up verbally more than they should have been last season. Yes, there were protection breakdowns; no, the run blocking wasn't perfect every time. But they were seriously hampered by two things: an inexperienced quarterback who lacked an effective mental clock and ridiculous injuries to running backs, who are a big part of pass protection.
Case Keenum
averaged 3.7 seconds from the time the ball was snapped to the time he was sacked, according to ESPN Stats & Info. While I didn't crunch this year's numbers, that figure would have been in the top third of the league when it came to most time between snap and sack last season, per numbers examined by Pro Football Focus.
The one position that was a major problem was right tackle, where Newton struggled in pass blocking. The Texans might have had more leeway there had third-round pick
Brennan Williams
been healthy. Williams spent the whole season on injured reserve.
Reason for hope?:
If the Texans can land Munchak, his influence will be good for this group. Smith becomes a free agent in March, so that could be a position that changes. I'm not sure Smith was ever healthy this season, though he insisted he was. Myers and Brown had solid seasons and Brooks steadily improved and showed he can be a strong piece for the future of this line.
December, 17, 2013
12/17/13
12:00
PM ET
The
Houston Texans
can't make the 2013 NFL playoffs and they can't save their head coach's job. And after last week's loss to the
Indianapolis Colts
, it's less likely they can help their defensive coordinator move from interim head coach to regular head coach, despite his winning record as a head coach.

I asked several players Sunday evening: What do you play for now?
WR Andre Johnson, 11th season
: "I'm just trying to win. Trying to end this streak. That's pretty much it. I only play the game for one reason and that's to win and hopefully one day win the Super Bowl. So other than that, I don't really set any personal goals or anything like that."
RB Ben Tate, 4th season:
"I'm playing to get a W. I play because I love the game, I love doing this."
TE Ryan Griffin, 1st season:
"Anytime you play, it's on film. So at this point we're playing for pride right now. You've got to put the right stuff on film. Everybody sees that, everybody in the NFL. It doesn't matter what your record is it is each play. So that's what we're playing for."
CB Johnathan Joseph, 8th season:
"My pride. That's what I play for each and every week. My pride overrides everything else because I just want to go out there and play good, winning football from the beginning of the whistle to the end of the whistle. So I think it's about pride. Going out there and putting winning football on tape."
LG Wade Smith, 11th season:
"I play for the fact that I love playing football. I want to win. I know if I play well, it's contributing to helping us get a win. If the offensive line plays well, then it's contributing to us getting a win. And we just go from there."
RT Derek Newton, 3rd season:
"For my team. Myself. We're trying to get Ws each week."
OLB Brooks Reed, 3rd season:
"Play for? Pride. Self respect."
ILB Darryl Sharpton, 4th season:
"I play for my teammates. I play for my coaches. I play for
Bryan Braman
,
Joe Mays
, all the guys in the linebacker room. Reggie Herring, all my coaches. I mean, that's what you play for. It's your job. It's an unbelievable opportunity that people would kill for no matter what situation. I don't take it for granted. I've been through a lot of ups and downs and having this opportunity to play professional football in a great city like Houston, I'm going to take full advantage of my opportunity and give it my all."
October, 4, 2013
10/04/13
12:00
PM ET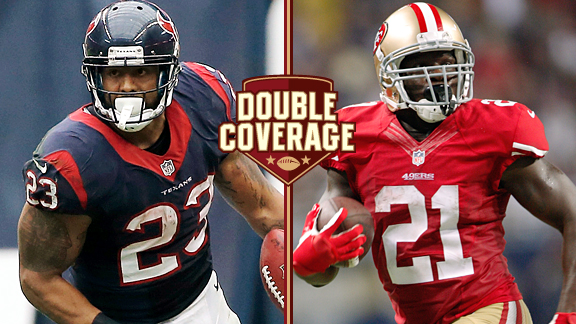 Getty ImagesTwo of the NFL's top rushers, Arian Foster and Frank Gore, will try to carry their teams Sunday night.
The
Houston Texans
are not pleased with themselves, and neither is their Week 5 opponent, the
San Francisco 49ers
.
After starting off Week 4 the right way with a big win at St. Louis, the 49ers bitterly watched the Texans blow a huge fourth-quarter lead at home in an eventual overtime loss to Seattle, allowing the Seahawks to maintain their two-game lead over the 49ers in the NFC West.
San Francisco will try not to fall further behind when it welcomes the shell-shocked Texans to Candlestick Park on Sunday night. Texans reporter Tania Ganguli and I discuss the matchup.
Ganguli:
What changed for the 49ers between Weeks 3 and 4? Is it as simple as playing a weaker opponent, or did they rediscover their identity?
Williamson:
Easier competition may have had something to do with it. Against Seattle and Indianapolis, the 49ers were outscored by a combined 56-10. Against the Rams, the 49ers had their way in a 35-11 victory. I truly think the 49ers' struggles this season have been more because of themselves than their opponent. The trouble in Weeks 2 and 3 started on offense. The 49ers badly miss injured receivers
Michael Crabtree
and
Mario Manningham
; they don't have much beyond
Anquan Boldin
and tight end
Vernon Davis
, who has been injured. Fortunately, the rushing game got going in Week 4. If the 49ers can keep the run game hot and if quarterback
Colin Kaepernick
can get the ball to Boldin and Davis, the 49ers will be fine. That will take pressure off a good defense that wasn't the main problem against the Seahawks or the Colts.
Tania, do you believe the Texans are up to the task of staying with the 49ers, especially after the heartbreak of the Seattle loss?
Ganguli:
They were angry about that loss, especially
J.J. Watt
, who held a menacing news conference (menacing in general, not menacing toward reporters) after the game. They have taken steps to regroup mentally, holding a players-only meeting that allowed for venting, but I think their ability to bounce back will depend on being able to fix some of the problems they had in their first game. Those problems go well beyond quarterback
Matt Schaub
, who made the most costly and talked-about error this past Sunday in throwing a pick-six late in the fourth quarter. The Texans gave up a crucial fumble, dropped a couple of passes and committed a 15-yard penalty that helped set up the game-winning field goal. You're right that the Texans' defense hasn't been the team's biggest problem this season, but Houston has given up drives of 99 and 98 yards this season, and it would like to change that.
How has losing
Aldon Smith
affected San Francisco's defense?
Williamson:
It would be inaccurate and na´ve to think the 49ers don't miss Smith. He will be away from the team for about a month as he seeks treatment for alcohol abuse. Smith had 4.5 sacks in the first three games this season, and he has an NFL-high 38 sacks since 2011. Last week, the 49ers dominated the Rams' offense without Smith and star inside linebacker
Patrick Willis
, who was out with a groin injury, and recorded five sacks. Rookie
Corey Lemonier
and special-teamer
Dan Skuta
both played well in place of Smith, and linebackers
NaVorro Bowman
and
Ahmad Brooks
led the way with big games. Still, Smith is such a presence. The 49ers will be hard-pressed to have sustained dominance without him.
Tania, do you think the Texans can take advantage of Smith's absence?
Ganguli:
The Texans have had their own issues in the trenches lately. Left tackle
Duane Brown
has missed the past two games with turf toe and is still considered day-to-day. Left guard
Wade Smith
rotated with second-year guard
Ben Jones
last weekend. Coach Gary Kubiak said that was to preserve Smith for the long term; Smith had knee surgery during the preseason and returned from it after three weeks. Meanwhile, right tackle
Derek Newton
, another young player, has really struggled. In fact, Brown's replacement,
Ryan Harris
, has played far better than Newton, Houston's regular starter on the other side. Now right guard
Brandon Brooks
is hurt with a toe injury that's got his foot booted. The most consistent player, in terms of health and production, on the offensive line has been center
Chris Myers
, but Schaub has faced a lot of pressure this season.
Speaking of Schaub, he had a rough weekend against the best secondary in the NFL. What challenges will he face against the 49ers?
Williamson:
I think Schaub's struggles start with him, and I think the 49ers will try to pressure him quickly to see if he crumbles again. You know better than I do, but from seeing replays, Schaub looked broken after the
Richard Sherman
pick-six. The 49ers are well aware that Schaub has thrown interceptions that have been returned for touchdowns in the past three games, and they will be looking to add to the list. A player to watch is rookie safety
Eric Reid
. He has proven to be a ballhawk already. I could see him benefiting from Schaub's issues.
This is a huge key to the game, Tania. Do you think Schaub can bounce back and be effective?
Ganguli:
That will be the most important factor in this game. While I don't blame the entire collapse on Schaub, you're absolutely right that he looked broken after Sherman's interception. By contrast, in Week 2, Schaub threw a late pick-six against Tennessee that put the Texans in an eight-point hole, but he recovered quickly enough to lead a game-tying drive that forced overtime. He didn't bounce back as well against the Seahawks. He made a few nice throws, including a 17-yard pass to
Andre Johnson
, but overall, looked rattled. If he can't recover, the Texans have no chance. But if he can rediscover the guy who led that comeback effort you and I watched live against San Diego in Week 1, I think the Texans are in good shape.
October, 2, 2013
10/02/13
9:09
PM ET
HOUSTON -- What Texans coach Gary Kubiak says about injuries is usually a bit different than what appears on the injury report when the Texans have a light practice. That's because according to league policy, if a team does a walk-through, or what Kubiak called a jog-through, it must estimate how much that player would have participated in a full practice.
On Wednesday afternoon, he said
Duane Brown
(toe) and
Brian Cushing
(concussion) participated in practice, while
Greg Jones
,
Johnathan Joseph
,
Owen Daniels
and
Andre Johnson
were rested.
Tim Dobbins
(hip) and
Brandon Brooks
(toe) did not practice due to injury.
The official injury report released this evening listed
J.J. Watt
and Cushing among those who did not practice -- Watt for that Frankenstein gash on his nose that required six stitches during the game, and also because of a groin injury.
Darryl Sharpton
(foot/hip) and
Wade Smith
(knee) were also held out.
Kubiak couched his injury announcements during his press conference by saying Wednesday's practice was not very rigorous.
"We might have had 10 or 11 guys who wouldn't have participated had we done something different, so we needed the reps," Kubiak said. "We slowed it down a little bit to make sure we got the teaching. We're back to work."
September, 30, 2013
9/30/13
12:30
PM ET
Analyzing four hot issues from the
Houston Texans
'
23-20 overtime loss
to the
Seattle Seahawks
:
[+] Enlarge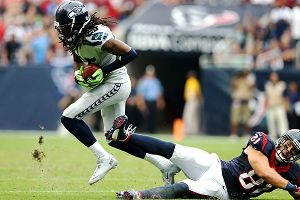 Matthew Emmons/USA TODAY SportsRichard Sherman had a season full of clutch plays, including this interception in Houston.
Was the play call wrong on the pick-six?
The play on which
Richard Sherman
intercepted
Matt Schaub
was a short pass on third-and-4 with just under three minutes left in the game. The Texans were up seven points and ran four straight run plays on which
Arian Foster
had gains of 6, 5, 5 and 1 yard immediately before that play. Texans coach Gary Kubiak said the throw was the wrong call.
"I believe we've got to just run the ball, but we run the plays that are called, and we have to make good decisions," Texans tight end
Owen Daniels
said.
I say both the play call and the execution were wrong. A run play eats the clock and doesn't have as dramatic a floor as a pass play does. Fumble returns for touchdowns are possible, but much less likely than a pick-six, especially against Seattle's transcendent secondary. If they hadn't picked up the 4 yards necessary, so what? Punt the ball, let your defense do what it did for all but one drive. Further, the Seahawks had that play well-scouted, running it in practice all week. Then again, in the situation in which he found himself, there's no excuse for Schaub to have tried to force the ball to Daniels. Up seven with so little time left in the game, he didn't
need
the first down. It was a bad throw, too.
Is it time to panic?
The panic that followed this game was tremendously predictable. Those panicking should remind themselves that the Texans have played only four games and this most recent loss was to what might be the best team in the NFL.
Wilson vs. blitzes:
Russell Wilson
has been good against blitzes, but he hadn't faced a team yet this season that brings extra pressure quite as much as the Texans do. Wilson was successful against five or more rushers in his first three games, averaging 9.2 yards per attempt. The Texans were much more effective at containing him: He averaged just 4.7 yards per attempt on Sunday in Houston. When Wilson finally got going it was because he used his legs, which he would rather not do.
Rotating guards:
The Texans fidgeted with their left guard position on Sunday. Starter
Wade Smith
rotated with second-year guard/center
Ben Jones
, who started 10 games at right guard last season. Smith had knee surgery before this season, and last week I asked Kubiak if Smith's knee was still bothering him after he had some rest during the week's practices. Kubiak said it was not, but added that getting Smith ready between games has been a more involved process because of how quickly he returned. Smith didn't appreciate my asking if his knee felt OK. "Why does that matter?" he replied. I said I wondered if the knee was part of why he rotated with Jones and asked what he was told about the rotation. "I felt fine," Smith said, to both questions.
September, 11, 2013
9/11/13
7:00
PM ET
The
Houston Texans
' injury report provided two new names Wednesday.
Watt
Defensive end
J.J. Watt
was listed as limited with a quad injury, and tight end
Owen Daniels
was limited with a back/groin injury.
Left guard
Wade Smith
, who played the entire game Monday night, was listed as limited with the knee injury he suffered during training camp. And of course, safety
Ed Reed
was limited as he recovers from his hip injury.
Players have to be on the injury report if they miss anything, but coach Gary Kubiak said during his press conference that he wasn't concerned about anybody's injury.
The Texans' opponent on Sunday, Tennessee, had four players miss practice due to injury: running back
Shonn Greene
(knee), punter
Brett Kern
(left calf), tight end
David Stewart
(calf) and receiver
Damian Williams
(hamstring).
September, 7, 2013
9/07/13
3:58
PM ET
HOUSTON -- Safety
Ed Reed
continued the process toward returning for the Texans.
But he will not start Monday, giving way to
Shiloh Keo
, who Texans coaches have talked up all preseason and through camp.
"He's just a much improved player through opportunities and repetition," coach Gary Kubiak said. "He's just has much more confidence in what we're doing and had a real good preseason. Just seeing the natural progression of a young player that all of a sudden gets pushed into a starter role and he responds to it. So he's done that."
Keo's had plenty of opportunity this summer with last year's starter
Glover Quin
gone and Reed recovering from his April hip surgery. It's hard to tell just how far a player's come in the preseason, though. Monday will be a real test of Keo's progress.
Some other notes from Kubiak today:
Kubiak was impressed with Wade Smith's recover from knee surgery. Smith promised Kubiak he would be able to handle everything, and Kubiak says he will.
Arian Foster and Ben Tate will rotate carries on Monday night. "First off, I think Arian's condition is excellent. His practice this week has been just excellent. He's a worker. That's why he's play well. I've been impressed with how he's held up, but obviously it's early in the season. I don't know how warm it's going to be up there, but I think we're smart in playing them both. Obviously, we'll see how Arian holds up from that standpoint."
Kubiak said he asked the team if they wanted to hold practice later to prepare for a 9:20 p.m. CT start, but they decided to keep their regular schedule.
Inside linebacker Darryl Sharpton won't travel to San Diego. He's recovering from a concussion. Unfortunate for a guy who is a really good player when healthy, but has had several battles with injuries.
September, 6, 2013
9/06/13
5:54
PM ET
Reed
HOUSTON -- I got a chance to speak with
Houston Texans
safety
Ed Reed
for the first time since training camp on Friday.
Reed, who was limited in practice, gave a pretty thorough update on his condition, explaining he's still working through some scar tissue and he also explained what exactly those injections he got in Vail, Colo., were. As Reed put it, the injections take two weeks to really kick in, and he'll hit that two-week mark on Monday.
I'm going to check in with our resident medical expert Stephania Bell to try and better explain what Reed's injections were. More on that later.
Some good news for the Texans on their latest injury report: left guard
Wade Smith
went from limited to full participant. I'd bet Smith is listed as probable on tomorrow's final injury report.
September, 5, 2013
9/05/13
8:23
PM ET
HOUSTON --
Houston Texans
guard
Wade Smith
has been making a push to be ready for the season opener on Monday night. He said last week that he had a good chance of doing it.

"It worked out perfectly for me and for our group," Smith said. "We've got some guys that have been nicked up and guys that needed a little extra time, and so we get a full extra day and it's a late game."
Smith had knee surgery during the preseason. He was listed as limited on today's injury report, though Texans coach Gary Kubiak said he took the "full load" of practice. Smith and safety
Ed Reed
were both listed as limited participants.
Offensive tackle
David Quessenberry
is still on the active roster as the Texans work through whether or not to place him on injured reserve/designated to return.
Darryl Sharpton
missed practice as he recovers from a concussion with which he was diagnosed before the Texans' third preseason game. We had initially been told Sharpton was sick.
Eleven players were listed as full participants in practice, including running back
Arian Foster
, who said he feels like he's ready to handle a full workload on Monday against the
San Diego Chargers
. Of course, it's not up to him.
"I feel like I'm game-ready to carry the load, but obviously I can understand his timidness and the little bit of withdrawal that he'll have," Foster said of his head coach. "It's early in the season. It's game one. I'll get my feet wet this game."
August, 30, 2013
8/30/13
7:32
PM ET
Little by little, the
Houston Texans
are getting healthier at key spots.
Safety
Ed Reed
will have a major say in whether or not he plays in the Sept. 9 season opener in San Diego.
He won't begin the season on the PUP list
, where he spent all of the preseason and training camp.
Left guard
Wade Smith
told me Thursday he has a "really good chance" of playing in the opener. And tight end
Garrett Graham
told me Thursday that if the game versus the Cowboys had been a regular-season game, his hip injury wouldn't have kept him out.
Texans coach Gary Kubiak says running back
Arian Foster
will benefit from the extra day that comes with a Monday night opener. And while Kubiak expects Foster to carry a lighter load to start, that's a reaction to his skipping most of the preseason.
Receiver
DeVier Posey
will get a similar gradual introduction, having played in only one preseason game after a speedy recovery from a torn Achilles.
When other teams suffered through a rash of season-ending injuries, some as part of the torn ACL epidemic that struck weeks ago, Kubiak noted his own frustrations with the plethora of more minor injuries winding through his team. He also noted his relief that these were injuries that wouldn't linger too long.
Some of that is coming together for the Texans now. They of course have players with frustrating recurrences (such as rookie tackle
Brennan Williams
, whose knee swelling has returned). And they're still waiting on rookie receiver
DeAndre Hopkins
' concussion symptoms to fully subside.
But overall the health arrow is pointing up, and that's a good place to be as the regular season nears.