Houston Texans:

Whitney Mercilus
April, 17, 2014
Apr 17
3:56
PM ET
Yesterday we caught ourselves up with the offensive side of the
Houston Texans
' roster following moves over the past few weeks. Today we take a look at how the defense is shaping up.
It's a lot more complete than the last time we did this.
Defensive end:
J.J. Watt
,
Tim Jamison
,
Jared Crick
Smith
Analysis:
This group included
Antonio Smith
last season, but the Texans were through with him, asking him to stay and be a third-down rusher. Thus, Smith left in free agency to sign with the
Oakland Raiders
for what he expects to be a starting role. I expect the Texans to add a draft pick here, who will compete with Crick for that starting spot opposite J.J. Watt.
Defensive tackle:
Jerrell Powe
,
Ricardo Mathews
Analysis:
Progress! Last time we checked in, the Texans had zero defensive tackles. Now they've signed two. Powe has spent most of his career as a backup with the Chiefs and Mathews as a backup with the Colts.
Linebacker:
Brian Cushing
,
Whitney Mercilus
,
Brooks Reed
,
Jeff Tarpinian
,
Mike Mohamed
,
Ricky Sapp
,
Trevardo Williams
,
Justin Tuggle
,
Paul Hazel
Cushing
Analysis:
The inside linebacker spot next to Cushing is in flux (again), but having Cushing in the lineup will make whomever is next to him look a lot better. If you missed it, Cushing announced yesterday on Twitter that he had been cleared by his doctor. Mercilus and Reed return as the starters at outside linebacker, though the addition of a draft pick ... perhaps a certain one from South Carolina ... could change things.
Cornerback:
Johnathan Joseph
,
Kareem Jackson
,
Brandon Harris
,
Elbert Mack
,
Josh Victorian
,
A.J. Bouye
Analysis:
With Joseph and Jackson in the lineup, the outsides are set. It will be interesting to see what the Texans do with the slot role. Harris was drafted to play there, but hasn't really panned out. It's another position they could address in the draft with one of those 11 picks.
Safety:
Chris Clemons
,
D.J. Swearinger
,
Shiloh Keo
,
Kendrick Lewis
,
Jawanza Starling
,
Eddie Pleasant
Analysis:
No splashy addition here like last year, which is a good thing for the Texans. Coach Bill O'Brien said during a town hall with season ticket holders last month that Swearinger will play strong safety, and Clemons and Lewis will compete at free safety. Based on their histories, I'd expect Clemons to win that battle.
January, 16, 2014
Jan 16
4:49
PM ET
In a recent
radio interview on "Mike and Mike in the Morning,"

new
Houston Texans
coach Bill O'Brien talked about the importance of needing to know his current roster and understand his own team before assessing what it needs.
As the houston staff goes through that process, we're going through a similar one here.
Last week we began taking a position by position look at the 2013 Houston Texans, starting with
safeties
and
running backs
, then moving on to
inside linebackers
and
receivers
.
Today we look at outside linebackers.
Mercilus
Key players:
Whitney Mercilus
,
Brooks Reed
,
Bryan Braman
, Sam Montgomery,
Willie Jefferson
What went wrong:
Before the 2012 season, the Texans offered
Connor Barwin
a contract as he went into the final year of his rookie deal. It was a good offer, but Barwin chose to wait and play out the season. His 2012 season wasn't as good as his 2011 season, and the Texans then let him go in free agency. There were some on the personnel side who were relieved Barwin didn't take the deal offered in the summer of 2012. Perhaps they shouldn't have been.
Without Barwin this season, the Texans turned to Mercilus and Reed. When I checked in with Matt Williamson, a former scout who joined ESPN.com in 2005, about the Texans' pass rush, he noted how rare it is for a 3-4 team's interior rush (with
J.J. Watt
and
Antonio Smith
) to be so much better than its edge rush, even though Mercilus had seven sacks and Reed three.
"More or less, I don't think Reed is explosive/athletic enough, and Mercilus doesn't have much of an expansive pass-rushing package yet," Williamson said. "Barwin was missed more than expected, and he played very well this year for the Eagles."
Reason for hope?:
In Mercilus's case, that could be a coaching issue. He's only entering his third year in the league, and he'll have a new position coach in Mike Vrabel this season. The edge rush is something the Texans could look to repair in the draft. They tried last year, and if Montgomery had succeeded, he would have been a steal as a third-round pick. But from start to finish he never seemed interested in meeting his potential.
September, 29, 2013
9/29/13
4:32
PM ET
HOUSTON -- Some thoughts from the
Houston Texans
' 23-20 overtime
loss
to the
Seattle Seahawks
.

What it means:
It took the Seahawks some time to wake up, but until then, the Texans dominated them. The same old mistakes returned late, though, capped by another pick-six from Texans quarterback
Matt Schaub
to Seahawks cornerback
Richard Sherman
, who shushed the crowd with his game-tying score. This marked Schaub's third interception returned for a touchdown in three games. The Seahawks won on a 45-yard field goal in overtime.
Stock watch:
Schaub's body language on the field reflected the gravity of the mistake he made when he threw the interception that tied the game. The quarterback took a beating from fans last week and played well early in Sunday's game, other than a red zone interception in the first quarter. But his late interception sent his stock plummeting further, despite two touchdowns in the first half.
Texans defensive end
Whitney Mercilus
had his best game yet with 2.5 sacks against a depleted Seahawks offensive line. For the Texans to win, it was imperative they take advantage of the problems Seattle's line was having. The second-year outside linebacker set a rookie record with six sacks last season and already has 3.5 this season. The Texans constantly surrounded Wilson.
Brian Cushing's value:
Cushing left the game in the third quarter with a concussion. On the very next drive, the Seahawks scored their first touchdown of the game, mostly on the back of quarterback
Russell Wilson
. The drive changed the momentum of the game and preceded a defensive stop by Seattle. Officially Cushing left the game with nine tackles, but that number is likely to increase after the coaches' review.
What's next:
The Texans continue their tour around the NFC West, this time visiting the
San Francisco 49ers
. The 49ers lost to the Seahawks in Week 2.
September, 14, 2013
9/14/13
11:01
AM ET
September, 9, 2013
9/09/13
1:07
PM ET
SAN DIEGO -- Last season the
Houston Texans
didn't use outside linebacker
Whitney Mercilus
much, but when they did he made a difference.
Mercilus
Their first-round draft pick from 2012 only played 469 snaps last season, putting him in the bottom half of playing time for defensive first-round picks from 2012. Only
Fletcher Cox
's production rate was higher than Mercilus's last season. With some help from ESPN Stats & Info, I counted impact plays as forced fumbles, fumble recoveries, tackles for loss, sacks, pass breakups and interceptions. The last column, in the chart below, shows on what percent of their snaps each player made an impact play.
Tonight, Mercilus begins his first season as an NFL starter, replacing
Connor Barwin
, who left in free agency. It's perfectly reasonable to expect his production rate to go down in his new full-time role. Add to the fact Mercilus missed the preseason, forced to be patient while healing a hamstring injury, and there could be an ajustment period.
But Mercilus learned a lot through the course of last season and that's a process every rookie goes through.
"I think I would be able to produce double-digit sacks and I'm pretty confident in myself," Mercilus said. "It's just a matter of putting in the work to get there."
It's something the Texans could use. Last season a majority of their sacks came from their defensive ends
J.J. Watt
and
Antonio Smith
. Outside pressure is hugely important and they expect the return of inside linebacker
Brian Cushing
to create mismatches that help their outside linebackers.
"It's actually huge," Mercilus said. "They can't just focus on one person if we have edge pressure. It's going to free up J.J. It's going to free up Cush. It's going to free up me, (OLB) Brooks (Reed), Antonio when he gets back, and it's just you can't just game plan for one guy. As soon as we get that pressure on the outside, guys on the inside are going to come free. Get the pressure on the inside, guys on the outside are going to come free."
September, 6, 2013
9/06/13
12:01
PM ET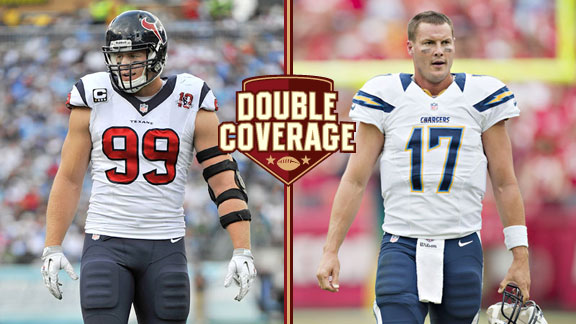 Getty ImagesJ.J. Watt and the Texans could make it hard on Philip Rivers if San Diego's offensive line does not hold up.
In the second half of the opening Monday night doubleheader, Houston is traveling to San Diego to put an end to NFL Week 1. The Chargers are in rebuild mode, while the Texans are looking to take the next step this season and become true Super Bowl contenders. While the Chargers' fan base should be revved up for this prime-time contest, getting
J.J. Watt
blocked could be a very futile effort for San Diego's offensive line. ESPN.com's Matt Williamson and Houston Texans reporter Tania Ganguli bring you their Double Coverage preview.
Tania Ganguli
: How has the atmosphere in the organization changed with GM Tom Telesco and coach Mike McCoy taking over?
Matt Williamson
: A change in San Diego was certainly needed. The environment had become stale and the once wide-open window under former coach Norv Turner and a roster stocked with great players has closed. A rebuild is needed, and a new general manager and head coach are what is needed to potentially get this team back where it once was -- or maybe beyond. Has the right side of the Texans' once-great offensive line been fixed?
Ganguli
: It's certainly on its way. The Texans are rightfully very high on right guard
Brandon Brooks
, and right tackle
Derek Newton
is healthy. They didn't mind rotation in those spots last year, but stability will definitely help.
Can McCoy turn
Philip Rivers
(back?) into an elite quarterback?
Williamson
: I feel as though we have seen the best of Rivers' impressive career, unfortunately. That being said, the scheme change, which stresses getting the ball out of Rivers' hands quicker, could be an advantageous move to boost Rivers. He does have a quick release and makes quick reads, making him a good fit for what McCoy is looking to accomplish.
What is the status of
Arian Foster
, and might
Ben Tate
have an expanded role for the season and to open the year?
Ganguli
: Tate will have an expanded role, especially early in the year. The Texans won't ride Arian Foster too much given he missed all of the preseason, training camp and most of organized team activities (OTAs). He was working, but they're intent on being smart with his return to make sure they have him at full strength late in the season.
What are the biggest problems with the Chargers' offensive line?
Williamson
: Once again, the scheme switch to a short passing game should help the protection of this line -- a line that is better-equipped to run block than protect. Still, the true problem with this line is they simply lack good players up front. They added a few free agents, but no one that is even a league-average starter, and they used their first-round pick on
D.J. Fluker
to play right tackle. However, I have my doubts that Fluker is quick or light enough on his feet for edge protection. Instead, I think Fluker could be a Pro Bowler at guard.
What impact does first-round pick
DeAndre Hopkins
have on the Texans' offense?
Ganguli
: It's difficult for rookie receivers to put up big numbers, but Hopkins will have a major impact on the Texans' offense. He'll take pressure off
Andre Johnson
, on whom the Texans were overdependent last season in their passing game. He is very skilled on contested catches and will help Houston's red zone efficiency.
What impact does
Dwight Freeney
have in San Diego?
Williamson
: Can he still be productive at 33? Of course it would be ideal to have
Melvin Ingram
in the fold as well as Freeney, who could be the perfect mentor, but Freeney has looked quite spry through the preseason and should have plenty left in the tank. The concern for me is that San Diego will be forced to play the 33-year-old too many snaps, which could lead to less effective play late in games and especially late in the season.
How big a boost to this team -- tacitly and emotionally -- is it to get
Brian Cushing
back on the field?
Ganguli
: Cushing makes a difference in both ways. He creates mismatches in the pass rush that free up the outside linebackers. His presence in the middle makes things easier on the Texans' defensive backs, too. Emotionally, Cushing provides an edge for the Texans' defense. His maniacal intensity is contagious and the Texans feed off it.
How will
Danny Woodhead
and
Ryan Mathews
impact each other?
Williamson
: While Mathews is a decent pass-catcher, Woodhead is an exceptional all-around contributor in the passing game. Their roles should be very distinctive, with Mathews -- who has looked excellent this preseason -- as the early-down workhorse (if he can hold up) and Woodhead being the specialty movement player that is equal parts running back and slot receiver.
Watt is a rare interior pass-rusher, but does Houston have enough pressure coming from their 3-4 outside linebackers?
Ganguli
: That remains to be seen. It's definitely been a focus for the Texans' outside linebacker group.
Whitney Mercilus
, now in his second year, has taken over as a starter opposite
Brooks Reed
after the departure of
Connor Barwin
. Mercilus set a franchise record for rookies with six sacks last season, but he missed most of training camp and the preseason. Reed is healthier than he was at the end of last season when he returned from a groin injury. He had an offseason surgery to repair it fully.
September, 3, 2013
9/03/13
9:00
AM ET
Reading the coverage of the Houston Texans...
Quarterback Matt Schaub tells John McClain of the Houston Chronicle that Antonio Smith is right,
anything short of the Super Bowl would be a failure
for the Texans. It's been their refrain since last season.
On Monday
Ed Reed put on pads for the first time
since he joined the Texans, writes James Palmer of CSN Houston. Reed's teammate, cornerback Johnathan Joseph said having Reed at safety will buy the cornerbacks more time. Texans coach Gary Kubiak said Friday the Texans will likely make a decision about Reed's status for Monday night's game by early this week.
Texans outside linebacker Whitney Mercilus helped out a couple undrafted rookies with a hamstring injury early in camp that kept him out for the entire preseason. But
Mercilus said he'll be ready for the Texans' opener in San Diego
. He also expects double-digit sacks from himself, writes Drew Doughterty from the team's website. If he can, that will be big for the Texans. They didn't get much pressure from the outside last year, getting most of it instead from inside guys Antonio Smith and J.J. Watt.
The Texans have gone through several stages of their development and are now the "big boys" says Dale Robertson of the Houston Chronicle. Now that the build is over, Robertson takes a
look at the Texans' roster to explain just what they built
.
August, 26, 2013
8/26/13
3:20
PM ET
The best thing about outside linebacker
Willie Jefferson
right now is his ceiling.
It's high.

This is only the third season Jefferson has played defense. He switched from receiver after transferring to Stephen F. Austin. Though he made an impact as a defensive end there, he's still learning a lot.
"At the start of minicamp I was like a little fish," Jefferson said. "Right now I'm just swimming in the pool with sharks. Just trying to learn every day. Trying to learn something new. Sitting down with some of the vets, learning what they do to get through practice, get through games."
On Sunday against the Saints, Jefferson seemed constantly in New Orleans quarterback
Drew Brees
' face. He nearly took Brees down in the end zone once.
Jefferson, an undrafted rookie, played with the starters because of an injury to outside linebacker
Whitney Mercilus
. Jefferson is still working on his run-stopping, but his pass-rush ability was clear all summer and it continues to improve.
"I just feel like athletes make plays," Jefferson said. "Be out there on the island with a person that's bigger than me and slower than me, I just gotta have the chance to make a play. When I have the chance to make a play, I'm going to make one."
It has seemed easy for Jefferson, but it hasn't been.
"I had a time where it was just everything was just going over my head and I was like 'I need help,' Jefferson said. "Some of the best took care of me. Talk about I just need to calm down, take it one step at a time, learn one step at a time."
His development, which quickly rose past the level of two draft picks at his position, is a testament to staying healthy and making the most of the chances before him.