Indianapolis Colts:

Arizona Cardinals
February, 21, 2014
Feb 21
12:05
PM ET
INDIANAPOLIS -- Former
Indianapolis Colts
coach and current
Arizona Cardinals
coach Bruce Arians was in his comfort zone while meeting with the media at the scouting combine Friday morning.
Arians, who stepped in for Chuck Pagano while he battled leukemia during the 2012 season, said the Cardinals would have "some damage" if they would have made the playoffs last season. Arizona missed making the playoffs despite finishing with a 10-6 record in the NFC West, the best division in football, last season.
Luck
Arians made sure to praise Colts quarterback
Andrew Luck
, who he coached during his rookie season when Indianapolis went 11-5 and reached the playoffs.
Luck led the Colts to another 11-5 season, an AFC South title and a playoff victory despite missing five offensive starters and having an inconsistent defense last season. He improved his completion percentage and cut his interceptions in half.
"I saw great improvement this year," Arians told reporters. "I thought he carried the football team to the playoffs. His performance in the playoffs I thought was one of the best I've ever seen. He just refuses to lose. It's not about who's calling plays or any of that stuff. Just let him play football and he'll win for you. He is a flat winner, and he was a true joy to coach.
"You've got a chance to win your division every year if he's playing for you."
November, 22, 2013
11/22/13
5:50
PM ET
INDIANAPOLIS -- My interaction with
Indianapolis Colts
coach Chuck Pagano only goes back to early August. He's usually pretty loose when he meets with the media throughout the week at the facility. There's only been a handful of times when that wasn't the case.
One of those times was this week when the topic often shifted to talking about facing
Arizona Cardinals
coach Bruce Arians, who was his offensive coordinator and led the Colts to a 9-3 record during Pagano's absence last season.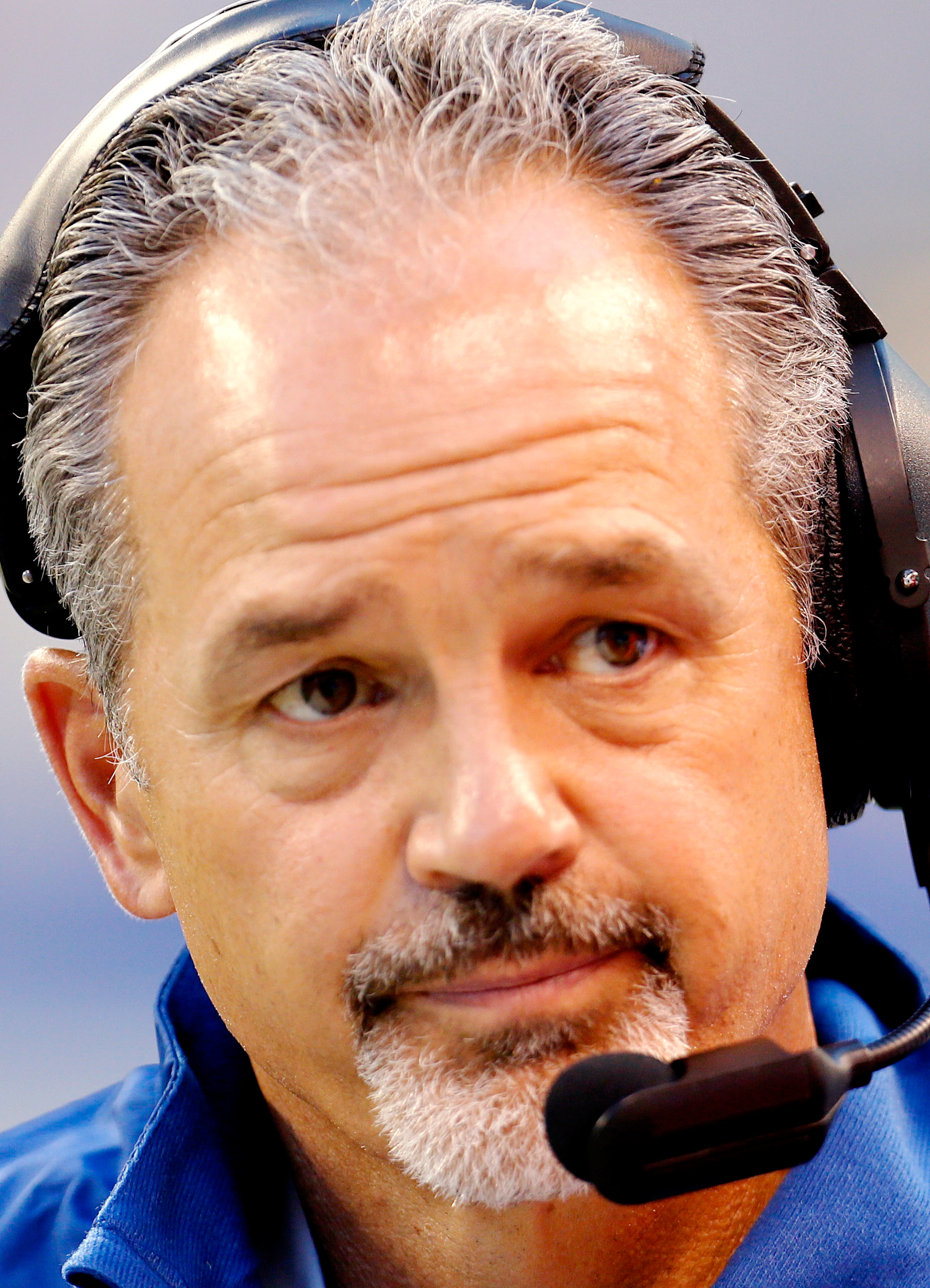 Pagano
Pagano doesn't want the focus to of the game to be on him and Arians. It's the Colts against the Cardinals.
Pagano doesn't have any animosity toward Arians. It's actually the opposite.
The respect is mutual between the two.
"Really, it's there, the relationship's there, we all know what happened and what transpired and all that stuff," Pagano said. "But it's about our players. It's about the Colts playing the Cards. It's about two teams trying to get another win. It's playoff football, that's the mindset. Like we said, we'll shake some hands before the game. But then it's about our players. It's about their players. It's about the game. It's about trying to win a football game."
Pagano was the same way earlier this season when they played the
San Diego Chargers
. Pagano's brother, John, is San Diego's defensive coordinator. Chuck Pagano said the only time he thinks about the connection is when asked by the media. He may think about it a little bit more with Arians because he knows the Colts well because he was on the staff at this time last year.
I'm not surprised Pagano doesn't want to be the center of attention. His players are the same way. The Colts don't operate that way.
"You really don't have time," Pagano said. "You're spending our time just like they're spending their time, and that's game planning and preparing and practicing and meeting and doing the things that you have to do to give yourself a chance to win."
November, 22, 2013
11/22/13
3:05
PM ET
INDIANAPOLIS -- The
Indianapolis Colts
will be without starting cornerback
Greg Toler
and fullback
Stanley Havili
for Sunday's game against the
Arizona Cardinals
.
Toler
Sunday will be the fourth straight game that Toler has missed with a groin injury. His goal was to play against his former team, but Toler tweaked his groin during a workout on Monday.
"Absolutely, we'll get him back at some point," Colts coach Chuck Pagano.
Havili came out of the Nov. 14 game at Tennessee with concussion-like symptoms and didn't practice all week. He has to pass the NFL's concussion protocol before he can be cleared to play. Havili is the only fullback the Colts have on the roster. They'll likely use one of their tight ends when one is need during the game.
The Colts could use Toler in the secondary against the Cardinals. The unit has given up big receiving games to Houston's
Andre Johnson
(229 yards) and St. Louis'
Tavon Austin
(138 yards) in two of the last three games. Cardinals quarterback
Carson Palmer
threw for 419 yards against Jacksonville last weekend.
Cassius Vaughn
will continue to start opposite of
Vontae Davis
at cornerback in place of Toler.
"Any starter that you lose will be missed," safety
LaRon Landry
said. "That's the reason why they're starters. We have great depth and the chemistry back there from the first team on down. We're comfortable with anybody we put out there."
Here's a rundown of the rest of the Colts' injury situation:
-- Linebacker
Kavell Conner
is out after injuring his ankle during the special teams portion of practice Thursday.
-- Landry was limited in practice Friday and is questionable with a toe injury.
-- Running back
Trent Richardson
is also questionable with a calf issue. Pagano said he believes Richardson play against the Cardinals.
-- Cornerback
Josh Gordy
is questionable with a groin problem.
November, 22, 2013
11/22/13
10:00
AM ET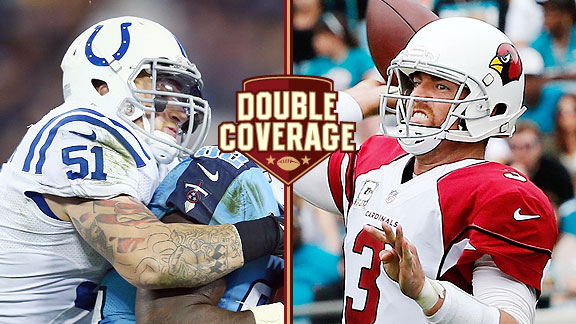 Getty ImagesPat Angerer and the Colts defense will try to slow down Carson Palmer, who has a 6-2 TD-to-INT ratio over his past three games.
Yes, there's a football game being played in the desert on Sunday.
With all the hype surrounding the matchup of Arizona coach Bruce Arians facing the
Indianapolis Colts
for the first time since he was their interim coach in 2012, it's easy to forget that a game will kick off.
Colts quarterback
Andrew Luck
can pose as many problems as any other quarterback in the league but if one coach knows him, it's Arians. And the Cardinals have been playing well as of late on both sides of the ball.
Cardinals reporter Josh Weinfuss and Colts reporter Mike Wells discuss this weekend's game:
Weinfuss:
Obviously this game goes beyond more than football; how do you anticipate the Colts responding to seeing Arians on the opposite sideline?
Wells:
It won't be on the same level as when they faced
Peyton Manning
last month, but there will be some emotions involved. Arians took over a team that had its world shaken up when Chuck Pagano took time off to battle leukemia last season. Arians was responsible for making sure the team was mentally and physically ready each week. That wasn't an easy thing to do, especially with a rookie quarterback. But Arians obviously did a good job leading the way. The Colts won 11 games and reached the playoffs. The job Arians did is a major reason why he's the head coach in Arizona. Do you think he will be even more motivated this weekend?
Weinfuss:
Arians will definitely be more motivated this weekend but he'll also be more emotional than he has been this season. We'll see how well he can keep those emotions in check and then channel them Sunday, which he said will be the hardest time for him. After all the pregame hugs and pleasantries are exchanged, I think Arians will just be focused on getting the Cardinals a seventh win and one step closer to the playoffs. This is a big game for both sides and Arians doesn't want to be the reason the Cardinals falter.
How has the
Trent Richardson
trade worked out for the Colts? Are they seeing the return on investment they expected?
Wells:
Richardson has been a topic of discussion every week since the Colts acquired him in the middle of September. That's expected when you consider that Richardson hasn't rushed for more than 60 yards in a game as a Colt and the team gave up a first-round pick for him. Some fans are ready to call the deal a bust and say the
Cleveland Browns
pulled one over on Colts general manager Ryan Grigson. I'm not ready yet. Key word being "yet." Richardson hasn't lived up to expectations so far, but I think part of the problem is he had to get use to things on the fly. I believe he needs a full training camp with the team before you can fully value the trade. The criticism will taper off some if Richardson can improve his 2.8 yards a carry average before the season ends.
Quarterback
Carson Palmer
threw for 419 yards last week. Do you think Palmer will be able to play well the rest of the season?
Weinfuss:
This weekend will be the true test. He played better against teams like Atlanta and Houston, then broke out against Jacksonville -- none of those teams are anything to write home about -- but if Palmer can put it together against the Colts, then he might be onto something for the rest of the season. Arizona showed in Jacksonville it can put up points and yards when the running game falters. Usually when that happens, teams bring their pass rush and don't stop, and it overwhelms some of the younger players on Arizona's offensive line. Palmer's a vet and knows what he has to do, but when he doesn't have much time, like any quarterback, he can't make good decisions. The game at Jacksonville was the first time Arizona's offense looked complete and I think it gave the Cardinals enough confidence going forward to continue at this pace.
Speaking of offenses, where has
Reggie Wayne
's injury hurt the Colts and have they been able to make up for his loss?
Wells:
Wayne's loss has impacted the entire offense.
T.Y. Hilton
is doing his best to fill the role of Luck's go-to receiver. Nobody has stepped up to be the Colts' second or even third receiver behind Hilton. That's where the problem really is for the Colts. They signed
Darrius Heyward-Bey
in the offseason to start opposite of Wayne, but he's been a disappointment. The Colts are doing it by committee to try to make up for Wayne's loss. Luck completed passes to eight different players in their last game against Tennessee. That's the philosophy they'll continue to use the rest of the season because there is no replacing Wayne.
Speaking of receivers,
Larry Fitzgerald
was a ball boy with the
Minnesota Vikings
when I covered them in 2000 and 2001. I still remember him constantly picking
Randy Moss
' and Cris Carter's brains for pointers. Things have worked out pretty well for Fitzgerald. He's one of the premier receivers in the league. Is his future in Arizona or do you think the Cardinals will eventually have to trade him?
Weinfuss:
If he's willing to restructure his current contract, his future -- and the rest of his career -- will be in Arizona. If he's not, the Cardinals will trade Fitzgerald this offseason but only if they get enough compensation to continue rebuilding.
November, 20, 2013
11/20/13
10:09
PM ET
TEMPE, Ariz. -- There wasn't a manual on how to be an interim coach.
There wasn't a playbook or film for Bruce Arians to study last year when Chuck Pagano called to tell him the news. Pagano was diagnosed with leukemia and would be leaving the
Indianapolis Colts
. He handed the keys to Arians and began fighting for his life.
Arians, meanwhile, didn't even have so much as a flip card to guide him through what was about to happen.
[+] Enlarge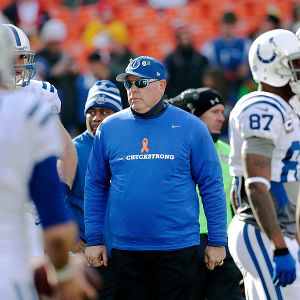 AP Photo/Charlie RiedelBruce Arians used his experience as the interim coach in Indianapolis to prepare for his job in Arizona.
In less than a day, Arians went from being the mastermind of the Colts' offense to overseeing all three phases of a team for the first time in his NFL career. Until then, the only time he spent talking to the defense was to razz them after his offense had a big play. But after 12 weeks, it ended up being the best on-the-job training he could have asked for and it's been paying off for him ever since the
Arizona Cardinals
hired him in January.
"It feels very easy. It really does," Arians said. "I don't feel any different than I have in years past, as a head coach. I've really enjoyed the camaraderie and getting to know the defense and special-teams players more than I have in the past."
His stint in Indianapolis showed Arians what it takes to be a head coach, what the grind is like, what kind of dedication it takes. He realized quickly he couldn't do it on his own.
"I've learned to delegate much better, not try to do it all myself," Arians said about being a head coach in Arizona. "That's helped me personally. I think it's helped us. The staff is so good that I don't have to.
"It's real hard for me to try not to do everything."
But offensive coordinator Harold Goodwin, who was with Arians in Indianapolis, said his boss started delegating last season and it carried over to Arizona.
"If you hired us, that means you like us, you trust us, you believe in what we can do as coaches," Goodwin said. "And he's done that so far."
Arians hasn't penned a literal guide to being an interim coach, but he's apparently written the book. After Jack Del Rio took over for John Fox as interim coach of the
Denver Broncos
a couple of weeks ago, he called Arians for advice. Del Rio bounced some ideas off Arians, who simply affirmed that he was doing the right thing.
Unlike Arians, however, Del Rio has head-coaching experience in the NFL, but it still doesn't prepare someone to take over on a temporary basis. Colts quarterback
Andrew Luck
said Arians kept Indianapolis' ship sailing in the same direction Pagano wanted it and didn't stray from Pagano's message.
"We got lucky last year," Arians said. "None of us knew what we were doing last year. We were just doing the best that we could, and it was successful. If people want to use it as a model, so be it."
For as much as he learned what to do, Arians also learned what not to do.
He hasn't changed his approach as a coach. He'll still tell players how it is, and if they don't like it, tough. Players, Arians said, can see right through the sugarcoating. He adopted honesty as his policy with players a while ago and never wavered.
When Pagano returned from his treatment, he found the same old Arians. Being a head coach didn't get the best of him.
"I haven't seen one change," Pagano said. "One of the best qualities about Bruce is he's true to himself. He is who he is, and he has never wavered or never changed his approach to football, to life and to coaching. I don't think that's ever changed."
At 61, it may not ever.
Arians has reflected on his time in Indianapolis and gets caught. He knows without it he most likely would never have been a head coach in the NFL. But the only way it happened was because Pagano got sick.
Good came out of bad, but nobody wanted bad to happen.
Arians can't change the past. He's just enjoying the ride. But it's been a little less stressful this time around.
"Oh, so much easier having an offseason to prepare rather than 24 hours -- less than 24 hours," Arians said. "Last year was so surreal. And every day was a dramatic day with a lot of things that went on. This is football. This is easy. There's no one's health at risk.
"This is a veteran team with a lot of young guys who are starting to step up also trying to do something special because every year's different and we want to do something special this year."
Spoken like Arians has been there before.
November, 18, 2013
11/18/13
9:49
PM ET
TEMPE, Ariz. -- If it were up to
Arizona Cardinals
coach Bruce Arians, Sunday's game wouldn't be on the schedule.
Not this soon. Not this year. Not ever.
In just his 11th game as a head coach, Arians will have to defog his glasses and coach against the one team that may tug at his heart the most, the
Indianapolis Colts
. The story is well-known. After three games last season, Arians took over for Chuck Pagano, who was being treated for Leukemia, and led the Colts to a 9-3 record and the playoffs as interim coach.
Those 12 games led Arians to coach of the year and eventually the Cardinals job.
Because of how the NFL rotates its scheduling, Arians knew Arizona would be playing Indianapolis when he was hired in January. He had to wait until April, however, to find out where.
"I was hoping it would never be on the schedule because too many emotional ties to what happened last year to have to play them," Arians said. "I'm glad we are playing here and not there. That would really be tough to walk into that stadium.
"But it will be fun to see those guys, especially those young kids on offense that we had a chance to work with last year. It's going to be a challenge defensively to stop them."
Arians will spend his time this week figuring just how to do that. Preparing for his former student, Colts quarterback
Andrew Luck
, may just be the easiest part of Arians' week.
"It's seeing them in person where you get emotionally involved because it was such an emotional year last year," Arians said. "Get through that in warm-ups.
"But the preparation for the ballgame will be just like every other."
His former players, however, can't wait to see Arians.
"Oh yeah, I'll be excited to see him," Colts receiver
T.Y. Hilton
said. "I texted him this offseason, so it'll be good to see him again."
Arians typically wears his heart on his sleeve when it comes to football. He'll tell a player exactly how he feels. And he doesn't shy away from expressing himself on the sideline.
Sunday won't be any different. He'll be as emotional if not more.
"But I will hide it very well," Arians said.