Here's Part II of the Colts Mailbag.
Coach Chuck Pagano said Khaled Holmes and Jonotthan Harrison will compete for the starting job at center.
The latest Colts mailbag looks at the rookies who could make an immediate impact in the 2015 season.
The latest edition of the Colts mailbag wonders what the defense will be in for if it faces Tom Brady coming off his suspension in Week 6.
Four ESPN analysts were not very high on the Colts signing several high-profile veterans in free agency.
While his speed is definitely impressive, Phillip Dorsett also helped out his cause by picking up the offense fairly quickly.
ESPN athletics aesthetics expert Paul Lukas moved the Colts up four spots to No. 9 in his rankings of NFL uniforms for the 2015 season.
The Colts' average annual player salary is $1.9 million. The franchise's total player payroll of $101.6 million ranks 61st.
The NFL made a curious choice in words used in a tweet about what it takes to be a franchise quarterback.
It's vital for Frank Gore and Andre Johnson to make a smooth transition to Indy considering the important roles they're expected to fill.
The Indianapolis Colts prove they have a number of interchangeable parts on the offensive line at OTAs.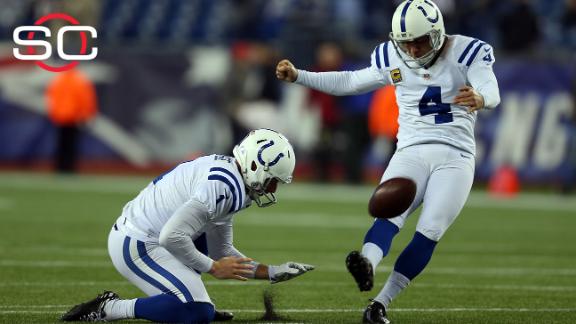 The Indianapolis Colts were not surprised by the NFL's decision to move extra-point kicks back to the 15-yard line.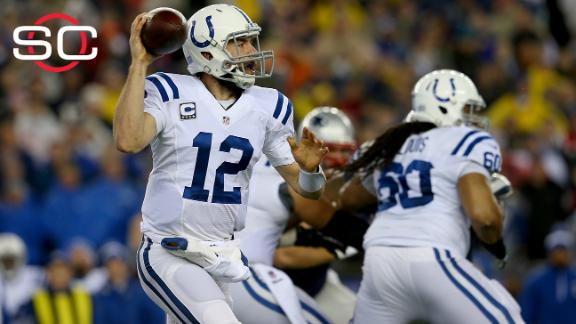 If Ryan Tannehill received a contract worth $96 million from the Dolphins, then Andrew Luck might end up owning the Colts, teammate Pat McAfee tweeted.