Indianapolis Colts:

2013 Week 10 STL at IND
November, 10, 2013
11/10/13
8:01
PM ET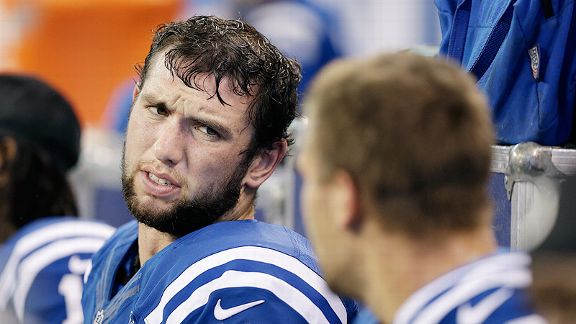 AP Photo/Darron CummingsThe Indianapolis Colts can't count on dramatic comeback victories from quarterback Andrew Luck every week.
INDIANAPOLIS -- You were just waiting for that moment to happen. A
Robert Mathis
strip sack to energize the
Indianapolis Colts
. Then
Andrew Luck
calmly leading them to a come-from-behind victory.
Why wouldn't it happen that way?
We've all seen Luck work his magic before. You spend Monday morning standing around the watercooler talking about how much of a joy it is to watch Luck rescue the Colts.
But something happened on Sunday afternoon in front of 66,004 fans at Lucas Oil Stadium. The Rams jumped on Indianapolis and made sure they weren't going to be Luck's 11th come-from-behind victim in just 25 games.
The Rams embarrassed the Colts, handing them
their worst home loss
in the Luck and coach Chuck Pagano era, 38-8.
"They beat us in every single phase," Pagano said. "We just didn't do anything. And I take full responsibility as the head football coach, did not have this team ready."
Is it time to panic?
No, the Colts are still in first place in the AFC South by two games. But Sunday was a dose of reality -- the kind that causes you to spend the night tossing and turning in bed -- that they cannot continue to think they can constantly come back from first-half deficits.
That plan was risky even when veteran receiver
Reggie Wayne
was in the lineup. The Colts won't survive playing that way without him even if they did manage to get away with falling behind and coming back against Houston on Nov. 3. The Colts can't do it with so many players out with injuries, a weak receiving group outside of T.Y. Hilton and an offensive line that can't protect Luck.
The Colts have trailed at the end of the first quarter in five of their nine games this season.
"Regardless of what happens, we know what we have," Colts defensive lineman
Cory Redding
said. "Like I said, our mental mentality, our toughness, our belief in one another has not wavered. They were the better team today. They outplayed us, period."
The Rams tried to help Indianapolis cure its slow starts when they were called for a taunting penalty on the opening kickoff and then a neutral-zone infraction. Not even a free 20 yards could help the Colts, though.
The Colts got to St. Louis' 42 before defensive end
Robert Quinn
beat
Anthony Castonzo
for the strip sack on Luck. Quinn's sidekick on the other side,
Chris Long
, picked up the loose ball and ran 45 yards for a touchdown.
A short touchdown run by running back Zac Stacy followed, then a 98-yard punt return for a touchdown by rookie
Tavon Austin
, and an 81-yard touchdown reception by him sent the Rams into the half with a 28-0 lead.
There was never a feeling that the Colts would make it a game in the second half. There shouldn't have been any hope, not with Luck trying to avoid Quinn and Long from sandwiching him and a running game -- if you want to call it that -- rushing for 5 yards in the first half.
The Colts finished with 18 yards rushing on 14 attempts, and Luck was sacked three times, was hit seven times and matched his season total in interceptions with three.
"We knew coming into this game after last week's game [at Houston] that we're not going to be able to consistently spot teams three-touchdown, four-touchdown leads and be able to come back," Pagano said. "And we can't count on executing well on both sides of the ball and special teams for 30 minutes of the game. You got to do it over 60 minutes."
Luck, as he's done throughout his short career with the Colts, didn't get discouraged. After the game he addressed the media, then walked around the locker room slapping hands and offering words of encouragement to his teammates before finally making his way to the shower.
That's what the Colts will need from Luck off the field to go with his competitiveness on it because they'll likely encounter another situation like Sunday at some point in their remaining seven regular-season games.
"It's a tough business," Pagano said. "It's not for the meek. It's for grown men. Everybody in that locker room, coaches and players, we got broad enough shoulders to handle it. You sit there and you dwell on it and dwell on it; we ain't got time to dwell on it."
November, 10, 2013
11/10/13
6:00
PM ET
INDIANAPOLIS -- Observed in the locker room after the
Indianapolis Colts
' 38-8
loss
to the
St. Louis Rams
:
McAfee
An emotional surprise
: The Inocencio family thought they were getting a new Toyota at halftime that was donated by Colts punter
Pat McAfee
. It turns out the family got something better than the car. Army Sgt. Jeremy Inocencio surprised his family by being inside the car after returning home from an overseas deployment. Inocencio's emotional surprise caused a lot of hugs and tears of joy. "Those things are so awesome," McAfee said. "Anytime you see a kid going up to his dad, who he hasn't seen in months. His dad is a hero fighting for our country. It's an unbelievable moment, and I hope they will remember it forever because their dad is such a hero."
Wanted to continue playing
: Colts quarterback
Andrew Luck
said his preference was to finish the game despite being down by 30 points midway through the fourth quarter. Coach Chuck Pagano pulled Luck because the outcome had already been decided and they play again on Thursday at Tennessee. Sunday was only the second time in Luck's career that he did not take every offensive snap. "I think any competitor is going to want to stay in the game," Luck said. "You understand at the end of the day, Coach Pagano is making the decisions, and he's thinking on a much more macro scope of things. Understand his decisions are final."
Injury update
: Guard
Mike McGlynn
left the game in the second half with a thumb injury. He's scheduled to get an MRI. Safety
Larry Asante
went out with a hamstring injury. Pagano said he didn't know the extent of his injury.