Indianapolis Colts:

2013 Week 4 IND at JAC
September, 29, 2013
9/29/13
9:00
PM ET
JACKSONVILLE, Fla. --
Indianapolis Colts
quarterback
Andrew Luck
didn't need anybody to tell him how he played during the early part of the Colts' 37-3 victory against the
Jacksonville Jaguars
.
He went ahead and owned up to it at the start of his postgame news conference.
"It wasn't an ideal start," Luck said. "It was more of a terrible start to the game offensively for us."
Luck
Luck couldn't have said it better.
It looked like Luck was going to have a long afternoon against the Jaguars.
On one interception, Jaguars cornerback
Will Blackmon
didn't have to move because receiver TY Hilton went to the outside, and Luck threw to the inside. Luck was bailed out by the Jaguars because they were offsides on another interception. There were more miscommunication issues with Hilton in the half.
The two interceptions happened on the Colts' first two offensive series.
"It was the wrong throw for me," Luck said. "TY ran the right routes and everything. I put it in the wrong spot. We know we can't survive on our mistakes like that every week. I'll hopefully improve, get better and we'll continue to roll."
You just knew Luck wasn't going to struggle all afternoon against Jacksonville's secondary. He finally got it going to finish 22-of-36 for 260 yards and two touchdowns to go with his one interception.
"Listening to him talk and talking to him, he did get off to a slow start, but he is an even-keeled guy," coach Chuck Pagano said. "We go back to the process, 60 minutes, one play at a time, and judge. He is one of those guys who can put things behind him and move on."
Luck got rolling on the first two offensive possessions of the third quarter. He found tight end
Coby Fleener
wide open for 31-yard touchdown on a play where it seemed like playing defense was optional for Jacksonville. Then Luck led the Colts on a 12-play, 72-yard drive that ended with a 5-yard touchdown pass to
Reggie Wayne
on their next possession.
"We know they're tough physical guys, but coming out of halftime we said let's put a scoring drive together," Luck said. "I think guys sort of relaxed a little bit. I know I did, and just played football."
Things were going so well for Luck in the second half that you forgot he started slow because he sat out the final 4:49 of the game, ending his string of taking every regular-season snap since the Colts selected him with the No. 1 overall pick in 2012.
"I think we knew we were a better offense than what we showed," Luck said. "It's a credit to Jacksonville. They really put us in some tough spots."
September, 29, 2013
9/29/13
8:05
PM ET
JACKSONVILLE, Fla. –
Indianapolis Colts
coach Chuck Pagano had every intention of running to a local Lowes to purchase enough mousetraps to go in each player's locker last week.
Pagano joked that he decided not to go because he didn't want somebody to take a picture of him in the store and put it on any social media sites.

Pagano
The traps were eventually purchased, because the coach was determined to get his message across that they were not going to have a letdown against the winless
Jacksonville Jaguars
on Sunday after they beat the
San Francisco 49ers
the week prior.
A loss to the Jaguars couldn't happen if they expected to continue to gain momentum and have a chance to win the AFC South.
Message received.
The Colts were never really threatened in their 37-3 victory against the Jaguars.
"We talked after the 49ers game that human nature is hard to fight," Pagano said. "You start reading all the nice things, you start patting yourself on the back and you get complacent, then you get your tail kicked. You have to prepare and you have to focus and you have to grind and you have to stick to the process. I'm going to keep beating it and beating it with these guys, that we're not going to get complacent and we're going to stay sharp and we're going to stay focused."
The win set the stage for next week's game against the undefeated
Seattle Seahawks
at Lucas Oil Stadium in Indianapolis. The Colts are tied with Tennessee atop the AFC South with a 3-1 record.
"It was great that coach did that," cornerback
Greg Toler
said. "Don't buy into the hype, don't be overly confident. You can be confident, but don't be cocky."
The Colts refused to look ahead at the schedule. The only thing they would talk about heading into Sunday was the Jaguars, because they knew there was a possibility they could be beaten.
It didn't take long to realize they were focused strictly on Jacksonville.
The Colts led 20-3 and limited Jacksonville to 69 yards in the first half. The Jaguars were held to minus-2 yards and trailed 34-3 at the end of the third quarter.
"We are a team that never panics," receiver
Reggie Wayne
said. "We just work the process and continue to play ball. We never get too high or too low. Hopefully we can keep riding this wave and keep playing ball. It is exciting, and especially the way we are winning in all three phases of the game, playing pretty good."
September, 29, 2013
9/29/13
7:45
PM ET
JACKSONVILLE, Fla. – Don't pay attention to the total yards the
Indianapolis Colts
gave up the
Jacksonville Jaguars
in their
37-3 victory
on Sunday.
Giving up only 205 yards was impressive, but the number that you should pay attention to is the 67 yards the Colts gave up through three quarters when they were making sure they weren't going to get caught in the trap against Jacksonville.
The 138 yards the Colts gave up in the fourth quarter were garbage yards because the outcome had already been determined and the winless Jaguars were playing for their dignity at that point.
[+] Enlarge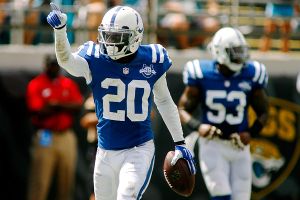 Phil Sears/USA TODAY SportsDarius Butler returned an interception for a TD as part of a dominant day for the Colts' defense.
The Colts carried over what they did against San Francisco last weekend and brought that same dominating defense with them to Jacksonville.
"You can sense when blood is in the water," Colts cornerback
Vontae Davis
said. "The first quarter they came out throwing their best shot at us, but we knew once we tasted blood we could jump on them quick. It got to the point where it seemed like they were ready for us to pack up our stuff and head back to Indy."
It would be easy to wonder if the Colts' defense is for real because they played the Jaguars, who are just treading water these days. But that thought should quickly get erased because Indianapolis did the same thing to the 49ers.
The Colts have only given up 459 yards, 28 first downs and 10 points in the past two games. It's time to look at the Colts as more than an offensive team.
Coach Chuck Pagano's defensive mindset and coordinator Greg Manusky's schemes have sunk in. It just took a little while for it to happen.
"We are going to stick to the process, keep coming back in here and preparing, staying the course and staying ready," Pagano said. "We know who we are. … Again, to go on the road, after last week's road trip, division game, and all those things."
Having a stout defense eases the pressure on quarterback
Andrew Luck
and the rest of offense to put up a lot of points in order for them to win. The defense has shown that it's good enough to win games on days the offense struggles.
"It's awesome. It really is," Luck said. "They do such a great job in practice all week, and to have them come out [like they did], it makes the offense's job easier. Yeah, we'd love to score every play, but when you have a defense that's playing like that, you realize it can be good team football."
Indianapolis' defense spent the week leading up to the game talking about containing running back
Maurice Jones-Drew
, who went into Sunday averaging 106.8 yards in 13 games against the Colts.
Jones-Drew was never a factor Sunday. The Colts bottled him up and held him to 23 yards on 13 carries.
That meant the Jaguars were forced to try to beat the Colts through the air with an unimpressive
Blaine Gabbert
at quarterback. And that played into the hands of Davis and fellow cornerback
Greg Toler
.
Davis set the tone defensively for the Colts by intercepting a Gabbert pass after dancing to get both feet in along the sideline on Jacksonville's first offensive possession.
That just turned out to be the start of things for the opportunistic Colts defense. Davis tipped a Gabbert pass intended for
Cecil Shorts
and nickelback
Darius Butler
picked it off and returned it 41 yards for a touchdown.
The Colts intercepted Gabbert three times, sacked him four times and held the Jaguars to 2-of-11 on third down.
"We work real hard in practice, we push each other, the offense pushes us in practice, we hone in on our techniques and on Sunday it's almost easier than it should be," Butler said. "We're just playing physical and we want to keep that mentality."
September, 29, 2013
9/29/13
5:50
PM ET
JACKSONVILLE, Fla. -- Observed in the locker room after the
Indianapolis Colts
' 37-3
victory
against the
Jacksonville Jaguars
:
Luck
No need for Luck:
Quarterback
Andrew Luck
had taken every snap under center for the Colts in his young career. The streak -- 20 games counting the playoffs -- ended in the fourth quarter Sunday. Veteran
Matt Hasselbeck
replaced Luck for the final 4:49 of the game with the Colts leading 37-3.
Werner hurting:
Colts rookie linebacker
Bjoern Werner
left the game in the first half with a sprained foot. Colts coach Chuck Pagano said the rookie out of Florida State is scheduled to get an MRI.
Wayne keeps rolling:
Receiver
Reggie Wayne
had five catches for 100 yards and a touchdown. Wayne caught a second touchdown pass, but it was nullified because left guard
Jeff Linkenbach
was called for illegal use of his hands. Wayne now has nine 100-yard receiving games against the Jaguars.
September, 29, 2013
9/29/13
4:14
PM ET
JACKSONVILLE, Fla. -- A few thoughts on the
Indianapolis Colts
' 37-3
win
over the
Jacksonville Jaguars
:

What it means:
The Colts smothered the Jaguars all afternoon and held Jacksonville to 67 yards of total offense through the first three quarters. No, that's not a typo. There weren't any long runs by
Maurice Jones-Drew
or
Blaine Gabbert
scrambling to make something to happen. The Colts had two interceptions, including one returned for a touchdown by
Darius Butler
, and four sacks. Jones-Drew, who's averaged more than 106 yards a game in his career against the Colts, had only 23 yards on 13 carries.
Stock watch:
Linebacker
Robert Mathis
had three sacks to move into 29th place on the all-time sacks list with 99. He has recorded at least one sack in every game this season and has 7.5 on the season. Mathis needs one more sack to become the 30th player in NFL history to have at least 100 sacks. Mathis finished with five tackles to go with his three sacks.
Brazill returns:
Receiver
LaVon Brazill
returns to the Colts on Monday after being suspended the first four games of the season for violating the NFL's substance abuse policy. Brazill will be the team's fourth receiver behind
Reggie Wayne
,
Darrius Heyward-Bey
and
T.Y. Hilton
. The Colts didn't have anybody step up as the fourth receiver in Brazill's absence.
Brown shines:
With
Ahmad Bradshaw
inactive with a neck injury,
Donald Brown
backed up
Trent Richardson
and ran for 65 yards on only three carries. Brown had a 50-yard run that set up a 1-yard touchdown run by Richardson, his second as a Colt.
What's next:
The Colts return home for the first time in three weeks when they host the
Seattle Seahawks
at Lucas Oil Stadium on Oct. 6.