Indianapolis Colts:

2014 NFL owners meetings
March, 28, 2014
Mar 28
11:00
AM ET
By
ESPN.com staff
| ESPN.com
ORLANDO, Fla. -- The NFL's owners, coaches and general managers gathered in Orlando this week for the owners meetings.
Some of the topics discussed were potential changes to the kicking game, Colts owner Jim Irsay's DUI arrest, expanded playoffs and racist/discriminatory/profane language. The league tabled any action on adjusting or eliminating PATs. No playoff teams were added. But the owners did discuss sensitivity and sportsmanship issues.
As for the Irsay situation, commissioner Roger Goodell said he'll wait for the legal process to play out before deciding what kind of punishment Irsay will face.
But don't worry, four of ESPN's NFL Nation reporters -- Michael DiRocco (Jaguars), Tania Ganguli (Texans), Jeff Legwold (Broncos) and Mike Wells (Colts) -- were at the meetings and took a run at those issues.

What should the owners do to fix the kicking game?
Michael DiRocco: I'm in favor of the decision to extend the goalposts several feet to eliminate some of the ambiguity of whether some field goal attempts are successful. Kickoff returns are among the most exciting plays in football, but they are also among the most dangerous. I don't see a realistic way to make them any safer without eliminating them completely. As for PATs, I'd be in favor of moving them back to a 40- or 45-yard attempt. That increases the difficulty. But how about adding a radical change as well by giving teams the option of a 3-point PAT by attempting a kick of 55 yards? It certainly would make game strategy more interesting.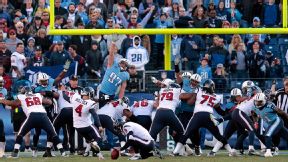 Tania Ganguli: The league tabled the discussion about moving the extra point back to the 25-yard line and will experiment by moving it to the 20 during some preseason games. I'll be interested to see the result of the trial period. I don't have a problem with the fact that extra points are so often effective. There is still strategy in deciding whether to kick it or go for two. It doesn't always play into game strategy, but it can, and that means it isn't a meaningless play. My bigger concern would be safety issues that come with kickoffs.
Jeff Legwold: Not sure I understand the rationale of removing something from the game because the players have become too proficient at it. Sure, 1,267 extra points were attempted in the 2013 season and all but five were made. Four of the extra-point attempts were blocked and only one was missed (Minnesota's Blair Walsh), but it seems misplaced to remove it simply because kickers, snappers and the rest of those lined up have become mind-numbingly good at it. That's a bad precedent. In 1970 there were no quarterbacks who threw for even 3,000 yards. In 1980, only two quarterbacks crossed the 4,000-yard barrier. In 2013 there were nine quarterback who threw for at least 4,000 yards and two -- Peyton Manning and Drew Brees -- topped 5,000 yards. So, if the league's passers get much better, they'll have to ditch the forward pass.
Mike Wells: The NFL can do away with extra points because they're pointless. There were only five unsuccessful PATs last season. Does anybody even watch teams kick extra points? That's usually the time to get an early jump to the bathroom so that you're back in time for the kickoff. Moving the PAT back to the 25-yard line doesn't provide any more excitement. Automatically give teams seven points for scoring a touchdown with an option to get another point by going for a conversion. About the only bad thing with eliminating PATs is that Indianapolis Colts punter Pat McAfee may get upset that he can't punt, kick off, kick field goals and kick PATs, something he wants to accomplish at some point in his career. But something tells me he'd get over PATs being eliminated from the game.
@ESPNdirocco Eliminate the XPT. TD's = 7. Give teams chance for 2, if miss = 6, if make = 9. FG's don't change. #fixed

- Gary Blond (@GaryBlond) March 24, 2014
---

How should the commissioner handle a misbehaving owner?
DiRocco: Owners should be held to at least the same standard as players when it comes to off-field behavior, but I'd argue that they should be held to an even higher standard because of their status -- especially when it comes to something that endangers the public, such as driving under the influence. The first thing the league must do is ensure that Jim Irsay gets the help he needs with his problem. Suspending an owner wouldn't make any impact on the field and taking away a draft pick would be too harsh. A significant fine ($500,000?) that would be donated to one of the league's various charities or a substance-abuse awareness or treatment program is the best course of action.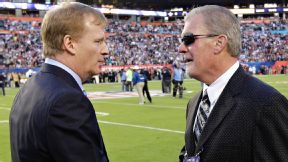 Ganguli: The commissioner could do nothing and get away with it. After all, he technically works for the owners. But maintaining credibility is important. Irsay's situation should be handled with a proportionate response to how a player's situation would be handled. It can't be the same just by virtue of the differences of their jobs. At the same time, it's important in dealing with such a situation -- with executives or players -- that the league is sensitive to what it means to have an addiction and what it takes to move past it.
Legwold: NFL commissioner Roger Goodell has made personal conduct by everyone employed by the NFL or one of its franchises a hallmark of his tenure. He has consistently said the higher the authority of the person involved, the higher the standard. By that standard he has no choice but to punish Irsay. In 2010 he fined Detroit Lions president Tom Lewand $100,000 and suspended him for 30 days after Lewand's guilty plea for driving while impaired. A franchise owner is even higher on the corporate flow chart than a team president, so Irsay's punishment should fit that if Goodell sticks to the framework he's put in place. One thing is certain: A large group of players who haven't always been supportive of Goodell's discipline standards for them is watching closely.
Wells: Late Tennessee owner Bud Adams was fined $250,000 for giving some fans the bird in 2009. Not that money is a major issue to Irsay, but Goodell should fine him at least $1 million and suspend him for at least eight regular-season games. The latter part will really hit home to Irsay because he loves the game so much. He has a serious problem and Goodell needs to send a serious message to him and the rest of the NFL that breaking policies or the law will not be taken lightly. The rest of the league, especially the players, will be paying close attention to see what actions Goodell takes. A minor slap on the wrist will not sit well with the players, especially because the rules are made for the players and front-office officials.
@MikeWellsNFL $500,000 fine and half season suspension. No contact, similar 2 Sean Peyton suspension.

- Bob Borden (@Rmb7884) March 25, 2014
---

Should the league add playoff teams?
DiRocco: Sure, and let's give every team that didn't make the playoffs a trophy at the end of the season for trying really, really hard as well. Twelve of the league's 32 teams -- roughly 38 percent -- already make the playoffs, and that's enough. The argument that good teams sometimes miss out because they play in a tough division doesn't make sense to me. The Arizona Cardinals were playing pretty well at the end of the 2013 season but didn't qualify. Too bad. They should have played better in September and October. Making the postseason is a reward for the teams that have played the best throughout the season. It should be hard.
Ganguli: The more teams with something at stake late in the season, the better. But you don't want to dilute the accomplishment of making it to the playoffs. Further, the margin for error is so small in the playoffs, the chances for upsets in the early rounds are high. I'd hate to see football's regular season diluted that much. Two more teams might be fine, but any more than that and then you get to the point where half the teams make it. The playoffs are, and should be, a reward for all the work that came in the months prior.
Legwold: This looks suspiciously like a trade-off. Goodell dislikes the look of preseason football and has floated the idea of an 18-game regular-season schedule for some time. But there has been little support for the idea of an 18-game schedule among the players. So, in terms of television revenue, which would have increased with an 18-game regular season, the next best thing is two more teams in the playoff field. The format would award just one team in each conference a first-round bye. But it's unnecessary and waters down the postseason field enough that 43.8 percent of the league's teams would make the playoffs.
Wells: Leave it alone. That's the easiest way to put it. Expanding the playoffs sets the stage for possibly having teams with a losing record making the postseason. It was embarrassing when the Seattle Seahawks made the playoffs with a 7-9 record in 2010. You'll have some teams with strong records -- New England (11-5) in 2008 and Arizona (10-6) last season -- miss the playoffs, but that doesn't happen as often as we would see teams with a losing record make it if the format were to change. Every game is important with the current playoff format; there's very little wiggle room for mistakes. Only one team in each conference would get a bye in the first weekend of the expanded playoffs compared to two in the current format. That's not being rewarded.
@Jeff_Legwold Yes, even the Cowboys need to get into the NFL tourney someday. #HTTR

- Tony Wilbert (@twilbert) March 26, 2014
---

How should the league deal with racist, discriminatory and profane language on the field?
DiRocco: For better or worse, profanity has been, and always will be, a part of football. Trying to police that would put an additional burden on the shoulders of an already overloaded group of officials. Racist or discriminatory comments, however, are more serious. Those should not be tolerated. However, most of the Jaguars players I spoke with about this topic last season said they rarely encounter that on the field. But again, how do you enforce that? Is saying the N-word worse than using a gay slur? If one black player calls another the N-word, is that less serious than if a white player does it? Bottom line: Let the players police these themselves during the game. If an official hears something from the sideline or players are screaming at each other after a play has ended, then a fine is warranted.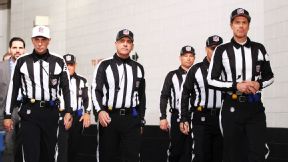 Ganguli: The competition committee made it clear Wednesday that this would be a major focus for 2014. It wants professional athletes to set a better example for younger athletes. I wouldn't necessarily include racist, discriminatory and profane language all in one category. The nature of profanity in the English language, and what exactly is considered profanity, changes constantly. Whose standard are you using? Racism and other forms of discriminatory language should be regulated with a penalty for unsportsmanlike conduct. This isn't about regulating thoughts. It's about making it absolutely clear that the NFL does not tolerate expressions of hate.
Legwold: As those on the league's competition committee pointed out last week, the rule to enforce a ban on the N-word or other discriminatory language is already on the books. And officials will be told before the season to throw the flags if they hear those words used during games. The decision has been made and officials will be "empowered" to throw the flags, as St. Louis Rams head coach Jeff Fisher, a co-chairman of the league's competition committee, has said. It has caused some to wonder why the league hasn't been nearly as aggressive with "Redskins," but it's clear the league's decision-makers want to address the N-word and other slurs based on sexual orientation and have put it in the hands of the officials to do it.
Wells: Let me get this out of the way: There's no place in the game for racist, discriminatory and profane language. But at the same time, officials already have a difficult enough time throwing flags. How many times have you watched a replay and noticed they made the wrong call or missed a call? And now you expect them to be watching the play while also listening for bad language during the game? That's asking them to do too much. Can you imagine the players informing the officials that an opposing player used inappropriate language?
@taniaganguli @McClain_on_NFL I think they should do yellow cards like soccer.no penalty. Just if you get 2 your out.

- manuel garcia (@heavybread347) March 25, 2014
March, 26, 2014
Mar 26
3:15
PM ET
ORLANDO, Fla. --
New York Giants
coach Tom Coughlin knows all too well about receiver
Hakeem Nicks
.
Nicks, the new
Indianapolis Colts
receiver, spent his first five years in the NFL playing for Coughlin. He had two 1,000-yard receiving seasons and helped the Giants win a Super Bowl.

Nicks
"I think two years ago, he was one of the best receivers in the NFL," Coughlin said.
Last season was a different story for Nicks. He had 56 catches for 896 yards, but didn't catch a touchdown pass for the first time in his NFL career.
I spoke to ESPN.com Giants reporter Dan Graziano when Nicks signed this month, and Graziano said the coaches were frustrated with Nicks because he couldn't make plays in the passing game.
"He's had some nicks, he's had some things he's had to deal with," Coughlin said. "The production isn't what it should've been last year. We wish Hakeem success, nothing but the best for him. Perhaps this is what he needed, the change he needed -- the reality of our business."
Nicks signed a one-year deal with the Colts to play alongside
Reggie Wayne
and
T.Y. Hilton
at receiver, catch passes from quarterback
Andrew Luck
and hopefully have a bounce-back season.
"What is there not to like about the guy? He's a big guy," Colts coach Chuck Pagano said. "Very, very athletic, experienced guy, played at a high level, won championships. He brings that with him. He'll do a great job against press coverage, and teams we'll have to face. All of them are built to stop the big wide outs. He brings a lot to the table."
And if Nicks is able to re-establish himself in Indianapolis?
"They'll have one heck of a football team," Coughlin said.
March, 26, 2014
Mar 26
12:15
PM ET
ORLANDO, Fla. --
Khaled Holmes
didn't give you an appetizer sampling size of what he could do during his rookie season with the
Indianapolis Colts
.
For a player who stands 6-foot-3 and weighs 319 pounds, what Holmes gave the Colts was more like a snack-size treat.
Holmes played a total of 12 snaps last season.
[+] Enlarge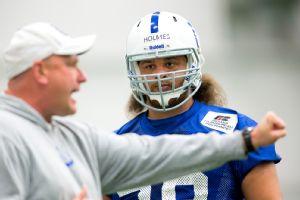 Michael Hickey/Getty ImagesKhaled Holmes played just 12 snaps last season but is primed to be the Colts' starting center at the start of the regular season.
But here Colts coach Chuck Pagano sat during the breakfast media session and general manager
Ryan Grigson
leaned back in his chair in the lounge area of the Ritz Carlton hotel Tuesday afternoon talking confidently about the player they selected in the fourth round of the 2013 draft.
So confident that you have to believe that Holmes -- the same Holmes who played 12 snaps last season -- has the inside track to be the Colts' starting center when the regular season begins. Holmes was handpicked by Grigson and the last thing the general manager wants is for his draft pick not to pan out.
"He's big, he's athletic and he's very, very bright," Pagano said. "He has great [football instincts]. From a mental standpoint, it's all there."
The Colts cut ties with center
Samson Satele
earlier this month after he played poorly last season. Of the top-tier free-agent centers, Cleveland's
Alex Mack
is the only one the Colts had their eyes on.
Could Mack have immediately fixed the interior part of the Colts' offensive line? Of course, but they shied away from heavily pursuing him because the financial commitment would have been too much.
The Colts signed former
Dallas Cowboys
center
Phil Costa
to compete with Holmes for the starting position.
"We looked at every center, we looked at all the guards," Grigson said. "We didn't like anybody. It's based off our facts, which is the tape."
So that leaves Holmes and Costa as the two leading candidates to start and possibly give the Colts the same center combination they had with
Jeff Saturday
and
Peyton Manning
for eight years.
"It was unfortunate what happened to Khaled but he's a talented guy and the expectations are high for him," Pagano said. "To bring in a guy like Costa in the mix, who's to say there's not a guy? Time is going to tell. We feel like he might be sitting right there. We have to stay healthy and get them on the field and play at that level. Time will tell on that. I think we have two capable guys that can play at a high level."
Costa has the resume to be a starter even if he did lose his starting spot to rookie
Travis Frederick
last season with the Cowboys. Costa started every game for Dallas in 2011, but injuries limited him during the 2012 season and he played in only three games last season.
You're probably wondering how Holmes could go from barely breaking a sweat in a game last season to looking like the player with the best shot to be hiking the ball to
Andrew Luck
next season.
Holmes was behind in the learning process after missing a significant amount of training camp last year with an ankle injury.
"This league, unfortunately, when a guy gets hurt in training camp he gets shelved," Grigson said. "There was a lot of optimism about him in minicamp, his level of intelligence. He's unique, he's 318 pounds. He's got guard versatility even though I think he's a center, but he's got good arm length. At center, you have to have that ... The guy knows how to play football."
Satele's problems at center last season were well documented, but the Colts didn't want to just throw Holmes on the field because it wouldn't have been fair to do that to him since he missed a significant part of training camp.
"You have a trust level," Grigson said. "And even if you have a player you think doesn't have as high of ceiling as the guy that's sitting on bench, you have a guy who has been through some wars. Experience plays a major factor and it makes everyone comfortable when you have someone who has been there done that than throwing a guy to the wolves when you're in the middle of a run.
"That's a tough thing to do. When you're losing or if you've lost five games in a row and you're not going to the playoffs, then you can make those decisions."
March, 26, 2014
Mar 26
8:00
AM ET
ORLANDO, Fla. --
Indianapolis Colts
punter
Pat McAfee
's eventual goal is to add field goals and extra point duties to his current punting and kickoff role.
McAfee
You can't knock McAfee for attempting to be Mr. Do Everything, but Colts coach Chuck Pagano thinks it'll be difficult for McAfee to accomplish the feat.
"Having one guy do it?," Pagano said. "I think it'd be hard."
McAfee kicks field goals in practice once a week, usually on Thursday's, so that 41-year-old kicker
Adam Vinatieri
can rest his leg. McAfee said after signing his new contract earlier this month that he would like a shot at handling kicking duties once Vinatieri retires.
The Colts could use McAfee as their kicker during a game if Vinatieri suffered an injury.
"He's a talented guy and a versatile guy," Pagano said. "He does a great job with kickoffs and punting the football for us. He's got, I guess he calls it his boomstick. He's got a big leg. ... If needed, we have a guy there we feel comfortable throwing out there."
March, 25, 2014
Mar 25
6:00
PM ET
ORLANDO, Fla. -- The issues with the interior part of the
Indianapolis Colts
' offensive line have been obvious since before the middle of last season.
The Colts, they think, have addressed their center problems by releasing
Samson Satele
earlier this month and signing
Phil Costa
to compete with
Khaled Holmes
to be the starter.
Hugh Thornton
will have a chance to hold down one of the guard positions. The other position will likely be taken by
Donald Thomas
next season.
Thomas only gave you a brief tease of what he can do in a Colts uniform because he didn't make it through the second week of the season. Thomas' first season with the Colts ended when he tore a tendon in his quad in Week 2 against the
Miami Dolphins
.
Colts general manager Ryan Grigson said Tuesday that Thomas also tore his biceps in the same game.
"In that same series," Grigson said. "And he played through a torn biceps. But you're not going to play through a torn quad."
Grigson referred to Thomas as being "on the right track" with working his way back from both of those injuries.
"With a guy like Donald, in a strange way, this is almost good for him," Grigson said. "He's one of those guys I really identify with. He's always had a chip on his shoulder. ... He was really playing well and he really helped our interior. Now he's getting that quad strength.
"He's squatting. I told him I really felt like this offseason his lower body strength and through his hips, he's stronger than 9 acres of garlic up top. The guy is so strong with his upper body. He just has to really get that lower body with the quad injury as strong as possible so he's a complete player in our interior."
The key with the Colts' line is consistency. It showed some flashes at times last season, but flashes don't get the job done. The Colts need to protect quarterback
Andrew Luck
and open up lanes for the running backs every play, not every few plays.
Thomas will bring some stability to the interior part of the offensive line. That's what the Colts hope at least.
"A guy with experience, we only had a short glimpse [last season]," Colts coach Chuck Pagano said. "He's busting his rear rehabbing trying to get well with the quad and bicep. He's doing great, he's on track to be back for training camp. It'll be great to have him back."
March, 25, 2014
Mar 25
2:00
PM ET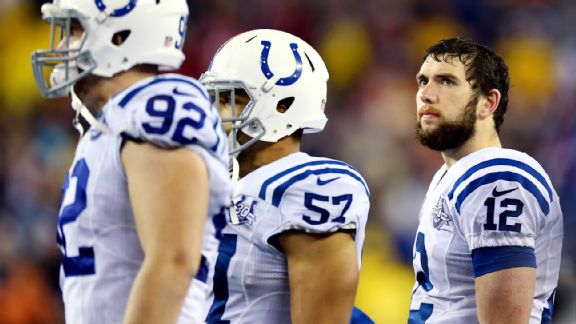 Elsa/Getty ImagesWith an improved running game, the Colts won't have to rely on Andrew Luck to save each game.
ORLANDO, Fla. -- It was one of those moments that could easily send chills up your spine or cause you to break out in goose bumps as the words came out of
Indianapolis Colts
coach Chuck Pagano's mouth early Tuesday morning, as the sun was still making its way up in Central Florida.
The Colts have a quarterback -- a pretty a darn good one, I must say -- who has consistently proven in just two short seasons that he has everything it takes to lead a team that has dealt with on- and off-the-field adversity.
Arm? Check.
Mobility? A hidden talent of his.
Mental toughness? There's no question he has that.
The results prove it. Twenty-two regular-season victories. An AFC South division title. A playoff victory.
Enter Pagano.
"From a mindset standpoint, it all starts with running the ball and stopping the run," the coach said in between sips of his coffee. "We do have a great quarterback, with a great arm and he has weapons to throw to. Certainly we understand that and we know that."
Pagano also added that they'll continue to emphasize running the ball, "until they run me out of there."
The Colts will run the ball, especially with three running backs --
Trent Richardson
,
Vick Ballard
and
Ahmad Bradshaw
-- who have all been starters at some point in their careers. But don't be mistaken about what Pagano said, Luck will still drop back in the pocket and fling the ball downfield more than he hands it off. That's their best chance to win.
There are legitimate question marks about the Colts' top three running backs next season.
Ballard is coming off a torn ACL. Bradshaw needs to prove he can stay healthy. Richardson, well, simply put, he's still a work in progress after being traded to Indianapolis early last season.
The Colts tried to run the ball in 2013. But the thought of them having anything close to a ground game came to a halt in Week 3 when Bradshaw's season ended because of a neck injury. Richardson and
Donald Brown
simply didn't get the job done -- partially because of offensive line problems and partially because of a lack of production from the two running backs.
That left Luck using his arm to bail the Colts out of deficits. They threw the ball 582 times compared to 409 rush attempts last season.
The NFL is a copycat league. What the Colts and 27 other teams saw was the final four teams playing -- New England, Denver, Seattle and San Francisco -- all mixing in the run to go with their talented quarterbacks.
The Colts experienced it firsthand, as the Patriots ran for 234 yards against them in their AFC divisional playoff matchup --
a 43-22 loss
.
A successful run game is what Indianapolis wants. Not Luck strapping on his cape to lead the Colts back from constant double-digit holes.
Also, Luck could have his best arsenal of weapons to throw to in his young career with the addition of receiver
Hakeem Nicks
to go with fellow receiver
T.Y. Hilton
, tight end
Coby Fleener
and the hopeful healthy return of receiver
Reggie Wayne
and tight end
Dwayne Allen
. Throw in a consistent running game -- cross your fingers the offensive line can block better -- and it's the type of offense that will allow the Colts to be successful.
"We're not going to try to do things to make us lose," Colts general manager Ryan Grigson said. "...All that matters at the end of the day is that you make the playoffs and if you can win in the playoffs. We don't want to make it all on Andrew. We want to give him help with our stable of running backs and [with] our offensive line creating those lanes to open up the play-action pass, so it takes the pressure off of him."
March, 24, 2014
Mar 24
8:20
PM ET
ORLANDO, Fla. -- To no surprise, NFL commissioner Roger Goodell was asked Monday about what actions he may take with Jim Irsay after the
Indianapolis Colts
owner was arrested on suspicion of intoxicated driving last week.
And to no surprise, Goodell is waiting until the facts come out before deciding what type of discipline he plans to hand down to Irsay.
Don't expect Goodell's punishment to be light on Irsay. It really shouldn't be that way for Irsay, who has a history battling pain killer addiction. Irsay faces four felony counts of possession of a controlled substance after being arrested on suspicion of intoxicated driving in the northern Indianapolis suburb of Carmel late March 16.

Irsay
The Colts owner did the right thing by taking the first step in admitting he has a problem when he entered a rehabilitation facility on March 18. But that likely won't change the type of punishment Goodell gives him.
Goodell can't afford to go lightly on Irsay. Not with the players around the league keeping a close eye on what happens. You also have to take into consideration that the NFL fined late
Tennessee Titans
owner Bud Adams $250,000 for making obscene gesture at Buffalo fans in 2009. Goodell fined
Detroit Lions
president Tom Lewand $100,000 and suspended him 30 days after he plead guilty to driving while impaired in 2010.
It's anybody's guess what Goodell will do with Irsay. Just don't be shocked if the NFL is harsher on him than it was on Lewand and Adams.
"We obviously will want to understand the facts before we take any steps as it relates to any potential discipline," Goodell said. "Obviously any policies or any laws that are broken, whether you're commissioner or owner or player or coach, those are subject to discipline."
March, 24, 2014
Mar 24
7:15
PM ET
ORLANDO, Fla. -- The
Indianapolis Colts
will have to wait until May to see if their desire to be able to open their retractable roof during halftime of games will pass.
Competition committee chairman Rich McKay said the proposal submitted by the Colts has been tabled until the next NFL owners' meeting in Atlanta in May.
"(We) want to go back and look at it," McKay said. "Want to make sure we're right and everybody is comfortable from a competitive standpoint."
The Colts proposed the idea to allow fans to have a better experience at games. The NFL, as McKay noted, wants to make sure the rule doesn't give the Colts,
Houston Texans
,
Arizona Cardinals
and
Dallas Cowboys
, teams who play in stadiums with retractable roofs, an advantage over their opponents.
The Colts have played games with the roof open 15 out of a possible 48 games since Lucas Oil Stadium opened in 2008.
March, 24, 2014
Mar 24
3:25
PM ET
ORLANDO, Fla. -- Faith. Family. Football.
Those are the three things
Indianapolis Colts
owner Jim Irsay constantly preaches to those in the organization. Those three things have strong ties to Irsay today and will tomorrow and in the future.
The faith has to be there that Irsay can overcome his unfortunate addiction. There's no better time than now for Irsay's immediate family and football family to stick by him as he works his way through rehabilitation. And at some point, many hope sooner rather than later, Irsay will be back running his football team on a day-to-day basis.
"We're going to support Jim no matter what and the biggest thing, No. 1, is his well-being, just getting healthier," Colts coach Chuck Pagano said in between sessions at the NFL owners meetings Monday. "We miss him, love him, wish he was here with us. But again, like I said, I'm not the only guy who would take a bullet for this man."
Irsay isn't at the owners meetings. His daughter Carlie Irsay-Gordon is in Orlando, Fla., representing the franchise while her father is at a health-care facility.
"My whole family's prayers are going for him,"
Arizona Cardinals
coach and former Colts interim coach Bruce Arians said. "Let's hope he comes back strong."
Irsay faces four felony counts of possession of a controlled substance after being arrested on suspicion of intoxicated driving in the northern Indianapolis suburb of Carmel late March 16.
"Anyone who knows Jim Irsay [knows he] is a good guy,"
New England Patriots
owner Robert Kraft said. "He's a kind man, he's well-intentioned, and he's in my prayers. What's happened to him has not changed my opinion of him."
The Colts say they'll be fine with the day-to-day operations while Irsay is in rehab. Truth be told, they'll miss him. Irsay isn't one of those hands-on owners who's always meddling in things, but general manager Ryan Grigson uses his owner as a sounding board. That's not surprising considering Irsay was the Colts' general manager from 1984 to 1993.
Arians recalls Irsay coming out to practice every Thursday when he was the team's interim coach while Pagano battled leukemia in 2012 and they'd walk off the field together talking about a wide range of subjects.
"I don't care which game it was, which year it was, which player it was, schematically, offense, defensive philosophy, he knows it inside and out," Pagano said. "He's been around it forever and ever. He's got a bright eye for not only talent, but everything else he has to do to run a successful program."