Indianapolis Colts:

Adrian Peterson
April, 10, 2014
Apr 10
8:00
AM ET
Here's Thursday's Reading the Coverage:
-- Colts.com has a story on linebacker Daniel Adongo. Adongo is a former
rugby player the Colts signed last season
. He spent most of the season on the practice squad before being elevated to the active roster.
Adongo, 24, ended up playing 31 snaps on special teams last season.
"I planned my offseason as soon as we lost the [Patriots] game," Adongo told Colts.com. "I know as every great warrior, you need to put in work for the next battle, so the next battle is what's coming, the next season. I do have a plan in mind and I do plan to follow it to a 'T' and execute that."
-- Mike Chappell of the Indianapolis Star talked with Minnesota Vikings running Adrian Peterson
during a conference call for Hyperice
, a device he used in his recovery after tearing two ligaments in his left knee during the 2011 season.
Chappell asked Peterson about returning from a torn ACL because Indianapolis Colts veteran receiver Reggie Wayne is trying to work his way back from one of those injuries.
"My expectations of Reggie Wayne [are] for him to come back and be just as good or even better,'' Peterson said. "Why I say that is he's now in a position where age is a factor, or so they say. He has something to prove."
February, 5, 2014
Feb 5
2:40
PM ET
INDIANAPOLIS –
Indianapolis Colts
running back
Trent Richardson
will spend the offseason with the mind frame that he's in school.
Learn, learn and learn the playbook some more. That will be his mentality as he knows the critics are still there and he knows the excuse of not knowing the Colts' offensive system can no longer be used.
[+] Enlarge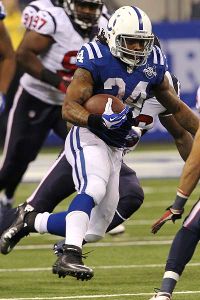 Pat Lovell/USA TODAY SportsColts running back Trent Richardson will spend his offseason trying to regain his form from 2012.
Richardson spent too much time thinking when he took the handoff than running with the type of speed and force that made him the No. 3 overall pick in the 2012 draft.
"Learn the system, not just memorizing it," Richardson said. "Learning the whole concept of the system. There's a difference between having it memorized and feeling comfortable with the system. I'm going talk to a lot of veteran players, talk to Adrian (Peterson), talk to (
LaDainian Tomlinson
) , talk to
Emmitt Smith
to make sure I'm the best I need to be next year."
The Colts went from pulling off the biggest trade of last season when they acquired Richardson from the
Cleveland Browns
for a first-round pick to currently having the move favor the Browns after Richardson only averaged 2.9 yards a carry. The thought of the dynamic duo of Richardson and quarterback
Andrew Luck
has yet to come together. Richardson ended up losing the starting running back position to
Donald Brown
on Dec. 1, 2013.
Colts general manager
Ryan Grigson
defended the trade during his season-ending press conference last month. It is too soon to call Richardson a bust because he got acquired during the middle of the season. He needs a full offseason of OTA's, minicamp and training camp before a better evaluation can be given on him.
"This is more a problem of not being in the system long enough for me," ESPN NFL analyst Herm Edwards said as part of the top 50 offseason questions. "He's clearly got talent. But getting traded in the middle of the season is tough for any player, and his offensive line in Indianapolis wasn't very good this season. Indianapolis also needs to mix up the game plan with Richardson more when he's in the game. Too often, he would come into the game and it would be obvious the Colts were handing him the ball. He'd get hit behind the line."
Richardson will split his offseason between Indianapolis and his hometown of Pensacola, Fla. He won't be on the pretty beaches of Florida building sandcastles with his kids. He'll be on the beach running sand hills and training with his old school coach.
"I've got a big motivation for next season," Richardson said. "My big thing, I want to contribute to the team. As far as putting on a big show every weekend for the team, the city, the fans, I'm going to do whatever it takes. That's a lot of motivation for me."
January, 22, 2014
Jan 22
11:00
AM ET
The third question in the series of NFL Nation confidential survey questions leading up to the Super Bowl is: Who's the player you'd most like to see in the Super Bowl?
Minnesota Vikings
running back
Adrian Peterson
barely beat
Atlanta Falcons
tight end
Tony Gonzalez
in the confidential voting done by 10 players on all 32 teams in the league.
Peterson picked up 59 votes compared to Gonzalez's 56 votes. The two easily outdistanced Detroit's
Calvin Johnson
, who was third with 26 votes.
Peterson, one of the premier running backs in the league for years, has run for 10,115 yards and 86 touchdowns during his seven-year career. The closest he got to the Super Bowl was when the Vikings lost to the
New Orleans Saints
in the NFC Championship Game during the 2009 season. The Vikings had some player named
Brett Favre
quarterbacking them at the time.
Gonzalez, a first-ballot Hall of Famer, is the career leader in receptions (1,325), touchdowns (111) and yards (15,127) amongst tight ends.
But unlike Peterson, Gonzalez won't have an opportunity to play in a Super Bowl. Gonzalez is expected to retire after 17 years.
January, 16, 2014
Jan 16
10:00
AM ET
Quarterback
Andrew Luck
's NFL career consists of a total of 35 games when you add in the three playoff games he's appeared in. It's only taken those 35 games for Luck to earn the respect of his peers around the league.
Luck finished second behind only
Peyton Manning
, the player he replaced at quarterback with the
Indianapolis Colts
, during NFL Nation's survey question of: If you could start a team with one player, whom would it be?
Luck received more votes than Green Bay's
Aaron Rodgers
, New England's
Tom Brady
, Detroit's
Calvin Johnson
and Minnesota's
Adrian Peterson
.
And Manning, who has led the
Denver Broncos
to this weekend's AFC Championship Game, barely beat Luck. Manning had 62 votes compared to Luck's 56 votes.
I'm not surprised that so many players selected Luck. He simply knows how to win, he goes about his business the right way and he'll be leading the Colts for at least the next decade. Punter
Pat McAfee
once told me that other cities have more to offer when it comes to nightlife or beaches, but if a free agent wants to win he'll come to Indianapolis because of Luck.
McAfee is right.
Luck is 22-10 in the regular season, he's already won an AFC South title and he won his first playoff game this season. Manning didn't win a playoff game this early in his career.
Oh yeah, Luck's only 24 years old.
There aren't many other teams around the NFL who can say the same thing.
January, 16, 2014
Jan 16
10:00
AM ET
Indianapolis Colts
fans spent 14 years watching
Peyton Manning
grow and turn into one of the premier quarterbacks in the league. He led the Colts to the playoffs 11 times and two Super Bowls. His talent is the reason his peers from around the league said he is the one player they would want to start a team with.
Manning was also the top vote-getter when players were asked who is the most respected player in the league as part of the NFL Nation survey.
The
Denver Broncos
quarterback (86 votes) easily beat out New England's
Tom Brady
and Minnesota's
Adrian Peterson
(24 votes each) for top honors.
Colts quarterback
Andrew Luck
and receiver
Reggie Wayne
had two votes each. Linebacker
Robert Mathis
picked up one vote.
You can expect Luck to continue to move up the ladder as each season passes because everybody inside the Colts' locker room respects him on and off the field.
October, 12, 2013
10/12/13
2:30
PM ET
INDIANAPOLIS --
Indianapolis Colts
coach Chuck Pagano took time during the opening of his media session on Saturday afternoon to deliver a message to
Minnesota Vikings
running back
Adrian Peterson
.
"On behalf of our organization and our team and our players and coaches and everybody, we want to let Adrian Peterson know that he and his family are in our thoughts and prayers," Pagano said.
Peterson's 2-year-old son died Friday from injuries sustained during an alleged aggravated assault in South Dakota on Wednesday.
As far as on the field goes, the Colts are slowly getting some of their injured players back.
Fullback
Stanley Havili
(ankle) and defensive tackle
Ricky Jean Francois
(groin) will be back in the lineup when they play the
San Diego Chargers
on Monday.
The same can't be said about safety
LaRon Landry
.
Landry will miss his fourth straight game with a high ankle sprain. He started the week as being day-to-day but it became pretty obvious he wouldn't be ready because he didn't practice this week.
Delano Howell
will continue to start for Landry.
September, 5, 2013
9/05/13
7:00
PM ET
INDIANAPOLIS -- Remember when the
Indianapolis Colts
talked about being a power-running team during training camp?
Ballard
Bradshaw
That raised a few eyebrows when offensive coordinator Pep Hamilton mentioned it because of quarterback
Andrew Luck
's passing ability.
The Colts ran the ball 115 times (3.8 yards an attempt) and attempted 130 passes in the preseason.
But it's still too early to pass judgment on if the Colts will truly be a power-running team because they didn't have their top two running backs during the preseason.
Vick Ballard
played, but
Ahmad Bradshaw
, the likely starter at some point, didn't because he continued to work his way back from offseason foot surgery.
Bradshaw will be in the lineup against Oakland on Sunday. He said earlier this week that he's been working with the second unit.
"I think it all starts up front," Hamilton said. "Our offensive line, they've progressively gotten better since the start of camp and we expect that we're going to be able to come out and control the line of scrimmage. That's our ultimate goal."
It's the coaching staff's job to figure out how the load will be divided between Ballard and Bradshaw. Unlike with quarterbacks when they say having two of them means you don't have one, having two running backs is a luxury unless you've got somebody like Minnesota's
Adrian Peterson
in your backfield.
"I think it's probably been official for an offense like ours to have at least a couple backs that can carry the load," Hamilton said. "It's a long season and we expect to be able to run the football. We're sure that there will be enough opportunities to go around."