Indianapolis Colts:

Andy Reid
June, 11, 2014
Jun 11
6:00
AM ET
INDIANAPOLIS -- The original plan was that the 2014 season would be veteran
Indianapolis Colts
quarterback
Matt Hasselbeck
's final one. He would end his 17-year career as
Andrew Luck
's backup.
That was the plan, at least.

Hasselbeck
Hasselbeck is no longer ready to officially call next season his last.
"I'm kind of open to anything, and my wife and I talked about this recently and I talked to a lot of my former teammates," Hasselbeck said. "The advice a lot of my former teammates have given me is right on point of what I'm feeling. Their advice has been just give everything you can to this year and the answer will happen. That's just kind of what I'm focusing on."
Hasselbeck isn't going to waste any time on giving everything. He plans to head to the state of Washington shortly after the Colts' mandatory minicamp next week. He's hired a "football guru" to "kick my butt" twice a day up there. Hasselbeck has a center he'll work with and a handful of NFL quarterbacks and receivers will also be in attendance.
"We did family vacations and things like that before April 21 this year so the time before training camp is about nothing but getting ready for training camp," he said. "Reality is, you have to work harder the older you get."
Hasselbeck, 38, likes being in the position where he basically gets to dictate his future. The same couldn't be said when the
Green Bay Packers
selected him in the sixth round of the 1998 draft. Back then Hasselbeck was one of six quarterbacks taking part in his first minicamp. He was just hoping he would be able to keep the mesh shorts with his name and Packers logo on them.
Hasselbeck got more than the shorts. He's passed for 34,647 yards, 201 touchdowns and 148 interceptions in his career, which includes a Super Bowl XL appearance while as the starting quarterback for the
Seattle Seahawks
.
"It wasn't until I met with Andy Reid, my quarterback coach (in Green Bay), and he told me I had a chance to be the backup," Hasselbeck said. "I wanted to hug him. What happened was I didn't learn the offense quick enough, so I couldn't do that my first year. Thankfully they were investing in the position and kept me around, a fourth quarterback on the practice squad. Otherwise I had no other options in the league."
January, 3, 2014
Jan 3
10:00
AM ET
Something will have to give when the
Indianapolis Colts
and the
Kansas City Chiefs
meet in an AFC wild-card playoff game at Lucas Oil Stadium on Saturday.
The Chiefs have lost seven straight playoff games, tying them for the longest playoff losing streak in NFL history. The Colts have lost three straight wild-card playoff games.
This is the second time the teams will meet in a three-game period. The Colts, who are on a three-game winning streak, beat the Chiefs 23-7 at Arrowhead Stadium on Dec. 22.
ESPN.com Colts reporter Mike Wells and Chiefs reporter Adam Teicher break down the matchup.
Teicher
: The Colts were wobbling coming into Kansas City a couple of weeks ago but seem to have righted themselves that day. What can you point to as the reasons?
Wells
: Most fans would say it's because of quarterback
Andrew Luck
. Don't get me wrong, Luck has been as good as expected, but the change has been led by the defense. The Colts have 12 sacks and have forced eight turnovers, including four against the Chiefs in Week 16, during their three-game winning streak. That's where Luck and the offense come in. You give Luck a short field to work with, and the odds are pretty good that he'll lead the Colts to a score. They scored a quick 17 points in the first quarter against Jacksonville last week.
Chiefs coach Andy Reid decided to rest most of his starters against San Diego in the finale. Do you think that was the right thing to do?
Teicher
: Undoubtedly. The Chiefs didn't get a bye in the playoffs, but Reid created one for eight defensive and seven offensive starters who didn't play against the Chargers. I would expect that to be reflected in how those guys play against the Colts. Momentum going into the playoffs is overrated. The NFL is such a week-to-week deal that it's almost impossible for a team to carry anything over from one game to the next, and even at that, the starters were able to get in some practice time last week. Not that this is a huge thing with the playoffs beginning, but the Chiefs got a good look at some of their backups under game conditions against an opponent that needed to win. In several cases, they liked what they saw.
Donald Brown
was the Colts' playmaker against the Chiefs a couple of weeks ago. He obviously is fast and has more power than you would think by looking at him. Why don't the Colts use him more as their featured back and why did they trade for
Trent Richardson
?
Wells
: Brown took over the starting spot from Richardson against Tennessee on Dec. 1 because Richardson was having a difficult time finding a rhythm. I still think the Colts made the right move in trading for Richardson, because Brown has been inconsistent for most of his five seasons with the Colts up until now. Richardson is still the future for the Colts; they have no intention of parting ways with him after the season. They still envision him and Luck having a great future together. And Brown said it best earlier this week, "There are only a handful of teams that only use one running back. We're going to need two, three running backs to get through the playoffs."
Speaking of running backs, it looked like
Jamaal Charles
was going to have a huge game against the Colts (not that 106 yards is a bad game) after the first series. He ended up with only 13 carries. How come the team's best player didn't have more carries or more catches, for that matter?
Teicher
: Reid messed up that one and he beat himself up for it afterward. You can count on that not happening again this time around. Charles was given the ball 18 times (13 carries, five receptions) against the Colts two weeks ago. That actually wasn't a season low for him. He had 16 touches (and a monster game) the week before in Oakland and 18 touches in two other games (both Chiefs losses). Another thing to remember is the Chiefs had only 53 offensive plays against the Colts, their second-lowest total of the season. They didn't have the normal amount of opportunities to get him the ball. But whether or not the Chiefs have a limited amount of snaps on Saturday, they will get him the ball more often. He's their best offensive player, so they're making a huge mistake if they don't.
Linebacker
Jerrell Freeman
is another player who had a big game for the Colts when they played against the Chiefs. Has he had other games like that this season? Give us a little scouting report on his strengths and weaknesses.
Wells
: You have to credit Colts general manager Ryan Grigson for finding Freeman. Grigson is known for finding players in different parts of the world. He'd probably go to Antarctica to scout if there were a football team there. Freeman is a former Canadian Football League player. He led the Colts in tackles as a rookie and would be the team's defensive MVP if not for a player named
Robert Mathis
. Freeman reached double figures in tackles in 12 of the 16 games this season. He has no problem being matched up against a running back out of the backfield, a tight end or even a wide receiver if he has to, because he's athletic enough to defend them. An argument could be made that Freeman deserved a Pro Bowl nod.
This is not a knock against Charles, but how come the Chiefs had a running back lead them in receiving this season? I would have said
Dwayne Bowe
led them in receiving if you asked me to take a guess on their leading receiver this season.
Teicher
: It's a number of factors. The Chiefs wanted to use Charles more in the open field and get him in favorable one-on-one matchups, and it's easier to do that by throwing him the ball. Ideally, the Chiefs would go down the field to their wide receivers more often, but Bowe,
Donnie Avery
and
Dexter McCluster
haven't been able to get open consistently and have delivered few plays. Quarterback
Alex Smith
has tended to do the safe thing and opt for the checkdown to Charles rather than take a chance down the field. It's something the Chiefs will need to correct next season. They'll find another receiver or two in the draft or through free agency.
December, 29, 2013
12/29/13
11:00
PM ET
Three things to know about next week's
Kansas City Chiefs
-
Indianapolis Colts
wild-card playoff game at Lucas Oil Stadium:

1. Containing Jamaal Charles.
The Chiefs running back finished with 106 yards on 13 carries in the first matchup between the two teams on Dec. 22. But those yards don't tell the whole story. Charles gained 37 yards on Kansas City's opening series. That means the Colts held one of the NFL's premier all-around players to only 69 yards the rest of the game. Indianapolis will have to do the same again because Charles has proved that he can run the ball -- he ran for 226 yards against the Colts in 2012 -- and he had 195 yards receiving against the
Oakland Raiders
in Week 15 this season. Charles finished the season with 1,287 yards rushing, 693 yards receiving and 19 touchdowns.
2. Do it on defense.
Yes,
Andrew Luck
is the Colts' most valuable player, but they'll need their defense to play well. They're heading into the playoffs with the defense getting 11 sacks and forcing eight turnovers during their three-game winning streak. The Colts sacked Chiefs quarterback
Alex Smith
four times to go with four turnovers in the game. Indianapolis held Kansas City to 287 yards of total offense.
3. Continue to protect the quarterback.
The offensive line has done a good job protecting Luck. He was sacked only three times in the final three games of the season. The ability to keep the young quarterback on his feet has helped the Colts' passing game, as he was 26-of-37 for 282 yards in the season finale against Jacksonville on Sunday. Luck also completed 67 percent of his passes to receivers with six touchdowns and only one interception in the final four games of the season. He had completed only 50.5 percent of his passes to his receivers in the first five games without
Reggie Wayne
.
You know what you're going to get out of receiver
T.Y. Hilton
. But fellow receivers
Da'Rick Rogers
,
LaVon Brazill
and
Griff Whalen
are about to step into unfamiliar territory. The three have developed a nice continuity with Luck. The playoffs aren't the time for them to have a setback by showing their inexperience. The Colts won't be able to run their no-huddle offense if Luck can't depend on them to get open and catch the ball.
December, 26, 2013
12/26/13
10:00
AM ET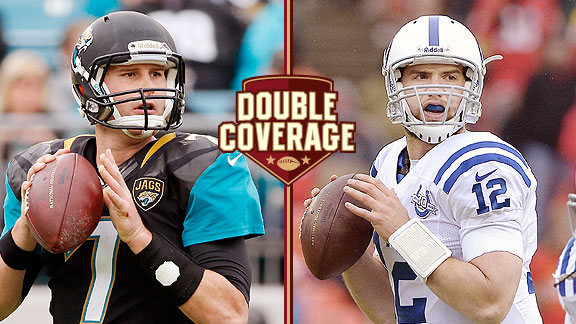 Getty ImagesAndrew Luck and the Colts will look to take momentum into the playoffs with a win over Chad Henne and the Jaguars.
It'll be a battle of teams headed in opposite directions at Lucas Oil Stadium on Sunday.
The
Indianapolis Colts
want to have momentum heading into the playoffs. They also need the victory to have a shot at moving up from the No. 4 seed in the AFC playoffs. The
Jacksonville Jaguars
are simply playing out the season before vacation starts following the game.
The Colts easily beat the Jaguars 37-3 in Week 4.
ESPN.com Colts reporter Mike Wells and Jaguars reporter Michael DiRocco discuss the rematch:
Wells:
Running back
Maurice Jones-Drew
has been a fixture in the organization for eight years. Will Sunday be the last time he wears a Jaguars uniform?
DiRocco:
My gut feeling is that he'll be back, but it's certainly not a slam dunk. Jones-Drew said after Sunday's loss to Tennessee that he wants to be back in Jacksonville, but he has a price and contract length in mind. So does general manager David Caldwell, so I expect this to be a deal that's going to take some negotiating to get done. Jones-Drew may still want to test the free-agent market to see what kind of money is out there, but he'll probably find that there isn't a lot of demand for a 29-year-old running back who has battled injuries the past two seasons. It really would be best for both sides to have Jones-Drew finish his career in Jacksonville. Jones-Drew wouldn't have to prove himself all over again and he would help bridge the gap between the past five terrible seasons and the new regime.
Since we're talking about running backs, was the
Trent Richardson
trade the worst move of the NFL season? What does it mean going forward for both the Colts and Richardson?
Wells:
The trade obviously hasn't worked out the way the Colts envisioned -- Richardson isn't even starting -- but the front office is nowhere near ready to ball up a white towel and throw it in on the second-year running back. They still believe he's a huge part of the team's future. The Colts believe a full offseason of organized team activities and training camp will help Richardson's development. Richardson has shown some flashes -- he ran for 51 yards on seven carries in the fourth quarter against Houston on Dec. 15 -- but the Colts don't want flashes. They want consistency out of him, and believe that will come.
I know I asked you about Sunday possibly being Jones-Drew's final game with the Jaguars, but what about the coaching situation down there? Do you think you'll be covering a coaching search in the offseason?
DiRocco:
It may look to outsiders that Gus Bradley should be on the hot seat after a 4-11 season that included an 0-8 start, but he's just as secure in his job as Bill Belichick, Andy Reid and Pete Carroll are theirs. Owner Shad Khan knew this was going to be a rough season because he, Caldwell and Bradley agreed to essentially blow things up and start over. The Jaguars' roster is the least talented in the league, and it's also one of the youngest. Caldwell is committed to building through the draft (the Jags have 10 picks in the 2014 draft) and Bradley is on board with that. The first priority is finding a quarterback, which likely will be done in May. Now, if the Jaguars are still only able to manage single-digit victories three seasons from now, Bradley would be in trouble.
Did Chuck Pagano use QB
Andrew Luck
correctly this season? Even with the
Reggie Wayne
injury, shouldn't Luck have been throwing it all over the place?
Wells:
The Colts put a heavy emphasis on being a power-running team this season. Any thought of that happening basically ended when
Ahmad Bradshaw
was lost for the season with a neck injury after the Week 3 game against the
San Francisco 49ers
. The Colts became a team that simply wanted to be able to run the football, and they weren't going to let anybody stop them from trying to do it. They've gained at least 104 yards in 10 games this season, with the idea of helping ease the burden on Luck's shoulders. Luck's passing yards are down from his rookie season, but he has had a better overall second year. His completion percentage is up and his interceptions are down. It didn't seem that would happen after Wayne was lost for the season and there wasn't much continuity with the rest of the receiving group outside of
T.Y. Hilton
. Have you ever heard of
Da'Rick Rogers
? But Luck's faith and trust with his receivers has improved each week because he has put in the time with them in practice.
The quarterback situation in Jacksonville is still a mess. Will the Jags look to upgrade the position in the offseason or will
Blaine Gabbert
get another shot?
DiRocco:
I mentioned it briefly above, but finding a franchise quarterback is the No. 1 priority and I believe the Jaguars will select one with their first-round pick. ESPN Insider Todd McShay's
first mock draft

had them selecting Johnny Manziel, which would certainly make them relevant nationally and bring some excitement to the franchise. Teddy Bridgewater is still an option, too, depending on how the draft plays out. The Jaguars also could opt to go defense in the first round and take a QB in the second. Regardless of their approach, I'd be stunned if the team doesn't draft a quarterback. Gabbert's days in Jacksonville are done.
Denver isn't a lock to win the AFC, by any means. How do you break down the Colts' chances in the playoffs?
Wells:
Health, continued improvement from the receivers, the defense forcing turnovers and having a running game are the biggest keys for the Colts in the playoffs. I believe it's a two-team race between Denver and New England in the AFC, but both teams have their flaws and are beatable. The Colts are in a situation where they could finish anywhere from the No. 2 seed to the No. 4 seed. They've been able to overcome the loss of Wayne to be in the position to possibly match their win total of 11 games from last season, but I think it's in the playoffs -- possibly in the second round if they get there -- that the Colts will miss Wayne's talent and experience.
October, 27, 2013
10/27/13
6:15
PM ET
INDIANAPOLIS -- The
Indianapolis Colts
will return to the practice Monday afternoon after coach Chuck Pagano gave his players the entire week off following their victory over the
Denver Broncos
on Oct. 20.
The Colts won't have receiver
Reggie Wayne
(knee) the rest of the season, but they're still in a good position to win the AFC South for the first time since 2010.
The Colts (5-2) have a two-game lead over the
Tennessee Titans
(3-4). They also have a favorable schedule the rest of the season. It puts them in the perfect spot to match their 11-5 record from last season as long as they can overcome losing Wayne and avoid playing to the level of their competition when they face struggling teams.
The road to their 5-2 record hasn't been easy for the Colts. They've beaten the Broncos, Seattle and San Francisco. And they did it while having to overcome season-ending injuries to Wayne,
Dwayne Allen
,
Vick Ballard
,
Donald Thomas
and
Ahmad Bradshaw
. Starting safety
LaRon Landry
also missed four games with a high-ankle sprain. That's what makes Indianapolis' start even more impressive.
The Colts' remaining nine opponents went into Sunday with a combined record of 23-26.
Here's a breakdown of the Colts' schedule:
Nov. 3 at Houston:
The Texans were possible Super Bowl contenders in the AFC when the season began. Instead they've been one of the biggest disappointments. You wouldn't have thought the Texans would have a quarterback issue with
Matt Schaub
, but he's thrown nine interceptions and isn't a fan favorite in Houston.
Nov. 10 versus St. Louis:
You know things are bad when a team calls 44-year-old
Brett Favre
to see if he's interested in coming out of retirement to play quarterback. Starting quarterback
Sam Bradford
is out for the rest of the season with a torn ACL.
Nov. 14 at Tennessee:
This is toss-up game for the Colts. The Titans have dropped three in a row, but they lost against Kansas City, Seattle and San Francisco and they were without quarterback
Jake Locker
in two of those games.
Nov. 23 at Arizona:
The Bruce Arians reunion game. The Cardinals have
Carson Palmer
at quarterback – 8 touchdowns, 13 interceptions and sacked 20 times. Enough said.
Dec. 1 versus Titans:
The Colts are 9-1 against the Titans in the last 10 games played in Indianapolis.
Dec. 8 at Cincinnati:
The Bengals get the edge in this one because they're at home and unlike Colts quarterback
Andrew Luck
, Cincinnati quarterback
Andy Dalton
has one of the best receivers in the league,
A.J. Green
. The Bengals also have a top-10 defense.
Dec. 15 versus Texans:
The Texans have never beaten the Colts in Indianapolis (0-11). The losing streak will remain.
Dec. 22 at Kansas City:
Coach Andy Reid deserves a lot of credit for the job he's done in turning the undefeated Chiefs around. They have a top-five defense.
Dec. 29 versus Jacksonville:
History could be made at Lucas Oil Stadium on this day. I wouldn't be surprised if the Jaguars entered the game 0-15.