Indianapolis Colts:

Bill Belichick
April, 23, 2014
Apr 23
3:45
PM ET
INDIANAPOLIS – You would think the release of the NFL schedule is a national holiday, where everything is shut down with so much excitement surrounding it.
The
Indianapolis Colts
have the easiest schedule based off the 110-146 combined record of their opponents last season. That's on paper. The Colts will have a tough schedule facing teams like Denver, New England and Baltimore next season.
Here are the Colts' 2014 opponents:
Home: Tennessee, Houston, Jacksonville, New England, Washington, Philadelphia, Cincinnati, Baltimore
Away: Tennessee, Houston, Jacksonville, Dallas,
New York Giants
, Pittsburgh, Cleveland, Denver
Based off the schedule and the fact the Colts have quarterback
Andrew Luck
, I can see them possibly having five prime-time games next season.
Here are the five prime-time games I think the Colts will have:
Washington: Luck vs. Robert Griffin III">Robert Griffin III, the top two picks from the 2012 draft, facing each other for the first time.
Denver: Luck vs. Peyton Manning Part II.
New England: Luck vs. Bill Belichick. Luck has thrown seven interceptions in two games against the Patriots.
Dallas: Luck vs. America's team. How about Luck playing his first Thanksgiving game?
New York Giants: Luck vs. Peyton's little brother, Eli.
How many prime-time games do you think the Colts will play next season?
April, 19, 2014
Apr 19
8:00
AM ET
January, 12, 2014
Jan 12
2:33
AM ET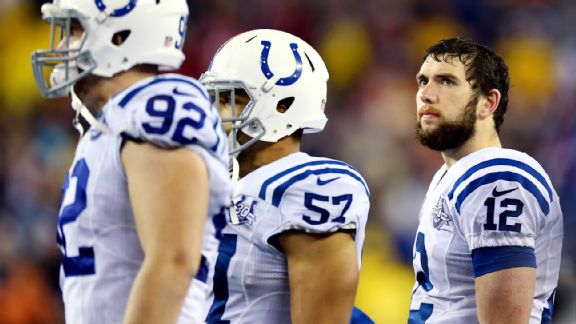 Elsa/Getty ImagesAndrew Luck could not lead another big comeback during the divisional round of the playoffs.
FOXBOROUGH, Mass. – The locker room was basically empty other than a few players dressing and equipment guys double-checking to make sure nothing was left.
Indianapolis Colts
quarterback
Andrew Luck
sat alone at his locker, slowly putting his clothes on, expressionless as if he was replaying the game, or more like his errant throws, in his head.
Luck will eventually take the throne from
Tom Brady
and
Peyton Manning
, but the time's not now. It will come, you can count on it. Luck's too good and too much of a perfectionist not to let it happen.
Through all the incredible comebacks he orchestrated, through all the times he shook off a blitzing linebacker to complete a throw downfield or tucked the ball and made something out of a broken play, Luck will likely spend the offseason thinking about the throws he didn't make Saturday night and what it'll take to beat Bill Belichick and his
New England Patriots
.
Luck's struggles against the Patriots continued when his four interceptions overshadowed the 331 yards he threw for in the Colts' season-ending
43-22 loss
.
"As painful as it is, the experience is what it's about," Colts owner Jim Irsay said as he made his way out of Gillette Stadium. "The experience is invaluable. It hurts and it's a hard time, but these types of moments is how you get better."
Luck will have to figure out the defensive mind games Belichick likes to play with quarterbacks the same way Manning did with the Patriots coach.
Luck has turned the ball over eight times, including seven interceptions, in two meetings against New England. The Colts lost those games by a total of 56 points.
A sign of things to come occurred on the Colts' third offensive play, when Luck locked in on receiver
LaVon Brazill
and cornerback
Alfonzo Dennard
picked him off.
"Mistakes from the first quarter to the last series," Luck said. "It was indicative of how the game kind of went for us, for me. It starts on my shoulders on those picks. It stinks."
Luck managed to shake off the constant pass rush and tight coverage on receiver
T.Y. Hilton
to have the Colts within seven points of the Patriots in the fourth quarter.
That set the stage for one of those feel-good moments -- you know, the kind where the young stud goes on the road and beats the future Hall of Famer in his own backyard, propelling the Colts to the AFC Championship Game.
That's what you thought, at least.
After the real star Saturday -- New England running back
LeGarrette Blount
-- broke free for a 73-yard touchdown, Luck once again locked in his target and was intercepted by linebacker
Jamie Collins
, ending any chance of the Colts winning.
"Obviously this is not a good feeling right now," Luck said. "It'll take a while to go away."
Luck's interceptions weren't just a one-game situation in the playoffs.
His heroic performance in leading the Colts back from 28 points down in the second half against the
Kansas City Chiefs
will always be talked about. What may be forgotten is that Luck threw three interceptions in that game, giving him seven in the playoffs.
That's unacceptable when you consider he only had nine interceptions in the regular season.
"He had been doing a great job of managing the offense and taking care of the football," Colts coach Chuck Pagano said. "So in those two games, certainly you can't turn the ball over. He knows it, we know it and I know it. I thought he did a great job the entire season. Obviously you can't do that when the stakes are this high and when it's one and done. We'll work to get that corrected."
Luck can't be knocked for not getting the Colts past the Patriots. The fact that he led the Colts to this stage can be looked at as successful. There aren't many quarterbacks in the NFL that could shake off the loss of their go-to receiver, a sporadic running game and an offensive line that didn't always show up and still lead their team to a division title and playoff victory.
The 24-year-old Luck did.
And just imagine how much better he'll be when general manager Ryan Grigson puts better talent around him.
"He's on the right track, the fast track," Colts linebacker
Robert Mathis
said. "Gotta let him do his thing. This is his team. He's our engine, just gotta let him go."
Luck's the engine who will spend the offseason breaking down film and being his worst critic to make sure he'll be back even more powerful next season.
January, 10, 2014
Jan 10
3:00
PM ET
INDIANAPOLIS --
Indianapolis Colts
receiver
T.Y. Hilton
did something nobody in team history had been able to accomplish in the playoffs last weekend.
Hilton, all 5-foot-9 of him, caught 13 passes for a franchise playoff-record 224 yards in a 45-44 win over the
Kansas City Chiefs
.
But with success comes the pressure to continue to play well as the focal point of the opposition.
[+] Enlarge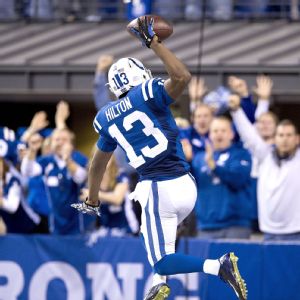 John Sleezer/Kansas City Star/MCT via Getty ImagesT.Y. Hilton caught 13 passes for 224 yards and 2 touchdowns -- including the game winner -- against the Chiefs last week.
That's what Hilton will face when the Colts take on the
New England Patriots
on Saturday. Colts coach Chuck Pagano said Patriots coach Bill Belichick's ability to make teams use their other options is like making an opponent "play left-handed."
"The main thing for me is just to stay focused and don't get frustrated," Hilton said. "They're going to roll some coverages my way. Sometimes they might single me. Sometimes they may double me, or even have help over the top. But the main thing for me is just not to get frustrated. Just continue playing my game and don't worry about what they're doing. Just do what your team asks you to do and just don't try to do too much."
Hilton had back-to-back games of at least 121 yards after receiver
Reggie Wayne
was lost for the season with a torn ACL, but then teams started taking him out of the game by double-teaming him and providing help over the top.
Hilton had four straight games in which he didn't have more than 46 receiving yards. Against the
Cincinnati Bengals
he only had 7 yards. The Colts can't afford to have that happen again.
Hilton had six catches for 100 yards against the Patriots in 2012.
"He's pretty dangerous on everything," Belichick said. "He's caught long passes, intermediate passes, short catch-and-run plays. He's very quick, fast, explosive, good with the ball in his hands. Runs good routes. Hard guy to tackle. So he can beat you in a lot of different ways."
It would be easy to assume that Patriots Pro Bowl cornerback
Aqib Talib
will shadow Hilton around the field all game. But ESPN.com Patriots reporter Mike Reiss said don't be surprised if New England uses different defensive backs on Hilton.
"There's no way for us to know what their plan is until we kick the ball off," Colts offensive coordinator Pep Hamilton said. "We've said since Day 1, there's no can't-dos. Now is the time for us to let our hair down and let it all hang out. We're not saving plays. We're not saving any of our bullets, should I say."
Hamilton did an exceptional job of moving Hilton around the field to make it difficult for the Chiefs to key in on him last weekend. He played out of the slot in 48 of his 57 snaps against the Chiefs, according to the Indianapolis Star.
"He's played all four spots," Hamilton said. "We feel like that's important so that teams just can't kind of game plan and scheme to take him away and so we've challenged T.Y. early and often to understand the concepts and understand all four spots. He's done extremely well for himself. He's really helped our football team with big-play potential and the big plays that he has made over the course of the season. It was really exciting to watch T.Y. make a ton of big plays in last week's game and we hope that he'll continue to do so moving forward."
January, 9, 2014
Jan 9
5:20
PM ET
INDIANAPOLIS --
Indianapolis Colts
linebacker
Robert Mathis
believes there's a giant they have to slay Saturday in New England.
Mathis
Mathis was referring to the entire Patriots team, but it would understandable if you thought the Pro Bowl linebacker was simply talking about quarterback
Tom Brady
.
No matter what the Patriots do on defense, no matter how well they run the ball or Bill Belichick coaches, they will win or lose the game based on what Brady does in the AFC divisional playoff game.
It's up to Mathis -- the NFL's sack leader -- and the rest of the defense to make Brady as uncomfortable as possible in the pocket.
"He's one of the best quarterbacks in the league," Mathis said. "Any quarterback who is comfortable will kill you. He's no exception. There's no secret, you have to get him. You have to try to get him rattled or try to get him off his spot and just try to make him make some errant throws. Easier said than done."
Mathis is right, it is easier said than done.
It'll be nearly impossible to breathe on Brady if the Patriots are able to establish their running game. That's why the first task for the Colts will be to stop New England's rushing attack, which averaged 129.1 yards a game.
Don't stop the run game and Brady will be able to have his way with the play-action pass.
"If you don't stop the run, that will keep the offense lethal," Mathis said. "They'll come at you in more angles than one. If you can neutralize one facet of the offense it'll help you out. That's what we have to do, try to get those running backs under control."
The Patriots will have to be aware of where Mathis is at all times Saturday. He led the league in sacks with 19.5 during the regular season.
The league's sack leader against a team with a shaky offensive line favors the Colts. Brady was sacked 40 times during the regular season. Don't worry about Brady taking off and running. He only rushed for 18 yards on 32 attempts.
"He's an outstanding player, one of the most disruptive players in the league," Belichick said. "Not only does he hit the quarterback a lot, but he causes the turnover, game-changing plays. Very good at stripping the ball from the quarterback. He's also hit the quarterback a number of times, which has caused interceptions or tipped balls as part of the rush, that kind of thing. So he's a very disruptive guy. Quickness, tremendous motor. Has great speed, but he has great effort in his pursuit, chase.
All it takes is for Mathis to pull off one of his trademark strip-sacks for momentum to change in a game.
Just ask Denver's
Peyton Manning
or Kansas City's
Alex Smith
if you need further proof.
Mathis said his goal is to give their quarterback,
Andrew Luck
, as many extra possessions as possible.
"You try to put guys around him and double team him, but he still seems to be making all the plays," Brady said. "I just know I don't have a lot of time back there in the pocket to sort things out. We got to try and get the ball to our guys as quickly as we can so he's not ruining the game."
January, 9, 2014
Jan 9
9:30
AM ET
INDIANAPOLIS --
Indianapolis Colts
offensive coordinator Pep Hamilton was in a pretty good mood during his weekly meeting with the media Wednesday.
Hamilton is responsible for coming up with a game plan that will be able counter
New England Patriots
coach Bill Belichick's defensive schemes.
Hamilton referred to it being a 60-minute chess match because Belichick is always changing looks and disguising things. Then Hamilton pulled out a line that brought out a few laughs from the media contingent.
"They always tend to find ways to figure out some of your signals," Hamilton said with a grin. "That's part of it. It's truly an honor to have an opportunity to field a team and compete against the likes of Coach Belichick, who will go down as one of the greatest coaches in the history of the National Football League."
The Patriots will always remain infamous for the Spygate scandal in 2007.
Hamilton, who was part of the
New York Jets
' staff from 2003-05, was obviously joking when he said the Patriots "find ways to figure out some of your signals."
January, 8, 2014
Jan 8
8:00
AM ET
INDIANAPOLIS -- Kicker
Adam Vinatieri
has only played on two teams during his 18-year career.
The
Indianapolis Colts
and the
New England Patriots
.
Vinatieri
Vinatieri spent the first 10 years of his career with the Patriots and the past eight years with the Colts. Saturday's AFC divisional playoff game will be the 25th time that he has played in a game between the two teams.
"It really never gets old," he said. "Two great organizations, great coaches, great players, obviously. It's one of those ones. It's the Sox-Yankees, if you will. That kind of thing where I think both teams respect each other and know what comes to the table. It's going to be a fun game."
Vinatieri has scored 122 points in his career against the Colts and 37 points in his career against the Patriots. He's New England's all-time scoring leader with 1,158 points.
"Mentally, he's as tough and as consistent as they come," Patriots coach Bill Belichick said. "I can't think of anybody, certainly no other kicker, that I've coached that I would put ahead of him in terms of mental toughness, concentration, focus, professionalism, all of those things. ... He's a great player and a Hall of Fame kicker if there ever was one."
Receiver
Deion Branch
is the latest former Patriot to join the Colts. Safety
Sergio Brown
and cornerback
Darius Butler
are also former Patriots now with Indianapolis. Former Colts receiver
Austin Collie
is now with the Patriots.
"It's kind of the nature of the league," Patriots quarterback
Tom Brady
said, laughing. "There's a lot of guys that switch teams. There's coaches that switch teams. We've had guys from the Colts that have been on the Patriots and vice versa, so I think we're just used to it at this point."
January, 7, 2014
Jan 7
5:30
PM ET
INDIANAPOLIS -- New
Indianapolis Colts
receiver
Deion Branch
was on the practice field with his teammates for the first time Tuesday afternoon. Branch didn't address the media because he was in a cram session trying to learn as much of the offense as possible before Saturday's AFC divisional playoff game against his former team, the
New England Patriots
.
But two guys who know Branch well -- Patriots coach Bill Belichick and quarterback
Tom Brady
-- talked about him Tuesday.
Branch
The Colts
signed Branch on Monday
to give them some added depth at the receiver spot.
"He's a great player," Brady said. "He's been one of the best players I've ever played with. He's the best teammate, a great person, a great friend. He's so smart and dependable, consistent. He's everything you look for in a football player. I've always kept in contact with him."
Branch, MVP of Super Bowl XXXIX, had two separate stints with the Patriots, totaling 4,297 yards and 24 touchdowns. His best season in New England was in 2005 when he had 79 receptions for 998 yards.
"Deion had a great career here," Belichick said. "I think he was here for seven years or north thereof. Very smart, professional player, one of the top guys we've had here in terms of off the field work ethic, leadership, intelligence, preparation, all those things. He had some very productive seasons here. He's a tremendous person."
January, 6, 2014
Jan 6
9:00
PM ET
ESPNBoston.com NFL analyst and former New England Patriot linebacker Tedy Bruschi held
a chat on Monday afternoon
.
I pulled out a few of the questions and answers that involved the Colts.
Question:
Hey Tedy,I keep hearing the talk of Talib on Hilton, and I don't dislike the idea. But considering Talib seemed to have more success on big guys, and sometimes being beaten by Hilton-type guys (Steve Smith of course comes to mind) could you see Belichick and Patricia going a different route and using Ryan or Dennard on Hilton with safety help?
Bruschi:
I do see Talib matched up on Hilton in certain situations throughout the game. The interesting thing about T.Y. Hilton in Pep Hamilton's offense is that he moves around. Do the Patriots want Talib on Hilton if Hilton is lined up in the slot? Usually there are options for double teams with slot receivers. So it all depends on how creative Pep Hamilton wants to be with the Colts' offense. Is it possible that Bill Belichick says to Talib, "You have him no matter where he goes?" It is. But the Patriots usually like to use other players to double-team.
Question:
Tedy,Where does the X-Factor for a Pats victory lie this weekend? Vereen? Blount? Stopping TY Hilton? Pressure on Luck? It seemed from seeing last years game pressure on Luck paid dividends, I know he is more experienced but is this this weeks X-Factor?
Bruschi:
I think the X-factor is going to be LeGarrette Blount. This Colts defense is 26th vs. the run. I think Blount and the power running game can be successful, but watch out for sub runs with Shane Vereen. That's something the Colts have struggled with, as they like to substitute a smaller defensive lineup against multiple-WR sets.
Question:
What's a guy like Austin Collie going through? Being signed, cut, and re-signed can't be easy.
Bruschi:
This guy has had multiple concussions in his past. He's bounced around the league, but this is a case of what players will go through to play this game. I'm sure he's just happy to have the opportunity.
Question:
Do you think if we apply a lot of pressure with different blitzes that would benefit us or is that too risky?
Bruschi:
Andrew Luck is a dangerous quarterback. He does an outstanding job of staying alive in the pocket. Not only that, this is one of the strongest quarterbacks in the NFL. I've seen defenders draped all over him and he still completes a pass downfield. So bringing pressure can be dangerous. If you blitz, you better get there. This guy has a little Ben Roethlisberger in him. He will extend the play and make you pay.
Question:
Is Andrew Luck enough of a threat running with the ball to use a player to spy on him?
Bruschi:
I would say no, although Luck is extremely athletic. He has exceptional arm talent and you would rather give up a 20-yards scramble than a 5--60 yard pass. You need that extra player in coverage.
Question:
Who do you think will have to have a breakout game for the Colts knowing that Coach Belichick will blanket what they do well and that's take away T.Y. Hilton and everything deep?
Bruschi:
Donald Brown. This kid makes big plays as a receiver and a runner. He's a guy that has fought all year to earn his keep, starting the year behind Vick Ballard. Then they signed Ahmad Bradshaw in August. Then they traded for Trent Richardson. When all is said and done, he's still been their most productive back.
January, 6, 2014
Jan 6
1:30
PM ET
Seven years. Yes, almost seven years. That's how long it's been since the
Indianapolis Colts
and
New England Patriots
faced each other in a playoff game.
The Colts pulled off the improbable 38-34 come-from-behind victory over
Tom Brady
and the Patriots at the old RCA Dome on Jan. 21, 2007, in the AFC Championship Game to reach the Super Bowl.
A lot has changed since that game.

Kicker
Adam Vinatieri
, linebacker
Robert Mathis
and safety
Antoine Bethea
are the only holdovers from that game for the Colts. Brady and kicker
Stephen Gostkowski
are the only two starters still remaining for the Patriots. Defensive lineman
Vince Wilfork
played in that game but he missed most of this season with a torn Achilles injury.
Here's a quick breakdown of how the Patriots reached this point:
Record: 12-4 (1
st
AFC East)
Head coach: Bill Belichick
Offensive coordinator: Josh McDaniels
Defensive coordinator: Matt Patricia
FOUR PLAYERS TO WATCH
1. QB Tom Brady. Brady could put out a manual on how to get the most out of a group of relatively unknown receivers. There's no better quarterback in the league at doing that. The 36-year-old Brady overcame the loss of tight end
Rob Gronkowski
(knee) to still complete 60.5 percent of his attempts, pass for 4,343 yards and 25 touchdowns. Brady, like Colts quarterback
Andrew Luck
, is simply a winner no matter who he has lined up around him. One thing Brady won't do, though, is beat you with his feet. He only rushed for 18 yards this season. Good news for Mathis & Co., Brady was sacked 40 times during the regular season.
2. WR
Julian Edelman
. He became Brady's primary target after Gronkowski was lost for the season. Edelman finished fourth in the league in receptions with 105 and was targeted 151 times, which was good enough for 10
th
in the league, by Brady. Edelman had 1,056 yards and six touchdowns. The health status of the Colts secondary is up in the air right now, as cornerback
Greg Toler
left the Kansas City game with a groin injury and safety
LaRon Landry
has to pass the NFL's concussion protocol before he's cleared to play.
3. RB
LeGarrette Blount
. He took a backseat to running mate
Stevan Ridley
for most of the season, but Blount ended the regular season by rushing for 189 yards and two touchdowns on 24 carries against the
Buffalo Bills
in Week 17. Blount had five games where he averaged more than 5.3 yards a carry. He finished with 772 yards rushing to Ridley's 773 yards despite having 25 fewer carries.
--CB
Aqib Talib
. He could be matched up against Colts receiver
T.Y. Hilton
, who had 224 yards receiving against the Chiefs on Saturday. Talib, who was selected for the Pro Bowl, had a team-high 13 passes defended and was second on the team in interceptions with four.
OTHER NOTES: The Patriots were undefeated at home during the regular season. But don't think they're unbeatable at Gillette Stadium, though, as half of their eight home wins were by three points or less. …The Patriots finished 26
th
in the league in yards allowed (373.1) on defense. …Edelman finished fourth in the league in punt return yards (374).
December, 26, 2013
12/26/13
10:00
AM ET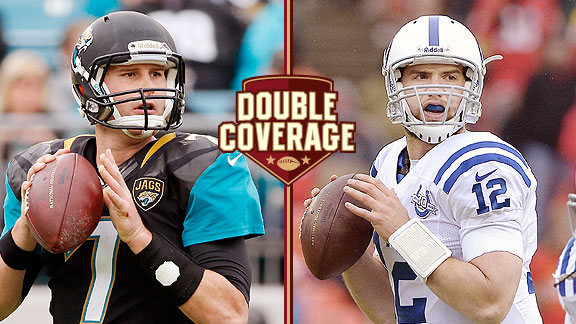 Getty ImagesAndrew Luck and the Colts will look to take momentum into the playoffs with a win over Chad Henne and the Jaguars.
It'll be a battle of teams headed in opposite directions at Lucas Oil Stadium on Sunday.
The
Indianapolis Colts
want to have momentum heading into the playoffs. They also need the victory to have a shot at moving up from the No. 4 seed in the AFC playoffs. The
Jacksonville Jaguars
are simply playing out the season before vacation starts following the game.
The Colts easily beat the Jaguars 37-3 in Week 4.
ESPN.com Colts reporter Mike Wells and Jaguars reporter Michael DiRocco discuss the rematch:
Wells:
Running back
Maurice Jones-Drew
has been a fixture in the organization for eight years. Will Sunday be the last time he wears a Jaguars uniform?
DiRocco:
My gut feeling is that he'll be back, but it's certainly not a slam dunk. Jones-Drew said after Sunday's loss to Tennessee that he wants to be back in Jacksonville, but he has a price and contract length in mind. So does general manager David Caldwell, so I expect this to be a deal that's going to take some negotiating to get done. Jones-Drew may still want to test the free-agent market to see what kind of money is out there, but he'll probably find that there isn't a lot of demand for a 29-year-old running back who has battled injuries the past two seasons. It really would be best for both sides to have Jones-Drew finish his career in Jacksonville. Jones-Drew wouldn't have to prove himself all over again and he would help bridge the gap between the past five terrible seasons and the new regime.
Since we're talking about running backs, was the
Trent Richardson
trade the worst move of the NFL season? What does it mean going forward for both the Colts and Richardson?
Wells:
The trade obviously hasn't worked out the way the Colts envisioned -- Richardson isn't even starting -- but the front office is nowhere near ready to ball up a white towel and throw it in on the second-year running back. They still believe he's a huge part of the team's future. The Colts believe a full offseason of organized team activities and training camp will help Richardson's development. Richardson has shown some flashes -- he ran for 51 yards on seven carries in the fourth quarter against Houston on Dec. 15 -- but the Colts don't want flashes. They want consistency out of him, and believe that will come.
I know I asked you about Sunday possibly being Jones-Drew's final game with the Jaguars, but what about the coaching situation down there? Do you think you'll be covering a coaching search in the offseason?
DiRocco:
It may look to outsiders that Gus Bradley should be on the hot seat after a 4-11 season that included an 0-8 start, but he's just as secure in his job as Bill Belichick, Andy Reid and Pete Carroll are theirs. Owner Shad Khan knew this was going to be a rough season because he, Caldwell and Bradley agreed to essentially blow things up and start over. The Jaguars' roster is the least talented in the league, and it's also one of the youngest. Caldwell is committed to building through the draft (the Jags have 10 picks in the 2014 draft) and Bradley is on board with that. The first priority is finding a quarterback, which likely will be done in May. Now, if the Jaguars are still only able to manage single-digit victories three seasons from now, Bradley would be in trouble.
Did Chuck Pagano use QB
Andrew Luck
correctly this season? Even with the
Reggie Wayne
injury, shouldn't Luck have been throwing it all over the place?
Wells:
The Colts put a heavy emphasis on being a power-running team this season. Any thought of that happening basically ended when
Ahmad Bradshaw
was lost for the season with a neck injury after the Week 3 game against the
San Francisco 49ers
. The Colts became a team that simply wanted to be able to run the football, and they weren't going to let anybody stop them from trying to do it. They've gained at least 104 yards in 10 games this season, with the idea of helping ease the burden on Luck's shoulders. Luck's passing yards are down from his rookie season, but he has had a better overall second year. His completion percentage is up and his interceptions are down. It didn't seem that would happen after Wayne was lost for the season and there wasn't much continuity with the rest of the receiving group outside of
T.Y. Hilton
. Have you ever heard of
Da'Rick Rogers
? But Luck's faith and trust with his receivers has improved each week because he has put in the time with them in practice.
The quarterback situation in Jacksonville is still a mess. Will the Jags look to upgrade the position in the offseason or will
Blaine Gabbert
get another shot?
DiRocco:
I mentioned it briefly above, but finding a franchise quarterback is the No. 1 priority and I believe the Jaguars will select one with their first-round pick. ESPN Insider Todd McShay's
first mock draft

had them selecting Johnny Manziel, which would certainly make them relevant nationally and bring some excitement to the franchise. Teddy Bridgewater is still an option, too, depending on how the draft plays out. The Jaguars also could opt to go defense in the first round and take a QB in the second. Regardless of their approach, I'd be stunned if the team doesn't draft a quarterback. Gabbert's days in Jacksonville are done.
Denver isn't a lock to win the AFC, by any means. How do you break down the Colts' chances in the playoffs?
Wells:
Health, continued improvement from the receivers, the defense forcing turnovers and having a running game are the biggest keys for the Colts in the playoffs. I believe it's a two-team race between Denver and New England in the AFC, but both teams have their flaws and are beatable. The Colts are in a situation where they could finish anywhere from the No. 2 seed to the No. 4 seed. They've been able to overcome the loss of Wayne to be in the position to possibly match their win total of 11 games from last season, but I think it's in the playoffs -- possibly in the second round if they get there -- that the Colts will miss Wayne's talent and experience.