Indianapolis Colts:

Brent Grimes
March, 10, 2014
3/10/14
8:40
PM ET
INDIANAPOLIS – Several key players for the
Indianapolis Colts
will officially hit the free-agent market on Tuesday afternoon barring any developments in the final hours.
There hasn't been any indication that the Colts will strike a deal with cornerback
Vontae Davis
, safety
Antoine Bethea
or kicker
Adam Vinatieri
.
Davis is the most intriguing of the group.
Not signing Davis yet could end up hurting the Colts because two other cornerbacks have already started to set the market value at that position.
Miami's
Brent Grimes
signed a four-year, $32-million contract and Green Bay's
Sam Shields
signed a four-year, $39-million deal. It's unknown how much the Colts have offered Davis but he likely is looking for a deal in that range or better.
It's not surprising that the Colts haven't reached a deal with Bethea. Bethea said after the season that was he was looking forward to testing the free-agent market. Expect him to see what's out there before making a decision on where he'll play next season.
Vinatieri believes he can kick a few more seasons but his age -- 41 -- doesn't help him out.
In the category of minor news, the Colts signed exclusive rights free agent linebacker
Justin Hickman
to a contract extension Monday.
Hickman missed all of last season after getting injured in training camp. He had 14 tackles in 12 games for the Colts in 2012. Hickman had 144 tackles, 27 sacks and three fumble recoveries in three seasons in the Canadian Football League.
The Colts promoted Brad White from defensive quality control coach to assistant linebackers coach.
February, 27, 2014
2/27/14
10:00
AM ET
INDIANAPOLIS -- It's no secret that the
Indianapolis Colts
want to re-sign cornerback
Vontae Davis
. Davis talked about it at the end of the season and general manager Ryan Grigson referenced him during his season-ending news conference. Using the franchise tag on Davis is unlikely since the tag number is expected to be around $11 million.
The salary cap has yet to be set, but the Colts will have the fourth-most money in the NFL to spend once free agency starts March 11. As it's been noted before, though, do not expect the Colts to spend just because they have the money to do so. They know that's not a wise decision.
Davis won't be the only cornerback hitting the free-agent market.
Here's a look at how Davis' stats stack up against some of the other free-agent cornerbacks:
Some of these names could be removed from this list if their teams decide to use the franchise tag on them by next week.
Although he was inconsistent at times last season, Davis and the Colts appear to be on the same page as far as re-signing goes. Davis referred to the organization as a family at the end of the season. Davis, a former first-round pick, has the talent to become one of the top cornerbacks in the league.
September, 18, 2013
9/18/13
10:00
AM ET
A weekly analysis of the Colts' quarterback play:
Rewind:
Lack of accuracy was the theme of Colts quarterback
Andrew Luck
's 25-of-43 performance in the Week 2 loss to the
Miami Dolphins
. His worst throw came in the fourth quarter when the Colts were trying to get the go-ahead touchdown. He forced a throw to
Reggie Wayne
in the end zone that Dolphins cornerback
Brent Grimes
had no problem intercepting. Luck threw behind his receivers three times, had four passes tipped, and the Dolphins could have added at least two more interceptions to their total. Luck was 7-of-20 on passes of at least 10 yards.
Luck
Fast-forward
: Luck is returning to the Bay Area where he starred at Stanford. He'll be facing his college coach Jim Harbaugh, now the coach of the
San Francisco 49ers
. The 49ers have recorded six sacks and only allowed a 51.8 percent completion rate in two games against Green Bay's
Aaron Rodgers
and Seattle's
Russell Wilson
this season.
Sack watch:
The Colts have a goal of cutting Luck's 41 sacks from last season in half. They've gotten off to a poor start in that department. Miami got to him three times to bring Luck's season total up to seven in only two games. The Colts quarterback is on pace to be sacked 56 times, and that's only if he can continue to take the constant pounding from the defensive players.
Prediction:
Expect Luck to throw for a lot of yards, but he'll do so while continuing to be sacked and taking hits as he releases the ball. This will remain an issue until the Colts fix their protection coverage. The Colts are now starting rookie
Hugh Thornton
in place of the injured
Donald Thomas
(quad).
September, 16, 2013
9/16/13
11:50
AM ET
A review of five hot issues from the
Indianapolis Colts
' 24-20
loss
to the
Miami Dolphins:
Problems going deep for Luck:
Colts quarterback
Andrew Luck
's best deep completion came when he connected with receiver
T.Y. Hilton
for a 47-yard gain along the right sideline in the second quarter. But that was about it for Luck when it came to throwing the ball 10 yards or more downfield. He was 7-of-20 on passes of at least 10 yards Sunday. He was only 1-of-4 for 18 yards when it came to attempting a pass to
Reggie Wayne
for more than 10 yards. One of those attempts was intercepted by Dolphins cornerback
Brent Grimes
in the end zone in the fourth quarter. Wayne, who stuck up for his quarterback, said he needs to do a better job of being a defender in those situations.
[+] Enlarge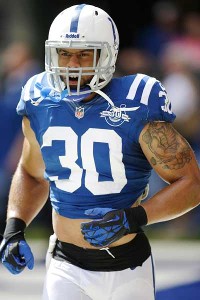 AJ Mast/AP PhotoSafety LaRon Landry has shown brilliant flashes of speed in both of the Colts' games this season.
Bradshaw wasn't bad:
The stat sheet reads as though Colts running back
Ahmad Bradshaw
had an average game based off his total yards. He ran for 65 yards on 15 attempts. What you had to like about Bradshaw, though, is that he ran hard and with a purpose. He didn't spend time dancing around trying to find holes; he was always looking to go forward. The loss of
Vick Ballard
will hurt the Colts this season (just recall
Donald Brown
's attempt to "block" on fourth down Sunday), but Bradshaw is healthy and ready to handle the bulk of the carries in the backfield.
No power when the opportunity presented itself:
Since the start of training camp, the Colts have been emphasizing the word "power" when talking about their running game. There was a perfect opportunity to put that on display on their opening drive Sunday. The Colts had a second-and-1 from Miami's 34 when they used a shotgun formation and Luck tried to hit
Darrius Heyward-Bey
in the end zone. Luck had to avoid the rush and missed Heyward-Bey on another attempt on third down. The Colts could have redeemed themselves by giving the ball to Bradshaw on fourth down, but coach Chuck Pagano pulled the safe card out and had kicker
Adam Vinatieri
attempt a 52-yard field goal. The kick was no good, hitting off the left upright.
Landry has strength and speed
: Colts safety
LaRon Landry
is 2-for-2 in catching a player from behind and saving a touchdown. He did it against Oakland when he caught tight end
Jeron Mastrud
on his 41-yard catch on the Raiders' final drive of the game. Then Landry was at it again Sunday when he caught
Charles Clay
on a 67-yard catch from Miami quarterback
Ryan Tannehill
. Landry was forced to chase Clay down from behind because
Antoine Bethea
gambled and went for the interception. Landry has led or tied the team in tackles in the first two games. He deserves credit for the tackles, but it's not a good sign when your safety is leading the team in that category.
Why was Brown in the game?
The most embarrassing play of the game was on the Colts' final offensive snap when Brown tried to block the blitzing
Philip Wheeler
. Wheeler threw Brown to the side like a bag of potatoes and sacked Luck. Pagano was asked whether Ballard would have been in the game on that play if healthy. "He was our third-down back before he got injured," the coach said. Pagano was asked a follow-up question about it. And again, he said, "he was our third-down back before he got injured." It was like Pagano knew Brown shouldn't have been in the game, but he didn't want to throw the running back under the bus. It won't be shocking news when Bradshaw is in the next time the Colts are put in that position. All Pagano and his staff have to do is look at the final offensive snap Sunday if they need a reminder.
September, 15, 2013
9/15/13
8:50
PM ET
INDIANAPOLIS -- Something had to change for
Indianapolis Colts
receiver
T.Y. Hilton
. He was an afterthought in their Week 1 victory over Oakland after having an impressive enough preseason that an argument could have been made for him to open the season as the team's second receiver opposite
Reggie Wayne
.
Hilton proved that when he had six catches for a career-high 124 yards against
Miami Dolphins
on Sunday.
[+] Enlarge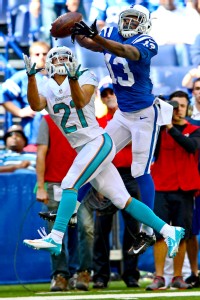 Andrew Weber/USA TODAY SportsT.Y. Hilton had six catches for 124 yards against against the Dolphins.
"It felt pretty good but you know we got the loss so I got to do better and just hopefully I can do my best," Hilton said.
That's just Hilton being humble.
Coach Chuck Pagano, offensive coordinator Pep Hamilton and quarterback
Andrew Luck
spent the days leading up to the game answering questions about the lack of involvement Hilton had in the offense against the Raiders. Hilton was targeted five times and had three catches for 20 yards against Oakland. Fullback
Stanley Havili
was on the field for more plays (26) than Hilton (24) in Week 1.
That won't cut it.
It was obvious the Colts made Hilton a focus in the offense early Sunday. He had three catches for 54 yards by the end of the first quarter.
"We knew we had to get him back involved," Pagano said. "We made big plays and he made huge plays. It was good to see him get back and have the number of catches and big plays. He's an explosive guy."
Hilton's best catch came late in the first half when he went over the top of Dolphins cornerback
Brent Grimes
and hauled in a 47-yard pass down the right sideline. Running back
Ahmad Bradshaw
scored four plays later.
Hilton had already set a career high in receiving yards by the end of the first half.
"We know T.Y.'s a stud," Luck said. "The one he caught on the right side before the end of the half was something special. We know he's a phenomenal football player."
But Hilton vanished in the second half. Luck targeted him three times, but he didn't have any more catches.
"I didn't give T.Y. good enough balls on some of his routes, a chance for him to get up there and make plays," Luck said. "So I think a lot of that burden falls on me."
Hilton's importance in the offense could increase because
Darrius Heyward-Bey
missed the second half with a shoulder injury. He's scheduled to get an MRI on his shoulder.
September, 15, 2013
9/15/13
7:50
PM ET
INDIANAPOLIS -- The reputation was inevitable for
Indianapolis Colts
quarterback
Andrew Luck
.
Eight fourth-quarter rallies in 12 victories in his young career. He has earned the right to be known for his come-from-behind ability.
But you knew the magic that Luck provided during fourth quarters would run out at some point. The Colts couldn't continue to rely on him to bail them out. It's a fun story and all, but it's a dangerous way to try to succeed.
That point was proven on Sunday.
[+] Enlarge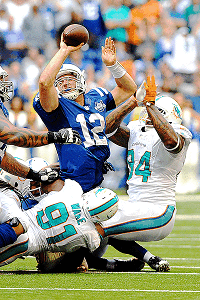 Thomas J. Russo/USA TODAY SportsMiami's Cameron Wake and Randy Starks made sure that Colts QB Andrew Luck didn't have any fourth-quarter dramatics.
Luck threw a fourth-quarter interception in the end zone and took a sack on fourth down with under two minutes left as the Colts fell
24-20
to the
Miami Dolphins
at Lucas Oil Stadium.
"I guess a little angry at myself," Luck said. "Again, credit to them. They put us in all these situations, but I feel like we are a better team than what we showed out there. But I don't know if I'm any harder on myself after this loss, other losses, wins, whatever it may be."
Luck's numbers weren't bad -- 25-of-43 for 321 yards and a touchdown. But he was also unfortunate because the Dolphins were able to get their hands on a lot of his balls to go with some throws that were behind his intended targets.
Those miscues would have been forgotten if Luck could have pulled off his second straight winning drive in the fourth quarter.
Luck drove the Colts down to Miami's 34-yard line when he tried to zip a pass to receiver
Reggie Wayne
. Dolphins cornerback
Brent Grimes
didn't have a problem coming up with the interception in the end zone because Luck's pass was poorly thrown.
"I forced the throw up there," Luck said. "Good coverage by Grimes. We knew coming in he was a phenomenal corner. ... There's another play I'd love to have back."
Grimes said, "We knew coming in, and we talked about it all week that he makes plays down the stretch. That's his thing."
The Colts' defense did its part and forced the Dolphins to punt after the turnover.
You just knew something special would happen after Luck bounced off two Dolphins defenders and one of his teammates to scramble for 14 yards on the Colts' first possession of the ensuing series. Then there was a 22-yard completion to
Griff Whalen
, who was playing because of an injury to receiver
Darrius Heyward-Bey
(shoulder). Another 18 yards to Wayne followed.
But that's when it all stopped. That's when things became reality again for the Colts.
An incompletion to
T.Y. Hilton
in the end zone -- a pass that should have been intercepted by Dolphins safety
Chris Clemons
. Another incomplete pass.
The final offensive play also proved how much the Colts missed running back
Vick Ballard
's blocking ability.
Luck took the snap out of the shotgun, and running back
Donald Brown
looked pitiful trying to block linebacker
Philip Wheeler
. Brown went for the block -- if you want to call it that -- and Wheeler threw him to the side like it was nothing and sacked Luck.
No magical ending this time.
"Disappointing last series," Luck said. "I don't think I handled a lot of those plays well. You start thinking about the plays afterward. They did a good job of pressure on that last play. You never want to get sacked on fourth down. That's almost one of those cardinal sins, if you will, of playing football."
September, 15, 2013
9/15/13
4:20
PM ET
INDIANAPOLIS -- Some quick thoughts on the
Miami Dolphins
'
24-20
win over the
Indianapolis Colts
from Lucas Oil Stadium.

What it means
: It was no secret that Dolphins receiver
Mike Wallace
would get a fair share of balls thrown his way after he complained last week then tried to clear it up the next day. Wallace was effective all game, but his best catch led to the game-winning score for the Dolphins. Colts cornerback
Greg Toler
fell for Wallace's fake, then tried -- and failed -- to grab the Dolphins receiver as he ran by him. Wallace made the 34-yard catch at the Colts' 1-yard line. Dolphins fullback
Charles Clay
ran it in on the next play to give Miami a 24-20 lead. Wallace finished with nine catches for 115 yards.
Stock watch
: The Colts were on their way, driving down for possibly the go-ahead score when quarterback
Andrew Luck
tried to force the ball to receiver
Reggie Wayne
in the end zone. Dolphins cornerback
Brent Grimes
stepped in front of the pass for the interception. The ball shouldn't have even been thrown by Luck. He was trying to make something out of nothing on the play. The interception snapped a streak of 164 passes without a pick for Luck. The streak was the sixth longest in franchise history. The Colts shot themselves in the foot most of the game. Luck had completed a touchdown pass to tight
Coby Fleener
in the third quarter. That's what the Colts thought, at least. The touchdown was voided because the Colts were called for an illegal shift. They ended up having to settle for a field goal.
Taking a hit with injuries
: Colts starting left guard
Donald Thomas
had to be carted off with a right knee injury.
Hugh Thornton
replaced him in the lineup. Then starting receiver
Darrius Heyward-Bey
left the game and didn't return because of a rib injury.
What's next
: The Colts play their first road game of the season when they travel to San Francisco to take on quarterback
Colin Kaepernick
and the 49ers' read-option offense next Sunday.