Indianapolis Colts:

Brett Favre
January, 22, 2014
Jan 22
11:00
AM ET
The third question in the series of NFL Nation confidential survey questions leading up to the Super Bowl is: Who's the player you'd most like to see in the Super Bowl?
Minnesota Vikings
running back
Adrian Peterson
barely beat
Atlanta Falcons
tight end
Tony Gonzalez
in the confidential voting done by 10 players on all 32 teams in the league.
Peterson picked up 59 votes compared to Gonzalez's 56 votes. The two easily outdistanced Detroit's
Calvin Johnson
, who was third with 26 votes.
Peterson, one of the premier running backs in the league for years, has run for 10,115 yards and 86 touchdowns during his seven-year career. The closest he got to the Super Bowl was when the Vikings lost to the
New Orleans Saints
in the NFC Championship Game during the 2009 season. The Vikings had some player named
Brett Favre
quarterbacking them at the time.
Gonzalez, a first-ballot Hall of Famer, is the career leader in receptions (1,325), touchdowns (111) and yards (15,127) amongst tight ends.
But unlike Peterson, Gonzalez won't have an opportunity to play in a Super Bowl. Gonzalez is expected to retire after 17 years.
October, 27, 2013
10/27/13
6:15
PM ET
INDIANAPOLIS -- The
Indianapolis Colts
will return to the practice Monday afternoon after coach Chuck Pagano gave his players the entire week off following their victory over the
Denver Broncos
on Oct. 20.
The Colts won't have receiver
Reggie Wayne
(knee) the rest of the season, but they're still in a good position to win the AFC South for the first time since 2010.
The Colts (5-2) have a two-game lead over the
Tennessee Titans
(3-4). They also have a favorable schedule the rest of the season. It puts them in the perfect spot to match their 11-5 record from last season as long as they can overcome losing Wayne and avoid playing to the level of their competition when they face struggling teams.
The road to their 5-2 record hasn't been easy for the Colts. They've beaten the Broncos, Seattle and San Francisco. And they did it while having to overcome season-ending injuries to Wayne,
Dwayne Allen
,
Vick Ballard
,
Donald Thomas
and
Ahmad Bradshaw
. Starting safety
LaRon Landry
also missed four games with a high-ankle sprain. That's what makes Indianapolis' start even more impressive.
The Colts' remaining nine opponents went into Sunday with a combined record of 23-26.
Here's a breakdown of the Colts' schedule:
Nov. 3 at Houston:
The Texans were possible Super Bowl contenders in the AFC when the season began. Instead they've been one of the biggest disappointments. You wouldn't have thought the Texans would have a quarterback issue with
Matt Schaub
, but he's thrown nine interceptions and isn't a fan favorite in Houston.
Nov. 10 versus St. Louis:
You know things are bad when a team calls 44-year-old
Brett Favre
to see if he's interested in coming out of retirement to play quarterback. Starting quarterback
Sam Bradford
is out for the rest of the season with a torn ACL.
Nov. 14 at Tennessee:
This is toss-up game for the Colts. The Titans have dropped three in a row, but they lost against Kansas City, Seattle and San Francisco and they were without quarterback
Jake Locker
in two of those games.
Nov. 23 at Arizona:
The Bruce Arians reunion game. The Cardinals have
Carson Palmer
at quarterback – 8 touchdowns, 13 interceptions and sacked 20 times. Enough said.
Dec. 1 versus Titans:
The Colts are 9-1 against the Titans in the last 10 games played in Indianapolis.
Dec. 8 at Cincinnati:
The Bengals get the edge in this one because they're at home and unlike Colts quarterback
Andrew Luck
, Cincinnati quarterback
Andy Dalton
has one of the best receivers in the league,
A.J. Green
. The Bengals also have a top-10 defense.
Dec. 15 versus Texans:
The Texans have never beaten the Colts in Indianapolis (0-11). The losing streak will remain.
Dec. 22 at Kansas City:
Coach Andy Reid deserves a lot of credit for the job he's done in turning the undefeated Chiefs around. They have a top-five defense.
Dec. 29 versus Jacksonville:
History could be made at Lucas Oil Stadium on this day. I wouldn't be surprised if the Jaguars entered the game 0-15.
October, 10, 2013
10/10/13
4:50
PM ET
INDIANAPOLIS -- Like most kids who grew up as sports fans,
Andrew Luck
used to beg his parents for permission to stay up and watch the second half of the "Monday Night Football" game. While his family was living in Europe, Luck sometimes watched the second half when the Armed Forces Network showed the game tape-delayed.
Now the second-year quarterback will play
his first "Monday Night Football" game
when the
Indianapolis Colts
take on the
San Diego Chargers
this Monday.
"If you're going to have a uniform code violation, 'Monday Night Football' is not the night to do it because they will notice," veteran Colts backup QB
Matt Hasselbeck
joked. "Don't wear your socks too low or have any other uniform malfunctions because that will be a quick $7,500 out of your wallet."
[+] Enlarge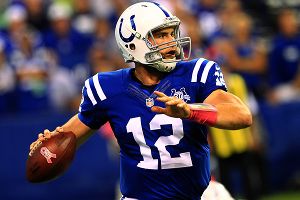 Pat Lovell/USA TODAY SportsAndrew Luck will make his first MNF appearance
but said he won't be preparing any differently.
There have been some memorable moments on "Monday Night Football."
Terrell Owens
and the Sharpie.
Randy Moss
' rookie season with the
Minnesota Vikings
. Tony Dorsett's 99-yard touchdown run.
Now it's Luck's turn to have a memorable game in his unofficial coming-out party.
"Monday night, you just think back as a kid growing up, 'Dandy' Don [Meredith] and Howard Cosell," Colts coach Chuck Pagano said. "You couldn't wait. Then, to be able to coach and play on Monday night. We know what a privilege it is to play and coach at this level; then, having the opportunity to play on that stage is exciting."
The Colts didn't make any Monday night appearances during Luck's rookie season because they were coming off a 2-14 season.
Luck alone is worth watching in this game, but the fact that the Colts are 4-1 and sitting on top of the AFC South makes it even better for them from a national perspective.
"It's the only show in town," linebacker
Robert Mathis
said. "Monday night. They heard about you, now they're trying to see what you've got. You just have to put it on the table."
Luck's first real memory of "Monday Night Football" was watching
Green Bay Packers
quarterback
Brett Favre
throw for 399 yards and four touchdowns against the
Oakland Raiders
on Dec. 22, 2003, the day after his father died. Luck was 14 years old at the time.
"Certain games I was able to stay up and watch, good games," Luck said. "I had sisters to join in the group effort to convince my parents to let us stay up."
Mathis has played with the Colts his entire career. His first Monday night game was as a rookie in 2003 -- Oct. 6, 2003, to be exact.
Does a certain game at Tampa Bay ring a bell?
That was when the Colts rallied from a 21-point deficit with four minutes left in regulation to beat the Buccaneers in overtime.
"I was a young guy following the leaders," Mathis said. "Playing football until time ran off the clock. We were able to pull it out in overtime."
Hasselbeck threw his first career touchdown pass on "Monday Night Football." He completed a 9-yard touchdown pass on a fake field goal attempt against Minnesota on Dec. 20, 1999.
"I wasn't the starter then. I was backing up that guy named Brett Favre," Hasselbeck said. "We knew we were going to call the fake beforehand. We choreographed the whole end zone dance because it's 'Monday Night Football.' I throw the touchdown to win the game basically, and the third-string tight end goes off and does his own celebration. I'm running in the end zone to celebrate with him -- I jump up to celebrate on the pile and the pile moved. I missed everything and landed right on my face."
Don't expect Luck to approach this MNF game differently than any other game. That's not his demeanor. Hasselbeck said they haven't even touched on its being a Monday night game in any of their meetings, in the locker room or on the practice field, because the goal is still the same: winning the game.
"Preparation shouldn't change," Luck said. "Yes, it's a day later. We had this extra day [on Wednesday]. Flying to the West Coast, I'm glad we were able to do that with San Francisco [in Week 3] to figure that out. You don't want to take away from it being Monday night. You prepare the same, and you know it's a good San Diego team."