Indianapolis Colts:

Calvin Johnson
February, 20, 2014
Feb 20
2:00
PM ET
INDIANAPOLIS -- Jim Caldwell's NFL résumé has success written all over it, from the very top all the way down to very end.
He was assistant coach and quarterback coach with the Indianapolis from 2002-08, winning a Super Bowl with them in 2006. Caldwell took over for Tony Dungy and led the
Indianapolis Colts
to a 14-0 start and another Super Bowl appearance in his first season in 2009.

Caldwell
Caldwell was fired after a 2-14 season -- and the end of
Peyton Manning
's career in Indianapolis -- but rebounded nicely by being the
Baltimore Ravens
' offensive coordinator when they won the Super Bowl in 2012.
But Caldwell admits he wasn't sure he would end up being a head coach in the NFL again.
Those thoughts ended when the
Detroit Lions
(7-9 last season) named him their head coach last month.
So Manning,
Joe Flacco
, and now
Calvin "Megatron" Johnson
.
That's not a bad group of players to coach for Caldwell.
"Fact of the matter is, very rare do you get a second opportunity," Caldwell said. "Not only a second, but this is actually the third (time) for me if you include my stint in college as well. I was hoping, but I was also very, very satisfied working extremely hard at what I was doing in terms of coaching the position or being an offensive coordinator, whatever helped a team win. I'm not able to forecast the future. But I certainly indeed hoped that I did get another opportunity. I'm glad it happened."
Caldwell, who was rather reserved as head coach of the Colts, noted how he's grown as a coach from what he learned with the Colts and during his two seasons with the Ravens.
"One of things about our business is the fact that if you don't feel like you've grown or developed each and every day, you're in the wrong business," he said. "I learned something different each and every day. I had a great 10 years (in Indianapolis). We obviously had a lot of success and certainly learned a lot about what to do in terms of offensive football, learning how to develop was important in terms of how we went about doing things, but also winning consistently has a certain sound to it."
January, 30, 2014
Jan 30
12:00
PM ET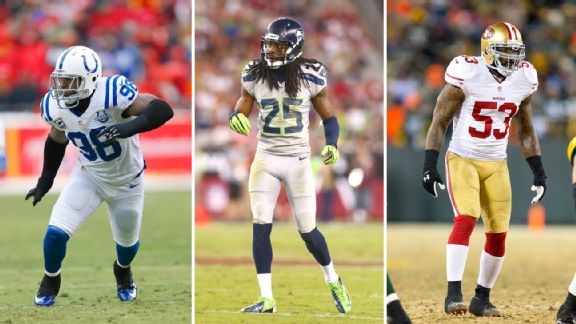 AP Photo, USA TODAY SportsIndianapolis' Robert Mathis, Seattle's Richard Sherman and San Francisco's NaVorro Bowman have all put up numbers that could result in defensive player of the year honors.
Denver's
Peyton Manning
broke passing records with his arm. Kanas City's
Jamaal Charles
was a treat to watch running the ball and catching it out of the backfield. Detroit's Megatron (
Calvin Johnson
) was simply incredible with his freakishly athletic skills at wide receiver.
But there were some players on the other side of the ball who deserve to be honored for their play this season.
The problem is deciding who deserves it more than the other players.
The NFL's Defensive Player of the Year will be named this weekend.
ESPN.com Colts reporter Mike Wells and 49ers reporter Bill Williamson discuss the top candidates for the award.
Wells
: Bill, it appears that defensive player of the year is a wide-open race this season. There are a number of different players who deserve to win it.
Robert Mathis
in Indianapolis, Carolina's
Luke Kuechly
, St. Louis'
Robert Quinn
, Seattle's
Richard Sherman
and
Earl Thomas
, San Francisco's
NaVorro Bowman
, who you cover on a regular basis. Who do you think deserves the award?
Williamson
: Yes, Mike, there are some very solid candidates. But I have to go with the player I saw dominate for 19 weeks. Bowman is simply unbelievable. He stood out in every game. He set the tone for one of the NFL's finest defenses with his dominant play from a 3-4 inside linebacker position. Bowman had 143 tackles, five sacks, four forced fumbles, two fumble recoveries and two interceptions, one he returned 89 yards for a touchdown to seal the 49ers' playoff-clinching win. Bowman excelled against both the run and the pass. He's a football player's player. Sadly, his season ended in the fourth quarter of the 49ers' loss at Seattle in the NFC title game when he suffered a torn ACL. In typical Bowman fashion, he was hurt by stripping the ball at the goal line. Mike, a player you cover, Mathis, is considered the favorite to win the DPOY. Do you think he deserves it?
Wells
: I'm sure some people will call you and I homers, but I've got to give the edge to Mathis because he was a one-man wrecking crew on defense. It was personal and team oriented for Mathis. He wanted to prove the he could still be a force without playing alongside of
Dwight Freeney
. Mathis had no problem talking about how that added fuel to his already flaming fire. He backed it up by leading the league in sacks with 19.5. He ended up accounting for 46.4 percent of the Colts' sacks this season because they only had 42 as a team. Mathis used his infamous chop down on the quarterback's passing arm to force a league-leading eight fumbles. Those eight forced fumbles led to 35 points for Indianapolis. The Colts struggled at times defensively during the season. They would have been really bad if they didn't have Mathis on the roster. You covered games involving Seattle's Earl Thomas and Richard Sherman three times, including the NFC Championship Game. Is there a legitimate argument for either one of them to be DPOY?
Williamson
: Oh, certainly on both Seattle players. Again, lots of great candidates here. Sherman and Thomas are among the best defensive players in the league and they are a big reason why the Seahawks are preparing to play in the Super Bowl. Thomas is a tone-setter at the back end of a special defense. Sherman is probably the best cornerback in the NFL and one of the best players in the game regardless of position. The 49ers tested him with the game on the line in the NFC title game and they lost because of it. There are really no wrong answers here. I can't knock Mathis or any of the other candidates. But I just think Bowman deserves to win the award because of his overall impact on the game. There's really no way for offenses to avoid him. Mike, do you think Mathis is a complete player or is he a top candidate solely on his pass-rush prowess?
Wells
: This is where the argument doesn't favor Mathis. He rarely dropped back into coverage because he's a pass-rushing linebacker. I'm not saying he isn't capable of being in pass coverage, but I haven't seen him do it enough because coach Chuck Pagano's 3-4 defense is all about getting after the quarterback with Mathis. His ability to pressure the quarterback trickles down to players like linebacker
Jerrell Freeman
and the entire secondary. It allows them to gamble on the ball more defensively. Some may consider Mathis a one-dimensional defensive player, but he does that one thing well. Seattle's
Russell Wilson
and Manning, the two starting quarterbacks in this weekend's Super Bowl, can validate that because Mathis sacked both of them during the regular season.
Is Bowman's ability to defend pass coverage the main reason you give him the edge over Mathis?
Williamson
: No, it's just his overall game. Again, he impacts it in every way. Look at his stat line: There's nothing he didn't do. He was making plays on first, second and third down. And, yes, he was just as apt to make a play 15 yards downfield as he was at the line of scrimmage. In fact, on his interception return for a touchdown, he was supposed to blitz but he read the play and darted back into coverage. He had 118 solo tackles, the second most in the NFL this season. Again, there are no wrong answers here, but for me Bowman is the best answer.
January, 22, 2014
Jan 22
11:00
AM ET
The third question in the series of NFL Nation confidential survey questions leading up to the Super Bowl is: Who's the player you'd most like to see in the Super Bowl?
Minnesota Vikings
running back
Adrian Peterson
barely beat
Atlanta Falcons
tight end
Tony Gonzalez
in the confidential voting done by 10 players on all 32 teams in the league.
Peterson picked up 59 votes compared to Gonzalez's 56 votes. The two easily outdistanced Detroit's
Calvin Johnson
, who was third with 26 votes.
Peterson, one of the premier running backs in the league for years, has run for 10,115 yards and 86 touchdowns during his seven-year career. The closest he got to the Super Bowl was when the Vikings lost to the
New Orleans Saints
in the NFC Championship Game during the 2009 season. The Vikings had some player named
Brett Favre
quarterbacking them at the time.
Gonzalez, a first-ballot Hall of Famer, is the career leader in receptions (1,325), touchdowns (111) and yards (15,127) amongst tight ends.
But unlike Peterson, Gonzalez won't have an opportunity to play in a Super Bowl. Gonzalez is expected to retire after 17 years.
January, 16, 2014
Jan 16
10:00
AM ET
Quarterback
Andrew Luck
's NFL career consists of a total of 35 games when you add in the three playoff games he's appeared in. It's only taken those 35 games for Luck to earn the respect of his peers around the league.
Luck finished second behind only
Peyton Manning
, the player he replaced at quarterback with the
Indianapolis Colts
, during NFL Nation's survey question of: If you could start a team with one player, whom would it be?
Luck received more votes than Green Bay's
Aaron Rodgers
, New England's
Tom Brady
, Detroit's
Calvin Johnson
and Minnesota's
Adrian Peterson
.
And Manning, who has led the
Denver Broncos
to this weekend's AFC Championship Game, barely beat Luck. Manning had 62 votes compared to Luck's 56 votes.
I'm not surprised that so many players selected Luck. He simply knows how to win, he goes about his business the right way and he'll be leading the Colts for at least the next decade. Punter
Pat McAfee
once told me that other cities have more to offer when it comes to nightlife or beaches, but if a free agent wants to win he'll come to Indianapolis because of Luck.
McAfee is right.
Luck is 22-10 in the regular season, he's already won an AFC South title and he won his first playoff game this season. Manning didn't win a playoff game this early in his career.
Oh yeah, Luck's only 24 years old.
There aren't many other teams around the NFL who can say the same thing.
January, 9, 2014
Jan 9
1:00
PM ET
The first in a series of survey questions leading to the Super Bowl, NFL Nation Confidential, started Thursday. Each team's beat reporter asked 10 players anonymous questions to ensure they gave an honest answer.
The first question in the series:
Who is the most feared player in the NFL?
The
Detroit Lions
-- for two different reasons -- had the top two vote-getters. Defensive tackle
Ndamukong Suh
received 61 votes to beat out teammate
Calvin Johnson
, who had 58 votes. No other player received more than 30 votes. Former Colts quarterback
Peyton Manning
received 6.6 percent of the votes.
You can look at Suh being the most feared player two ways. You can't knock Suh's talent. He has 27.5 sacks in a four-year career, and he's a three-time Pro Bowler. But I don't think he was the top vote-getter for his talent.
Suh has a reputation of being a dirty player.
Johnson, on the other hand, is feared simply based on his talent. He had 1,492 yards and 12 touchdowns despite dealing with a knee problem this season. Double-teaming Johnson rarely works because he has a combination of size and speed. Just ask the
Dallas Cowboys
, as Johnson had 14 catches for 329 yards against them.