Indianapolis Colts:

Gary Kubiak
December, 12, 2013
12/12/13
12:00
PM ET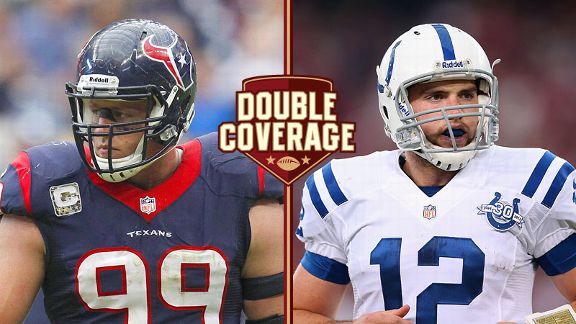 Getty ImagesJ.J. Watt's Texans aren't playoff-bound like Andrew Luck's Colts, but Sunday's hosts haven't had it easy.
INDIANAPOLIS -- This was supposed to be a game that had AFC South division title implications between a Super Bowl contender and a playoff team, one that could have even been flexed on the schedule.
At least that's the way it was envisioned when the season started.
Instead, it'll be a battle of two teams dealing with a number of issues when the
Indianapolis Colts
take on the
Houston Texans
at Lucas Oil Stadium.
The Colts haven't beaten a team with a winning record since Oct. 20 and haven't had consistency on offense, defense or special teams in weeks. The Texans ... well, they've been a disaster this season. They are on an 11-game losing streak, benched their starting quarterback and fired their head coach.
ESPN.com's Colts reporter Mike Wells and Texans reporter Tania Ganguli weigh in on the two struggling teams.
Wells:
Tania, obviously the big news -- really the only news -- to come out of Houston in the past week was the firing of coach Gary Kubiak. Wade Phillips takes over as the interim coach. Teams tend to rally around interim coaches or just shut them out. What do you think the Texans will do with Phillips?
Ganguli
: I don't think they'll shut him out, but wanting to succeed for the coach was never a problem in Houston. They wanted to win the last Colts game for their head coach, who left at halftime in an ambulance. They wanted to win the following week in Arizona for their coach, who watched from home as he recovered from his transient ischemic attack. It's not a matter of wanting the win -- the process has gotten lost. Two weeks ago, the Texans made so much progress in fixing their issues and then last week they went to Jacksonville and completely lost their discipline, committing a franchise-record 14 penalties for 177 yards.
The Colts are now back on top of the AFC South. What was the mood like for the team upon clinching the division and a playoff spot?
Wells:
It was a bittersweet feeling for them because they needed help from their good buddy
Peyton Manning
in Denver to win their first division title in three years. The Colts wanted to go into Cincinnati and win it by themselves so that they would be able to avoid getting it in the side or backdoor. That obviously didn't happen. But a division title is a division title no matter how you get it. That's how the Colts should look at it, especially since they were 2-14 just two years ago and many people thought the Texans wouldn't have a problem winning the division for the third straight season.
I'll be the first to say I picked the Texans to win the division this season. I'm sure there are probably a lot of reasons why they've been a major bust. But does one reason stand out more than others?
Ganguli:
If I had to choose one, I would say the quarterback situation has been the biggest reason. It was completely out of the blue. A lot of people disagree with me on this, but I don't think
Matt Schaub
played poorly most of the time, it's just that pick-6's are such dramatic momentum swingers. Really, though, it's been a combination of a lot of things. If you look at their stats, you'd expect the team to have a much better record. After Schaub, they went through
Case Keenum
's learning process, which is ongoing. Kicker
Randy Bullock
had a rough start, which impacted the team's record. He has improved lately, but by then the Texans developed other problems, like the loss of four important players to injury: inside linebacker
Brian Cushing
, safety
Danieal Manning
, running back
Arian Foster
and tight end
Owen Daniels
. Daniels has a chance of returning this week. And of course, I mentioned the meltdown of discipline that led to what happened last Thursday in Jacksonville. That was a problem early in the season, but unusual for the Texans lately. They had four penalties in the previous two games combined.
I expected the Colts to be better than they are, too. Do you think this team has taken a step forward or backward from last season?
Wells:
I thought the Colts had more talent this season but they wouldn't be able to duplicate their 11-5 record from last year. I was right about their record but wrong about their talent. Season-ending injuries forced the Colts to take a step back in the talent department. They're known for using the phrase "Next Man Up" when dealing with injuries. There really isn't a Next Man Up when it comes to replacing future Hall of Fame receiver
Reggie Wayne
, guard
Donald Thomas
and tight end
Dwayne Allen
. The Colts thought acquiring running back
Trent Richardson
would soften the blow of losing
Ahmad Bradshaw
and
Vick Ballard
. That hasn't been the case. Richardson's struggles since coming to Indianapolis have been well documented. So injuries and players not living up to expectations are the main reasons why the Colts have taken a step back
We talked about the benching of Schaub prior to the first meeting between the two teams in early November. Receiver
Andre Johnson
made Keenum look pretty good in the first half of that game. Has Keenum shown enough to prove he's worthy of being the team's quarterback for years to come?
Ganguli:
He's had good moments and bad ones. I think the bad moments are fixable, but whether he'll be able to fix them remains to be seen. The end of this season is an audition for him just as much as it is for Phillips. He has to show he's learning how to read defenses and make better decisions. There are times when Keenum hangs on to the ball too long because his internal clock isn't quite where it needs to be yet. He is learning that sometimes it's better to take the checkdown. He's learning that turning his back on the field when a rush comes at him reduces his options. If he stops growing where he is now, he'll have a career as a serviceable backup. If he continues to improve, he has the chance to be a starter.
To wrap up, let's talk about the quarterback up there, which I know we have before. How would you assess the season
Andrew Luck
has had?
Wells:
Two words: A struggle. But it's not Luck's fault. The offensive line has been inconsistent all season. The running game has been more poor than good. The biggest reason behind it, though, is because of the loss of Wayne. Wayne was Luck's security blanket and nobody has stepped up to help him out. Luck is good, but you can't forget that he's only in his second season and is still learning. Rookie
Da'Rick Rogers
had a breakout game against Cincinnati (107 yards) last weekend and believes he can be Luck's third-down go-to guy.
December, 12, 2013
12/12/13
11:00
AM ET
INDIANAPOLIS – The
Indianapolis Colts
have their fair share of issues that need to be worked out over the final three weeks of the season. But they know they'll have at least one playoff game.
The same can't be said for the
Houston Texans
.
The Texans began the season as Super Bowl contenders in the AFC with Denver and New England. They won their first two games. Then things fell apart. They've lost 11 straight games, benched their starting quarterback and last week fired their head coach.
"It's obviously a nightmare," Texans interim coach Wade Phillips told Indianapolis reporters during his Wednesday conference call. "It's been so many games and so close, and just not being able to make the one or two plays. It's not like we're getting beat by 20 points every game, so it's been very frustrating."
The losing streak and frustration are there, but the Texans indeed aren't getting blown out on a weekly basis. Each of their last seven losses has been by seven points or less.
"It's been tough," veteran receiver
Andre Johnson
said. "At the same time, we just have to keep a positive attitude and just try to keep moving forward. We put ourselves in this situation."
You would think playing at home against a vulnerable team, one that has lost 11 straight games, would favor the Colts.
That's not the case, though. Go back to the first meeting between the teams, in Houston in early November, if you need proof. Johnson had 190 yards receiving in the first half and the Texans led 21-3 at halftime before quarterback
Andrew Luck
threw three touchdown passes to
T.Y. Hilton
in a come-from-behind 27-24 victory.
"Wade's been in this position before," Colts coach Chuck Pagano said. "Throw the records out. You look at their last six ballgames that they've played, they've lost those six ballgames by a combined point total of 28 points. And so we're preparing as if it's whoever."
November, 4, 2013
11/04/13
6:45
PM ET
INDIANAPOLIS -- It's understandable that the subject had
Indianapolis Colts
coach Chuck Pagano pausing between sentences. He was right there with Denver coach John Fox and Houston coach Gary Kubiak last season.
And that's why Fox and Kubiak's recent health issues hit home with Pagano. The Colts coach said he recently reached out to both coaches to let them know that the team's praying for them.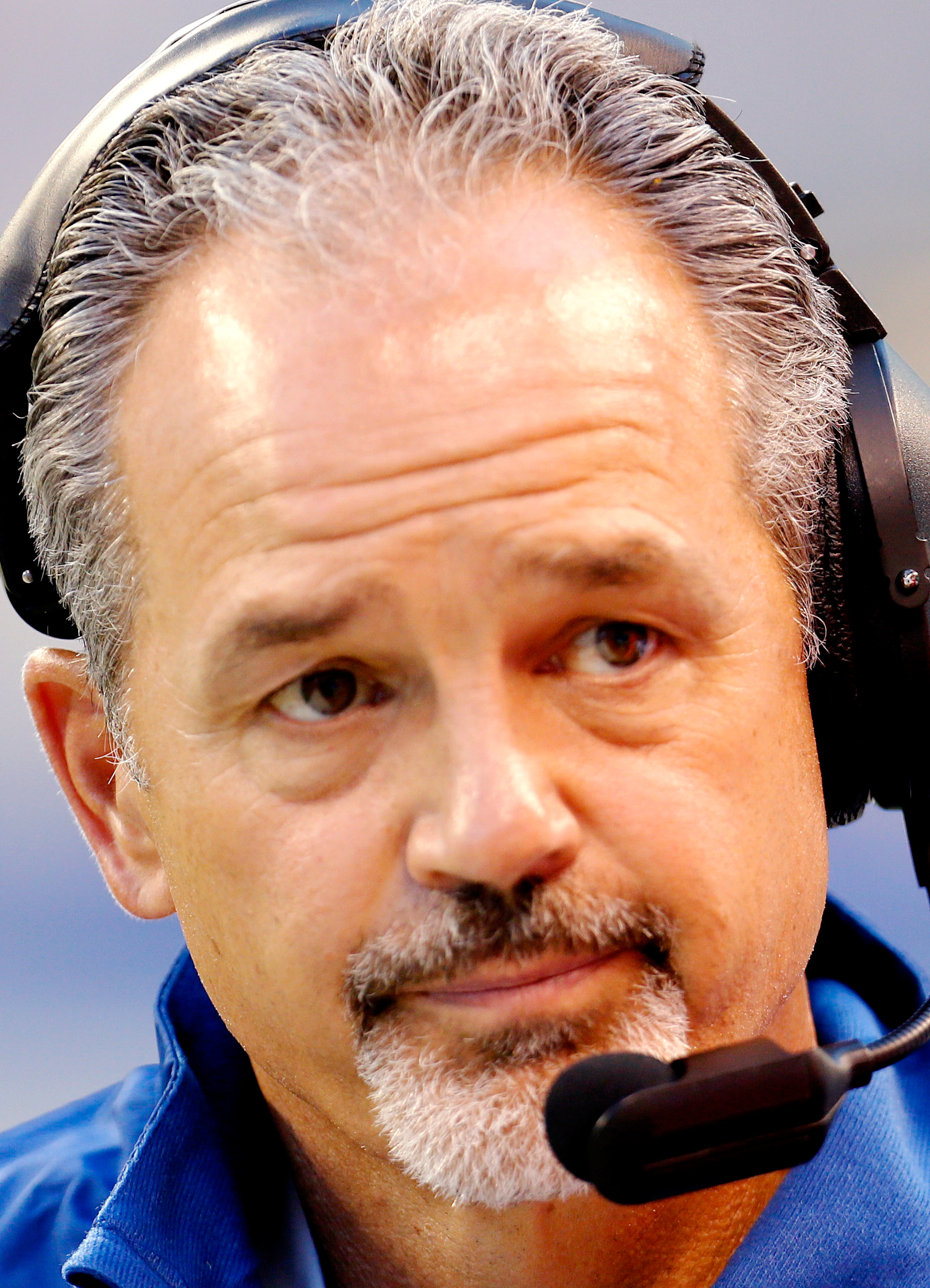 Pagano
Fox had surgery Monday to replace a valve in his heart after he became dizzy while playing golf in North Carolina and was later taken to a hospital during the team's bye week over the weekend. It's unknown when he'll return to coaching the Broncos.
Kubiak collapsed while heading to the locker room at halftime of Sunday's game against the Colts. He was immediately taken to the hospital.
"Hopefully they get things taken care of and get their health back," Pagano said. "We're lucky. We're playing a kid's game. Our players are playing a kid's game, but real life is real life. If you don't have your health, you really don't have nothing."
Pagano missed 12 games last season while he took a leave of absence to battle leukemia.
"I feel very fortunate, obviously to have behind me what I went through," he said. "But the game is the game. When it comes to a guy's health and those things those guys are dealing with now is not easy. This game could be hard on you as we know."
ESPN.com Texans reporter Tania Gangulia wrote after the game Sunday that
Kubiak's departure impacted the players
in the second half, which isn't surprising because you're talking about somebody's life in that situation. The Colts outscored the Texans 24-3 in the second half to come from behind and win 27-24.
Bruce Arians filled in while Pagano was out last season, but he missed their playoff game against the
Baltimore Ravens
after he became ill that morning.
"It's got to affect you," Pagano said about the Texans not having Kubiak in the second half. "It's hard. A tough, tough situation."
November, 4, 2013
11/04/13
1:09
AM ET
HOUSTON – Observed in the locker room after the
Indianapolis Colts
'
27-24 victory
over the
Houston Texans
:

Pagano
Passing along thoughts:
The Colts expressed concern for Texans coach Gary Kubiak immediately after the game. Kubiak was taken to a hospital after collapsing on the field as he was heading toward the locker room at halftime. "All our thoughts and prayers are with coach Kubiak and his family," Colts coach Chuck Pagano said. "We just pray for, and obviously hope, that it's nothing serious and that he gets back to health and as soon as possible gets back to his team."
No concussion:
Pagano said receiver
Darrius Heyward-Bey
did not suffer a concussion in the third quarter. Heyward-Bey left the game to get evaluated after colliding with a Texans cornerback on a slant pass deep in Houston territory. He had one catch for 11 yards.
Winning at Reliant Stadium:
Colts quarterback
Andrew Luck
entered Sunday's game with a 0-2 record at Reliant Stadium despite having played only one NFL game there. He lost a playoff game at the stadium when he was a junior at Stratford High School.
October, 31, 2013
10/31/13
2:50
PM ET
INDIANAPOLIS --
Indianapolis Colts
linebacker
Robert Mathis
has a hundred dollar bill framed in his locker in honor of recording his 100
th
career sack earlier this season. Not that he'll necessarily do it, but Mathis might have to slide that frame over a little bit to make room for his latest honor, one that wasn't necessary to prove he doesn't need former Colt
Dwight Freeney
on the field next to him to be one of the league's best pass-rushers.
Mathis
Mathis was named the AFC Defensive Player of the Month for October on Thursday. He had 11 tackles, 4.0 sacks, two forced fumbles and one pass defended in the month. He is also the last Colt to win the award. He did it in September 2010.
"The guy is just a pro," Colts coach Chuck Pagano said. "Takes care of himself and he works at his craft. When you take care of yourself and you work year round like he does, I think obviously you're able to do the things that he's doing right now and being as productive as he is this far into his career."
The Player of the Month award is nice and all, but it's time to start talking about Mathis as a Defensive Player of the Year candidate. He leads the league in sacks at 11.5, which is already the fifth most in a season in Colts history, to go with 31 tackles and three forced fumbles. His five multi-sack games ties for the franchise record.
"Robert's so impressive," Houston coach Greg Kubiak said. "I think Chuck and those guys do a great job of getting him in position to make plays and be successful. Tremendous respect for him."
October, 30, 2013
10/30/13
4:35
PM ET
INDIANAPOLIS -- The
Indianapolis Colts
entered the season as an underdog in the AFC South. They were one of three teams supposed to be looking up at the
Houston Texans
, who won the last two division titles and were labeled as Super Bowl contenders in the AFC.
Seven games and five season-ending injuries into the season, it's the Colts sitting at the top looking down on the rest of the division.
And the Texans?
They've been one of the biggest disappointments in the league this season with their 2-5 record.
The Colts (5-2) are in the position to add more misery to the Texans' season when they play on Sunday. Indianapolis has a two-game lead over second-place Tennessee, which plays at St. Louis this weekend, in the division.
"There's a saying, 'To be the champ, you have to beat the champ,'" Colts linebacker
Robert Mathis
said. "(The Texans) are the champs. In order to get it back, we have to go down there and handle our business each and every week."
The Texans have lost five straight games and they benched starting quarterback
Matt Schaub
in favor of
Case Keenum
, who played at the University of Houston, in an attempt to turn around their season around.
"It's been rough for about five weeks, so we're just trying to get it improved," Texans coach Gary Kubiak said. "We probably needed the bye week …Trying to focus on ourselves, cleaning up our football play and not hurting ourselves the way we've been hurting us and trying to just be more consistent."
The Colts have only played one division game this season – at Jacksonville on Sept. 29 – so five of their remaining nine games will be against AFC South counterparts. The Colts have lost their last three games to the Texans in Houston by an average of about 16 points a game.
"First and foremost, our number one goal is to win the division," Colts coach Chuck Pagano said. "The road to winning the division goes through Houston. They've won it the last two years. We've got to go down there and play very, very well. Try to win this game in order to give ourselves a chance to win the division."
The Colts have owned the AFC South since it started in 2002. They won 81 percent of their division games, including going a perfect 6-0 twice, during a stretch where they won the division seven out of eight seasons. Indianapolis only has eight players still on its roster from the last time it won the division in 2010.
"Our young guys, they mature fast," Mathis said. "I wouldn't say there any rookies in the locker room. We ran that gauntlet with Seattle, San Fran, Denver and now we have Houston. Make no mistake about it, they are a tough team. They are the division winners the last two years so we have to handle business."