Indianapolis Colts:

Greg Toler
April, 12, 2014
Apr 12
11:00
AM ET
April, 5, 2014
Apr 5
12:30
PM ET
April, 2, 2014
Apr 2
2:00
PM ET
The
Indianapolis Colts
have $13.4 million is salary-cap space, according to the information passed along from the fine folks at ESPN Stats & Information.
The $13.4 million in cap space is the 10
th
most in the NFL. Houston ($13.6 million), Buffalo ($14.2 million), Seattle ($14.9 million), Green Bay ($16.1 million), Philadelphia ($20.5 million), Cincinnati ($24.8 million), Jacksonville ($25.2 million), the
New York Jets
($26.9 million) and Cleveland ($31 million) are the teams with more cap space than the Colts.
Pittsburgh ($1.1 million), Detroit ($1.3 million), New Orleans ($1.7 million), San Diego ($3.7 million) and San Francisco ($4.1 million) have the least amount of cap space in the league.
Here's a look at the 10 players with the highest cap number for the Colts:
March, 31, 2014
Mar 31
11:00
AM ET
March, 11, 2014
Mar 11
7:30
PM ET
INDIANAPOLIS --
Vontae Davis
had to his due diligence and listen to other teams.
But deep down inside Davis knew he wanted to return to the
Indianapolis Colts
. Davis knew the Colts were more than just a football team that practiced together and took the field together on Sundays. There's a brotherhood inside the organization, the kind Davis didn't have in his three seasons with the
Miami Dolphins
.
That's why brotherhood -- and a whole lot of money -- brought Davis back to the Colts. He agreed to a four-year, $39 million contract that included $20 million guaranteed.
"I hate for it to be the business side," Davis said. "If there wasn't a business side of football and it wasn't about business, I would still choose to be back with the Colts. So that just says a lot about how strong the organization is. My teammates are like brothers. It's a brotherhood. When you go to the Colts, it's something that you hold with you for the rest of your life."
Davis was the primary target for the Colts when it came to re-signing their own players. He has the talent to be one of the top cornerbacks in the league. It's simply a matter of putting it all together and avoiding lapses in his play.
"He is a rare talent at 25 years of age who is still ascending as a player," Colts GM Ryan Grigson said. "We are excited to see him reach new heights in his career and help us attain our ultimate goal."
The Colts showed their faith in Davis by giving him such a lucrative deal. It's said with money comes pressure.
Not so, Davis said.
"You can't let it impact (your play)," he said. "If I was making a dollar, it wouldn't matter. You just have to go out there and play. The organization has trust in me enough to obviously bring me back. I just have to continue to work hard and I think everything will work out for itself."
The Colts had a solid tandem at cornerback with Davis and
Greg Toler
-- when he was healthy -- last season. Davis fed off of Toler's aggressive approach. Davis' best game was against the
Denver Broncos
when he had five tackles and two passes defended. He was so worked up that he referred to
Peyton Manning
as New England's
Tom Brady
in a postgame interview on the field.
Davis joined linebacker
D'Qwell Jackson
, defensive lineman
Arthur Jones
and safety/special teams ace
Sergio Brown
as defensive players the Colts signed on the first day of free agency.
"Every team, coming into the season is a new year," Davis said. "We have to come in and work hard to get back to where we were at last year. I think just moving forward, coach (Chuck) Pagano, Grigson, they're doing a great job of building this team up."
March, 6, 2014
Mar 6
9:30
PM ET
INDIANAPOLIS --
Indianapolis Colts
general manager
Ryan Grigson
didn't just come out and say it as he stood behind the podium at Lucas Oil Stadium on Feb. 21. But you knew what he was getting at while addressing the media during the NFL scouting combine that afternoon.
Grigson was asked if center
Samson Satele
was in the team's plans in the future.
"This is an evaluation process and we have a plan in place," he said. "We're not going to divulge that to anyone, but we're taking all the time and due diligence and the film work and it's something for the organization to know and you guys will find out at some point."
Grigson's comments about Satele may not seem like a big deal, but things were put further into perspective about how the organization felt about the center when the general manager talked about safety
LaRon Landry
, cornerback
Greg Toler
and defensive tackle
Ricky Jean Francois
needing to be more consistent next season in the concourse outside of the media area.
Releasing Satele, who was a disappointment last season, became official Thursday. The move frees up $4 million in salary cap space for the Colts.
The Colts are now on the market for a new starting center to snap the ball to franchise quarterback
Andrew Luck
and block because
Khaled Holmes
, who played a total of 12 snaps during his rookies season, is the only center on the roster.
Mike McGlynn
was solid while starting in place of the injured Satele last season. McGlynn's a free agent and I've been told that the Colts don't plan on re-signing him at the moment.
New Orleans' Brian De La Punte and Green Bay's Even Dietrich-Smith are possible players the Colts could pursue once free agency begins March 11. The
Cleveland Browns
used the transition tag on center
Alex Mack
. The Browns have the right to match any offer made to Mack.
And to put a wrap on Thursday's busy day for the Colts, which also saw them sign linebacker D'Qwell Jackson, they made qualifying offers to restricted free agents cornerback Josh Gordy and offensive lineman Joe Reitz. The Colts have the right of first refusal if Gordy or Reitz receives an offer sheet from another team. Indianapolis made an exclusive rights tender to linebacker Cam Johnson.
March, 4, 2014
Mar 4
4:00
PM ET
With the 2014 free agency period starting on March 11, here's a look back at how some of the
Indianapolis Colts
' marquee free-agent signings from 2013 played last season.
Cornerback Greg Toler (3 years, $14 million)
2013 stats
: 23 tackles, 1 interception, 7 passes defended
Toler's issue is the inability to stay healthy. He had that problem while with the
Arizona Cardinals
and he managed to tuck that same problem into his luggage before coming to Indianapolis.
The secondary thrived off Toler's aggressive, sometimes risky, approach at cornerback. It started in training camp and carried over to the early portion of the season. Everything changed after the game against the
Denver Broncos
in Week 7.
Toler injured his groin against the Broncos, causing him to miss eight straight weeks. He didn't want to return too soon and risk re-injuring his groin.
Toler returned for the final two regular-season games only to end up having his season end after he injured his groin again in the AFC wild-card playoff game against the
Kansas City Chiefs
. He ended up having surgery on his groin tear after the season.
Some want the Colts to cut Toler. That isn't an option, as general manager Ryan Grigson talked about the impact Toler can have on the defense during the NFL scouting combine.
The key?
Consistency, of course. The first step in achieving that is for Toler to remain healthy.
February, 22, 2014
Feb 22
12:30
PM ET
INDIANAPOLIS – The eyes of most NFL players, coaches and front office officials were fixated on the
Seattle Seahawks
' defense as it made
Denver Broncos
quarterback
Peyton Manning
look ordinary for one of the few times in his future Hall of Fame career during the Super Bowl earlier this month.
The goal by those teams?
To put together a defense that can at least resemble Seattle's, which is being called by some one of the best in league history.
[+] Enlarge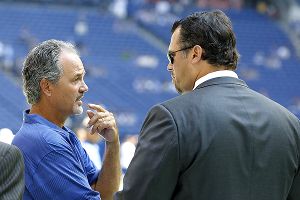 Zumapress/Icon SMICoach Chuck Pagano and GM Ryan Grigson will be looking for a steadier Colts defense in 2014.
"No question,"
Indianapolis Colts
coach Chuck Pagano said. "We're not the only ones that are thinking that way since it's the last game and you saw how they were able to dominate that game and play so well on defense."
The Seahawks used a fast and physical defense to lead the league in total yards allowed a game (273.6), passing yards a game (172) and points allowed a game (14.4) last season.
Colts general manager Ryan Grigson had no shame in admitting that they may end up taking some of Seattle's defensive philosophies.
"This is a copycat league and people see someone doing things at a high level and being able to beat a quality opponent like the Broncos the way they did," Grigson said. "Of course you're going to look at that. With the Colts we're always looking to get better. We're not ashamed to say we might take a piece from here, a piece from there and use it or implement it. … If you're going to be belligerent, you're going to be stuck in the mud. And it's not working? Well, that's on you at the end of the day."
Pagano is a defensive-minded coach whose unit hasn't lived up to his standards yet. The Colts showed flashes at times, but they were way too inconsistent for those in the organization last season. The goal is for them to close the gap between them and the offense.
The
Kansas City Chiefs
put up 44 points on them without do-everything running back
Jamaal Charles
in the AFC wild-card game and the
New England Patriots
ran for 234 yards in the divisional playoff game.
"We certainly had times during the season where we played very, very good defense," Pagano said. "Played smothering defense, much like Seattle played, especially down the stretch. I know the playoffs didn't turn out, obviously we didn't play like we are capable of. We've just got to be more consistent. As we add pieces to the puzzle and guys get better at their craft, I think we'll certainly one day say we play defense like that on a consistent basis."
The Colts finished 20
th
in the league in total yards allowed (357.1). They weren't bad in pass defense – 13
th
in the league – it was stopping the run that Indianapolis had problems with. The Colts were 26
th
in the league, giving up an average of 125.1 yards a game.
Pagano wasn't just talking about consistent play on the field -- he was also referring to having players consistently play. Starting safety
LaRon Landry
, cornerback
Greg Toler
and defensive tackle
Ricky Jean Francois
all missed time because of injuries last season.
"I felt like specifically, Landry before he got hurt, was leading the league in tackles and was all over the place," Grigson said. "He's got to be more comfortable in this defense. He has to make that commitment this offseason, and he's going to. Ricky Jean, the same way. The flashes were there. We need those guys to turn those flashes, same with Toler, into consistency, and that's all we're looking for. We need consistency, be out there for 16 games, find a way."
February, 19, 2014
Feb 19
10:30
AM ET
INDIANAPOLIS -- Cornerback is an intriguing position for the
Indianapolis Colts
this offseason.
Vontae Davis
is about to hit the free-agent market unless for some reason the Colts decide to use their franchise tag on him. Davis is the Colts' top priority when it comes to re-signing their own players.
Cassius Vaughn
, who started some in place of the injured
Greg Toler
, is also a free agent.
And speaking of Toler, he still has two years remaining on his contract but the Colts can't count on him because he brought his injury problems with him to Indianapolis from Arizona. Toler missed seven games with a groin injury last season and was ineffective in the games he played in when he returned before the Colts finally placed him on injured reserve.
Which direction the Colts go in the draft is a toss up because they have a number of needs and they have limited picks (second, third, fifth, sixth and seventh rounds).
The defensive backs are scheduled to have on-field workouts during the scouting combine on Feb. 25.
Here are the top 10 cornerbacks in this year's draft, according to Mel Kiper Jr.
1.
Justin Gilbert
, Oklahoma State
2.
Darqueze Dennard
, Michigan State
3.
Lamarcus Joyner
, Florida State
4.
Jason Verrett
, TCU
5.
Marcus Roberson
, Florida
6.
Bradley Roby
, Ohio State
7.
Keith McGill
, Utah
8.
Loucheiz Purifoy
, Florida
9.
Kyle Fuller
, Virginia Tech
10.
Bashaud Breeland
, Clemson
Kiper had Gilbert, Dennard, Roberson and Roby being selected in the first round in his most recent mock draft.
February, 12, 2014
Feb 12
1:25
PM ET
INDIANAPOLIS -- Forget the need to improve the offensive line for the moment for the
Indianapolis Colts
. The bigger need is on the defense, or "every non-
Robert Mathis
defender," as Rivers McCown of Football Outsiders put it.
McCown did an
NFL Insider piece on the biggest needs for the AFC South

teams.
McCown noted -- like many have so far -- the importance of re-signing cornerback
Vontae Davis
and safety
Antoine Bethea
. Colts general manager Ryan Grigson mentioned the need to have a shutdown corner and wanting to re-sign Bethea during his season-ending news conference last month.
Davis isn't on the same level as Seattle's
Richard Sherman
, but he has the talent to be one of the top cornerbacks in the NFL. Davis flashed that potential at times last season. The key for him is to do it on a regular basis. He went through a stretch last season (St. Louis'
Tavon Austin
) where he didn't play well and you were left wondering if the Colts should offer Davis a lucrative contract.
The Colts will have about $33 million in salary-cap space to work with. That number, according to McCown, would increase if the Colts cut cornerback
Greg Toler
and center
Samson Satele
.
Toler missed seven games last season with a groin injury and Satele simply did not have a good season.
Mike McGlynn
, who will be a free agent, was a better center than Satele.
The line that some fans would agree on about safety
LaRon Landry
that McCown wrote is that he plays safety like an "11-year-old plays defense on Madden: going for big hits the entire time."
The
Seattle Seahawks
won the Super Bowl with one of the best defenses in league history. The Colts' defense was embarrassed in the playoffs by the
Jamaal Charles
-less
Kansas City Chiefs
and the
New England Patriots
.
February, 6, 2014
Feb 6
9:00
AM ET
Cornerback
Cassius Vaughn
2013 stats: 30 tackles, 6 passes defended, 3 interceptions, 2 forced fumbles.
Vaughn, one of the lead jokesters in the locker room, played a number of different roles last season. He was the the fourth cornerback. He started in Greg Toler's absence because of the Colts' desire to keep
Darius Butler
at nickel back. Vaughn was even a healthy inactive.
Vaughn played well at times, getting two interceptions against Tennessee in early December. He also struggled when he started opposite of
Vontae Davis
. Vaughn ended up falling behind
Josh Gordy
on the depth chart. He didn't play in either of the playoffs game against Kansas City or New England.
Prediction: Depending on what happens with Davis and Gordy, Vaughn may end up having to be the team's fifth cornerback if the Colts re-sign him.
January, 19, 2014
Jan 19
11:00
AM ET
Indianapolis Colts' Free-Agent Watch
: Cornerback
Vontae Davis
2013 stats
: 46 tackles, 1 interception, 12 passes defended
End of the season locker room cleanouts are usually pretty predictable for free agents no matter what sport it is.
"Yes, I want to re-sign here," one athlete says.
Davis
"We'll see what happens, but I'm interested in coming back," another athlete will say.
Free agents usually like to keep their options open about returning in case they overvalue themselves on the free-agent market. About the only time you don't hear a player talk about returning is when there's obvious bad blood between him and the team.
Enter Davis.
Davis, of the Colts' free agents, broke free of that when he talked about his future.
"This is family," he said as pointing around the locker room. "I noticed that from Day 1 when I got here. I've never had that before. Miami, it was more like a business-type atmosphere. I enjoy playing for the organization."
Davis credits the Colts for resurrecting his career. They acquired him from the
Miami Dolphins
for a second-round pick in August 2012.
"It was the best thing that happened for me," Davis said. "It got my career going in the right direction. Looking forward to it, the sky is the limit."
Davis was at his best this past season when he and
Greg Toler
started together. It looked like Davis was on his way to earning a big pay raise from the $1.8 million he made this season early on. But he hit a little lull – possibly costing him some money – after Toler went down with a groin injury.
"It's about reaching goals as a team," Davis said. "Coming from Miami to come here, it made me refocus on what football is really about. There truly is something special here with the Colts."
Davis is still worthy of a nice contract and there's no reason not to believe the Colts won't re-sign him.
"Any cover corner is going to be high on the pecking order, especially in a scheme like ours," general manager Ryan Grigson said last week. "Vontae's a heck of a player. Again, consistency's the key. Vontae can be as good as he wants to be and you saw in some of those games this year where he just completely erased the receiver. And they were top-tier receivers in this league that it was like they didn't even play. So he does that every game and there's no reason he shouldn't be in the Pro Bowl every year. And he knows that. But we really like Vontae and like I said, once we go through this process and get to that point where we make those calls and do those things, hopefully it all works out how we want and we're better because of it."
January, 18, 2014
Jan 18
1:00
PM ET
January, 15, 2014
Jan 15
2:00
PM ET
Arrow indicates direction team is trending.

Final Power Ranking:
8
Preseason Power Ranking:
10
Biggest surprise:
The questions were valid. Was linebacker
Robert Mathis
' production a product of having sack-machine
Dwight Freeney
playing on the other side? Could Mathis still be an impact player without Freeney? Mathis silenced the naysayers when he led the league in sacks with 19.5, including seven strip sacks. Mathis didn't hide the fact that he wanted to quiet the doubters. What made his season even more special is that he did it without much help elsewhere, as the Colts had only 42 sacks as a team. Mathis is one of the front-runners to be the league's defensive player of the year.
Biggest disappointment:
Safety
LaRon Landry
was supposed to have the same kind of impact
Bob Sanders
had when he played for the Colts. That's why general manager
Ryan Grigson
signed him to four-year, $24 million contract. Landry was good when he was able to come up with the big hits or touchdown-saving tackles, but it was too often that he ended up whiffing on a play. The plays on which he missed running back
Jamaal Charles
on a touchdown run in the regular-season game against Kansas City and New England's
LeGarrette Blount
on his touchdown run last weekend are two examples that quickly come to mind. It also doesn't help that Landry missed four games because of injury this season.
Biggest need:
Help on both lines -- offensive and defensive -- should be at the top of Grigson's list during the offseason. The Colts are set at offensive tackle with
Anthony Castonzo
and
Gosder Cherilus
.
Donald Thomas
will be back to take one of the guard spots after he missed most of the season with a quad injury, but the other guard spot and center could use upgrades. The Colts need a defensive tackle who can clog the middle of the line.
Team MVP:
This is a no-brainer. Quarterback
Andrew Luck
was mentioned as a league MVP candidate at one point in the season. The second-year quarterback overcame injuries to five key offensive starters -- including future Hall of Fame receiver
Reggie Wayne
-- to cut his interceptions in half, increase his completion percentage and throw the same number of touchdown passes despite 52 fewer attempts. Take Luck out of the lineup and the Colts would have won maybe six games this season.
January, 6, 2014
Jan 6
1:30
PM ET
Seven years. Yes, almost seven years. That's how long it's been since the
Indianapolis Colts
and
New England Patriots
faced each other in a playoff game.
The Colts pulled off the improbable 38-34 come-from-behind victory over
Tom Brady
and the Patriots at the old RCA Dome on Jan. 21, 2007, in the AFC Championship Game to reach the Super Bowl.
A lot has changed since that game.

Kicker
Adam Vinatieri
, linebacker
Robert Mathis
and safety
Antoine Bethea
are the only holdovers from that game for the Colts. Brady and kicker
Stephen Gostkowski
are the only two starters still remaining for the Patriots. Defensive lineman
Vince Wilfork
played in that game but he missed most of this season with a torn Achilles injury.
Here's a quick breakdown of how the Patriots reached this point:
Record: 12-4 (1
st
AFC East)
Head coach: Bill Belichick
Offensive coordinator: Josh McDaniels
Defensive coordinator: Matt Patricia
FOUR PLAYERS TO WATCH
1. QB Tom Brady. Brady could put out a manual on how to get the most out of a group of relatively unknown receivers. There's no better quarterback in the league at doing that. The 36-year-old Brady overcame the loss of tight end
Rob Gronkowski
(knee) to still complete 60.5 percent of his attempts, pass for 4,343 yards and 25 touchdowns. Brady, like Colts quarterback
Andrew Luck
, is simply a winner no matter who he has lined up around him. One thing Brady won't do, though, is beat you with his feet. He only rushed for 18 yards this season. Good news for Mathis & Co., Brady was sacked 40 times during the regular season.
2. WR
Julian Edelman
. He became Brady's primary target after Gronkowski was lost for the season. Edelman finished fourth in the league in receptions with 105 and was targeted 151 times, which was good enough for 10
th
in the league, by Brady. Edelman had 1,056 yards and six touchdowns. The health status of the Colts secondary is up in the air right now, as cornerback
Greg Toler
left the Kansas City game with a groin injury and safety
LaRon Landry
has to pass the NFL's concussion protocol before he's cleared to play.
3. RB
LeGarrette Blount
. He took a backseat to running mate
Stevan Ridley
for most of the season, but Blount ended the regular season by rushing for 189 yards and two touchdowns on 24 carries against the
Buffalo Bills
in Week 17. Blount had five games where he averaged more than 5.3 yards a carry. He finished with 772 yards rushing to Ridley's 773 yards despite having 25 fewer carries.
--CB
Aqib Talib
. He could be matched up against Colts receiver
T.Y. Hilton
, who had 224 yards receiving against the Chiefs on Saturday. Talib, who was selected for the Pro Bowl, had a team-high 13 passes defended and was second on the team in interceptions with four.
OTHER NOTES: The Patriots were undefeated at home during the regular season. But don't think they're unbeatable at Gillette Stadium, though, as half of their eight home wins were by three points or less. …The Patriots finished 26
th
in the league in yards allowed (373.1) on defense. …Edelman finished fourth in the league in punt return yards (374).