Indianapolis Colts:

Jeff Saturday
May, 18, 2014
5/18/14
9:40
AM ET
March, 26, 2014
3/26/14
12:15
PM ET
ORLANDO, Fla. --
Khaled Holmes
didn't give you an appetizer sampling size of what he could do during his rookie season with the
Indianapolis Colts
.
For a player who stands 6-foot-3 and weighs 319 pounds, what Holmes gave the Colts was more like a snack-size treat.
Holmes played a total of 12 snaps last season.
[+] Enlarge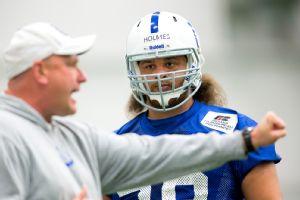 Michael Hickey/Getty ImagesKhaled Holmes played just 12 snaps last season but is primed to be the Colts' starting center at the start of the regular season.
But here Colts coach Chuck Pagano sat during the breakfast media session and general manager
Ryan Grigson
leaned back in his chair in the lounge area of the Ritz Carlton hotel Tuesday afternoon talking confidently about the player they selected in the fourth round of the 2013 draft.
So confident that you have to believe that Holmes -- the same Holmes who played 12 snaps last season -- has the inside track to be the Colts' starting center when the regular season begins. Holmes was handpicked by Grigson and the last thing the general manager wants is for his draft pick not to pan out.
"He's big, he's athletic and he's very, very bright," Pagano said. "He has great [football instincts]. From a mental standpoint, it's all there."
The Colts cut ties with center
Samson Satele
earlier this month after he played poorly last season. Of the top-tier free-agent centers, Cleveland's
Alex Mack
is the only one the Colts had their eyes on.
Could Mack have immediately fixed the interior part of the Colts' offensive line? Of course, but they shied away from heavily pursuing him because the financial commitment would have been too much.
The Colts signed former
Dallas Cowboys
center
Phil Costa
to compete with Holmes for the starting position.
"We looked at every center, we looked at all the guards," Grigson said. "We didn't like anybody. It's based off our facts, which is the tape."
So that leaves Holmes and Costa as the two leading candidates to start and possibly give the Colts the same center combination they had with
Jeff Saturday
and
Peyton Manning
for eight years.
"It was unfortunate what happened to Khaled but he's a talented guy and the expectations are high for him," Pagano said. "To bring in a guy like Costa in the mix, who's to say there's not a guy? Time is going to tell. We feel like he might be sitting right there. We have to stay healthy and get them on the field and play at that level. Time will tell on that. I think we have two capable guys that can play at a high level."
Costa has the resume to be a starter even if he did lose his starting spot to rookie
Travis Frederick
last season with the Cowboys. Costa started every game for Dallas in 2011, but injuries limited him during the 2012 season and he played in only three games last season.
You're probably wondering how Holmes could go from barely breaking a sweat in a game last season to looking like the player with the best shot to be hiking the ball to
Andrew Luck
next season.
Holmes was behind in the learning process after missing a significant amount of training camp last year with an ankle injury.
"This league, unfortunately, when a guy gets hurt in training camp he gets shelved," Grigson said. "There was a lot of optimism about him in minicamp, his level of intelligence. He's unique, he's 318 pounds. He's got guard versatility even though I think he's a center, but he's got good arm length. At center, you have to have that ... The guy knows how to play football."
Satele's problems at center last season were well documented, but the Colts didn't want to just throw Holmes on the field because it wouldn't have been fair to do that to him since he missed a significant part of training camp.
"You have a trust level," Grigson said. "And even if you have a player you think doesn't have as high of ceiling as the guy that's sitting on bench, you have a guy who has been through some wars. Experience plays a major factor and it makes everyone comfortable when you have someone who has been there done that than throwing a guy to the wolves when you're in the middle of a run.
"That's a tough thing to do. When you're losing or if you've lost five games in a row and you're not going to the playoffs, then you can make those decisions."
March, 21, 2014
3/21/14
1:40
PM ET
INDIANAPOLIS --
Khaled Holmes
and
Phil Costa
.
Those two names might cause you to look at their Wikipedia page to find out their background.
Here's the condensed version of who Holmes and Costa are: They are centers for the
Indianapolis Colts
and will be the two competing for the right to hike the ball to franchise quarterback
Andrew Luck
next season.
[+] Enlarge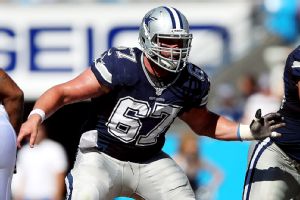 Streeter Lecka/Getty ImagesThe Colts signed center Phil Costa to a one-year, $1.2 million contract. He'll compete with Khaled Holmes for the starting job this fall.
That essentially was the message general manager
Ryan Grigson
passed along during a conference call with reporters late Friday morning.
"We feel pretty good where we're at," he said. "You always like to be able to plug in a Pro Bowler there or someone that's a five-year starter, have that luxury, but I'll say this to make this point: You guys had great success here with (Jeff) Saturday who was a (college free agent) that I think was stocking shelves when they brought him in.
"About center in general, I personally have been fortunate enough to be to three Super Bowls with two teams, and on all three of those teams the centers were (college free agents). That's a position where you can find a quality guy and you don't need always to have that high-profile player at that spot."
Samson Satele
was the Colts' starting center the past two seasons, but he was released this month after performing poorly last season.
The Colts had interest in Cleveland center
Alex Mack
, but being able to land him was a longshot from the start because the Browns used their transition tag on him, meaning they could match any offer made to Mack.
Indianapolis signed Costa, who spent his first four seasons with the
Dallas Cowboys
, to a one-year, $1.2 million contract last week. He started every game in 2011 for the Cowboys. His 2012 season was cut short because of ankle and back problems. Costa, an undrafted free agent, dressed for 12 games in 2013 but only played in three of those games, losing his starting job to
Travis Frederick
, the team's first-round pick last season.
Holmes, the Colts' fourth-round pick in 2013, still remains a 6-3, 319-pound mystery. He played a total of 12 snaps last season. That number is alarming when you consider the problems the Colts had on the interior part of the offensive line last season.
"We signed Phil Costa, he's a tough young center that has started games," Grigson said. "We drafted Khaled Holmes to be that center of the future. He never got a chance in camp really because of the ankle, so he's still a little bit of an unknown at the professional level. But it's going to be a good competition."
So for now, learn as much as you can about Holmes and Costa, because they are currently the two players with the best shot of being the Colts' starting center next season.
March, 15, 2014
3/15/14
6:00
PM ET
February, 13, 2014
2/13/14
1:35
PM ET
LeBron James, the best all-around NBA player walking on this planet, raised a lot of eyebrows and took the attention off of Oklahoma City's Kevin Durant momentarily earlier this week when he said he should be on the NBA's Mount Rushmore.
The
Indianapolis Colts
have the Ring of Honor, but what about a Mount Rushmore, where only the best of the best belong?
Four players and four players only since the team moved from Baltimore to Indianapolis.
Here are my three players, with the fourth one up in the air.
QB
Peyton Manning
: Is there any question about that the player who spent 14 years with the Colts, led them to two Super Bowl appearances and set countless team records? His face has already been chipped away on top of the mountain even though he's still slinging balls down field and yelling "Omaha" at the line of scrimmage for the
Denver Broncos
.
WR
Marvin Harrison
: Who needs the Hall of Fame when you have Mount Rushmore? Just joking. Harrison will end up in the Hall of Fame sooner than later. Harrison is in the NFL's all-time top seven in yards (14,580), touchdowns (128) and receptions (1,102).
WR
Reggie Wayne
: Wayne's season got cut short because of a torn ACL in Week 7, but not before passing
Randy Moss
and Hines Ward for the eighth-most receptions (1,006), Steve Largent,
Andre Reed
and
Torry Holt
for 11
th-
most receiving yards (13,566) and Charley Taylor and Harold Carmichael for 23
rd-
most receiving touchdowns (80). He hopes to continue to move up the record book when he returns next season.
The fourth one is where the dilemma lies.
Robert Mathis
?
Dwight Freeney
?
Edgerrin James
? What about
Jeff Saturday
?
An argument could be made for all of them to be up there.
October, 15, 2013
10/15/13
7:45
AM ET
SAN DIEGO --
Indianapolis Colts
safety
Antoine Bethea
is in his eighth season in the NFL. He's watched as teammates have departed during that time.
Marvin Harrison
.
Bob Sanders
.
Dwight Freeney
.
Jeff Saturday
.
Peyton Manning
.
That's why Bethea isn't buying into the hype surrounding Manning's return to Indianapolis with the
Denver Broncos
on Sunday.
"We see players come and go all the time," Bethea told ESPN.com. "We have to go out there and just play ball. I don't think it's going to be weird. The media is going to make a big hoopla about him coming back to Indy."
Manning spent 14 seasons with the Colts, leading them to two Super Bowl appearances before the team released him in 2012.
The Colts have to quickly regroup from Monday's loss to San Diego because all eyes will be on Lucas Oil Stadium when Manning and the undefeated Denver Broncos visit in what should be one of the most watched games of the season.
Manning appears to be on his way to picking up his fifth MVP trophy. He's passed for 2,179 yards, 22 touchdowns and only two interceptions while completing 74.2 percent of his attempts this season.
"I'm not surprised at all," Bethea said. "He's been playing that way his whole career. You'd be a fool to say you're surprised. We're really going to have to be on top of things next week. He's a mastermind of what he does."