Indianapolis Colts:

Jerry Rice
January, 30, 2014
Jan 30
3:00
PM ET
Is this the year that the Hall of Fame elects three wide receivers?
That's what former
Indianapolis Colts
general manager and current ESPN NFL analyst Bill Polian believes.
Receivers
Marvin Harrison
,
Tim Brown
and
Andre Reed
are finalist for the Hall of Fame. Each finalist must receive 80 percent of the votes.
Polian was general manager of the Colts when Harrison played with the team and GM of the
Buffalo Bills
when Reed was catching touchdown passes from
Jim Kelly
.
Reed is a finalist for the eighth straight year. Brown was among the first cut last year when finalist were reduced from 17 to 12. This is the fifth year that he's been eligible.
"I believe this ought to be the year of the receiver," Polian said. "All three deserve to go in. Get it out of the way by doing the right thing. Next year you can get back to electing guards and tackles and there are some seriously deserving defensive players this year in my opinion. It's long overdue for Andre and Tim Brown."
Click here
for profiles on the other Hall of Fame finalists.
January, 29, 2014
Jan 29
12:00
PM ET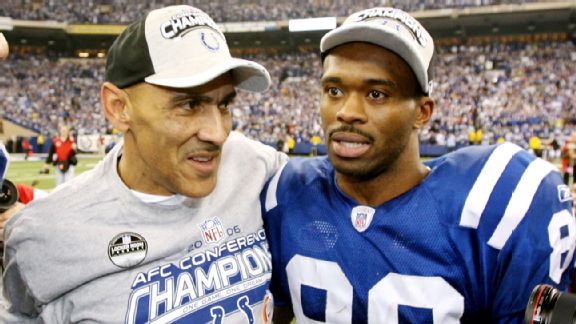 Matthew Emmons/USA TODAY SportsCoach Tony Dungy and wide receiver Marvin Harrison combined for some very memorable Indianapolis Colts teams.
INDIANAPOLIS – The joke about
Marvin Harrison
during his 13-year career with the
Indianapolis Colts
is that he would be in plain sight but he was still hidden because he was so quiet. You didn't know he was around unless he was embarrassing defenses while catching passes from quarterback
Peyton Manning
.
Harrison didn't worry about the extra thing. His focus was getting better on a daily basis and helping the Colts win games.
"He was very quiet away from the field," former Colts general manager Bill Polian said. "Marvin wasn't one of those guys that thrived to be the center of attention. When it was time to play -- practice time or games -- it didn't matter, he was business 100 percent of time. He is one of the all-time best."
Harrison, and former Colts coach Tony Dungy, could be thrust to the forefront Saturday if things go as planned for them.
The Colts receiver and coach are two of the 15 Hall-of-Fame finalist. A finalist must receive 80 percent of the votes.
The statistics scream first-ballot Hall of Famer for Harrison. He's third in NFL history in receptions, fifth in touchdown receptions and seventh in receiving years to go with eight straight 1,000-yard seasons.
"Marvin Harrison had a tremendous impact on my career," Manning said. "My very first football game in the preseason, on the third play of the game, I threw my first pass. I threw him about a 4-yard pass, and he ran 48 yards for a touchdown. I said, 'Boy, this NFL is pretty easy. All you do is throw it to Marvin Harrison and he runs for touchdowns.' That's pretty much what he did throughout the time we played together. He is just an outstanding football player. A great teammate, and he truly helped me out a lot."
Harrison was a perfectionist of his craft. His footwork had to be precise, he tried to catch anything thrown in his direction. He wanted the team's best defensive backs defending him in practice, not a practice squad player who could be released at any moment.
"That was Marvin for you," Polian said. "His unique ability at his size to get open and continue to play for as long as he played is witness to his phenominal athletic ability, great hands and work habit. He's extremely, extremely gifted athlete. Far more than people realize because he's made it look so easy. He was a clutch performer."
Harrison's career, which included going to the playoffs 10 times and winning a Super Bowl, ended in February 2009 when the Colts terminated the final three years of his contract because he didn't want to take a pay cut.
"It was time," Harrison said told the Indianapolis Star in a recent interview. "I had the perfect owner (Jim Irsay), the perfect team, one team my whole career, Dungy leaving, I played my one year in the new stadium (Lucas Oil).''
Dungy wasn't far behind Harrison in leaving the Colts. He stepped down as coach almost two months later.
Dungy, who coached in Tampa Bay and Indianapolis, is in the top seven in wins amongst coaches with at least 100 victories. The Colts won at least 10 games in all seven seasons under Dungy. They won five division titles during that same time span, and Dungy is the first African-American head coach to win a Super Bowl.
"Everybody who makes the finals deserves to be in, but Tony is in a class by himself," Polian said. "His record speaks for itself. He has replaced Wellington Mara as the public conscience of the NFL. "
Manning added, "Coach Dungy's influence on me and our entire team was very strong…I'm indebted to him for his help for me in my career, and of course, our teams there in Indianapolis. I was very honored to play for him for a number of years."
January, 26, 2014
Jan 26
11:50
PM ET
Indianapolis Colts
quarterback
Andrew Luck
was on the same team as his coach, Chuck Pagano, but it was linebacker
Robert Mathis
and long snapper
Matt Overton
who were on the winning Pro Bowl team that earned a $53,000 check compared to the $26,000 for the losing team.

Mathis' team, Team
Jerry Rice
, beat Luck's team, Team
Deion Sanders
,
22-21
in Honolulu.
Luck was the No. 1 overall pick in the Pro Bowl draft and started at quarterback over Carolina's
Cam Newton
, who had more votes than him. But it's understandable that Luck started since he was playing for his head coach.
Luck was 5-of-7 for 80 yards, a touchdown and an interception. His lone touchdown pass came on a flea flicker play where Kansas City's
Jamaal Charles
tossed the ball back to Luck, who launched a pass to Philadelphia's
DeSean Jackson
that looked like it would be intercepted . Jackson went up into double coverage and hauled the pass in.
Luck's interception happened when St. Louis'
Robert Quinn
tipped his pass and Cincinnati's
Vontaze Burfict
picked it off. It's a good thing Luck won't have to see Quinn anytime soon again. Quinn sacked the Colts' quarterback twice during the regular-season meeting that St. Louis won 38-8.
The NFL did away with the traditional AFC-NFC Pro Bowl teams in favor of a draft. That meant there would be opportunities for teammates during the regular season to go against each other on Sunday.
Mathis didn't get an opportunity to sack Luck. Mathis, who led the league in sacks with 19.5, finished with four tackles.
January, 22, 2014
Jan 22
3:00
PM ET
Indianapolis Colts
quarterback
Andrew Luck
and linebacker
Robert Mathis
will find out which Pro Bowl team -- Team
Deion Sanders
or Team
Jerry Rice
-- they'll be on Wednesday evening when the rest of the inaugural draft is completed.
Colts coach Chuck Pagano is coaching Sanders' team. It'll fun if Luck goes against Pagano and defensive coordinator
Greg Manusky
. It'll also be interesting if Luck and Mathis are on different teams because you likely won't see Mathis coming off the edge and attempting to take the Colts' franchise player's arm off with a one of his customary strip sacks.
Colts long snapper
Matt Overton
will go against Pagano in the game. Overton was drafted by Rice's team, which will be coached by Carolina's Ron Rivera. Pagano got Rivera back by selecting Carolina long snapper
J.J. Jansen
.
Here's a look at the players drafted for Pagano's team so far.
Team Sanders
DT
Ndamukong Suh
Detroit
DT
Gerald McCoy
Tampa Bay
DT
Dontari Poe
Kansas City
G Marshall Yanda Baltimore
G
Logan Mankins
New England
G
Kyle Long
Chicago
C
Mike Pouncey
Miami
C
Alex Mack
Cleveland
FB
Marcel Reece
Oakland
Special Teamer
Brandon Fields
Miami
Long Snapper
J.J. Jansen Carolina
January, 19, 2014
Jan 19
11:30
PM ET
INDIANAPOLIS -- Indianapolis Colts linebacker
Robert Mathis
, long snapper
Matt Overton
and the entire coaching staff will have some extra company in Hawaii this week for the Pro Bowl.
Quarterback
Andrew Luck
will join them after being named to the team as a result of Seattle's
Russell Wilson
's trip to the Super Bowl. Overton was named to the team last week.
Luck passed for 205 yards and two touchdowns in his first appearance in the Pro Bowl last year.
Luck threw for 3,822 yards, 23 touchdowns and nine interceptions while completing 60.2 percent of his attempts this season.
In a different twist to the Pro Bowl this year, Mathis could end up chasing down Luck or Chuck Pagano could be coaching against his franchise quarterback because the teams are no longer divided by AFC-NFC players. There will be a draft on Jan. 22 in which
Jerry Rice
and
Deion Sanders
will pick the teams.
January, 14, 2014
Jan 14
8:00
AM ET
INDIANAPOLIS -- Linebacker
Robert Mathis
-- and possibly quarterback
Andrew Luck
-- will have some company with them for the Pro Bowl in Hawaii.

The consolation prize for not advancing to the AFC Championship Game is that the
Indianapolis Colts
' coaching staff will coach one of the Pro Bowl teams during the game on Jan. 26.
"Fortunately for the coaching staff, and well-deserved, they get to go to Hawaii," coach Chuck Pagano said. "It'll be a well-deserved break for those guys. As you guys know, it's not a real grind as far as meetings and practice and things like that. Those guys are excited about it."
Pagano may not end up coaching Mathis in the game because teams are no longer divided by AFC-NFC players. There will be a draft on Jan. 22 in which Hall of Famers
Jerry Rice
and
Deion Sanders
will pick the teams.
Luck could be chosen to the team if quarterback
Russell Wilson
and the
Seattle Seahawks
beat the
San Francisco 49ers
in the NFC Championship Game and advance to the Super Bowl.
September, 12, 2013
9/12/13
10:05
AM ET
The
Indianapolis Colts
could, actually I take that back, should be represented at the Football Hall of Fame next summer.
Former coach Tony Dungy and receiver Marvin Harrison are part of the 16- first-year-eligible modern-era candidates. The election will take place Feb. 1, 2014.
Dungy and the Colts won the Super Bowl in 2006.

Harrison
Harrison fell off the map after he and the Colts parted ways in 2008. The only blemish on Harrison's resume is his alleged involvement in a Philadelphia shooting in 2008. The gun that was used belonged to him, but he was never charged.
That was off-the-field stuff. The numbers Harrison put up on the field are Hall of Fame-worthy.
Here is more proof that Harrison should be giving a Hall of Fame speech next summer (and his speech would be interesting, because he wasn't exactly a media darling, according to those who covered him).
His 1,102 receptions are third behind Jerry Rice and Atlanta tight end Tony Gonzalez, who is still catching balls today.
His 14,580 yards are sixth behind Tim Brown, Isaac Bruce, Randy Moss, Terrell Owens and Rice.
Harrison's 128 touchdowns are fifth behind Cris Carter, Owens, Moss and Rice.
So in other words, Harrison can go ahead and get sized for his tailored Hall of Fame jacket.