Indianapolis Colts:

Jimmy Graham
June, 30, 2014
Jun 30
8:00
AM ET
INDIANAPOLIS --
Indianapolis Colts
rookie tight end
Erik Swoope
didn't know what to expect when he put pads and a helmet on for the first time ever last month during the team's rookie minicamp.
Football as a whole is a different sport for Swoope.
He didn't play it in any youth leagues growing up in Southern California. He didn't play it in high school. And he definitely didn't play it at the University of Miami, where he averaged 5 points per game as a senior on the school's basketball team.
[+] Enlarge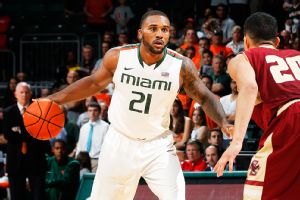 Joel Auerbach/Getty ImagesErik Swoope played basketball for the University of Miami, but not a down of football.
Swoope made it through rookie camp, offseason workouts and the Colts' mandatory minicamp constantly learning something new every day.
"Learning football terminologies has been the biggest challenge," Swoope said. "It's a different language. Trying to get myself, I'm not going to say forget about basketball, but take the terminology and set it to the side so I can really hone into the different languages used in football."
As improbable as it might seem with his lack of experience, there was the 6-foot-5, 220-pound Swoope catching passes from quarterback
Andrew Luck
during offseason workouts.
"Andrew makes it so easy," Swoope said. "You just have to make sure you do your stuff correct because he'll put the ball in the right place."
The road to making the Colts has just started for Swoope. He's considered a project player who will likely spend the season on the practice squad if the Colts decide to keep him. The Colts already have established tight ends in
Coby Fleener
and
Dwayne Allen
on the roster. It's all about progress with Swoope, who hopes to join San Diego's
Antonio Gates
and New Orleans'
Jimmy Graham
in making the transition from college basketball to NFL tight end.
"It's been a pleasant surprise just to see how he's been able to acclimate himself to the game of football," Colts offensive coordinator Pep Hamilton said. "His natural-born talents show every day in practice. He does an amazing job of going up and catching the football, making difficult catches. He has a catching radius that's off the charts. It'll be interesting to see how he comes along during training camp when we put the pads on and actually start practicing football."
Swoope will spend the rest of the offseason working out in Miami with former Hurricane players preparing for his first training camp.
"I just know that will come with reps and practice and just trusting my own abilities," he said. "I feel like I'm making steady progress every day. I just need to continue to do that once we get to training camp."
May, 16, 2014
May 16
4:15
PM ET
INDIANAPOLIS -- The thought of playing football had always crossed
Erik Swoope
's mind. He wanted to be out there tackling and catching passes with the rest of his friends while growing up in Southern California.
But there was a problem with Swoope's desire to play. He only wanted to play if he could do it with his friends. That wasn't possible because Swoope stood 6-foot-2 and weighed 200 pounds at the age of 12. And while he was already dunking a basketball by then, his friends were 50 and 60 pounds lighter than him, eliminating any chance of being teammates with them since Swoope didn't meet the weight requirement.
[+] Enlarge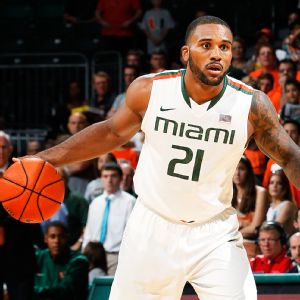 Joel Auerbach/Getty ImagesErik Swoope, a former four-year basketball player at the University of Miami, is trying his hand at football for the first time -- and with the Indianapolis Colts.
"I was taller and bigger than all my friends and it wouldn't have been possible for me to play with them," Swooped said during the first day of the
Indianapolis Colts
' rookie minicamp.
Swoope continued to think about playing football during his four-year basketball career at the University of Miami, but the opportunity to do both was too much to ask because of the overlap of the seasons, and he went to the school to play basketball.
The chance to play football finally came about when the Colts signed him as an undrafted free agent earlier this week despite Swoope not knowing what it feels like to get hit on the football field. Playing football for Swoope is like a kid learning how to ride a bike for the first time.
"The main thing to me between football and basketball is that I just love being an athlete," Swoope said. "In the weight room, trying to get as strong as you can, as fast as you can, as quick as you can. And in basketball, it's kind of a game of tempo. That's what I'm learning also in football, but it's more of an opportunity to be an athlete and for me, I'm enjoying it."
This isn't the first time the Colts have signed a player who did not play college football.
Marcus Pollard
played basketball at Bradley University before the Colts signed him as an undrafted free agent in 1995.
Patience is key for Swoope because of his lack of football experience. He's confident because he feels he's capable of picking up the game. He's also curious how quick he can learn it.
One of the good things going for Swoope is that there haven't been any expectations put on him. The Colts are set at tight end with
Dwayne Allen
,
Coby Fleener
and serviceable backups
Weslye Saunders
and
Jack Doyle
. Swoope is able to learn slowly.
The first thing Swoope did right was get together with former University of Miami football players
Jimmy Graham
and
Jonathan Vilma
a few weeks ago. Graham, who played basketball for the Hurricanes and spent his fifth year as a tight end on the football team, worked with Swoope on route running. Vilma would tell him what he was looking for from the linebacker position.
Elsewhere in the NFL, Green Bay's
Julius Peppers
played basketball at the University of North Carolina and played defensive end on the Tar Heel football team.
So why tight end for Swoope?
Tight end translates well from the basketball court to the football field, he said.
"I played power forward and I played on the wing, so I got use to playing a variety of parts on offense and defense," Swoope said. "That's one of the key carryovers, the size, the weight, the athleticism. It's a quicker carry over because you're use to studying a variety of things all at once."
Swoope doesn't know what to expect when it comes to getting hit for the first time. All he knows is that he needs to run with his 6-foot-5 frame low.
"My brother played football and he told me I'm going to get hit and I'm going to quickly learn to get down and get the pads down," Swoope said. "I'm looking forward to this experience."
May, 16, 2014
May 16
9:30
AM ET
INDIANAPOLIS -- There were likely a lot of
Indianapolis Colts
fans crossing their fingers and toes hoping that quarterback
Andrew Luck
and receiver
T.Y. Hilton
were eliminated in the first round of the fan voting for the right to be on the cover of EA Sport's "Madden NFL 15" video game.
Here's the good news for the superstitious fans thinking about the Madden Curse: Hilton was eliminated by
Philadelphia Eagles
running back
LeSean McCoy
.
Here's the bad news for those same superstitious fans: Luck easily beat out Washington running back
Alfred Morris
to advance to the next round against McCoy.
Here's a breakdown of the quarterfinal matchups:
Voting for the quarterfinals runs through May 22. The semifinals are May 22-30 and the finals go May 30-June 6. The winner will be announced on "SportsCenter" on June 6.
Click
here to vote
.
May, 15, 2014
May 15
5:00
PM ET
INDIANAPOLIS -- The
Indianapolis Colts
open their three-day rookie minicamp Friday. It will be the first time the media gets a chance to talk to the draft picks and undrafted free agents face to face.
Here are three questions heading into the camp.
Can the transition be made?
Two of the Colts' draft picks --
Jack Mewhort
and
Jonathan Newsome
-- will be making the transition from playing one position in college to likely a different one in the NFL.
Mewhort has played every position on the offensive line at one point in his football career, but he started at tackle during his final season Ohio State. He will likely end up playing guard in the NFL. General manager Ryan Grigson said during a radio interview this week that Mewhort reminds him of New England's
Logan Mankins
.
Newsome played defensive end at Ball State. Just like his new teammate
Robert Mathis
, though, Newsome will transition to a rush linebacker in coach Chuck Pagano's 3-4 defensive scheme. Newsome likes the comparison to Mathis, now he just has to try to live up to that comparison.
From hoopster to football player?
What Mewhort and Newsome have to do is nothing compared to what tight end Erik Swoope is about to experience.
Swoope spent four seasons playing basketball at the University of Miami. Now he's attempting to become an NFL tight end.
Easy, right?
That is what Swoope and the Colts hope. Swoope has been working out with New Orleans tight end
Jimmy Graham
, another basketball-player-turned-tight end, in the offseason.
It's going to be a challenge for Swoope, but the Colts are going to give the undrafted free agent a shot to make the roster.
Loading up on cornerbacks?
The Colts signed 20 undrafted free agents after the draft last weekend. Five of those signings were cornerbacks.
Greg Toler
(as long as he stays healthy) and
Vontae Davis
will be the starters next season.
Darius Butler
will be the nickelback and
Josh Gordy
will be the fourth defensive back. There is at least one more spot -- probably two -- open after
Cassius Vaughn
signed with Detroit.
Loucheiz Purifoy
is a player to keep an eye on. Purifoy, who played at Florida, had the talent to get drafted, but character issues kept teams away. The Colts have been willing to give players like Purifoy a shot to prove themselves to the coaches and front office personnel.
May, 12, 2014
May 12
8:20
AM ET
INDIANAPOLIS -- Former University of Miami basketball player
Erik Swoope
was the marquee name of the 19 undrafted free agents the
Indianapolis Colts
signed Sunday. The Colts hope Swoope can make the transformation from a basketball player to tight end just like San Diego's
Antonio Gates
and New Orleans'
Jimmy Graham
.
Here are the other 18 players the Colts signed:
Cornerback Qua Cox, Jackson State
Guard Marcus Hall, Ohio State
Center Jonotthan Harrison, Florida
Defensive end Tyler Hoover, Michigan State
Cornerback Kameron Jackson, Cal
Nose tackle Zach Kerr, Delaware
Quarterback Seth Lobato, Northern Colorado
Cornerback Keon Lyn, Syracuse
Safety Dewey McDonald, California University of Pennsylvania
Wide receiver Gregory Moore, Lane College
Defensive end Nnamdi Obukwelu, Harvard
Kicker Cody Parkey, Auburn
Tackle Eric Pike, Towson
Cornerback Darius Polk, Kent State
Wide receiver Eric Thomas, Troy
Running back Zurlon Tipton, Central Michigan
Guard Josh Walker, Middle Tennessee State
Wide receiver Tony Washington, Appalachian State
September, 5, 2013
9/05/13
4:20
PM ET
INDIANAPOLIS --
Indianapolis Colts
tight end
Dwayne Allen
uses his thick, broad shoulders for more than blocking. He said that's where the chip sits. It's the chip of being passed over by so many teams coming out of Clemson in 2012.
The anger is still there more than year and more than 521 yards later.
Allen, who started all 16 games as a rookie, doesn't believe he's getting the respect he deserves for his all-around ability at tight end.
"People are saying 'Dwayne Allen is looking forward to a breakout year,'" he said. "There's nothing breakout about it. I'm the same player I was last year and the year before. Of course I've grown and gotten better, but I'm one the best tight ends in this league. That's the reason the chip is on my shoulder."
There's a list of superior tight ends in the league.
Dallas'
Jason Witten
, Atlanta's
Tony Gonzalez
, New Orleans'
Jimmy Graham
and New England's
Rob Gronkowski
.
The list goes on.
Allen believes he deserves to be mentioned in that group.
He's confident in himself because he knows he's got the all-around skills to play the position. He doesn't have to leave the field on passing downs or short-yardage plays. He stays on the field for either situation. Allen played 858 snaps, which was first most among tight ends in the league, last season.
Allen slid to the third round of the 2012 draft because he ran the 40-yard dash in 4.9 seconds, which turned teams off. There was only one other tight end selected in front of him – teammate
Coby Fleener
– in the draft, but Allen believes teams that needed help at tight end could have selected him sooner.
"I play faster than the 4.9 I ran," Allen said. "That was one of the things I talked about throughout the whole draft process. Let my film speak for itself."
Fleener was taken 29 spots ahead of Allen last year, but Allen was the one who had the better season.
But it's not about which tight end is better because the Colts plan to showcase both of them in the offense and at some point they could be the best tight end duo in the league.
"To be honest with you, coming out as hyped up -- which was definitely well deserved == as Andrew (Luck) was at the quarterback position, I was at the tight end position and people just didn't realize it," Allen said. "I go out and have a good year and it's a surprise to all of them, but it's expected by me. As long as everything goes well this season, I'm looking forward to having a great season."
Allen has yet to transfer his anger onto the field because he missed the entire preseason with a foot injury. He'll make his debut against Oakland on Sunday.
"Whether it's Dwayne being down with something or me being down with something, we've kind of missed each other a little bit in the preseason," Fleener said. "It's always nice to have him out there because he's a constant threat."
Don't expect Allen's catching ability to be a primary focus. Offensive coordinator Pep Hamilton said Allen's responsibility is to play without the ball first and "if the opportunity presents itself, make a play in the passing game."
"He'll play a big role without a doubt," Hamilton said. "We got to be able to run the ball and Dwayne is a major component to that process of being able to hold the point of attack."