Indianapolis Colts:

John Elway
October, 17, 2013
10/17/13
3:15
PM ET
ENGLEWOOD, Colo. -- Score one for Colts quarterback
Andrew Luck
on escaping the rush this week.
The question came with the disclosure his answer would be forwarded to Broncos executive vice president of football operations John Elway, who like Luck was once a Stanford quarterback. But was he, Luck was asked, the best Stanford quarterback ever?
"No, probably [Jim] Plunkett is probably the best," Luck said with a laugh. "Go with that."
Ah, well played and just a sliver of a glimpse into why Luck already has made such a big impact in the league just 22 regular-season games into his NFL career and why so much more is expected. And while they were separated on The Farm by decades, there was more than one NFL personnel executive who had judged both before their respective drafts who believed Luck brought similar traits to the game as Elway did.
The size -- Luck is 6-foot-4, 239 pounds as compared to Elway's 6-3, 215 in his playing days -- the late-game heroics, the willingness to run into harm's way to go with the competitiveness and strength to get out of trouble, as well, were similar.
[+] Enlarge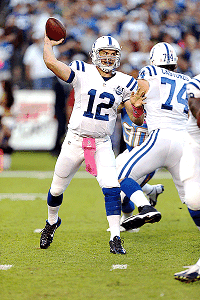 AP Photo/Paul JasienskiBroncos executive John Elway called Andrew Luck the "complete package" in his evaluation of the Indianapolis QB.
In his current role as Denver's top football executive, Elway directed the Broncos' efforts in the 2012 draft, the year Luck was selected No. 1 overall by the Colts, the same year Elway signed
Peyton Manning
in free agency. And as he looked at Luck in those pre-draft video sessions, did Elway see some of himself?
"I'm sure that's how I looked when I came out," Elway said with a smile. "I'm not sure how I would have looked to a personnel department or a GM who had to decide if I was going to make it or not. But I know this, you look at Andrew Luck, he had all the tools coming out. He had the tools you're looking for when it comes down to a franchise quarterback, not only athletically, but mentally, the smarts and the competitiveness, so to me he was the complete package."
"He's a heck of a quarterback," Manning said of Luck this week. "He played as a rookie, which is a challenge, but something I've always believed had a big impact on me and playing as a rookie I know Eli [Manning] said the same thing."
Elway has consistently said it isn't the act of throwing the football that gets most young quarterbacks in trouble, or whether they run too much, or not enough, that separates those who succeed and those who do not. It's a failure to grasp, especially in those first two or three seasons, what the job is in the NFL.
And the inability to deal with what comes with all of that, whether it's criticism from the outside, criticism from within his team or the expectations from everyone.
"That part right there takes more young quarterbacks down than the other part," Elway said. "It's not the physical part, usually. The physical part, as far as athletically, throwing the ball, moving around, that doesn't get most young quarterbacks. It's the task of the job, having the job, the pressure that comes with the job, the responsibility that goes along with the job. To me that's the hardest part to overcome when you start out. To me that's the difference between the guys that become great and the guys that don't."
Those who played with Elway and coached him will often say he was one of the most competitive people, in all things, they had ever encountered. Former Broncos coach Mike Shanahan once put it: "John wants to win, at everything, at whatever he's doing. And he's willing to do what needs to be done to do that. Those are the guys you can win with because they won't accept anything else."
Elway has said he wants to see it in any and all quarterback prospects. Not only the physical traits to do the job, but to look into the quarterback's eyes and see the desire to have the job, to grow in the job, to bounce back from the inevitable failures and growing pains of the job.
He said in his encounters with Luck he has seen all of that. And Elway believes that is always the first step on a quarterback's path to being the kind of franchise player every organization wants, the kind of guy who can make everyone in the huddle believe the best is yet to come.
"Because when you go and perform on the football field, to me that's when you gain the respect as a quarterback," Elway said. "It doesn't matter when you're drafted, you gain the respect of your teammates when you play well in tough situations. They now realize when things get tough they can follow. That comes when you perform, the confidence grows in you.
"And you have to be the calming influence. On and off the field there's no question about that, it was like I never wanted anybody to know they hurt me," Elway said. "If they got a good shot on me and I couldn't breathe, I made sure I got up to let them know they didn't affect what I'm doing. It's the same thing in that huddle, there's a calming force you have to be, no matter the chaos, no matter if we're all frustrated, no matter if we're having a bad day, somehow you've got to be the guy to try to straighten things out, the one to figure out how to win a game. And if it's not your day as a quarterback, figure out whose day it is and get them in a position to get everybody out of there with a win, some how, some way. Once you prove to yourself you can do it, then your teammates will trust you, rely on you and then you can make it something special."
August, 26, 2013
8/26/13
8:30
AM ET
Here's today's edition of Reading the Coverage:
The Indianapolis Star has an item on linebacker Caesar Rayford making another case to
make the final 53-man roster
after he picked up a team-high fifth sack in Saturday's win over the Cleveland Browns.
Rayford will have another shot to lock up a spot on the roster when he'll likely get extensive playing time in the preseason finale at Cincinnati on Thursday.
The Associated Press has a story on former Colts QB
Peyton Manning making another commercial
. This one is quiet compared to the catchy cell phone commercial the future Hall of Famer made with his brother Eli. Peyton teams with John Elway, John Lynch and Chauncey Billups to promote the 2014 BMW Championship golf tournament in Denver.
The Terre Haute Tribune has a story on the
harsh reality of roster cuts
. The Colts have to cut three more players by 4 p.m. ET Tuesday and get down to 53 players by 6 p.m. ET Saturday.