Indianapolis Colts:

Johnny Manziel
August, 27, 2014
Aug 27
2:30
PM ET
The Colts will make the playoffs this season because of their talent and their division. The AFC South is the weakest division in the NFL. It's all about getting one of the top two seeds in the AFC playoffs, which means having an extra week off. The Colts' toughest stretch of the
schedule
starts Oct. 9, when they have go from playing Baltimore Oct. 5 to facing Houston on the road four days later. The Colts then play three of their next four games against teams expected to compete for playoff spots: Cincinnati, Pittsburgh and New England. That string of games will likely determine whether the Colts can get one of the top two seeds in the AFC.
Complete Colts season preview
.
July, 17, 2014
Jul 17
10:00
AM ET
»
NFC Preview:
East
|
West
|
North
|
South
»
AFC:
East
|
West
|
North
|
South
NFL Nation's Mike Wells examines the three biggest issues facing the
Indianapolis Colts
heading into training camp.
Khaled Holmes:
Colts general manager Ryan Grigson took a big gamble in the offseason by not heavily pursuing a veteran center. He signed Phil Costa, who was beaten out by a rookie in Dallas, only to have the veteran suddenly retire before ever playing a snap for the Colts. Even with Costa on the roster, the plan all along for the Colts was for Holmes to start. This is the same Khaled Holmes who managed to play a total of 12 snaps as a rookie, despite poor play by Samson Satele at the position last season. Grigson has constantly defended Holmes ever since, pointing out that the second-year player would be his starter. The goal is for Holmes to team with franchise quarterback
Andrew Luck
for years to come. Holmes needs to have good chemistry with Luck and control the line of the scrimmage, all while making sure the rest of the offensive linemen know the correct calls. That's a lot to put on the shoulders of a player who is basically a rookie, especially when you think about the expectations the Colts have this season.
Safety:
Similar to his decision at center, Grigson didn't look far outside the organization to address a position of need. Veteran
Antoine Bethea
left Indianapolis to sign with San Francisco, and it appeared
Delano Howell
was the frontrunner to start alongside
LaRon Landry
at safety. Things seem to change in the middle of June, when the Colts signed veteran
Mike Adams
. Adams has started 73 games in his 10-year NFL career, but even though he says he feels like he's 26 years old, he's actually 33. Howell has started only four games in his career. And speaking of Landry, he didn't exactly ease anybody's mind about whether he'll be able to rebound from a disappointing first season with the Colts. He didn't attend any of the voluntary offseason workouts, then showed up at the mandatory minicamp with what was described as a soft-tissue injury. While the offseason workouts are voluntary, it would have helped Landry if he had at least attended a few of the sessions. Grigson and Colts coach Chuck Pagano didn't criticize Landry for not showing up, but they did point out their preference of wishing he was in attendance. If anything it would have showed that Landry cared about working on chemistry with the rest of his defensive teammates. There are too many questions surrounding the safety position on a defense that was way too inconsistent last season.
Trent Richardson:
The excuses are no longer available for Richardson in the Colts organization. The ready-made line of, "Richardson is still learning the offensive system," is in the trash on the curb. Richardson, who the Colts acquired from Cleveland just days before Week 3 last season, has had an entire offseason to learn the playbook. Now he can use his natural instincts when he's on the field, instead of constantly trying to remember the plays. The Colts clearly are trailing the Browns in the who-got-the-better-of-the-trade race. Cleveland turned the No. 26 pick into hotshot quarterback
Johnny Manziel
after using it to trade up to No. 22. The Colts? All Richardson gave them was 2.9 yards a carry and a demotion to the second unit last season. Richardson and the Colts have to hope this season is different. The pressure is on Richardson, because Grigson said earlier this year he would make the trade again if put in the same position. Richardson, the No. 3 overall pick in 2012, had offseason shoulder surgery and will head into training camp as the starter, with
Ahmad Bradshaw
ready to take some snaps from him if he struggles.
June, 23, 2014
Jun 23
8:00
AM ET
INDIANAPOLIS -- Indianapolis Colts coach Chuck Pagano as usual had no interest in going into details on what the most competitive positions will be for starting spots once they report to Anderson (Ind.) University for training camp on July 23.
The only thing Pagano would say about starting spots is that quarterback
Andrew Luck
will start. Put that down in permanent marker as long as he's part of the franchise.
"I mean you look at this team today compared to when we started, like I told the team, it's going to be really, really difficult, and I told our staff, really difficult to get to 53 this year," Pagano said. "When we get to final cut-down, it is going to be difficult."
Monday is the start of a five-day series while I'm on vacation looking at the five most competitive positions for a starting spot.
Position:
Running back
Primary candidates:
Trent Richardson
,
Ahmad Bradshaw
, Vick Ballard
Richardson:
157 attempts, 458 yards, 3 TD
Richardson
Pro:
Richardson is the most talented of the three competing for the position. Colts general manager Ryan Grigson gave up a first-round draft pick to acquire Richardson from Cleveland last season. Richardson has had a full offseason to learn the Colts' offense after being thrown into the fire in Week 3 last season. ESPN's Jim Trotter had a nugget last week where Richardson has gotten a lot of praise from the coaching staff. One coach told Trotter has the potential to be a three-down back.
Con:
All you have to do is look at Richardson's statistics -- or watch a few of his runs -- from last season to see him struggle and then it's easy to question if he'll ever live up to the expectations of being the No. 3 pick in the 2012 draft. He only averaged 2.9 yards a carry and eventually lost his starting spot to
Donald Brown
late in the season, giving Cleveland the obvious advantage in the trade. The Colts need more University of Alabama Trent Richardson and less indecisive running Trent Richardson. The Browns used the No. 26 pick to draft Johnny Manziel, who by name alone makes Cleveland relevant in the league.
Bradshaw:
41 attempts, 186 yards, 2 TD
Bradshaw
Pro:
Bradshaw only played in three games last season, and it only took one game to prove he was the Colts' best running back last season. He rushed for 95 yards on 19 attempts against San Francisco in Week 3. The 95 yards were the most by any Colts running back in a single game last season. Offensive coordinator Pep Hamilton talks about having a power running game. Bradshaw fits the description perfectly.
Con:
Injuries, injuries and more injuries. Bradshaw has a difficult time staying healthy. His season ended after the game against the 49ers because of a neck injury. Bradshaw has only played in all 16 games in a season once, in 2010, in his seven-year career. You want your starter to be dependable in the health department. Bradshaw isn't that.
Ballard:
13 attempts, 63 yards 0 TD
Ballard
Pro:
Ballard started his rookie season in 2012 and rushed for 814 yards and two touchdowns on 211 attempts. He averaged 4.8 yards a carry in the one game he played last season.
Con:
Ballard tore his ACL while making a cut in practice prior to Week 2. It's difficult to regain your form quickly from an ACL tear unless your name is
Adrian Peterson
. Ballard is behind Richardson and Bradshaw in the competition since he didn't take part in any of the Colts' offseason workouts because he's still working his way back.
Wells' verdict:
Richardson will be given the first shot at starting partially based off his talent and because not starting would be another sign of a failed trade by Grigson. But don't be shocked if Bradshaw ends up starting if Richardson struggles early. The Colts aren't in the position to be waiting for Richardson to find his rhythm.
May, 9, 2014
May 9
3:00
PM ET
INDIANAPOLIS -- After spending Thursday night with their eyes glued to a giant television in their war room as names like Manziel, Clowney, Bridgewater and others were selected, the
Indianapolis Colts
will finally have their chance to take part on the NFL draft on Friday night.
The Colts have the No. 59 and 90 picks on Day 2 of the draft. Nothing has changed as far as need goes with them. Safety, receiver and offensive line still sitt at the top of the list. Here are some of the players still available at those positions.
Receiver:
Marqise Lee
, USC
Allen Robinson
, Penn State
Jordan Matthews
, Vanderbilt
Cody Latimer
, Indiana
Davante Adams
, Fresno
Safety:
Terrence Brooks
, Florida State
Brock Vereen
, Minnesota
Dion Bailey
, USC
Offensive line:
Xavier Su'a-Filo
, G, UCLA
Marcus Martin
, C, USC
Weston Richburg
, C, Colorado State
Colts general manager Ryan Grigson wants excitement from everybody in the organization on who they pick. Not just mild reaction to the pick.
"We want excitement when we are turning that card in," he said. "We want guys high-fiving, not doing limp handshakes."
May, 9, 2014
May 9
11:00
AM ET
INDIANAPOLIS -- It turns out
Indianapolis Colts
quarterback
Andrew Luck
will
have to keep his head on a swivel during his team's two meetings against the
Houston Texans
next season.
Defensive end
Jadeveon Clowney
told Yahoo! Sports that's what Luck will have to do if he was selected by Houston with the No. 1 overall pick.
The Texans picked Clowney to team with fellow defensive end
J.J. Watt
to torment quarterbacks for years to come.
The Colts were the only team in the AFC South not to have a first-round pick Thursday.
Jacksonville, which had the No. 3 pick, didn't follow Houston's footsteps by selecting a defensive player to help them against the Colts. The Jaguars were on the offensive by selecting a quarterback. It wasn't
Johnny Manziel
, though. They surprised many by selecting quarterback
Blake Bortles
. Bortles will have a chance to compete for the starting quarterback spot next season with
Chad Henne
. The Jaguars hope Bortles turns out better than
Blaine Gabbert
, the 10th pick in 2011.
The
Tennessee Titans
stayed on the offensive side of the ball, too, by selecting offensive tackle
Taylor Lewan
out of Michigan to help protect quarterback Jack Locker.
May, 9, 2014
May 9
8:00
AM ET
INDIANAPOLIS -- The
Indianapolis Colts
ended up playing a part in quarterback
Johnny Manziel
being selected by the
Cleveland Browns
.
Manziel
The Browns gave up the Nos. 26 and 83 picks to Philadelphia to move up to No. 22 to select Manziel. The Colts gave up a first-round pick, which turned out to be No. 26, for running back
Trent Richardson
last September.
The Colts will get their first look at "Johnny Football" next season when they travel to Cleveland to face the Browns on Dec. 7.
So the Browns got Manziel, who they hope will be their quarterback of the future.
And the Colts?
They got a player who averaged 2.9 yards a carry, lost his starting position and may not get it back next season.
The Eagles ended up selecting Louisville defensive end
Marcus Smith
with the No. 26 pick.
February, 23, 2014
Feb 23
4:00
PM ET
INDIANAPOLIS -- The year of the running quarterbacks was the 2012 draft class which featured Indianapolis'
Andrew Luck
, Washington's
Robert Griffin
III and Seattle's
Russell Wilson
.
Luck
RG III roasted the other quarterbacks by running 4.41 in the 40. He was followed by Wilson with a time of 4.54. Luck, whose speed is overlooked, was fourth behind LSU's Jordan Jefferson in the 40 that year with a time of 4.66.
RG III has rushed for 1,304 yards in his NFL career. Wilson has rushed for 1,028 yards and Luck has ran for 632 yards.
"There is nothing more difficult for a defensive coach to deal with than that element of the scrambling quarterback that can create after the regular play starts and then begins again," Seattle coach Pete Carroll told reporters during the combine.
The quarterbacks in this year's draft class ran the 40-yard dash over the weekend at the scouting combine.
Here were the top runners:
Logan Thomas
(Virginia Tech) 4.61
Stephen Morris
(Miami-FL) 4.63
Connor Shaw
(South Carolina) 4.66
Johnny Manziel
(Texas A&M) 4.68
Derek Carr
(Fresno State) 4.69
Luck would have been tied for the third fastest time at the combine this year.
Brandon Kelsey
from Midwestern State ran the fast time last year at 4.52.
February, 22, 2014
Feb 22
3:45
PM ET
INDIANAPOLIS -- With no first-round pick in May's draft, the
Indianapolis Colts
are focusing on their first pick -- No. 59 overall -- in the second round while also keeping tabs on what the other teams in the AFC South are going to do in the first round.

Clowney
Manziel
The
Houston Texans
have the No. 1 overall pick and the
Jacksonville Jaguars
have the No. 3 pick.
The goal for those teams? To draft a player who can help close the gap between them and the Colts, who won the division last season with an 11-5 record.
"I'd be lying to say I'm not intrigued," Colts GM Ryan Grigson said. "They're in my division and I want to know who's getting who so we can figure out how to approach those games and game plan for those opponents, because they're going to get stellar players at one and three. It'll be interesting, because in that top tier of this draft, there are some seriously talented players."
The Texans, 2-14 last season, have the option to take a quarterback like Texas A&M's
Johnny Manziel
or a pass-rusher like South Carolina's
Jadeveon Clowney
. The Jaguars, like the Texans, could go with a quarterback or a pass-rusher.
Grigson didn't sound too concerned about not having a first-round pick. He said they got their first-round pick when they acquired running back
Trent Richardson
, the No. 3 pick in the 2012 draft, last September, and that this year's draft is deep enough that there will be quality players available when they select.
"We're happy with the amount of depth," Grigson said. "Our draft meetings concluded last week, and our board is pretty heavy with talent. We feel like with all the quality juniors that came out, that if there's a year not to have a [first-round pick], we're happy that this is the year because there are some quality football players that will be there for us at [Round 2] and the rounds after."
February, 21, 2014
Feb 21
8:30
AM ET
INDIANAPOLIS --
Indianapolis Colts
general manager Ryan Grigson and coach Chuck Pagano will address the media at the scouting combine on Friday afternoon.
Here are some of the topics that will likely be discussed:
Cornerback Vontae Davis' free-agency status
What Rob Chudzinski's role as special assistant to Pagano will be.
How Chudzinski's hire will impact offensive coordinator Pep Hamilton.
Running back Trent Richardson's shoulder surgery.
Pagano's defense, especially after Seattle's defense dominated Peyton Manning & Co. in the Super Bowl.
Grigson's free-agency approach since the Colts will have about $37 million in salary-cap space but no first-round pick.
Combine schedule: Place-kickers and special-teamers will work out for NFL personnel. They will join offensive linemen and tight ends for the bench press, psychological testing and team interviews.
Quarterbacks, wide receivers and running backs are measured, take medical exams, participate in team interviews and meet the media.
Defensive linemen and linebackers arrive in town for a medical pre-exam and X-rays, plus an orientation and team interviews.
Texas A&M QB
Johnny Manziel
, potentially the No. 1 overall pick, will be the center of attention during the media session. Louisville's
Teddy Bridgewater
and UCF's
Blake Bortles
are the other top quarterbacks in the draft.
Sammy Watkins
from Clemson,
Marqise Lee
from USC and Manziel's teammate at Texas A&M,
Mike Evans
, are considered the top receivers.
February, 19, 2014
Feb 19
7:15
PM ET
INDIANAPOLIS -- The
Indianapolis Colts
, as you've known for months, do not have a first-round pick in May's draft. That's not to say general manager
Ryan Grigson
won't be wearing his fingers out texting and calling other NFL front office folks.
While the biggest challenge for the Colts -- if things remain the same -- is finding a few special players starting with their pick in the second round, the other teams in the AFC South have tough decisions to make when it comes to selecting in the first round.
That's what happens when you played in the worst division in the league last season.
Houston Texans
(No. 1) -- Do the Texans, the biggest disappointment in the league last season, take hot shot Texas A&M quarterback
Johnny Manziel
with the first pick? Manziel thinks they should. He also thinks the Texans will regret it if they pass up on him.
"It would be the worst decision they've ever made," he said smiling to the Houston Chronicle and Fort Worth Star Telegram last week. "I'd be in the same division playing against them twice a year. Sorry, but you just turned that chip on my shoulder from a Frito into a Dorito."
Jacksonville Jaguars
(No. 3) -- Manziel may not get past the Jaguars at No.3 if the Texans pass on him. Or Jacksonville may not even take a quarterback with that pick. They could also go with pass-rusher
Jadeveon Clowney
.
"In today's day and age, if you can't get
Peyton Manning
or
Matt Ryan
, and they might not be available for the next 10 or 15 years, then you have to adapt and build the roster and do what's best for the organization," Jaguars general manager
David Caldwell
told CBSSports.com. "And if a quarterback presents itself later in the draft, you take and develop him. Having a franchise guy makes the world a lot easier, though. It can erase a lot of mistakes you make. But if you force it, you can screw it up. I don't know if we're going to find that guy, but I hope we do."
Tennessee Titans
(No. 11) -- The Titans aren't interested in a quarterback. They're sticking with
Jake Locker
for the time being. The scouting combine is the first time new coach Ken Whisenhunt will have live interaction with draft prospects. The Titans are intrigued by defensive players who can play in the 3-4 scheme. Mel Kiper Jr. had the Titans taking offensive tackle
Taylor Lewan
from Michigan with their pick.
The goal for all three teams is to try to pass the Colts as the best team in the division.
December, 26, 2013
12/26/13
10:00
AM ET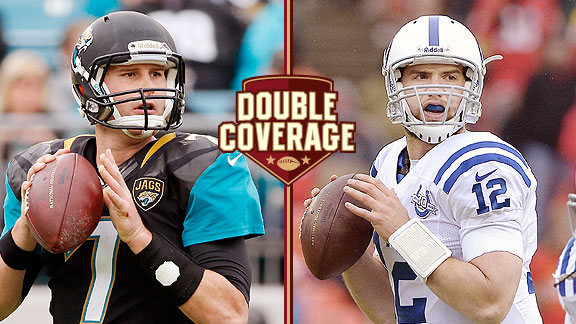 Getty ImagesAndrew Luck and the Colts will look to take momentum into the playoffs with a win over Chad Henne and the Jaguars.
It'll be a battle of teams headed in opposite directions at Lucas Oil Stadium on Sunday.
The
Indianapolis Colts
want to have momentum heading into the playoffs. They also need the victory to have a shot at moving up from the No. 4 seed in the AFC playoffs. The
Jacksonville Jaguars
are simply playing out the season before vacation starts following the game.
The Colts easily beat the Jaguars 37-3 in Week 4.
ESPN.com Colts reporter Mike Wells and Jaguars reporter Michael DiRocco discuss the rematch:
Wells:
Running back
Maurice Jones-Drew
has been a fixture in the organization for eight years. Will Sunday be the last time he wears a Jaguars uniform?
DiRocco:
My gut feeling is that he'll be back, but it's certainly not a slam dunk. Jones-Drew said after Sunday's loss to Tennessee that he wants to be back in Jacksonville, but he has a price and contract length in mind. So does general manager David Caldwell, so I expect this to be a deal that's going to take some negotiating to get done. Jones-Drew may still want to test the free-agent market to see what kind of money is out there, but he'll probably find that there isn't a lot of demand for a 29-year-old running back who has battled injuries the past two seasons. It really would be best for both sides to have Jones-Drew finish his career in Jacksonville. Jones-Drew wouldn't have to prove himself all over again and he would help bridge the gap between the past five terrible seasons and the new regime.
Since we're talking about running backs, was the
Trent Richardson
trade the worst move of the NFL season? What does it mean going forward for both the Colts and Richardson?
Wells:
The trade obviously hasn't worked out the way the Colts envisioned -- Richardson isn't even starting -- but the front office is nowhere near ready to ball up a white towel and throw it in on the second-year running back. They still believe he's a huge part of the team's future. The Colts believe a full offseason of organized team activities and training camp will help Richardson's development. Richardson has shown some flashes -- he ran for 51 yards on seven carries in the fourth quarter against Houston on Dec. 15 -- but the Colts don't want flashes. They want consistency out of him, and believe that will come.
I know I asked you about Sunday possibly being Jones-Drew's final game with the Jaguars, but what about the coaching situation down there? Do you think you'll be covering a coaching search in the offseason?
DiRocco:
It may look to outsiders that Gus Bradley should be on the hot seat after a 4-11 season that included an 0-8 start, but he's just as secure in his job as Bill Belichick, Andy Reid and Pete Carroll are theirs. Owner Shad Khan knew this was going to be a rough season because he, Caldwell and Bradley agreed to essentially blow things up and start over. The Jaguars' roster is the least talented in the league, and it's also one of the youngest. Caldwell is committed to building through the draft (the Jags have 10 picks in the 2014 draft) and Bradley is on board with that. The first priority is finding a quarterback, which likely will be done in May. Now, if the Jaguars are still only able to manage single-digit victories three seasons from now, Bradley would be in trouble.
Did Chuck Pagano use QB
Andrew Luck
correctly this season? Even with the
Reggie Wayne
injury, shouldn't Luck have been throwing it all over the place?
Wells:
The Colts put a heavy emphasis on being a power-running team this season. Any thought of that happening basically ended when
Ahmad Bradshaw
was lost for the season with a neck injury after the Week 3 game against the
San Francisco 49ers
. The Colts became a team that simply wanted to be able to run the football, and they weren't going to let anybody stop them from trying to do it. They've gained at least 104 yards in 10 games this season, with the idea of helping ease the burden on Luck's shoulders. Luck's passing yards are down from his rookie season, but he has had a better overall second year. His completion percentage is up and his interceptions are down. It didn't seem that would happen after Wayne was lost for the season and there wasn't much continuity with the rest of the receiving group outside of
T.Y. Hilton
. Have you ever heard of
Da'Rick Rogers
? But Luck's faith and trust with his receivers has improved each week because he has put in the time with them in practice.
The quarterback situation in Jacksonville is still a mess. Will the Jags look to upgrade the position in the offseason or will
Blaine Gabbert
get another shot?
DiRocco:
I mentioned it briefly above, but finding a franchise quarterback is the No. 1 priority and I believe the Jaguars will select one with their first-round pick. ESPN Insider Todd McShay's
first mock draft

had them selecting Johnny Manziel, which would certainly make them relevant nationally and bring some excitement to the franchise. Teddy Bridgewater is still an option, too, depending on how the draft plays out. The Jaguars also could opt to go defense in the first round and take a QB in the second. Regardless of their approach, I'd be stunned if the team doesn't draft a quarterback. Gabbert's days in Jacksonville are done.
Denver isn't a lock to win the AFC, by any means. How do you break down the Colts' chances in the playoffs?
Wells:
Health, continued improvement from the receivers, the defense forcing turnovers and having a running game are the biggest keys for the Colts in the playoffs. I believe it's a two-team race between Denver and New England in the AFC, but both teams have their flaws and are beatable. The Colts are in a situation where they could finish anywhere from the No. 2 seed to the No. 4 seed. They've been able to overcome the loss of Wayne to be in the position to possibly match their win total of 11 games from last season, but I think it's in the playoffs -- possibly in the second round if they get there -- that the Colts will miss Wayne's talent and experience.