Indianapolis Colts:

Julian Edelman
March, 24, 2014
3/24/14
8:00
AM ET
The talk of the NFL's free-agency period through the first two weeks in the AFC has centered on the
Denver Broncos
and
New England Patriots
.
The Broncos bulked up their defense by acquiring defensive end
DeMarcus Ware
, safety
T.J. Ward
and cornerback
Aqib Talib
to go with quarterback
Peyton Manning
and the rest of the offense. The Patriots signed cornerbacks
Darrelle Revis
and
Brandon Browner
while re-signing receiver
Julian Edelman
.
The
Indianapolis Colts
?
They didn't make any free-agent splashes outside of re-signing cornerback
Vontae Davis
. General manager
Ryan Grigson
easily could have panicked as the Patriots and Broncos, the two teams who played in the AFC Championship Game last season, made their moves.
Nope.
The Colts went into the free-agency period with a plan, a plan they weren't going to deviate from. Grigson said they signed all the players they wanted to get.
"You're competitive, but you can't be competitive in that way where you're watching what they're doing and say, 'We're going to one-up you.' That makes no sense to me," he said. "We're in our own little world over here with our own vision of the future with our own set of problems and circumstances and things we're trying to work through positionally and needs we're trying to address. And they have a completely different landscape on all of those different teams."
The Broncos loaded up their roster in an attempt to make at least one more run at a Super Bowl with Manning before his Hall of Fame career likely ends in the next couple of years.
The Colts, like the other 31 teams, want to win the Super Bowl, but don't have a short window to win a title like Denver and New England. Their quarterback,
Andrew Luck
, is headed into only his third season. Grigson also has to be financially conscious because they'll have to pay players such as Luck, offensive tackle
Anthony Castonzo
and receiver
T.Y. Hilton
sooner than later.
"It's a team effort when we bring guys into the building," Grigson said. "We really attack it like a team and at the end of the day, we stick to our plan and our vision. Again, it's forward thinking and always looking ahead and not necessarily living in the now even though we feel like Super Bowl XLIX is something that we can attain. With the quarterback that we have and the young players around him, you want to build for sustained success. It's something that you have to stay disciplined in day in and day out."
March, 13, 2014
3/13/14
8:45
AM ET
INDIANAPOLIS -- One by one, the options at receiver are starting to get smaller for the
Indianapolis Colts
.
Golden Tate
,
Jacoby Jones
and
Eric Decker
(good luck catching passes from
Geno Smith
or
Mark Sanchez
) are the off the market now, signing with Detroit, Baltimore and the
New York Jets
, respectively.
The Colts have yet to address their issues at receiver. They had depth problems there at the start of last season. They had it when
Reggie Wayne
went down with a torn ACL in Week 7. And they still have depth concerns.
Free agency is only in Day 3, so there's no need to panic, but the Colts can't get through the offseason without adding a veteran receiver. The receiver position is deep in this year's draft, but waiting until then to address it would be a risky move by Indianapolis. Part of the reason behind the concern at receiver is because of the uncertainty of what kind of player Wayne will be once he returns.
Good thing for the Colts the market hasn't dried up for receivers.
Former
New York Giants
receiver
Hakeem Nicks
should be at the top of the Colts' list. The issue could be that Nicks wants a multiyear deal. A one-year contract would be more ideal as some have alluded to because it could be a win-win situation for Nicks and the Colts. It'll allow Nicks to prove it was injuries that slowed him down the past two seasons and not simply lack of production. The Colts get another option for quarterback
Andrew Luck
to throw to for at least a year.
Steve Smith
's days in Carolina are reportedly numbered. Former Green Bay wideout
James Jones
and
Julian Edelman
remain available for the moment.
March, 12, 2014
3/12/14
8:30
AM ET
INDIANAPOLIS -- Cornerback? Check
Defensive lineman? Another check.
Kicker? Check, too.
Added depth at running back? A surprising check.
Receiver, guard and center? It's time to stop there.
You can't take care of everything in one day.
The
Indianapolis Colts
took care of pressing needs on defense by signing defensive lineman
Arthur Jones
and cornerback
Vontae Davis
to go with the ageless kicker
Adam Vinatieri
and running back
Ahmad Bradshaw
.
Now it's time for the Colts to continue their free-agent pursuit for a safety after
Antoine Bethea
bolted for San Francisco, a starting center and a receiver.
There was a lot of wheeling and dealing being done on the first day of free agency Tuesday. A lot of safeties were taken off the market, too, leaving the Colts with limited options to choose from at that position.
I checked out Bill Polian's
free-agent tracker
to see who are the top remaining free agents at safety, center and receiver.
Safety
Chris Clemons
, Miami
Reed Doughty
, Washington
Mike Adams
, Denver
Nate Allen
, Philadelphia
Center
Evan Dietrich-Smith
, Green Bay
Jonathan Goodwin
, San Francisco
Brian De La Puente
, New Orleans
Mike Gibson
, Arizona
Ted Larsen
, Tampa Bay
Receiver
Golden Tate
, Seattle
Eric Decker
, Denver
Julian Edelman
, New England
Santonio Holmes
,
New York Jets
Jacoby Jones
, Baltimore
Hakeem Nicks
,
New York Giants
James Jones
, Green Bay
February, 27, 2014
2/27/14
5:05
PM ET
INDIANAPOLIS -- The start of the free agency is less than two weeks away. Receiver is one of the positions that the
Indianapolis Colts
need to address through free agency, trade or the draft.
It's about the present and the future for them at that position.
Decker
Depth was an issue for the Colts at the start of last season. It was a bigger issue when
Reggie Wayne
crumbled to the ground with a torn ACL against Denver in Week 7 and it remained an issue when the season ended last month.
The Colts can't get away with not adding any players at receiver. All indications point to Wayne returning from his knee injury, but you have to be realistic, too. Nobody knows what type of player he'll be when he returns because he's 35 years old. That leaves
T.Y. Hilton
and young receivers like
Da'Rick Rogers
,
LaVon Brazill
and
Griff Whalen
.
This takes us to the free-agent market.
There was a report
Wednesday that the Colts have interest in Denver receiver
Eric Decker
.
Decker is looking for a big payday like all free agents do. He told SiriusXM NFL Radio in an interview earlier this month that he needs to do what is the "best for my family."
The Colts will have money to spend – the fourth-most salary cap space – but they're going to be frugal spenders with all their money. That's bascially what general manager
Ryan Grigson
said last week at the combine.
Decker caught 87 passes for 1,288 yards and 11 touchdowns last season.
My issue with Decker is that you can't pay him like he's a No. 1 receiver because he's not a No. 1 receiver. He's more of a solid No. 2 receiver. He put up those nice numbers while not having to face the other team's best cornerback. Things could be different if Decker's asking price isn't too much.
And if that's the case, why leave
Peyton Manning
and Denver when you have a chance to make at least one more run at winning the Super Bowl?
Here's a look at some 2013 stats of some notable wideouts who are set to hit the free-agent market:
January, 11, 2014
1/11/14
8:00
AM ET
FOXBOROUGH, Mass. -- The transition for one was more bumpy than smooth. His top receiver, his security blanket, the one who often found a way to get open no matter the situation, lay on the field at Lucas Oil Stadium slapping the ground almost three months ago.
The other has five Super Bowl appearances on his resume, but not even the future Hall of Famer could say things were easy right away without his go-to guy.
[+] Enlarge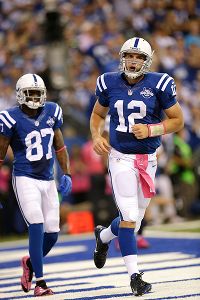 AP Photo/AJ MastAndrew Luck overcame security blanket Reggie Wayne's absence by placing a priority on jelling with the other Colts receivers.
Indianapolis Colts
quarterback
Andrew Luck
overcame his early struggles of not having
Reggie Wayne
by working, and working some more, to develop continuity with his young receivers. New England quarterback
Tom Brady
's transition without tight end
Rob Gronkowski
started out shaky, too, but evened out as the season progressed.
Luck and Brady will be the marquee names in Saturday's AFC divisional playoff game, and they're the reason why the two teams have reached this point. They've proven they can get the most out of their unproven receivers.
"[It's been] a challenge, but also an opportunity for guys," Luck said. "[They've] made the most of it. [Coach Chuck Pagano] tells us every week, 'Everybody prepares like a starter.' You never know, the injuries, whatever it is, it's an unfortunate part of the game."
LaVon Brazill
,
Griff Whalen
and
Da'Rick Rogers
aren't names people immediately bring up when talking about the Colts' receiving corp. Brazill was suspended the first four games of the season. Whalen and Rogers spent most of the season on the practice squad. But there was Rogers going up and outleaping a
Kansas City Chiefs
' defender to bring in a 46-yard pass from Luck in the wild-card playoff game last Saturday.
Brady had Gronkowski, one of the league's best tight ends, for all of seven games before a knee injury ended his season.
Enter
Julian Edelman
.
Who? Exactly.
The 5-foot-10 went from having a career-high 21 receptions in 2012 to hauling in 105 passes -- good enough for fourth in the league -- for 1,056 yards this season.
"Obviously, [the Patriots] got a first-ballot Hall-of-Famer in Tom Brady that is under center running that whole thing," Pagano said. "We've got guys that are athletic and guys that can make plays. They've got guys that are athletic and can make plays. They've done a good job of bringing guys in and plugging them in. That system has been in place. They make adjustments here and there. But he's done a great job with adjusting to life without Gronk, life without some of the other guys. It's going to be a huge challenge."
[+] Enlarge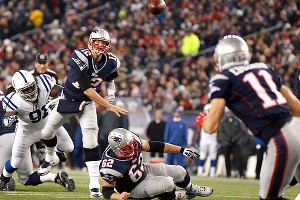 David Butler II/USA TODAY SportsWith Tom Brady under center and Rob Gronkowski out for the season with an injured knee, Julian Edelman stepped up.
It seems like there's a revolving door when it comes to the Patriots and their players. There's not too many Waynes or Marvin Harrisons, players who have spent their entire career with the same team, there. The Patriots have no problem replacing a player and bringing in somebody else, which is part of the reason why Brady always seems to be able to find a way to make things work.
"For me, over the course of playing a few years we lost certain guys at certain points in the year," Brady said. "I think the main thing is just to try to figure out what you need to do as an offense to still be productive. You can lose a tight end or receiver or running back at any point in any game, and no one really feels sorry for you at that point.
"Losing any player hurts on offense or defense, but you've still got to have enough guys on your team and have enough flexibility within your game plan to adapt and make the changes necessary so you can still be productive."
Luck and Brady both had built-in excuses if they struggled all season. Their competitive nature wouldn't allow it, though. It pushed them more.
They handle things in different ways -- Luck isn't one to be seen on camera going off on the sidelines during a game -- but one of the things they have in common is that they're demanding and expect the best out of their teammates.
Extra time in the film room. Extra passes before and after practice to ensure their timing is right. The conversations they have as they walk down the hallway at the facility.
Luck had to do those things to make sure he had somebody else to go to when
T.Y. Hilton
was not an option.
Luck had a relationship with Whalen because they were teammates at Stanford. Brazill and Luck were teammates as rookies, but the starting quarterback didn't have much to work with when it came to Rogers because most of his passes were thrown by backups
Matt Hasselbeck
and Chandler Harnish while on the practice squad.
Trust is a necessity between quarterback and receiver. Luck showed he had it in Rogers when the rookie caught six passes for 107 yards and two touchdowns Dec. 8 against the
Cincinnati Bengals
.
"He does do a good job of staying on top of us," Rogers said. "We're like a family here and when something needs to be done, it's nothing personal. It's what we need to have done to win the game.
"We might be walking down the hall and he might grab you for a minute and talk about a play or talk about a certain concept. It's all day long, in the middle of practice, before practice, in meetings, in the film room."
January, 6, 2014
1/06/14
1:30
PM ET
Seven years. Yes, almost seven years. That's how long it's been since the
Indianapolis Colts
and
New England Patriots
faced each other in a playoff game.
The Colts pulled off the improbable 38-34 come-from-behind victory over
Tom Brady
and the Patriots at the old RCA Dome on Jan. 21, 2007, in the AFC Championship Game to reach the Super Bowl.
A lot has changed since that game.

Kicker
Adam Vinatieri
, linebacker
Robert Mathis
and safety
Antoine Bethea
are the only holdovers from that game for the Colts. Brady and kicker
Stephen Gostkowski
are the only two starters still remaining for the Patriots. Defensive lineman
Vince Wilfork
played in that game but he missed most of this season with a torn Achilles injury.
Here's a quick breakdown of how the Patriots reached this point:
Record: 12-4 (1
st
AFC East)
Head coach: Bill Belichick
Offensive coordinator: Josh McDaniels
Defensive coordinator: Matt Patricia
FOUR PLAYERS TO WATCH
1. QB Tom Brady. Brady could put out a manual on how to get the most out of a group of relatively unknown receivers. There's no better quarterback in the league at doing that. The 36-year-old Brady overcame the loss of tight end
Rob Gronkowski
(knee) to still complete 60.5 percent of his attempts, pass for 4,343 yards and 25 touchdowns. Brady, like Colts quarterback
Andrew Luck
, is simply a winner no matter who he has lined up around him. One thing Brady won't do, though, is beat you with his feet. He only rushed for 18 yards this season. Good news for Mathis & Co., Brady was sacked 40 times during the regular season.
2. WR
Julian Edelman
. He became Brady's primary target after Gronkowski was lost for the season. Edelman finished fourth in the league in receptions with 105 and was targeted 151 times, which was good enough for 10
th
in the league, by Brady. Edelman had 1,056 yards and six touchdowns. The health status of the Colts secondary is up in the air right now, as cornerback
Greg Toler
left the Kansas City game with a groin injury and safety
LaRon Landry
has to pass the NFL's concussion protocol before he's cleared to play.
3. RB
LeGarrette Blount
. He took a backseat to running mate
Stevan Ridley
for most of the season, but Blount ended the regular season by rushing for 189 yards and two touchdowns on 24 carries against the
Buffalo Bills
in Week 17. Blount had five games where he averaged more than 5.3 yards a carry. He finished with 772 yards rushing to Ridley's 773 yards despite having 25 fewer carries.
--CB
Aqib Talib
. He could be matched up against Colts receiver
T.Y. Hilton
, who had 224 yards receiving against the Chiefs on Saturday. Talib, who was selected for the Pro Bowl, had a team-high 13 passes defended and was second on the team in interceptions with four.
OTHER NOTES: The Patriots were undefeated at home during the regular season. But don't think they're unbeatable at Gillette Stadium, though, as half of their eight home wins were by three points or less. …The Patriots finished 26
th
in the league in yards allowed (373.1) on defense. …Edelman finished fourth in the league in punt return yards (374).
January, 5, 2014
1/05/14
5:30
PM ET
INDIANAPOLIS -- Three things to know about Saturday's
Indianapolis Colts
-
New England Patriots
divisional playoff game at Gillette Stadium. This will be the first playoff matchup between the two teams since the epic AFC Championship Game the Colts won 38-34 on Jan. 21, 2007.

1. Battle of receivers.
Quick: Can you name a receiver on either team not named
T.Y. Hilton
?
Andrew Luck
of the Colts and
Tom Brady
of the Patriots are the two best quarterbacks in the league when it comes to getting the most out of their receivers. They both lost their primary receiving targets to injury this season. Colts receiver
Reggie Wayne
's season ended in Week 7 with a torn ACL. Patriots tight end
Rob Gronkowski
's season ended with a torn ACL and MCL in Week 14. Receiver
Julian Edelman
led the Patriots in receiving this season with 1,056 yards and six touchdowns. Hilton, who set a franchise playoff record with 224 yards against Kansas City on Saturday, led the Colts with 1,083 yards and five touchdowns this season.
2. Ugly first game.
Luck is making his second appearance against the Patriots at Gillette Stadium. New England beat Indianapolis 59-24 during the 2012 season. The Colts led 14-7 at the end of the first quarter and trailed only 24-17 at halftime, but the Patriots outscored them 35-7 in the second half. Luck was 27-of-50 for 334 yards, two touchdowns and three interceptions. Brady was simply better, as expected. He was 24-of-35 for 331 yards and three touchdowns without an interception. But Brady won't have Gronkowski (137 yards) or
Wes Welker
(80 yards) to throw the ball to this time around. Hilton had six catches for 100 yards. Colts linebacker
Jerrell Freeman
had 12 tackles in that game.
3. Stopping the run.
Brady is obviously the focal point for the Patriots, but New England does have a decent running game, too. Running backs
Stevan Ridley
and
LeGarrette Blount
finished within a yard of each other during the regular season, with Ridley gaining 773 yards and Blount rushing for 772 yards. They also combined for 14 touchdowns. The Colts, on the other hand, had
Donald Brown
rush for 537 yards and
Trent Richardson
finished with 458 yards.