Indianapolis Colts:

Marvin Harrison
February, 3, 2014
Feb 3
9:00
AM ET
INDIANAPOLIS -- Backtrack almost four months ago when you wanted
Indianapolis Colts
owner Jim Irsay to stay quiet and let the Oct. 20 game against the
Denver Broncos
be about
Peyton Manning
's return to the city where he spent the first 14 seasons.
Irsay upset some when he said, "You love to have the 'Star Wars' numbers from Peyton and Marvin [Harrison] and Reggie [Wayne]. Mostly, you love this [ring]," during an interview with USA Today back in October.
Manning and the Broncos broke all kinds of NFL offensive records this season, but when it mattered most -- winner take all -- it was the team with balance, and the kind Irsay hopes to have in Indianapolis one day, that dominated Sunday's Super Bowl XLVIII.
Seattle got contributions on offense, special teams and the defense lived up to its season-long billing of being the league's best in the
43-8 blowout victory
.
But hey, Manning set a Super Bowl record for most completions with 34. The finger definitely can't be strictly pointed at Manning, but the loss did bring his career playoff record to 11-12, including 1-2 in the Super Bowl.
The convincing victory showed the gap between the NFC and AFC this season because the Broncos were clearly the best team in the conference.
Seattle's defense is in a rare class by itself with the 1985
Chicago Bears
and 2000
Baltimore Ravens
, but its makeup as a team is the blueprint that the Colts and many other teams in the NFL should strive for.
The Seahawks' average age is 26 years and 138 days. That's a scary thought for the rest of the league if they're able to keep their key players for years to come.
Indianapolis is set at quarterback with
Andrew Luck
and should have several key offensive players back from injury next season, but it has work to do on defense to even become a top-15 unit. The Colts were 20th in the league on defense and they gave up an average of 21 points a game. Both of the Colts' key special teams players, punter
Pat McAfee
and kicker
Adam Vinatieri
, will be free agents.
February, 1, 2014
Feb 1
9:15
PM ET
What could have been an incredible day for the
Indianapolis Colts
didn't end the way they hoped.
Mathis
Shortly after receiver Marvin Harrison and coach Tony Dungy found out they will not be heading to the Hall of Fame this year, linebacker
Robert Mathis
learned he wasn't this season's Defensive Player of the Year.
Mathis finished second behind Carolina linebacker
Luke Kuechly
for the award.
Kuechly led the NFC in tackles with 156, including 24 against New Orleans in Week 16.
Mathis didn't win Defensive Player of the Year, but he still had a successful season.
He also proved the naysayers wrong who doubted that he could dominate without
Dwight Freeney
on the other side.
The best part about Mathis playing with the chip on his shoulder?
He had no problem saying the doubters motivated him.
Mathis led the league in sacks with 19.5 and forced fumbles with eight. He had 46.4 percent of the Colts' sacks this season, because they only had 42 as a team. The eight forced fumbles led to 35 Colts points.
February, 1, 2014
Feb 1
8:05
PM ET
Both have strong résumés.
Tony Dungy led the
Tampa Bay Buccaneers
and
Indianapolis Colts
to the playoffs in 11 of his 13 seasons coaching the teams. The Colts won Super Bowl XLI under Dungy.
Receiver
Marvin Harrison
is in the top seven in receiving yards, receptions and receiving touchdowns.
None of those accolades mattered Saturday because Harrison and Dungy will have to wait at least another year. The two were not named to the Pro Football Hall of Fame's Class of 2014.
Harrison, who was in his first year of eligibility, made the cut from 15 modern-era finalists to 10, but did not make the cut to the five players to be voted on for the class. Dungy didn't make the cut from 15 to 10 in the selection meeting.
Reed's selection over Harrison is confusing. Reed is headed to the Hall of Fame after being an eight-time finalist.
The numbers prove that Harrison was a better receiver. There's no other way to look at it.
Harrison had at least 1,000 yards receiving and 10 touchdowns in eight straight seasons. Reed had at least 1,000 yards and 10 touchdowns in a season only once in his career. He topped 1,000 receiving yards in a season only four times in his 16-year career.
Harrison was an eight-time Pro Bowler and six-time All-Pro selection. Reed played in seven Pro Bowls.
Harrison's and Dungy's time will come.
Just not now.
January, 30, 2014
Jan 30
3:00
PM ET
Is this the year that the Hall of Fame elects three wide receivers?
That's what former
Indianapolis Colts
general manager and current ESPN NFL analyst Bill Polian believes.
Receivers
Marvin Harrison
,
Tim Brown
and
Andre Reed
are finalist for the Hall of Fame. Each finalist must receive 80 percent of the votes.
Polian was general manager of the Colts when Harrison played with the team and GM of the
Buffalo Bills
when Reed was catching touchdown passes from
Jim Kelly
.
Reed is a finalist for the eighth straight year. Brown was among the first cut last year when finalist were reduced from 17 to 12. This is the fifth year that he's been eligible.
"I believe this ought to be the year of the receiver," Polian said. "All three deserve to go in. Get it out of the way by doing the right thing. Next year you can get back to electing guards and tackles and there are some seriously deserving defensive players this year in my opinion. It's long overdue for Andre and Tim Brown."
Click here
for profiles on the other Hall of Fame finalists.
January, 29, 2014
Jan 29
12:00
PM ET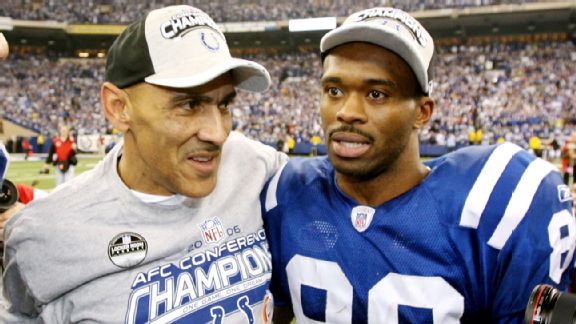 Matthew Emmons/USA TODAY SportsCoach Tony Dungy and wide receiver Marvin Harrison combined for some very memorable Indianapolis Colts teams.
INDIANAPOLIS – The joke about
Marvin Harrison
during his 13-year career with the
Indianapolis Colts
is that he would be in plain sight but he was still hidden because he was so quiet. You didn't know he was around unless he was embarrassing defenses while catching passes from quarterback
Peyton Manning
.
Harrison didn't worry about the extra thing. His focus was getting better on a daily basis and helping the Colts win games.
"He was very quiet away from the field," former Colts general manager Bill Polian said. "Marvin wasn't one of those guys that thrived to be the center of attention. When it was time to play -- practice time or games -- it didn't matter, he was business 100 percent of time. He is one of the all-time best."
Harrison, and former Colts coach Tony Dungy, could be thrust to the forefront Saturday if things go as planned for them.
The Colts receiver and coach are two of the 15 Hall-of-Fame finalist. A finalist must receive 80 percent of the votes.
The statistics scream first-ballot Hall of Famer for Harrison. He's third in NFL history in receptions, fifth in touchdown receptions and seventh in receiving years to go with eight straight 1,000-yard seasons.
"Marvin Harrison had a tremendous impact on my career," Manning said. "My very first football game in the preseason, on the third play of the game, I threw my first pass. I threw him about a 4-yard pass, and he ran 48 yards for a touchdown. I said, 'Boy, this NFL is pretty easy. All you do is throw it to Marvin Harrison and he runs for touchdowns.' That's pretty much what he did throughout the time we played together. He is just an outstanding football player. A great teammate, and he truly helped me out a lot."
Harrison was a perfectionist of his craft. His footwork had to be precise, he tried to catch anything thrown in his direction. He wanted the team's best defensive backs defending him in practice, not a practice squad player who could be released at any moment.
"That was Marvin for you," Polian said. "His unique ability at his size to get open and continue to play for as long as he played is witness to his phenominal athletic ability, great hands and work habit. He's extremely, extremely gifted athlete. Far more than people realize because he's made it look so easy. He was a clutch performer."
Harrison's career, which included going to the playoffs 10 times and winning a Super Bowl, ended in February 2009 when the Colts terminated the final three years of his contract because he didn't want to take a pay cut.
"It was time," Harrison said told the Indianapolis Star in a recent interview. "I had the perfect owner (Jim Irsay), the perfect team, one team my whole career, Dungy leaving, I played my one year in the new stadium (Lucas Oil).''
Dungy wasn't far behind Harrison in leaving the Colts. He stepped down as coach almost two months later.
Dungy, who coached in Tampa Bay and Indianapolis, is in the top seven in wins amongst coaches with at least 100 victories. The Colts won at least 10 games in all seven seasons under Dungy. They won five division titles during that same time span, and Dungy is the first African-American head coach to win a Super Bowl.
"Everybody who makes the finals deserves to be in, but Tony is in a class by himself," Polian said. "His record speaks for itself. He has replaced Wellington Mara as the public conscience of the NFL. "
Manning added, "Coach Dungy's influence on me and our entire team was very strong…I'm indebted to him for his help for me in my career, and of course, our teams there in Indianapolis. I was very honored to play for him for a number of years."
January, 11, 2014
Jan 11
8:00
AM ET
FOXBOROUGH, Mass. -- The transition for one was more bumpy than smooth. His top receiver, his security blanket, the one who often found a way to get open no matter the situation, lay on the field at Lucas Oil Stadium slapping the ground almost three months ago.
The other has five Super Bowl appearances on his resume, but not even the future Hall of Famer could say things were easy right away without his go-to guy.
[+] Enlarge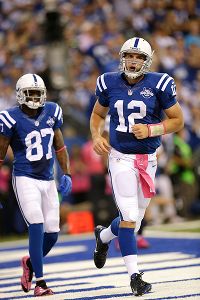 AP Photo/AJ MastAndrew Luck overcame security blanket Reggie Wayne's absence by placing a priority on jelling with the other Colts receivers.
Indianapolis Colts
quarterback
Andrew Luck
overcame his early struggles of not having
Reggie Wayne
by working, and working some more, to develop continuity with his young receivers. New England quarterback
Tom Brady
's transition without tight end
Rob Gronkowski
started out shaky, too, but evened out as the season progressed.
Luck and Brady will be the marquee names in Saturday's AFC divisional playoff game, and they're the reason why the two teams have reached this point. They've proven they can get the most out of their unproven receivers.
"[It's been] a challenge, but also an opportunity for guys," Luck said. "[They've] made the most of it. [Coach Chuck Pagano] tells us every week, 'Everybody prepares like a starter.' You never know, the injuries, whatever it is, it's an unfortunate part of the game."
LaVon Brazill
,
Griff Whalen
and
Da'Rick Rogers
aren't names people immediately bring up when talking about the Colts' receiving corp. Brazill was suspended the first four games of the season. Whalen and Rogers spent most of the season on the practice squad. But there was Rogers going up and outleaping a
Kansas City Chiefs
' defender to bring in a 46-yard pass from Luck in the wild-card playoff game last Saturday.
Brady had Gronkowski, one of the league's best tight ends, for all of seven games before a knee injury ended his season.
Enter
Julian Edelman
.
Who? Exactly.
The 5-foot-10 went from having a career-high 21 receptions in 2012 to hauling in 105 passes -- good enough for fourth in the league -- for 1,056 yards this season.
"Obviously, [the Patriots] got a first-ballot Hall-of-Famer in Tom Brady that is under center running that whole thing," Pagano said. "We've got guys that are athletic and guys that can make plays. They've got guys that are athletic and can make plays. They've done a good job of bringing guys in and plugging them in. That system has been in place. They make adjustments here and there. But he's done a great job with adjusting to life without Gronk, life without some of the other guys. It's going to be a huge challenge."
[+] Enlarge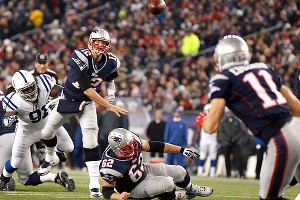 David Butler II/USA TODAY SportsWith Tom Brady under center and Rob Gronkowski out for the season with an injured knee, Julian Edelman stepped up.
It seems like there's a revolving door when it comes to the Patriots and their players. There's not too many Waynes or Marvin Harrisons, players who have spent their entire career with the same team, there. The Patriots have no problem replacing a player and bringing in somebody else, which is part of the reason why Brady always seems to be able to find a way to make things work.
"For me, over the course of playing a few years we lost certain guys at certain points in the year," Brady said. "I think the main thing is just to try to figure out what you need to do as an offense to still be productive. You can lose a tight end or receiver or running back at any point in any game, and no one really feels sorry for you at that point.
"Losing any player hurts on offense or defense, but you've still got to have enough guys on your team and have enough flexibility within your game plan to adapt and make the changes necessary so you can still be productive."
Luck and Brady both had built-in excuses if they struggled all season. Their competitive nature wouldn't allow it, though. It pushed them more.
They handle things in different ways -- Luck isn't one to be seen on camera going off on the sidelines during a game -- but one of the things they have in common is that they're demanding and expect the best out of their teammates.
Extra time in the film room. Extra passes before and after practice to ensure their timing is right. The conversations they have as they walk down the hallway at the facility.
Luck had to do those things to make sure he had somebody else to go to when
T.Y. Hilton
was not an option.
Luck had a relationship with Whalen because they were teammates at Stanford. Brazill and Luck were teammates as rookies, but the starting quarterback didn't have much to work with when it came to Rogers because most of his passes were thrown by backups
Matt Hasselbeck
and Chandler Harnish while on the practice squad.
Trust is a necessity between quarterback and receiver. Luck showed he had it in Rogers when the rookie caught six passes for 107 yards and two touchdowns Dec. 8 against the
Cincinnati Bengals
.
"He does do a good job of staying on top of us," Rogers said. "We're like a family here and when something needs to be done, it's nothing personal. It's what we need to have done to win the game.
"We might be walking down the hall and he might grab you for a minute and talk about a play or talk about a certain concept. It's all day long, in the middle of practice, before practice, in meetings, in the film room."
January, 9, 2014
Jan 9
10:30
PM ET
INDIANAPOLIS -- Former
Indianapolis Colts
coach Tony Dungy and receiver
Marvin Harrison
are a step away from being elected into the Pro Football Hall of Fame.

Dungy and Harrison are two of the 15 finalists for this year's Hall of Fame class.
The 46-person Hall of Fame panel will vote for the 2014 class on Feb. 1.
Dungy, the winningest coach in Colts history, won five division titles, reached the AFC Championship Game twice and won a Super Bowl while coaching the team from 2002-08.
Harrison was second in league history in receptions when he retired in 2008. He had eight straight 1,000-yard receiving seasons. He ended his career with 1,102 receptions for 14,580 yards and 128 touchdowns.
The Colts have 12 individuals in the Hall of Fame.
Here's a list of the 13 of other finalists for the Hall of Fame: Kicker
Morten Andersen
, running back
Jerome Bettis
, linebacker
Derrick Brooks
, receiver
Tim Brown
, owner Edward DeBartolo, Jr., linebacker
Kevin Greene
, punter Ray Guy, defensive end
Charles Haley
, defensive end Claude Humphrey, offensive tackle
Walter Jones
, safety
John Lynch
, receiver
Andre Reed
, guard
Will Shields
, defensive end
Michael Strahan
and cornerback
Aeneas Williams
.
December, 15, 2013
12/15/13
4:07
PM ET
INDIANAPOLIS -- A few thoughts on the
Indianapolis Colts
' 25-3
victory
over the
Houston Texans
:
What it means
: The Colts didn't wait until the second half to get going offensively. They started on their first offensive series of the game. The Colts mixed up the run with the pass to go 80 yards on 11 plays on their opening drive. The drive ended with quarterback
Andrew Luck
finding receiver
Griff Whalen
for a 14-yard touchdown. That was the first time the Colts scored a touchdown in the first quarter since doing it against Denver on Oct. 20. Slow starts have been a problem the past seven weeks for the Colts, but they went into the half with a 20-3 lead. They were 5-of-8 on third down in the first half after going 0-for-6 in the first half against Cincinnati on Dec. 8. The one downside about the Colts on offense is that they started the game 5-for-5 on third down but failed to convert on their final 10 attempts.

Whalen steps up
: Whalen has been an afterthought this season after having a strong training camp. He was elevated from the practice squad Saturday because of the injury to fellow receiver
LaVon Brazill
(foot). He took advantage of the opportunity. Whalen, a college teammate of Luck's at Stanford, caught four passes for 45 yards, returned three punts for 67 yards and a kickoff for 22 yards.
Being honored
: Former Colts running backs Eric Dickerson and Marshall Faulk were inducted into the team's Ring of Honor at halftime. Dickerson rushed for 5,194 yards and 32 touchdowns during his five seasons with the Colts. He won the league's rushing title in 1988, when he gained 1,659 yards to go with 14 touchdowns. The Colts traded Dickerson to the Los Angeles Raiders following the 1991 season. Faulk rushed for 5,320 yards and 42 touchdowns to go with 297 receptions and 2,804 yards in his five seasons with the Colts. He was traded to the
St. Louis Rams
after the 1998 season because he thought he deserved a raise. Dickerson and Faulk join Robert Irsay, Bill Brooks, Chris Hinton, Ted Marchibroda, Jim Harbaugh, the 12th Man, Tony Dungy, Marvin Harrison and Edgerrin James in the team's Ring of Honor.
Injuries
: Colts guard
Joe Reitz
left the game in first half after being tested for a concussion. Starting running back
Donald Brown
sat out the second half with a stinger. He ran for 38 yards on five carries. Linebacker
Daniel Adongo
(hamstring) and safety
Sergio Brown
(groin) also left the game.
What's next
: The Colts go on the road to take on the
Kansas City Chiefs
on Sunday. The Colts and Chiefs have a chance to face each other in the playoffs in Indianapolis.
October, 15, 2013
10/15/13
7:45
AM ET
SAN DIEGO --
Indianapolis Colts
safety
Antoine Bethea
is in his eighth season in the NFL. He's watched as teammates have departed during that time.
Marvin Harrison
.
Bob Sanders
.
Dwight Freeney
.
Jeff Saturday
.
Peyton Manning
.
That's why Bethea isn't buying into the hype surrounding Manning's return to Indianapolis with the
Denver Broncos
on Sunday.
"We see players come and go all the time," Bethea told ESPN.com. "We have to go out there and just play ball. I don't think it's going to be weird. The media is going to make a big hoopla about him coming back to Indy."
Manning spent 14 seasons with the Colts, leading them to two Super Bowl appearances before the team released him in 2012.
The Colts have to quickly regroup from Monday's loss to San Diego because all eyes will be on Lucas Oil Stadium when Manning and the undefeated Denver Broncos visit in what should be one of the most watched games of the season.
Manning appears to be on his way to picking up his fifth MVP trophy. He's passed for 2,179 yards, 22 touchdowns and only two interceptions while completing 74.2 percent of his attempts this season.
"I'm not surprised at all," Bethea said. "He's been playing that way his whole career. You'd be a fool to say you're surprised. We're really going to have to be on top of things next week. He's a mastermind of what he does."
October, 14, 2013
10/14/13
6:00
AM ET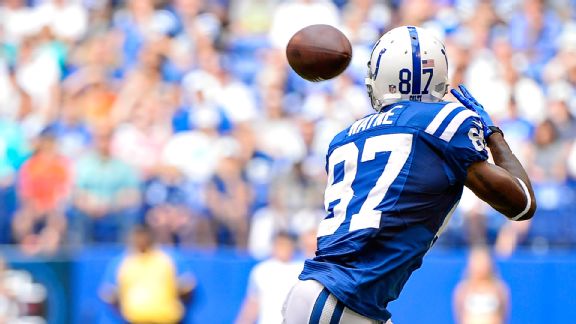 Icon SMIJust four catches shy, Colts wideout Reggie Wayne is on the brink of 1,000 career receptions.
SAN DIEGO -- It's a good thing
Indianapolis Colts
receiver
Reggie Wayne
is having a Hall of Fame NFL career because he probably would have never made it as a home interior designer.
Go back 12 years, and Wayne, like a lot athletes, had a trophy case and hung footballs on the wall for those special moments in his career. That was a good thought and all, but the touchdown-grabbing Wayne soon looked around and noticed he was running out of space.
"I guess I didn't think that through," Wayne said, laughing. "I should have known I was going to catch more than eight touchdowns. My wife looked up and she was like, 'You're just going to have a wall of footballs.' I had to stop that. Now they're in a big pile. Every once in a while I go through them and look at them and try to remember that catch. I've never been good at that."
Wayne will have to find some space for the ball he catches for his fourth reception in Monday's game against the
San Diego Chargers
.
He's four catches shy of becoming the ninth player in league history with at least 1,000 career receptions. Former Colts receiver
Marvin Harrison
is third on the list with 1,102 catches.
"When I first got in, I just wanted to feel like I was part of the family," Wayne said. "You don't look down 13 years later and expect yourself to still be playing. A thousand catches, that's not something I ever dreamed of. It's kind of a weird feeling. It feels kind of weird to talk about it. But I'm happy. I guess that just shows that I've been playing for a long time."
Wayne has caught passes from six quarterbacks and one running back (Joseph Addai) in his career.
Peyton Manning
leads the way, completing 779 passes and 67 touchdowns to Wayne.
Wayne still remembers his first touchdown catch -- a 43-yarder that bounced out of the hands of
Houston Texans
cornerback
Marcus Coleman
; he tried to put a hole in the ground by spiking the ball so hard -- on Sept. 22, 2002.
There's also Wayne's 53-yard touchdown catch in the rain of Super Bowl XLI, the favorite of Manning and former coach Tony Dungy, according to Colts.com.
You also can't forget about Wayne's game-winning touchdown catch against the
Green Bay Packers
last season to go with the countless one-handed grabs he's had.
The list goes on and on. Nine hundred and ninety-six long to be precise.
"He came in from day one you could see the talent was there, but his work ethic, his passion for the game, the way he studied and the time that he put in, things that he sacrificed, it was real evident early on," said Colts coach Chuck Pagano, who was on the University of Miami staff when Wayne played there. "Certainly you can't predict the type of numbers and years because of health issues and all those things, but we knew early on that he was going to be a great player."
Wayne's frame of mind of just wanting to be "part of the family" with the Colts is still here today. After 996 receptions, 13,428 yards and 80 touchdowns, Wayne still believes he has to prove himself.
He enters training camp every season wanting to convince the coaching staff that he's still an asset to the team, not a liability that can be replaced by a younger, cheaper player at his position.
"One thing about it, especially when you get in the latter part of your years, let's be honest, they're trying to replace you," the 34-year-old Wayne said. "I want them to say, 'It's not time yet, we can't replace him yet. He's bringing this much to the table.' That's the kind of attitude I bring to it.
"The thing about this game, I think guys who have played for a long time, I think boredom [sets in] because they keep doing the same thing over and over. I go into it like I'm a rookie. I do everything like I'm a rookie and then go from there."
Wayne even tells his coaches to treat him like he's a rookie. That means telling him when he does something wrong.
Offensive coordinator Pep Hamilton doesn't call out his receivers when they drop a ball during a game. He tells them they'll be going back to them at some point in the game. It's a different story when they're behind closed doors during the film session.
"He understands it's never personal," Hamilton said about Wayne. "It's just constructive criticism. I don't think there's a lot you need to say to a guy like Reggie Wayne as far as what he needs to do to catch the football. He works as hard as anybody in this building on a football team at mastering his skill set, mastering his craft. His numbers kind of speak for themselves, speaks for itself as far as his production over the years."
And that's why Wayne is about to join the 1,000-catch club.
October, 9, 2013
10/09/13
8:00
AM ET
INDIANAPOLIS – Lost in the news of running back
Ahmad Bradshaw
deciding to have season-ending knee surgery Tuesday was that the
Indianapolis Colts
plan to add former running backs Marshall Faulk and Eric Dickerson to the Ring of Honor together during the Dec. 15 game against Houston.

They will be the 10th and 11th members of the Ring of Honor, joining Robert Irsay, Bill Brooks, Edgerrin James, Marvin Harrison, Tony Dungy, Jim Harbaugh, Chris Hinton and Ted Marchibroda and the 12th Man.
Faulk, the No. 2 overall pick in the 1994 draft, rushed for 5,320 yards during his five-year career with the Colts. Dickerson rushed for 5,194 yards during his time with Indianapolis.
The city of Indianapolis also received some good news Tuesday, as it joins Minneapolis and New Orleans as finalists for the 2018 Super Bowl. Indianapolis hosted a successful Super Bowl in 2012.
September, 22, 2013
9/22/13
11:20
PM ET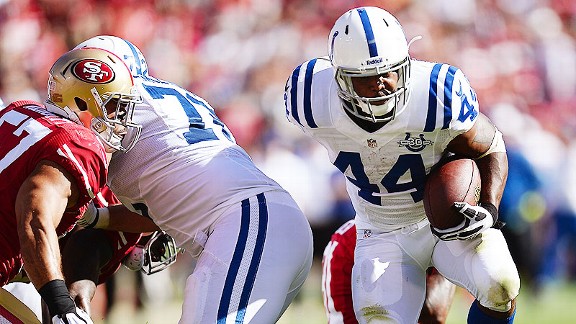 Thearon W. Henderson/Getty ImagesAhmad Bradshaw led the Colts' running attack with 19 carries for 95 yards and one touchdown.
SAN FRANCISCO --
Indianapolis Colts
coach Chuck Pagano's opening statement after his team's
27-7
victory over the
San Francisco 49ers
was about how the win could be one the Colts talk about five or six years from now.
Then Pagano backtracked.
"Maybe one of those wins that propel you to do great things," he said.
The hype surrounding the
Andrew Luck
-Jim Harbaugh reunion took a backseat to the type of performance general manager Ryan Grigson envisioned when he put the team together during the offseason.
The Colts took the first step in removing the finesse label that has lingered since the
Peyton Manning
years of throwing the ball around the field to
Marvin Harrison
and
Reggie Wayne
. On Sunday, the Colts imposed their will, taking the physical 49ers out back for an old-school beating.
"If you want to go finesse, open it up with five wide [receivers], we can do that," Colts linebacker
Robert Mathis
said. "You want to go smash-mouth football, we can do that. We have two backs that can get it done and an O-line that can open up gaping holes."
The Colts' victory sends a message to Manning and the
Denver Broncos
, who appear to be the odds-on favorites to represent the AFC in the Super Bowl.
"All the good things we did today, we can keep building on so we can keep having performances like this," defensive lineman
Cory Redding
said.
Indianapolis felt disrespected before it boarded its cross-country flight Saturday afternoon. The oddsmakers had the 49ers favored by 10 points, understandable with the Colts to play without six starters.
Pagano and his staff had to shuffle things around on the offensive line so the unit could open holes for
the newly acquired Trent Richardson
and for
Ahmad Bradshaw
and for for Luck to have time to pass.
The Colts had a rookie starting at left guard, the starting right guard slid to center and a player who opened the season third on the depth started started at right guard.
With all the shuffling, the Colts still rushed for 179 yards and Luck was sacked only once.
"I think we were very disrespected," said
Mike McGlynn
, who started at center for the injured
Samson Satele
. "We knew nobody in the country picked us and it doesn't matter."
Luck's passing ability has been well documented, but the Colts also need a running game to complement their franchise quarterback.
That's why offensive coordinator Pep Hamilton, Luck's coordinator at Stanford, has spent the entire season talking about establishing a power-running game.
The odds of having it all season became reality Friday, when Grigson acquired Richardson from Cleveland to go with Bradshaw.
Sunday was the first time the Colts had more rushing yards (179) than passing (157) since Dec. 18, 2011, against Tennessee.
Richardson and Bradshaw allow the Colts to chew up the clock and not put pressure on Luck to throw the ball 45 times a game like he had to last season.
The Colts clinched the game in the fourth quarter with an 11-play, 80-yard drive, including nine runs for 54 yards, using more than seven minutes of the clock.
After setting the 49ers up by pounding the ball with Bradshaw and Richardson during the drive, Hamilton called the perfect play with Luck faking a handoff to Bradshaw and rolling to his left for a 6-yard TD.
Grigson couldn't control himself in the press box after Luck's touchdown and spike. He pumped his fist, grabbed vice president of football operations Jimmy Raye and started shaking him by his shoulders in excitement.
"We're pretty dangerous and it is hard to tell what is going to come at you," Richardson said about teaming with Bradshaw. "It is kind of tough to know what is going to come at you."
The long drives -- the Colts had the ball almost 13 minutes longer than the 49ers -- kept Indianapolis' defense fresh, which in turn played a factor in them locking up San Francisco quarterback
Colin Kaepernick
and the read-option offense. Kaepernick had only 20 yards on seven carries.
The Colts went from playing "hero ball" against Oakland's
Terrelle Pryor
to believing in their teammates and the scheme defensive coordinator
Greg Manusky
put together.
Indianapolis held the 49ers to 254 yards, with 91 of those on San Francisco's only scoring drive. The Colts forced two turnovers, including a strip by linebacker
Jerrell Freeman
deep in San Francisco territory.
"That was a heavyweight fight right there," Pagano said. "That was a 15-round slugfest. That was exactly what we thought it was going to be. It's what we prepared."
It was also a beat-down by the Colts, the kind they believe will keep them moving forward this season.
September, 12, 2013
9/12/13
10:05
AM ET
The
Indianapolis Colts
could, actually I take that back, should be represented at the Football Hall of Fame next summer.
Former coach Tony Dungy and receiver Marvin Harrison are part of the 16- first-year-eligible modern-era candidates. The election will take place Feb. 1, 2014.
Dungy and the Colts won the Super Bowl in 2006.

Harrison
Harrison fell off the map after he and the Colts parted ways in 2008. The only blemish on Harrison's resume is his alleged involvement in a Philadelphia shooting in 2008. The gun that was used belonged to him, but he was never charged.
That was off-the-field stuff. The numbers Harrison put up on the field are Hall of Fame-worthy.
Here is more proof that Harrison should be giving a Hall of Fame speech next summer (and his speech would be interesting, because he wasn't exactly a media darling, according to those who covered him).
His 1,102 receptions are third behind Jerry Rice and Atlanta tight end Tony Gonzalez, who is still catching balls today.
His 14,580 yards are sixth behind Tim Brown, Isaac Bruce, Randy Moss, Terrell Owens and Rice.
Harrison's 128 touchdowns are fifth behind Cris Carter, Owens, Moss and Rice.
So in other words, Harrison can go ahead and get sized for his tailored Hall of Fame jacket.