Indianapolis Colts:

NFL Nation: 4 Downs
May, 22, 2014
5/22/14
9:00
AM ET
By
ESPN.com staff
| ESPN.com
The NFL draft has come (finally) and gone and now it's time to take stock of how it affected the teams around the AFC South.
The division was clearly the worst in the NFL in 2013, with the
Jacksonville Jaguars
,
Tennessee Titans
and
Houston Texans
combining for just 13 victories. The Texans had the No. 1 overall pick and the Jaguars were two spots behind. That means those teams needed a lot of help.
The Texans nabbed perhaps the best pass-rusher of the past 15 years in
Jadeveon Clowney
to pair with
J.J. Watt
but didn't address an obvious need at quarterback until the fourth round.
The Jaguars surprised everyone by taking quarterback
Blake Bortles
with their first pick, then adding a pair of receivers in the second round, including first-round talent
Marqise Lee
.
The Titans went substance over style with their draft but did nab one of the top three offensive tackles in
Taylor Lewan
and may have found a replacement for
Chris Johnson
in
Bishop Sankey
.
The Colts had the fewest draft picks in the league (five) but didn't address perhaps the team's biggest need.
Division reporters Michael DiRocco (Jaguars), Tania Ganguli (Texans), Paul Kuharsky (Titans) and Mike Wells (Colts) help you figure out what it all means.

Have the Titans added enough to their hybrid 3-4 defense to make a leap?
Michael DiRocco: One of the key things about coordinator Ray Horton's defense is that it demands versatility, especially among the linebackers. They have to be able to play multiple spots, and that requires speed and athleticism. The addition of Wesley Woodyard from Denver certainly helps, because he can play inside and outside. Drafting Avery Williamson, however, doesn't seem to fit. He's an inside player who doesn't run well. I do like tackle DaQuan Jones, though. He can play multiple spots on the line. The one thing the defense is missing is a big-time pass-rusher and that's the key to making the defense work.
Tania Ganguli
: When the Texans made the transition to the 3-4 base defense in 2011, it went smoother in some areas than others. Mario Williams' move to outside linebacker had mixed results. There's always a transition process when a team makes that change and the outside pressure becomes even more important once that shift is made. The addition of
Shaun Phillips
will help because he comes in knowing the position. New defensive coordinator Ray Horton is smart enough that he knows not to put his players in positions where they can't succeed. And given how rare teams are in their base defense these days, I'm not worried about the scheme shift, even though the Titans didn't add a defensive end or outside linebacker in the draft.
Paul Kuharsky: I don't know. The four primary outside linebackers can turn out to be a good group. I think Kamerion Wimbley will be a lot closer to the player the Titans paid big money to in 2012 now that he's back to the position in a favorable scheme. And Shaun Phillips was a smart signing considering production and price. The system is also a better fit for Akeem Ayers. I'm not as certain about Derrick Morgan, who's listed as a defensive end/linebacker but worked in position drills with the linebackers at the pre-draft voluntary minicamp. Ropati Pitoitua is much more of a run-stopper than a pass-rusher, and he's certain to play end in the three-man front. The Titans have a lot of candidates to play with him and opposite him, but none scream that they will consistently get into the backfield. Jurrell Casey was excellent last season with 10.5 sacks. I feel certain coordinator Ray Horton won't do anything to mess up the good thing the Titans have going with Casey. The pass rush will be better. But better enough? I would have liked to have seen a young edge guy added in the draft.
Mike Wells: It may eventually work in Tennessee, but don't be surprised if it takes a little time for the defensive players to adapt to the 3-4 defense. Ask Colts linebacker Robert Mathis if you need further proof. Mathis shifted from defensive end in the 4-3 defense to outside linebacker when coach Chuck Pagano brought his 3-4 defense to Indianapolis in 2012. Mathis went from 8.0 sacks in his first year under Pagano to 19.5 sacks last season. The Titans have some players who are familiar with the 3-4 scheme. Shaun Phillips (9.5 sacks in 2012 with San Diego), Wesley Woodyard and Kamerion Wimbley have all played in the 3-4 at some point in their careers. But will the rest of their defensive teammates pick it up right away? I'm not convinced it'll happen.
@PaulKuharskyNFL D will be good and improve through season. O, unfortunately, may have many drives that end with less than #FourDowns

- Matt Ramsey (@MattRamsey1) May 15, 2014
---

Will the Colts regret not trading up to grab a top safety to replace Antoine Bethea?
DiRocco: The Colts had only five picks, so that didn't give them a lot of ammunition to trade up. It would have been too costly to jump into the first round because it would have meant dealing future picks. The real problem is they failed to address the position in free agency, when there were several options available. That magnifies their failure to find a safety in the draft. Why is it a problem? Two reasons: Peyton Manning and Tom Brady. To take the next step in the playoffs, the Colts are going to have to go through Denver and/or New England, which means dealing with Manning and Brady. The Pats pounded the Colts on the ground in a playoff victory last season, but the key to beating those teams is stopping the pass.
Ganguli
: It would have been nice if they had been able to address that position high in the draft, but I'm not sure what they would've been able to trade in order to do that. Five picks isn't a lot to begin with and losing some of those would put the Colts at an even bigger disadvantage, considering how important draft picks can be to a team's future. I didn't like the decision to move a first-round pick for
Trent Richardson
and I would have liked even less for the Colts to reduce their number of picks again by going to get a safety.
Kuharsky: There are going to be positions on virtually any team where the top guy on the depth chart doesn't look like a sure thing and the competition isn't topflight. The Colts believe Delano Howell can be an effective successor to Bethea and that they have sufficient guys to supplement him. Through an excellent career with the Colts, Bethea was a guy who consistently got to the right place at the right time and was a very sure tackler. It will be tough for Howell to match that. The bigger concern in my eyes is if LaRon Landry gets hurt and the Colts need another safety to step up. But given their lack of picks this year, trading up for a guy would have been awfully difficult and they certainly shouldn't dip into their 2015 picks.
Wells: It was going to be tough for the Colts to trade into the first round because they only had five picks total in this year's draft and very little interest in giving up a first-round pick in next year's draft. They are steadfast in saying running back Trent Richardson is their first-round pick. Northern Illinois' Jimmie Ward was the best cover safety in this year's draft. He was the 30th overall pick by San Francisco. I didn't think not addressing safety would be an issue at first with Mathis leading the way on what should be an improved front seven. There wouldn't have been as much pressure on the Colts' secondary. But as everybody knows, Mathis has been suspended for the first four games next season, leaving the Colts without the 2013 league leader in sacks. I think the Colts may regret not trading into the first during Mathis' suspension, but they'll be fine with Delano Howell, the likely starter, when it's all said and done.
@MikeWellsNFL Lots of S were drafted early, so that leads me to think lots of good veteran S will be waived. No regrets, claim 1 on waivers.

- Ben Meyer (@TheBigBenDiesel) May 15, 2014
---

Were the Texans right to wait until the fourth round to draft a quarterback?
DiRocco: Nope. They blew it, especially when they could have made a move back into the last part of the first round to get Teddy Bridgewater -- which is what Minnesota did. The Texans also could have taken Derek Carr or Jimmy Garoppolo but instead went with a guard at the top of the second round. Coach Bill O'Brien did turn Matt McGloin and Christian Hackenberg into very good Big Ten QBs, and I'd rather have either of those guys than Tom Savage, who somehow became the hottest QB prospect in the weeks before the draft. The Texans are still talented enough to be a playoff team with the right quarterback in place. O'Brien apparently believes he can find one among Savage, Ryan Fitzpatrick, T.J. Yates and Case Keenum. Andre Johnson clearly doesn't agree.
Ganguli
: If the Texans have the patience to wait and see how their quarterback situation settles, they were right. By waiting until the fourth round, they almost certainly assured themselves that they'll have to wait at least a year to use that player. They have a schedule in which they'd like Tom Savage to learn their offense, but the scale for his learning is sliding. With Ryan Fitzpatrick, they brought in a player who lessened the urgency to find the quarterback of the future right away. That kind of urgency can have bad consequences if there isn't one in the draft. Savage might be one, or he might not, but the Texans need time to figure that out.
Kuharsky: The Texans have a major question mark at the most important position on the team. But it's not like they could have waved a magic wand to get a guy, or that one of the more highly regarded quarterbacks in the draft would have been a sure thing. I imagine they would have opened the second round with Teddy Bridgewater if Minnesota hadn't traded into the last pick of the first round to take him. After that, it's wise the Texans didn't force a pick. But Tom Savage hasn't played a great deal of football in the past few years and I think a lot of people won't be surprised if the Titans do better with sixth-rounder Zach Mettenberger than the Texans do with fourth-rounder Savage -- not that the odds of a pick in either range panning out into a reliable long-term starter are any good.
Wells: Yes. No Andrew Luck and no Robert Griffin III in this year's draft. There was no need for the Texans to use the No. 1 pick on a player they hoped could be as good as Luck one day. Teaming Jadeveon Clowney opposite J.J. Watt on what is already a solid defense gives the Texans better hope than with one of the quarterbacks selected in the first round. Give the Texans a serviceable quarterback with that defense and who knows what can happen. The highlight of taking Johnny Manziel -- in the first year at least -- would have made the Texans a national draw. But in the end, all that counts is wins and losses. Clowney will help the Texans win more games next season than what Manziel or any other quarterback taken prior to the fourth round would have.
@taniaganguli I would say yes. It's obvious Bortles could've been taken but we filled more needs by waiting. Still got our 'Prototypical' QB

- Ryan Brackenridge (@GHS_Forever) May 16, 2014
---

Will Blake Bortles be the Jaguars' starting quarterback at any point this season?
DiRocco: I say yes, but I'm not as sure about when. This may sound like a cop-out, but it really depends on how he progresses. If he picks up the offense, fixes the lower-body issues that are preventing him from throwing the ball as hard and accurately as he can, and makes the transition from the spread offense, then he'll get on the field. I can see that happening by December, and if that's the case, then he'll get a start or two. At the very worst, he'll get a drive or a quarter within some games to get his feet wet.
Ganguli
: No. This isn't a panicky regime and the Jaguars have indicated they'll be patient. They showed that last season. They managed to keep positive vibes throughout the organization despite a 4-12 record because of steady improvement and having a plan. It wasn't too long ago that a Jaguars regime threw a rookie who wasn't ready into the starting lineup sooner than he was ready and it didn't do the franchise any good. I'm a huge advocate of selecting a player based on his potential and then letting him grow into it. Just because Bortles was taken third overall doesn't mean there's any reason he should play before he's ready. No quarterback should.
Kuharsky: I really believe general manager Dave Caldwell and coach Gus Bradley will look back on what the previous regime did at quarterback and be super cautious. The Jaguars had no intention of starting Blaine Gabbert as a rookie. Then they cut David Garrard just before the season, watched Luke McCown struggle and had no choice. I don't know how much better Gabbert would have been if he was eased into NFL life, but it certainly would have been better for him. If Bortles needs time, they will resist temptation to start him even if Chad Henne struggles. In a way, this is an offensive line question, because if Henne gets hurt, they may not have a choice. They'll have three new starters in the interior to go with a healthy Luke Joeckel at left tackle. That group should fare better and increase the chances Henne is good to go for the whole season.
Wells: He has to be. It likely won't be in Week 1, but I expect it to happen at some point because the Jaguars aren't going to win the AFC South with Luck at quarterback for the Colts. More than 2,000 fans did not show up at the Jaguars' minicamp to watch cornerback Aaron Colvin. That was all about Bortles. The Jaguars need something to bring the fans out. The only highlight of the area is the nearby Atlantic Ocean. No offense to Chad Henne, but Bortles gives the Jaguars the best opportunity to bring some kind of excitement to the city. Look at it this way: He can't do any worse than Blaine Gabbert.
@ESPNdirocco I think he will be a starter after the bye week. #FourDowns Once O-line and WRs have proven themselves. You put him in.

- Christopher Gonzalez (@gonzorico) May 20, 2014
April, 17, 2014
4/17/14
10:00
AM ET
By
ESPN.com staff
| ESPN.com
There was only a brief respite for the AFC South, when the
Indianapolis Colts
' death grip on the division released.
In its 12 seasons of existence, the Colts have won this division eight times and missed the playoffs only once. The Titans won the AFC South in 2002 and again in 2008 -- both years the Colts made it into the postseason as a wild-card team. Their only playoff-less season came in 2011, with
Peyton Manning
sidelined, when they earned the
Andrew Luck
pick in the 2012 draft.
With Luck, the playoffs returned to Indianapolis.
Now it's up to the rest of the division to determine whether the Colts' domination will return.
The AFC South has offered wild-card teams in six different seasons -- two in 2007 (the
Tennessee Titans
and
Jacksonville Jaguars
). Most recently, the Colts were a wild-card team in 2012 when the
Houston Texans
won their second consecutive division title. They didn't come close to having one last season. The Colts were the only team with a winning record.
Tennessee finished 7-9, the Texans (2-14) and Jaguars (4-12) wound up with top-five picks in this year's draft, and the Titans and Texans are starting fresh with new head coaches as a result of what transpired.
Can the balance of power shift? Or are we still a few years away from some semblance of parity in the division? NFL Nation's AFC South reporters Michael DiRocco, Paul Kuharsky, Mike Wells and Tania Ganguli offer their thoughts.

Michael DiRocco: I like what the Colts did in free agency in signing linebacker D'Qwell Jackson and defensive end Arthur Jones, moves that should help improve a defense that got embarrassed in the playoffs. Adding receiver Hakeem Nicks may turn out to be one of the better moves within the division because it gives Andrew Luck an experienced, big-play receiver (provided he stays healthy). Indy is the best team in the division, but I think it could widen the gap with a good draft, especially if it adds help up front. A dominant defense is something Peyton Manning never had there, but it seems as if the Colts are trying to get one for Luck.

Tania Ganguli
: During the NFL owners meetings, I asked Colts general manager Ryan Grigson if he knew how lucky he was to preside over a team with the first pick in the draft the year Andrew Luck came out. He said he did. They all did. And they've been reaping the benefits ever since. It hasn't been an easy offseason for the organization with the off-the-field troubles of owner Jim Irsay, but I don't see that impacting what happens on the field. This is still a franchise built with the right pieces around Luck to hang onto the division another year.
Paul Kuharsky: The Colts were a playoff team the past two seasons and they will be a playoff team in 2014, as well. The primary reason is the same: Andrew Luck. He's a quarterback with a knack for making big plays at big moments, and he and his team have great faith they can pull games out late. The offensive line will be better with Donald Thomas back healthy. Other key guys who will return from injury will give them a great boost on offense -- Reggie Wayne, Dwayne Allen and Vick Ballard. I think they will miss safety Antoine Bethea, who was often the glue of the secondary, and they need help on the back end of the defense. But they have a way of functionally patching holes, finding fill-ins and surviving just fine. As long as Luck is healthy, they're the leader of the pack.

Mike Wells: The Colts can go ahead and start making "Back-to-Back AFC South Champion" T-shirts. Partially because they'll be that much better than the rest of the division and partially because they aren't thinking about just winning the division. The Colts want to take another step in the AFC. They reached the divisional round of the playoffs last season, so ideally they'd like to at least get to the AFC Championship Game this coming season. Depending on health and how the offensive line blocks, the Colts could have one of the best offenses in the league next season. So winning the division is the least of the Colts' worries.

@MikeWellsNFL if not Indy, are they just going to purge the AFC South playoff spot? #FourDowns

- Ferris (@TylerWFerris) April 14, 2014
---

Will the Tennessee Titans make the playoffs in 2014?
DiRocco: I really liked the hiring of coach Ken Whisenhunt. He should be a huge help to quarterback Jake Locker, who is likely facing his last chance in Tennessee. Whisenhunt likes his quarterbacks to stay in the pocket and get rid of the ball quickly, so that may be a bit of a challenge for Locker. To me, the Titans' playoff chances hinge on the impact that Whisenhunt has on Locker. The defense is good enough and the offense, even without Chris Johnson, has some playmakers, especially with the addition of Dexter McCluster. Locker has to improve significantly. If he does, they're a legitimate wild-card contender.

Ganguli
: Even though Tennessee finished 7-9 last season, second in the division, I see this team as the least likely of the three non-Colts to make the playoffs. The identity of this team changed significantly when it released running back Chris Johnson. The Titans lost a very talented cornerback in
Alterraun Verner
to free agency. And, most importantly, quarterback Jake Locker's development is still a bit of a question mark, as is whether he'll be able to stay healthy -- a feat he has not accomplished since entering the NFL. He deserves another year, but I'm not sure what that will mean for the Titans.
Kuharsky: The Titans' biggest upgrade comes with Ken Whisenhunt and a new coaching staff. Mike Munchak proved to be in over his head as the team's head coach. I don't think the Titans are super-talented. But I think the offense will be much better with Whisenhunt designing the offense and calling the plays. The big question is clearly at quarterback, where Jake Locker has to show he can learn the system, stay healthy and be productive. Defensively, coordinator Ray Horton brings a new scheme and a far more aggressive mindset. If some guys who faded under Jerry Gray can rebound, it's a unit that could surprise. I think the Titans will improve, but I don't know that they will be a playoff team.

Wells: The Titans need to figure out if Jake Locker is the answer at quarterback for them first. The first step is for him remain healthy. Then they have to find a replacement for Chris Johnson at running back. New coach Ken Whisenhunt led Arizona to the Super Bowl in 2008, but the Titans aren't ready to close the gap between them and the Colts. Tennessee will be a better overall team but it may not show in the record. Houston may end up having a better record than the Titans next season.

@PaulKuharskyNFL only if Locker stays healthy, young WR step up, and Horton's defense is as good as advertised.

- Taki C (@Takithrator) April 15, 2014
---

DiRocco: The talent level on the roster is still the worst in the division, although GM David Caldwell has made significant improvements with his first two free-agency classes and his first draft. The team still lacks a franchise quarterback and there aren't a lot of playmakers on offense, either. That will be addressed in the draft, but relying on too many rookies never ends well. The defensive line got an upgrade via free agency but the Jaguars need to improve their speed on defense, especially at linebacker. They should be able to challenge a .500 record in 2014 but they're another season away from competing for a playoff spot.

Ganguli
: The vibe around this team is exceedingly positive for one that's now selected in the top 10 every season since 2008. This regime, now in its second offseason, is building in the right way, but the Jaguars still don't have a quarterback. Will they find him in this year's draft? Or will they expect
Chad Henne
to be enough while the rest of the roster improves? The answer could dictate whether the Jaguars can be another AFC South threat for a wild-card berth.
Kuharsky: The Jaguars have had a nice offseason and continue to make steady progress under the fine leadership of general manager Dave Caldwell and coach Gus Bradley. The free-agent haul upgraded the lines on both sides of the ball and I expect them to get a blue-chip non-quarterback at No. 3 in the draft and perhaps a guy who will take over for quarterback Chad Henne down the line. With the longtime face of the franchise, Maurice Jones-Drew, now with the Raiders, Jacksonville's national identity is as anonymous as ever. It could be a team that proves how such things can be overrated. I don't think the Jaguars will be a playoff team yet, but I think they are closer than most people think. And if they are a surprise team in 2014, I won't be that surprised.

Wells: There's no way I can say "yes" when I had to Google to see which quarterbacks the Jaguars still have on the roster. It's also going to take some time getting used to not seeing Maurice Jones-Drew taking handoffs in the backfield for them. I do like how the Jaguars rolled the dice and made a run at Cleveland center Alex Mack. You can't fault them for being aggressive. The Colts, who have questions at center, had no interest in taking that approach with Mack. The Jaguars need to find a quarterback before they think about making the playoffs.

@ESPNdirocco Improved? Sure! Playoffs? It is gonna be a bit hard until they have someone better than Henne leading this offense.

- Jason Greenbaum (@JWGreenbaum) April 14, 2014
---

Will the Houston Texans make the playoffs in 2014?
DiRocco: Things went bad quickly for the Texans, but the answer isn't as simple as plugging in a new quarterback. Houston had ranked in the top 10 in the NFL in rushing from 2010 to 2012 but dropped to 20th last season. Injuries played a big role in that but the decline in the offensive line's play was startling. There is still a lot of talent on defense -- J.J. Watt, Kareem Jackson, Brian Cushing, for example -- but the Texans are too unsettled on offense to be a playoff team. To win in the AFC, you have to keep up with the high-scoring offenses in New England and Denver and the Texans don't have the firepower to do that even when the defense is healthy and playing well.

Ganguli
: That there's no quarterback as NFL-ready as Andrew Luck was back in 2012 doesn't mean there isn't a player who can help turn the direction of a franchise. It won't have to be a complete about-face for the Houston Texans if they recover next season. They'll get better just by virtue of adding some mental toughness to a roster that still has talent and by adding more talent with the first pick in this year's draft. Things will improve, but the Texans are probably still a year away from a return to the playoffs, given the strength of the Colts. That last-place schedule could open the door for a wild-card berth.
Kuharsky: In Bill O'Brien, the Texans have a somewhat mysterious new head coach. He did good work in New England with the Patriots, but it was very much in the background. He moved Penn State further down the rebuilding track than anyone could have fairly expected. His new team completely forgot how to win in 2013. The dive from 12-4 division winner in 2012 to 2-14 and No. 1 in the draft happened very swiftly. I don't think a reverse turnaround is going to unfold in 2014. I expect the Texans to play with more purpose, and they have some top-flight talent. But the quarterback question and the time the new staff needs to fill out the roster is going to mean it's a rebuilding year that is unlikely to result in a postseason game.

Wells: The Texans fooled me last season. I picked them to win the division and face Denver in the AFC Championship Game. Houston won its first two games then lost its final 14 games of the season. Receiver Andre Johnson and running back Arian Foster are still around on offense and the defense is led by J.J. Watt, but can new coach Bill O'Brien make the transition from being a college head coach to an NFL head coach? The Texans may end up using the No. 1 overall pick on a quarterback. They'll win more than two games next season, but they won't win enough of them to make the playoffs.

@taniaganguli If Clowney can play QB, too, then yes.

- Mike K(lowney) (@Zepp1978) April 15, 2014
March, 28, 2014
3/28/14
11:00
AM ET
By
ESPN.com staff
| ESPN.com
ORLANDO, Fla. -- The NFL's owners, coaches and general managers gathered in Orlando this week for the owners meetings.
Some of the topics discussed were potential changes to the kicking game, Colts owner Jim Irsay's DUI arrest, expanded playoffs and racist/discriminatory/profane language. The league tabled any action on adjusting or eliminating PATs. No playoff teams were added. But the owners did discuss sensitivity and sportsmanship issues.
As for the Irsay situation, commissioner Roger Goodell said he'll wait for the legal process to play out before deciding what kind of punishment Irsay will face.
But don't worry, four of ESPN's NFL Nation reporters -- Michael DiRocco (Jaguars), Tania Ganguli (Texans), Jeff Legwold (Broncos) and Mike Wells (Colts) -- were at the meetings and took a run at those issues.

What should the owners do to fix the kicking game?
Michael DiRocco: I'm in favor of the decision to extend the goalposts several feet to eliminate some of the ambiguity of whether some field goal attempts are successful. Kickoff returns are among the most exciting plays in football, but they are also among the most dangerous. I don't see a realistic way to make them any safer without eliminating them completely. As for PATs, I'd be in favor of moving them back to a 40- or 45-yard attempt. That increases the difficulty. But how about adding a radical change as well by giving teams the option of a 3-point PAT by attempting a kick of 55 yards? It certainly would make game strategy more interesting.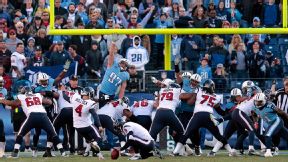 Tania Ganguli: The league tabled the discussion about moving the extra point back to the 25-yard line and will experiment by moving it to the 20 during some preseason games. I'll be interested to see the result of the trial period. I don't have a problem with the fact that extra points are so often effective. There is still strategy in deciding whether to kick it or go for two. It doesn't always play into game strategy, but it can, and that means it isn't a meaningless play. My bigger concern would be safety issues that come with kickoffs.
Jeff Legwold: Not sure I understand the rationale of removing something from the game because the players have become too proficient at it. Sure, 1,267 extra points were attempted in the 2013 season and all but five were made. Four of the extra-point attempts were blocked and only one was missed (Minnesota's Blair Walsh), but it seems misplaced to remove it simply because kickers, snappers and the rest of those lined up have become mind-numbingly good at it. That's a bad precedent. In 1970 there were no quarterbacks who threw for even 3,000 yards. In 1980, only two quarterbacks crossed the 4,000-yard barrier. In 2013 there were nine quarterback who threw for at least 4,000 yards and two -- Peyton Manning and Drew Brees -- topped 5,000 yards. So, if the league's passers get much better, they'll have to ditch the forward pass.
Mike Wells: The NFL can do away with extra points because they're pointless. There were only five unsuccessful PATs last season. Does anybody even watch teams kick extra points? That's usually the time to get an early jump to the bathroom so that you're back in time for the kickoff. Moving the PAT back to the 25-yard line doesn't provide any more excitement. Automatically give teams seven points for scoring a touchdown with an option to get another point by going for a conversion. About the only bad thing with eliminating PATs is that Indianapolis Colts punter Pat McAfee may get upset that he can't punt, kick off, kick field goals and kick PATs, something he wants to accomplish at some point in his career. But something tells me he'd get over PATs being eliminated from the game.
@ESPNdirocco Eliminate the XPT. TD's = 7. Give teams chance for 2, if miss = 6, if make = 9. FG's don't change. #fixed

- Gary Blond (@GaryBlond) March 24, 2014
---

How should the commissioner handle a misbehaving owner?
DiRocco: Owners should be held to at least the same standard as players when it comes to off-field behavior, but I'd argue that they should be held to an even higher standard because of their status -- especially when it comes to something that endangers the public, such as driving under the influence. The first thing the league must do is ensure that Jim Irsay gets the help he needs with his problem. Suspending an owner wouldn't make any impact on the field and taking away a draft pick would be too harsh. A significant fine ($500,000?) that would be donated to one of the league's various charities or a substance-abuse awareness or treatment program is the best course of action.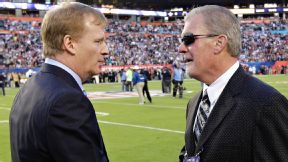 Ganguli: The commissioner could do nothing and get away with it. After all, he technically works for the owners. But maintaining credibility is important. Irsay's situation should be handled with a proportionate response to how a player's situation would be handled. It can't be the same just by virtue of the differences of their jobs. At the same time, it's important in dealing with such a situation -- with executives or players -- that the league is sensitive to what it means to have an addiction and what it takes to move past it.
Legwold: NFL commissioner Roger Goodell has made personal conduct by everyone employed by the NFL or one of its franchises a hallmark of his tenure. He has consistently said the higher the authority of the person involved, the higher the standard. By that standard he has no choice but to punish Irsay. In 2010 he fined Detroit Lions president Tom Lewand $100,000 and suspended him for 30 days after Lewand's guilty plea for driving while impaired. A franchise owner is even higher on the corporate flow chart than a team president, so Irsay's punishment should fit that if Goodell sticks to the framework he's put in place. One thing is certain: A large group of players who haven't always been supportive of Goodell's discipline standards for them is watching closely.
Wells: Late Tennessee owner Bud Adams was fined $250,000 for giving some fans the bird in 2009. Not that money is a major issue to Irsay, but Goodell should fine him at least $1 million and suspend him for at least eight regular-season games. The latter part will really hit home to Irsay because he loves the game so much. He has a serious problem and Goodell needs to send a serious message to him and the rest of the NFL that breaking policies or the law will not be taken lightly. The rest of the league, especially the players, will be paying close attention to see what actions Goodell takes. A minor slap on the wrist will not sit well with the players, especially because the rules are made for the players and front-office officials.
@MikeWellsNFL $500,000 fine and half season suspension. No contact, similar 2 Sean Peyton suspension.

- Bob Borden (@Rmb7884) March 25, 2014
---

Should the league add playoff teams?
DiRocco: Sure, and let's give every team that didn't make the playoffs a trophy at the end of the season for trying really, really hard as well. Twelve of the league's 32 teams -- roughly 38 percent -- already make the playoffs, and that's enough. The argument that good teams sometimes miss out because they play in a tough division doesn't make sense to me. The Arizona Cardinals were playing pretty well at the end of the 2013 season but didn't qualify. Too bad. They should have played better in September and October. Making the postseason is a reward for the teams that have played the best throughout the season. It should be hard.
Ganguli: The more teams with something at stake late in the season, the better. But you don't want to dilute the accomplishment of making it to the playoffs. Further, the margin for error is so small in the playoffs, the chances for upsets in the early rounds are high. I'd hate to see football's regular season diluted that much. Two more teams might be fine, but any more than that and then you get to the point where half the teams make it. The playoffs are, and should be, a reward for all the work that came in the months prior.
Legwold: This looks suspiciously like a trade-off. Goodell dislikes the look of preseason football and has floated the idea of an 18-game regular-season schedule for some time. But there has been little support for the idea of an 18-game schedule among the players. So, in terms of television revenue, which would have increased with an 18-game regular season, the next best thing is two more teams in the playoff field. The format would award just one team in each conference a first-round bye. But it's unnecessary and waters down the postseason field enough that 43.8 percent of the league's teams would make the playoffs.
Wells: Leave it alone. That's the easiest way to put it. Expanding the playoffs sets the stage for possibly having teams with a losing record making the postseason. It was embarrassing when the Seattle Seahawks made the playoffs with a 7-9 record in 2010. You'll have some teams with strong records -- New England (11-5) in 2008 and Arizona (10-6) last season -- miss the playoffs, but that doesn't happen as often as we would see teams with a losing record make it if the format were to change. Every game is important with the current playoff format; there's very little wiggle room for mistakes. Only one team in each conference would get a bye in the first weekend of the expanded playoffs compared to two in the current format. That's not being rewarded.
@Jeff_Legwold Yes, even the Cowboys need to get into the NFL tourney someday. #HTTR

- Tony Wilbert (@twilbert) March 26, 2014
---

How should the league deal with racist, discriminatory and profane language on the field?
DiRocco: For better or worse, profanity has been, and always will be, a part of football. Trying to police that would put an additional burden on the shoulders of an already overloaded group of officials. Racist or discriminatory comments, however, are more serious. Those should not be tolerated. However, most of the Jaguars players I spoke with about this topic last season said they rarely encounter that on the field. But again, how do you enforce that? Is saying the N-word worse than using a gay slur? If one black player calls another the N-word, is that less serious than if a white player does it? Bottom line: Let the players police these themselves during the game. If an official hears something from the sideline or players are screaming at each other after a play has ended, then a fine is warranted.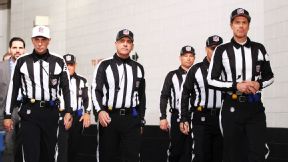 Ganguli: The competition committee made it clear Wednesday that this would be a major focus for 2014. It wants professional athletes to set a better example for younger athletes. I wouldn't necessarily include racist, discriminatory and profane language all in one category. The nature of profanity in the English language, and what exactly is considered profanity, changes constantly. Whose standard are you using? Racism and other forms of discriminatory language should be regulated with a penalty for unsportsmanlike conduct. This isn't about regulating thoughts. It's about making it absolutely clear that the NFL does not tolerate expressions of hate.
Legwold: As those on the league's competition committee pointed out last week, the rule to enforce a ban on the N-word or other discriminatory language is already on the books. And officials will be told before the season to throw the flags if they hear those words used during games. The decision has been made and officials will be "empowered" to throw the flags, as St. Louis Rams head coach Jeff Fisher, a co-chairman of the league's competition committee, has said. It has caused some to wonder why the league hasn't been nearly as aggressive with "Redskins," but it's clear the league's decision-makers want to address the N-word and other slurs based on sexual orientation and have put it in the hands of the officials to do it.
Wells: Let me get this out of the way: There's no place in the game for racist, discriminatory and profane language. But at the same time, officials already have a difficult enough time throwing flags. How many times have you watched a replay and noticed they made the wrong call or missed a call? And now you expect them to be watching the play while also listening for bad language during the game? That's asking them to do too much. Can you imagine the players informing the officials that an opposing player used inappropriate language?
@taniaganguli @McClain_on_NFL I think they should do yellow cards like soccer.no penalty. Just if you get 2 your out.

- manuel garcia (@heavybread347) March 25, 2014