Indianapolis Colts:

Oakland Raiders
September, 8, 2013
9/08/13
8:30
PM ET
INDIANAPOLIS -- No matter how much film -- little was available -- was watched or how many college coaches they talked to about the read-option offense, the
Indianapolis Colts
really didn't know what they were getting into with Oakland quarterback
Terrelle Pryor
.
Pryor, making just the second start of his pro career, had the Colts guessing whether he would tuck the ball and run or use his arm to make something happen.
[+] Enlarge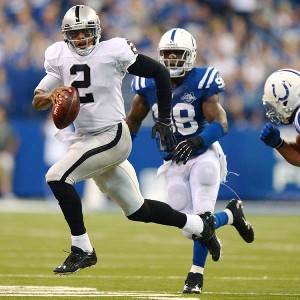 Kirby Lee/USA TODAY SportsRaiders QB Terrelle Pryor rushed for more than a 100 yards against the Colts' defense in Week 1.
Pryor threw for 217 yards and rushed for 112 yards in
Oakland's 21-17 loss to the Colts
at Lucas Oil Stadium on Sunday.
"He's a problem," Colts linebacker
Robert Mathis
said. "He's a very athletic guy. He can make you pay with his arm, too. We were able to get him under control at the very end, that's all that matters."
The Colts spent the week preparing for Pryor and the read option despite Raiders coach Dennis Allen playing games by not saying who would start at quarterback, whether Pryor or
Matt Flynn
.
The Raiders ran the read option some, but Pryor did a lot of improvising.
Think playing pickup football as a kid and doing whatever it takes to keep a drive going. Then throw in some video game moves, and that was Pryor for you.
A stiff-arm on Colts safety
LaRon Landry
. Some juke moves. A pump fake to get
Cory Redding
in the air to buy some more time.
"They did a nice job with their scheme," Colts coach Chuck Pagano said. "Those things are easier said than done. It's hard, especially in the opener. You watch the tape and you watch the preseason, and it's really hard to gauge and know exactly what you're going to get. We knew we had a heck of a football player coming here, a talented guy, a great athlete."
Every time it seemed like the Colts had a shot on Pryor, the young quarterback would find a way to keep the drive going.
That was the case when they forced the Raiders into a fourth-and-9, but Pryor found
Denarius Moore
for a 21-yard completion across the middle to keep hope alive for Oakland.
The Colts were frustrated, but they weren't going to start pointing fingers at one another. That's the last thing they needed to do.
"You have to shoot your guys on guys like that," Redding said. "What I mean by that, you can't rush him cautiously. You just have to shoot for the outside leg and make him cut back in and hope the pursuit is there. Everybody hung in there. We kept flying around. We knew he was going to make plays, and he's a heck of an athlete. We just had to weather the storm and just keep stopping them as much as we could."
The persistence finally paid off for the Colts when Mathis got their only sack of the game on Pryor with just over a minute left in the game -- a 16-yard loss that pushed the Raiders back to Indianapolis' 24-yard line.
Two plays after that, the Colts were finally able to feel like they escaped Pryor when
Antoine Bethea
picked him off at their 6-yard line.
"Use all your bullets, throw the gun, throw the belt holder, too," Mathis said about trying to defend Pryor.
September, 6, 2013
9/06/13
1:55
PM ET
INDIANAPOLIS --
Indianapolis Colts
starting linebacker
Pat Angerer
knew something wasn't right.
The constant headaches. The blurred vision. The memory loss.

Angerer
But the only thing on Angerer's mind was Sunday's season opener against the
Oakland Raiders
.
That's why he held out mentioning anything to the coaching and medical staff until it got to the point where he couldn't handle the constant problems.
It turns out he wasn't dealing with just a normal headache. He was diagnosed with a concussion after going through the test Thursday, putting his status for Sunday's game highly in question.
That's not the worse news for Angerer.
He suffered the concussion on the first play in the Aug. 29 preseason finale at Cincinnati. He played 22 more plays on defense and three plays on special teams in that game to go with three practices this week before he was diagnosed with the concussion.
"I just didn't know what it was," Angerer said. "Headaches, memory loss, all that (expletive). I just figured it would pass. I just wanted to play, so I didn't say anything. It never went away."
The concussion adds to the frustration Angerer has experienced the past year. He was limited to 11 games last season because of a foot injury after he led the Colts with 146 tackles in 2011.
Angerer can't practice until he passes the NFL's concussion protocol. The protocol "combines a symptom checklist, a limited neurological examination including a cognitive evaluation, and a balance assessment."
Kelvin Sheppard
will start at linebacker if Angerer doesn't play.
September, 6, 2013
9/06/13
12:00
PM ET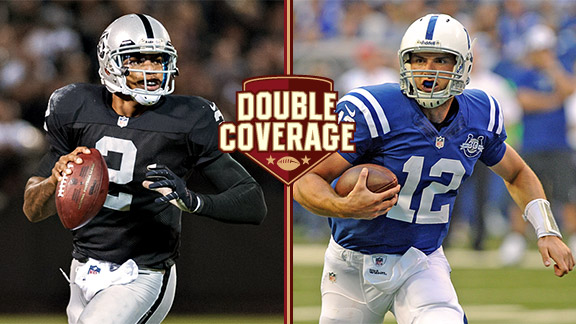 USA TODAY SportsTerrelle Pryor will lead a rebuilding team while Andrew Luck and the Colts will try to build on last season's success.
The
Indianapolis Colts
surprised the league by finishing with an 11-5 record and making the playoffs behind rookie quarterback
Andrew Luck
. The
Oakland Raiders
struggled with a 4-12 record. They're expected to have problems again this season as the rebuilding project continues for the Raiders. The teams open the season facing each other on Sunday at Lucas Oil Stadium.
Mike Wells:
So much was made about who the Raiders would start at quarterback earlier this week. It looks like it'll be
Terrelle Pryor
. Does he give Oakland the best chance to win, and if so, what makes him so dangerous as a quarterback?
Paul Gutierrez:
It appears as though it will be TP2 Time for the Raiders in the opener. And really, it should be. Now, that's not necessarily an endorsement, but with this team, at this moment, Pryor does at least represent some semblance of hope, what with his skill set. His ability to run should keep the Colts' front seven honest and they won't be able to simply pin their ears back and rush, like they could
Matt Flynn
. I believe Flynn is probably a better NFL quarterback at this stage, but with the deficiencies around Oakland's pocket -- leaky line, inconsistent receivers, injury-prone running back -- Pryor gives the Raiders a better chance. And being that this is a quarterback-driven league, how has Luck dealt with stepping into those huge shoes left by
Peyton Manning
, and how can Luck avoid the sophomore jinx?
Wells:
I'm sure you probably watched Luck one or two times out there in the Bay Area while he was at Stanford, so you know his work ethic should never be questioned, and his demeanor doesn't allow him to get caught up with the hype. The offensive weapons the Colts put around Luck will make it difficult for him to struggle.
Reggie Wayne
,
T.Y. Hilton
and Oakland's favorite former receiver
Darrius Heyward-Bey
at receiver;
Coby Fleener
and
Dwayne Allen
at tight end to go with the duo of
Ahmad Bradshaw
and
Vick Ballard
at running back. So the words "sophomore slump" and "Andrew Luck" shouldn't be on anybody's mind. Of course that's if the offensive line does its job and blocks. A lot is being made of Pryor's ability to be creative with his feet, but what about
Darren McFadden
-- isn't he the real threat with running the ball, especially with the Colts being near the bottom of the league in rush defense last season?
Gutierrez:
No doubt, especially in a perfect world for the Raiders' offense. If all is working right, and opposing defenses have to at least respect the quarterback's ability to take off, they can't key on the quarterback. And that sets up the play-action pass. But for the Raiders to have any success offensively this season, it all starts and ends with a guy who has yet to play more than 13 games in a season.
Yeah, Run DMC had been more Limp DMC of late, but when he's right, he's nice. Two years ago, he was playing like a league MVP candidate. Then came the Lisfranc injury that ended his campaign after just six-plus games. And last year, in perhaps the greatest failing of the Raiders' new regime's plans, they changed the offense on McFadden from a power scheme to the zone-blocking philosophy. McFadden's average yards per carry went from a career-high 5.4 yards to 3.3 yards. McFadden is also entering a contract year so yeah, he has something to prove as the Raiders return to the power running game. Speaking of something to prove, you mentioned him earlier: The artist formerly known as DHB around these parts left a lot to be desired after four nondescript seasons in Oakland. Hey, it wasn't his fault he was drafted so high. How has he adapted to a change of scenery, and how strong is his desire to prove something to the Raiders after they cut him this spring?
Wells:
I thought Heyward-Bey would come to Indy with a chip on his shoulder because, well, he did play for the Raiders, where more bad than good comes out of that organization. But Heyward-Bey has only good things to say about the Raiders. He blames himself for a lot of his struggles during his four years in Oakland. He also knows he needs to produce to get rid of that "bust" label. As you know, Heyward-Bey has an incredible work ethic.
The biggest difference here is that he now has a mentor. Wayne is the perfect veteran to guide him. The future Hall of Famer's professional demeanor is exactly what Heyward-Bey needs. The other thing is, Heyward-Bey doesn't have the pressure of being the No. 1 receiver. Wayne isn't slowing down any time soon, and the Colts have so many other offensive weapons, as I mentioned earlier, that Heyward-Bey can just let the game come to him. Fans will likely see a number of those weapons because the Raiders don't have much of a defense. Will nine new starters help them from giving up almost 28 points a game again this season?
Gutierrez:
That's the plan. At least, that's the hope for the Raiders. Yeah, they have nine new starters on defense, with the only two returning starters being defensive end
Lamarr Houston
, who is moving from the left side to the more pass rush-specific right side, and strong safety
Tyvon Branch
, who endured an injury-plagued season for the first time in his career. Of course, a million times of course, the Raiders kept their defense vanilla in the preseason ... and not just for what coach Dennis Allen would term "competitive reasons." In fact, Sunday will be only the first time the Raiders will field their entire starting defense at the same time. Injuries wreaked havoc in exhibition games.
There was a glimmer of hope, though, with the run-stuffing play of defensive tackle
Pat Sims
in the exhibition finale. And if
Nick Roach
, who will wear the green dot on his helmet, can rally the defense from his middle linebacker position, the Raiders' defense should be better this season. Emphasis on "could." Can the Raiders -- with virtually an entire new defense and defensive coordinator Jason Tarver, who schemed daily against Luck at Stanford -- be a detriment to the Colts? Or are they simply of the mindset that they have to worry only about themselves?
Wells:
The only way the Raiders will be able to rattle Luck is if the offensive line doesn't do its job and allows its quarterback to take a pounding all game long. And even then, that may not be enough to beat the Colts. Let's not forget, Luck was sacked 41 times and hit more than 100 times last season. That didn't stop him from setting a rookie record for passing yards, attempts and 300-yard games. So I don't think the Raiders will be to do much against Luck & Co. on Sunday afternoon.
September, 5, 2013
9/05/13
8:30
AM ET
Here's today's edition of Reading the Coverage on the first official day of the regular season:
Mike Chappell of The Indianapolis Star writes about how the Colts and Oakland Raiders are in
different positions when it comes to quarterback
. The Colts have their franchise quarterback in Andrew Luck. The Raiders are trying to keep their quarterback situation between Matt Flynn and Terrelle Pryor quiet, which really means they don't have a quarterback.
Columnist Bob Kravitz, also of The Star,
gives his season predication
. We're on the same page because he also has the Colts going 10-6 this season.
Speaking of Oakland's quarterback situation, Tom James of the Terre Haute Tribune also
touches on the whole secret game the Raiders are playing
. Raiders coach Dennis Allen, "I haven't made an announcement yet. Nor will I." Hey coach, the secret is out. Everybody knows Pryor is your starter. You can go ahead and admit it now.
September, 3, 2013
9/03/13
8:00
AM ET
INDIANAPOLIS -- Claiming tight end Jack Doyle off waivers from Tennessee doesn't only mean a homecoming for the Indianapolis native. It means the Colts have concerns about the health of their top two tight ends,
Dwayne Allen
and
Coby Fleener
.

"With the situation with Dwayne and Coby, kind of on the mend, we felt like we had to go out and try to find another 'Y' stud tight end, in-line guy, big guy, a guy that can do a great job of being that in-line guy that's on the ball, point of attack, blocking outside linebackers, defensive ends in 4-3, that type of thing," coach Chuck Pagano said. "He's got ability and we all know what he did in his collegiate career. And it's great to have a hometown guy back home. He gives us another added dimension, a big guy that can be kind of the hammer, if you will, in the run game and still give you some things in the pass game."
Allen and Fleener both practiced Monday and are expected to play against the
Oakland Raiders
this weekend. But both players are also coming off injures. Allen missed the entire preseason with a foot injury. Fleener dealt with a concussion and sprained knee at different points of the preseason.
Doyle was on his way to the Titans facility Sunday to sign onto their practice squad when he found out the Colts had put a claim on him.
"I was kind of shocked but I was really excited," Doyle said. "Like I said, very thankful for the opportunity and trying to make the most of it. ... Definitely good to be back here. It might take a little bit to sink. I'm going to bust my butt and I'm really excited."
September, 2, 2013
9/02/13
4:40
PM ET
INDIANAPOLIS -- For a team that dealt with its fair amount of injuries in the preseason, the
Indianapolis Colts
could have the starting lineup they envisioned heading into training camp when they take on the
Oakland Raiders
on Sept. 8.

That's surprising considering where things stood just a couple of weeks ago.
Tight ends
Dwayne Allen
and
Coby Fleener
, running back
Ahmad Bradshaw
and guard
Mike McGlynn
practiced Monday and they're expected to play against the Raiders.
It's still uncertain if left tackle
Anthony Castonzo
will be the starter or if
Joe Reitz
will be playing there.
"Should have him out there by Thursday and should make the game," coach Chuck Pagano said of Castonzo.
Castonzo suffered a sprain of the medial collateral ligament in his knee in the Aug. 24 game against the
Cleveland Browns
.
"It's going well, it's progressing," Castonzo said. "We're just taking it day-by-day. It depends on how well (I feel) come game time. I still don't know, it's not guaranteed. But it's still my goal."
The Colts played their starting defense against the Browns, but they never had their starting offensive unit together. Bradshaw and Allen didn't play in the preseason.
While some may say there's a level of concern by the offense not playing together, I'm not buying it. The players they have on the offensive side of the ball -- starting with quarterback
Andrew Luck
and receiver
Reggie Wayne
-- will make things easier as long as things go well on the offensive line.
"Just looking at today's practice and coming off a long weekend and all those guys being out there today, it looks like they practiced on their own over the weekend, to be honest with you," Pagano said. "Even though they missed some time, when you have guys that stay with it from a mental standpoint and they take the mental reps on the side, they still know how to get lined up. Their athleticism is going to take over and so they look pretty crisp and sharp."
It also helps they're facing an Oakland defense that gave up nearly 28 points a game last season. I'd say Andrew & Co. got the perfect opponent to work out any offensive kinks they may have from not having the unit together in the preseason.
• Kick returner
David Reed
still has to go through the concussion protocol before he'll be cleared to play against the Raiders.
Cassius Vaughn
and
Joe Lefeged
are options to return kicks if Reed doesn't play. Reed suffered the concussion against Cincinnati in the preseason finale last week.
August, 29, 2013
8/29/13
11:25
PM ET
CINCINNATI -- No
Andrew Luck
. No
Reggie Wayne
. No
Cory Redding
. No
Antoine Bethea
or
Robert Mathis
, either.

In what's the biggest yawner of the preseason because starting players rarely play, the preseason finale against the
Cincinnati Bengals
was all about borderline players trying to make one final impression on front office officials and the coaching staff before the 53-man roster has to be set by Saturday evening.
Here are other observations from the Indianapolis Colts'
27-10 loss
to the Bengals:
What's next:
The Colts open the regular season against the
Oakland Raiders
at Lucas Oil Stadium in Indianapolis on Sept. 8.