October, 16, 2014
Oct 16
4:40
PM ET
INDIANAPOLIS – Pep Hamilton arrived in Indianapolis before the 2013 season with a college resume that included coaching quarterback
Andrew Luck
at Stanford and an offensive scheme that had a balance between the run and pass.
With Luck and Hamilton back together, you thought they would be able to pick up where they left off at Stanford.
The Colts' overall record was good – 12 victories, counting the playoffs – but the transition to the NFL as an offensive coordinator wasn't exactly a smooth one for Hamilton last season.
He had shaky moments as a playcaller. But the stretch of the season when the Colts were searching for an identity couldn't strictly be put on Hamilton's shoulders.
[+] Enlarge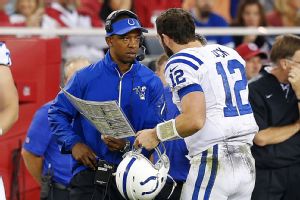 AP Photo/Kevin TerrellWith the right personnel in place, Pep Hamilton and Andrew Luck are on a roll.
The Colts were hit hard with injuries on offense, losing five players to season-ending injuries, putting Hamilton in a tough position to execute the plan he envisioned.
Indianapolis has its injured players back, and the offense has taken off with Hamilton on the sideline calling the plays.
The Colts lead the NFL in yards (444.0), passing yards (328.7), time of possession (36:28) and points per game (31.5).
"Just our players are executing at a high level and this is what we envisioned from the standpoint of having the personnel that allows us to do a lot of different things," Hamilton said. "It puts pressure on the defense to decide who they want to try and take away and we feel like we present a conflict to our opponents because we have so many guys on the field at any given time can make plays for us."
It's easy to tell that Hamilton and Luck spent time together before the NFL. Ask Hamilton about their offensive success and he points the finger at the players, which is similar to the way Luck deflects personal praise.
"I'm competent," Hamilton said. "Confidence is overrated. I know what we're doing and what we're doing with this quarterback specifically. I know it'll work and it'll work for him because I've experienced it on a different level with him. I believe in what we're doing."
Hamilton has every right to feel good about how things are going because fingers quickly point at him when things aren't going right. That was the case last season, when the Colts were determined to have a "power-running game" but struggled establishing the run, instead of putting the ball in Luck's hands and letting him pass more.
"It's like the quarterback, when things aren't going well, they probably get too much criticism and probably too much credit when things are going good," Colts coach Chuck Pagano said. "He's done a great job. … I think going into Year 2, everybody's much more comfortable with the system, with the scheme."
Hamilton's mind frame with his play calling is that they can be successful in any formation they run.
Empty backfield. Three receivers. Five wide. Two running backs. One receiver and three tight ends.
It doesn't matter.
"He's such a creative playcaller and play designer," Colts backup quarterback
Matt Hasselbeck
said. "He can change on the fly instantly. He likes to be able to call plays in all formations from all personnel groups at the line of scrimmage in a short amount of time."
A perfect example of Hamilton's successful play-calling was put on display in the Colts' victory over the
Houston Texans
on Oct. 10. The Colts gained 218 yards and scored 24 points in the first quarter during their 33-28 victory.
"I would say this, on our hot streak, he's called great games," Hasselbeck said. "The first half against Houston was amazing. He had [Texans defensive coordinator] Romeo Crennel on his heels. That's hard to do because he's one of the best defensive coaches.
"I've been around a lot of different coaches and you can tell when a guy has a bright future. Pep is that guy. It'll be a short amount of time before he's a head coach somewhere, wherever he chooses. Pro or college will be his call on what he wants."