Indianapolis Colts:

Robert Griffin III
April, 23, 2014
4/23/14
3:45
PM ET
INDIANAPOLIS – You would think the release of the NFL schedule is a national holiday, where everything is shut down with so much excitement surrounding it.
The
Indianapolis Colts
have the easiest schedule based off the 110-146 combined record of their opponents last season. That's on paper. The Colts will have a tough schedule facing teams like Denver, New England and Baltimore next season.
Here are the Colts' 2014 opponents:
Home: Tennessee, Houston, Jacksonville, New England, Washington, Philadelphia, Cincinnati, Baltimore
Away: Tennessee, Houston, Jacksonville, Dallas,
New York Giants
, Pittsburgh, Cleveland, Denver
Based off the schedule and the fact the Colts have quarterback
Andrew Luck
, I can see them possibly having five prime-time games next season.
Here are the five prime-time games I think the Colts will have:
Washington: Luck vs. Robert Griffin III">Robert Griffin III, the top two picks from the 2012 draft, facing each other for the first time.
Denver: Luck vs. Peyton Manning Part II.
New England: Luck vs. Bill Belichick. Luck has thrown seven interceptions in two games against the Patriots.
Dallas: Luck vs. America's team. How about Luck playing his first Thanksgiving game?
New York Giants: Luck vs. Peyton's little brother, Eli.
How many prime-time games do you think the Colts will play next season?
April, 15, 2014
4/15/14
6:15
PM ET
ESPN.com NFL Insider Mike Sando has an
interesting piece on which current NFL quarterbacks
are worth No. 1 overall picks. The
Houston Texans
have the No. 1 overall pick next and there seems to be a strong consensus that there's not a sure-fire quarterback worth taking No. 1 overall in this year's draft.
Sando has quarterbacks divided into four tiers: Clearly worth a No. 1 overall pick, Close but not quite, You could make an argument for them, and On their way, but not there yet.
To no one's surprise, former Colts and current Denver quarterback
Peyton Manning
is at the top of the list. Manning, the No. 1 overall pick in 1998, led the Colts to two Super Bowl appearances, been been named league MVP a record five times and his place in the Hall of Fame is assured once he retires.
The other not surprising pick -- outside of
Tom Brady
,
Aaron Rodgers
and
Drew Brees
of course -- is
Andrew Luck
. Luck has lived up to the talk of being the best quarterback taken No. 1 overall since Manning. Luck has led the Colts to the playoffs in each of his first two seasons despite offensive line problems, lack of a running game in his second season and not having his head coach most of his rookie season. He has yet to lose back-to-back games in his NFL career.
Remember
Robert Griffin III
, the player some thought the Colts should take over Luck in 2012? He's in the lowest tier. Griffin's knee injury has kept him from being in a higher category. He'll join Luck, Brady, Manning and others in the top category before it's all said and done.
February, 23, 2014
2/23/14
4:00
PM ET
INDIANAPOLIS -- The year of the running quarterbacks was the 2012 draft class which featured Indianapolis'
Andrew Luck
, Washington's
Robert Griffin
III and Seattle's
Russell Wilson
.
Luck
RG III roasted the other quarterbacks by running 4.41 in the 40. He was followed by Wilson with a time of 4.54. Luck, whose speed is overlooked, was fourth behind LSU's Jordan Jefferson in the 40 that year with a time of 4.66.
RG III has rushed for 1,304 yards in his NFL career. Wilson has rushed for 1,028 yards and Luck has ran for 632 yards.
"There is nothing more difficult for a defensive coach to deal with than that element of the scrambling quarterback that can create after the regular play starts and then begins again," Seattle coach Pete Carroll told reporters during the combine.
The quarterbacks in this year's draft class ran the 40-yard dash over the weekend at the scouting combine.
Here were the top runners:
Logan Thomas
(Virginia Tech) 4.61
Stephen Morris
(Miami-FL) 4.63
Connor Shaw
(South Carolina) 4.66
Johnny Manziel
(Texas A&M) 4.68
Derek Carr
(Fresno State) 4.69
Luck would have been tied for the third fastest time at the combine this year.
Brandon Kelsey
from Midwestern State ran the fast time last year at 4.52.
February, 3, 2014
2/03/14
2:10
PM ET
INDIANAPOLIS --
Russell Wilson
of the
Seattle Seahawks
wasn't as heralded as the rest of the quarterbacks taken in the 2012 draft.
He was a third-round pick who was considered too small to have much of an impact on an NFL team. He wasn't even supposed to start.
Matt Flynn
was supposed to be the Seahawks' starting quarterback.
But almost 22 months after that draft, Wilson is the first quarterback of his class to win a Super Bowl.
Did he dazzle or dominate the Super Bowl?
Not even close. Seattle's defense did those things. But Wilson still has a ring.
[+] Enlarge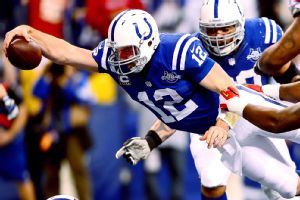 Andrew Weber/USA TODAY SportsAndrew Luck has won nearly as many games as Russell Wilson without as strong a supporting cast as Wilson enjoys in Seattle.
That brings into question: Is Wilson now the best quarterback of that group?
Andrew Luck
of the
Indianapolis Colts
has the complete package.
Robert Griffin III
of the
Washington Redskins
has the hype -- and the commercials.
Ryan Tannehill
of the
Miami Dolphins
came into his own in his second season. You also can't forget about
Nick Foles
of the
Philadelphia Eagles
,
Kirk Cousins
of the Washington Redskins and
Brandon Weeden
of the
Cleveland Browns
, who were also picked in 2012.
"I think Luck far and away is No. 1 in that class still," ESPN NFL Insider Matt Williamson said.
A lot of NFL players agree with Williamson. That's why Luck finished second to only Denver's
Peyton Manning
as the player they would want to start a team with.
This is no knock on Wilson because he's the second best quarterback in that group behind Luck. Wilson has already won 24 games and the all-important Super Bowl.
It should be noted, though, that Wilson doesn't have to shoulder the load the same way Luck does. He has a dominant defense and power running game supporting his arm and swift feet.
The Colts are aching to have both of those things to go with Luck.
"Wilson really hasn't played all that well over the last month and a half or so and they were still winning," Williamson said. "He has a great roster around him. And the Seahawks are smart, they don't ask him to do a ton. Even [Sunday], he played well, but he wasn't the best player on the field. For the Colts to win, Luck has to be the best player on the field, and he often is."
Take Luck off the Colts and there's no way -- and I sincerely mean no way -- that they would have won 22 regular-season games and a playoff game the past two seasons. Indianapolis would likely be preparing for another high draft pick because of the makeup of its roster and the injuries it dealt with this season.
That's a compliment to how good of a player Luck is and his value to the team.
"Look at the Colts' roster, they have a ton of flaws, not to mention somewhat questionable coaching this year," Williamson said. "They tried to shove [Trent] Richardson into a round-hole type of deal. Losing [Reggie] Wayne, losing [Dwayne] Allen and Luck has a lot more on his plate then Wilson and the rest of those young quarterbacks. And [Luck's] further along, too. He sees the field really well. All those things people said about him right out of school. He's just rare. He's not like everybody else."
October, 10, 2013
10/10/13
8:00
AM ET
INDIANAPOLIS -- Not that any further proof is necessary, but quarterback
Andrew Luck
continues to prove the
Indianapolis Colts
made the right decision in selecting him as the No. 1 overall pick.
The numbers back it up, too.
Luck has a quarterback rating of 77.1 this season. That's good enough for the fourth highest in the league and is more than an 18-percent increase from last season.
Need further proof that Luck is clearly ahead of his class? Check out the QBR and team record with second-year quarterbacks this season.
RG III's QBR has dropped from 73.2 to 29.1 since last season.
Here are a few more tidbits on why Luck is having a better overall season.
His 88.4 QBR in the fourth quarter is third behind only
Chicago Bears
quarterback
Jay Cutler
(98.6) and
Denver Broncos
quarterback
Peyton Manning
(93.0). Luck has led the Colts to two fourth quarter comebacks this season.
Luck's completion percentage has increased to 62.2 percent, up from 54.1 percent last season. He's been able to complete a higher percentage because the Colts aren't relying on him to beat teams with his arm. They're the fourth best rushing team in the league.
Luck still likes to fling the ball down field. Twenty-five percent of his attempts have been for 15 yards or longer, that's barely less than the 27.1 percent he attempted last season. Luck is doing a better job of completing passes within 15 yards of the line of scrimmage. He's gone from 58.9 percent as a rookie to completing 68.9 percent of his attempts within 15 yards of the line of scrimmage this season.
October, 6, 2013
10/06/13
8:24
PM ET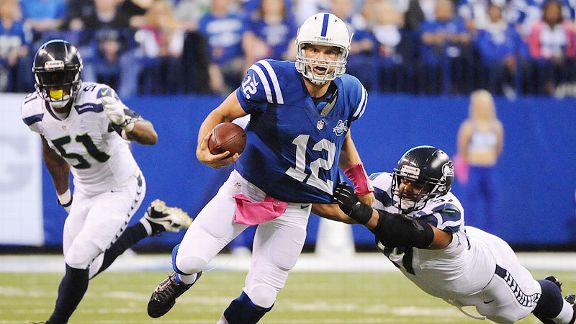 Jonathan Moore/Getty ImagesQB Andrew Luck utilized a solid fourth-quarter plan, plus a little luck, to lift his Colts over Seattle.
INDIANAPOLIS --
Indianapolis Colts
receiver
T.Y. Hilton
, a man of few words when a microphone or tape recorder is in his face, couldn't stop talking when asked about the player responsible for getting him the ball.
"It always helps having a guy like
Andrew [Luck]
," Hilton said. "He can do it both ways. On the ground. In the air. He's so smart. He sees what the defense is doing. He's smart. He's strong. There's nothing he can't do."
Hilton would have kept talking about "12" if not for his desire to head home after the Colts handed the
Seattle Seahawks
their first loss of the season,
34-28
, at Lucas Oil Stadium on Sunday afternoon.
And in what's become typical Luck fashion, he did it in comeback style.
Sunday was the ninth fourth-quarter comeback by Luck in only 21 NFL games. Yes, nine of the Colts' 15 victories over the past two seasons have been been come-from-behind wins led by the second-year quarterback.
Jake Plummer
is the only other quarterback who can say he has nine fourth-quarter comebacks in his first two seasons. Luck still has 11 more games this season to top Plummer.
"That's a good question," Luck said when asked if he savors the come-from-behind victories. "Maybe there's something special about the close ones. A win is a win. I'm sure you ask every guy in the locker room and they're happy with a win."
That, too, is typical Luck. He was not interested in talking about his individual success. It's all about what's best for the team.
Luck took another step Sunday in distancing himself from the rest of the quarterbacks taken in his draft class. Washington's
Robert Griffin III
, the player taken right behind Luck, led the Redskins to the playoffs last season, but he has to prove he can last a full season and be just as mobile after having knee surgery in January.
Seattle's
Russell Wilson
is the only other quarterback from that 2012 class to lead his team to the playoffs last season.
So Sunday was more than the Colts trying to give the Seahawks their first loss of the season. The subplot was whether Wilson could outplay Luck to close the gap between the two of them.
Wilson put on a show -- throwing for 210 yards and running for another 102 yards -- but Luck was the last one standing, finishing 16-of-29 for 229 yards and two touchdowns.
"His last name fits the bill," Colts linebacker
Robert Mathis
said about Luck. "I'm glad he's on my team."
The two were neck and neck in the passing game for more than three quarters.
Luck and Wilson had identical numbers of 15-of-27 for 210 yards passing at one point in the fourth quarter.
Seattle's stingy defense, seven fourth-quarter points allowed all season, or Luck pulling off another comeback?
Something had to give.
Luck, according to right tackle
Gosder Cherilus
, entered the huddle on the final play of the third quarter and told them "let's go get this."
The Colts went on a 14-play, 86-yard drive that ended with
Donald Brown
scoring from 3 yards out. Luck was 5-of-7 on the drive. His best throw, though, came when he threw back across his body to find
Reggie Wayne
for a two-point conversion and 31-28 lead.
"Truth is, we know we have to do our part because we know he's going to do his part," Cherilus said. "We know the kid has major heart. As long as we do our part -- I'm talking about all 10 of us -- we know he'll do his. It's one of those things where we keep playing and keep going we'll be fine with him leading the way."
The Colts were stuck in idle on their first three offensive series. They were three and out each series and Luck was 5-of-13 for 97 yards in the first half. Seventy-three of those yards came on a touchdown pass to Hilton.
Luck used the snap count more and got some help in the running game in the second half to help overcome their first-half performance. He was 11-of-16 for 132 yards and a touchdown in the second half.
"He just wills this team to a victory," Colts coach Chuck Pagano said. "He's unbelievable. He's able to stick to the process. It doesn't matter what the score is, what the situation is, the guy just finds a way to make plays, finds a way to get out of the pick, finds a way to extend. Obviously, the guys believe in him. We can jump on his shoulders, jump on his back."
Seahawks cornerback
Richard Sherman
added, "He executed down the stretch. That's all that counts."
Seattle's secondary, the best in the league, has been rock solid all season, but that didn't stop Luck from taking shots against them.
He was 4-of-5 for 140 yards and two touchdowns on passes of at least 15 yards.
"Against that team? Extremely difficult," Pagano said. "That's Andrew being Andrew. We're very lucky -- no pun intended -- to have him."
September, 19, 2013
9/19/13
6:00
PM ET
INDIANAPOLIS – It was no secret that the
Indianapolis Colts
had their sights set on quarterback
Andrew Luck
as the No. 1 overall pick in the 2012 draft and
Robert Griffin
III as their second option if for some reason owner Jim Irsay and the rest of the front office changed their mind at the last minute.
But that still didn't stop the Colts from doing their research on running back
Trent Richardson
in that draft. Richardson ended up going third to the
Cleveland Browns
.
"You do your due diligence," Colts coach Chuck Pagano said. "Just like we did on the quarterback that went No. 2 to Washington. Our scouts and (general manager) Ryan (Grigson), our entire scouting staff studies everybody. So we knew this kid inside and out.
"We made it known what direction we were going, but you never know what's going to happen. So you make sure you know everything about everybody that's got a possibility of being picked up here."
Pagano, the
Baltimore Ravens
defensive coordinator at the time, originally met Richardson when he went down to Alabama to spend some time with coach Nick Saban and his staff during the NFL lockout two years ago.
All the reviews at the time were positive about Richardson's personality and worth ethic. That's why Pagano got excited when Grigson mentioned the possibility of acquiring Richardson earlier this week.
"Anytime you have an opportunity and a name like that pops up, number three overall pick in the same draft as Andrew, right behind Andrew, RG (III), obviously your ears perk up," Pagano said. "There's a certain amount of excitement level. You're kind of like, 'Are you being serious? Are you messing with me on this deal?'"
September, 12, 2013
9/12/13
12:01
PM ET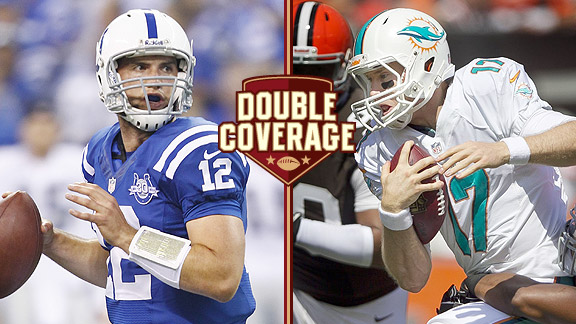 Getty ImagesSecond-year quarterbacks Andrew Luck and Ryan Tannehill face off in Indianapolis on Sunday.
The
Miami Dolphins
and
Indianapolis Colts
are two undefeated teams trying to establish themselves in the AFC. Both have young quarterbacks with promise and solid second-year head coaches.
Indianapolis beat Miami last year, 23-20, in an exciting matchup in which quarterbacks
Andrew Luck
and
Ryan Tannehill
both played well.
But who will win this season's matchup? ESPN.com Colts reporter Mike Wells and ESPN.com Dolphins reporter James Walker weigh in.
Wells:
Sunday will come down to which quarterback from the Class of 2012 -- Luck or Tannehill -- can limit his mistakes. And I'm sure we'll talk about them before we end this conversation, but before that, James, we have to address the
Mike Wallace
situation. It seems like Wallace was being selfish by making Sunday's win over Cleveland all about him because he only had one catch. For a Dolphins team that's had only one winning season since 2006, Sunday should have been about getting a nice road victory to open the season. Not about Wallace. I know Wallace cleared up his comments Monday, but it shouldn't have gotten to that point. Is that a sign of things to come out of Wallace, the $60-million man?
Walker:
The situation was not ideal, but I thought the Dolphins did a masterful job putting the Wallace issue to bed during the week. Miami's coaches supported Wallace's competitiveness and desire to make an impact. Wallace also clarified that he was more upset at himself, and I expect he will be extra motivated to have a big game. Speed kills in domes, and I don't think there will be a faster player in Sunday's game than Wallace. Look for Miami to find more creative ways to get him the football in the event the Colts consistently double Wallace, which was Cleveland's strategy. Speaking of strategy, I was surprised to see how much Indianapolis struggled last week with the
Oakland Raiders
. The Colts trailed Oakland at home with less than 6 minutes left in the game. Was this first-game jitters and what needs to be fixed?
Wells:
You weren't the only one surprised. I think most people were, especially when you look back at the Colts' first two offensive series. They scored with ease and all indications pointed to Luck having a special day after he started 11-of-11 with two touchdowns. But you have to give credit to Oakland quarterback
Terrelle Pryor
. He did an excellent job creating with his feet. He kept the Colts off balance and his team in the game until Luck became the hero. Tannehill is a more traditional quarterback. Luck,
Robert Griffin
III and
Russell Wilson
are the quarterbacks everybody talks about from 2012 -- and they should be talked about after they led their teams to the playoffs -- but do you get a sense down there in South Florida that Tannehill has the tools and work ethic to close gap on the three QBs I just mentioned?
Walker:
I really like Tannehill's tools, Mike. He can make all the throws, has good mobility and feet as a former college wide receiver, and he doesn't get rattled often. Those are all qualities you want in a quarterback. He looks the part, but I still need to see him win consistently. What was interesting about last week's win over Cleveland is Tannehill took over the game in the third and fourth quarters. Last year Tannehill played not to lose games. Last week Tannehill went out and won the game. That's probably the biggest thing that separates Tannehill from Luck and other members you mentioned from the 2012 quarterback draft class. Tannehill can certainly learn from Luck and his fourth-quarter comebacks. Mike, where is Luck in his development in Year 2?
Wells:
Everybody talks about sophomore slumps with players. You should go ahead and look elsewhere because that won't be the case with Luck. He refuses to settle. The only thing he wants to talk about is getting better. That's what you like to hear from your franchise player. Luck likely won't pass for as many as yards this season because the Colts are putting an emphasis on the running game with
Vick Ballard
and
Ahmad Bradshaw
. Those two players should take a significant load off Luck's shoulders. But it won't be easy for Luck this weekend. Miami's defense looked pretty good last week against the Browns. Six sacks and three interceptions. What makes the defense so dangerous?
Walker:
The Dolphins focused in the offseason and training camp on forcing turnovers and pressuring the quarterback. The work clearly paid off with the stats you mentioned. But perhaps the most impressive stat is Miami hit Browns quarterback
Brandon Weeden
16 times, which included the six sacks. The Dolphins' front seven is both fast and physical. They have a deep rotation on the defensive line. For example, No. 3 overall pick
Dion Jordan
is a backup who only gets limited snaps. Dolphins defensive coordinator Kevin Coyle has done a good job and really likes the group he has. I think the best way for Miami to beat the Colts is the rattle Luck, force turnovers and try to make it a low-scoring game.
September, 9, 2013
9/09/13
11:00
PM ET
INDIANAPOLIS – In at a time when
Robert Griffin III
,
Russell Wilson
and
Colin Kaepernick
are the players rightfully talked about the most when it comes to mobile quarterbacks, there's one in Indianapolis who doesn't mind using his feet to make things happen.
That's understandable, since he technically is a drop-back passer. But Colts quarterback
Andrew Luck
can be called a mobile quarterback, too. He has no problem tucking the ball and taking off with it.
Just ask the
Oakland Raiders
.
With his receivers covered and the middle of the field wide open midway through the fourth quarter Sunday, Luck took off, got a good block from
Darrius Heyward-Bey
and went left into the end zone for what turned out to be the game-winning touchdown.
"I don't think it's necessarily a strong suit, but I've always been taught going back to college, even high school, if you can get a first down with your legs as a quarterback, that can be a good thing," Luck said about his mobility. "It can be somewhat demoralizing for a defense in a sense."
Luck finished with 38 yards rushing -- half of which came on his touchdown jaunt. He proved on one of his runs that he knows how to elude defenders. Luck got free from Raiders linebacker
Kevin Burnett
's attempt to wrap him up and ran for nine yards and a first down.
Luck has rushed for 293 yards and six touchdowns in his young career.
While teams like Oakland, Seattle, San Francisco and Washington run the read-option offense, Luck's runs aren't by design. The Colts don't have any designed runs for their quarterback in the playbook.
"The guy, he's a pro-style, drop-back pocket passer," coach Chuck Pagano said. "But if things open up and people play tight coverage on you and there's nowhere to go with the ball, instinctively that's what you're going to do."
Luck doesn't want to be hanging onto the ball. His preference is to hand it off or find an open receiver downfield.
"I want the ball out of my hands 99.99 percent of the time," he said. "The ball doesn't need to be in my hands all the time, per se. In certain situations when it opens up like that, you do run."
The last thing anybody wants is for the Colts' franchise player to get injured.
Luck has admitted he's not the most graceful when it comes to sliding to the ground. He also wants to fight for every yard he can get.
"Instincts take over, and he's an instinctive football player," Pagano said. "But we're going to tell him, 'You get close to the sidelines, throw it away, run out of bounds, slide,' all those things. We talk to him daily about it."
September, 4, 2013
9/04/13
9:45
PM ET
INDIANAPOLIS – Bill Polian spent 15 years in the
Indianapolis Colts
' front office. But despite being with the franchise all that time, Polian didn't cut them any slack when it came to
revealing his list of playoff contenders
.
Polian, now an analyst at ESPN, listed five legitimate contenders, five teams with question marks and five teams that missed the playoffs last season but have a chance to make it this season.
Here's his list:
Legitimate contenders
San Francisco
Seattle
Atlanta
New England
Cincinnati
Teams with question marks
Denver
Baltimore
Green Bay
Washington
Houston
Teams on the rise
Kansas City
Detroit
Carolina
New Orleans
Chicago
I was a little surprised to see Denver listed under "question marks" and Cincinnati as a contender over
Peyton Manning
and crew. But as Polian notes, the Broncos lack a pass rush with
Von Miller
suspended. He adds, "If the Broncos can solve that, they have a heck of chance to win the Super Bowl."
The Redskins are also on the list of "question marks." They'll probably stay there until
Robert Griffin III
removes all doubt about his knee.
The Colts obviously aren't listed as one of the rising teams because they made the playoffs last season. And you can't fault Polian for not listing them as a contender or even a team with question marks.
August, 26, 2013
8/26/13
3:30
PM ET
Colts quarterback
Andrew Luck
joined "Mike & Mike" on Monday morning to talk about a wide range of topics.
Luck on surprising many around the league by winning 11 games last season: "Inside the locker room, inside our building, there wasn't too much surprise. Not to say we expected to win every game, but we worked hard and we prepared."
On being the leader: "I still defer to
Reggie Wayne
as sort of the leader of our offense."
Don't ever refer to Luck as Andy if you run into him on the street. He may not respond to you because he's rarely called that. "I probably get called Luck more than I get called Andrew, but not Andy."
Luck on the 2012 draft class that also featured
Robert Griffin
III,
Russell Wilson
,
Ryan Tannehill
and
Brandon Weeden
: "Wish all the best for them unless we have to play them."
Check out the rest of Luck's interview with "
Mike & Mike
."
August, 26, 2013
8/26/13
1:52
PM ET
INDIANAPOLIS -- The latest addition of the
top 100 offensive players
(41-50) in the league is out.

The three rookie quarterbacks who led their teams to the playoffs last season are in today's ranking.
Colts quarterback
Andrew Luck
is ranked the highest at 41. Washington's
Robert Griffin
III is at 46, followed by Seattle's
Russell Wilson
at 47.
Luck is the first Colts offensive player to be ranked in the top 100. Defensive end
Robert Mathis
is ranked 77
th
.
Here's a look at the stats of the three from last season
Luck: 339-of-627, 4,374 yards, 23 TD, 18 INT
Griffin: 258-of-393, 3,200 yards, 20 TD, 5 INT
Wilson: 252-of-393, 3,118 yards, 26 TD, 10 INT
Which quarterback do you think should be ranked the highest?