Indianapolis Colts:

ryan tannehill
February, 3, 2014
Feb 3
2:10
PM ET
INDIANAPOLIS --
Russell Wilson
of the
Seattle Seahawks
wasn't as heralded as the rest of the quarterbacks taken in the 2012 draft.
He was a third-round pick who was considered too small to have much of an impact on an NFL team. He wasn't even supposed to start.
Matt Flynn
was supposed to be the Seahawks' starting quarterback.
But almost 22 months after that draft, Wilson is the first quarterback of his class to win a Super Bowl.
Did he dazzle or dominate the Super Bowl?
Not even close. Seattle's defense did those things. But Wilson still has a ring.
[+] Enlarge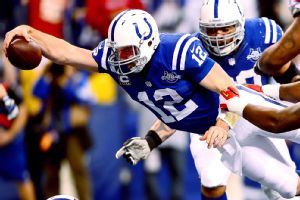 Andrew Weber/USA TODAY SportsAndrew Luck has won nearly as many games as Russell Wilson without as strong a supporting cast as Wilson enjoys in Seattle.
That brings into question: Is Wilson now the best quarterback of that group?
Andrew Luck
of the
Indianapolis Colts
has the complete package.
Robert Griffin III
of the
Washington Redskins
has the hype -- and the commercials.
Ryan Tannehill
of the
Miami Dolphins
came into his own in his second season. You also can't forget about
Nick Foles
of the
Philadelphia Eagles
,
Kirk Cousins
of the Washington Redskins and
Brandon Weeden
of the
Cleveland Browns
, who were also picked in 2012.
"I think Luck far and away is No. 1 in that class still," ESPN NFL Insider Matt Williamson said.
A lot of NFL players agree with Williamson. That's why Luck finished second to only Denver's
Peyton Manning
as the player they would want to start a team with.
This is no knock on Wilson because he's the second best quarterback in that group behind Luck. Wilson has already won 24 games and the all-important Super Bowl.
It should be noted, though, that Wilson doesn't have to shoulder the load the same way Luck does. He has a dominant defense and power running game supporting his arm and swift feet.
The Colts are aching to have both of those things to go with Luck.
"Wilson really hasn't played all that well over the last month and a half or so and they were still winning," Williamson said. "He has a great roster around him. And the Seahawks are smart, they don't ask him to do a ton. Even [Sunday], he played well, but he wasn't the best player on the field. For the Colts to win, Luck has to be the best player on the field, and he often is."
Take Luck off the Colts and there's no way -- and I sincerely mean no way -- that they would have won 22 regular-season games and a playoff game the past two seasons. Indianapolis would likely be preparing for another high draft pick because of the makeup of its roster and the injuries it dealt with this season.
That's a compliment to how good of a player Luck is and his value to the team.
"Look at the Colts' roster, they have a ton of flaws, not to mention somewhat questionable coaching this year," Williamson said. "They tried to shove [Trent] Richardson into a round-hole type of deal. Losing [Reggie] Wayne, losing [Dwayne] Allen and Luck has a lot more on his plate then Wilson and the rest of those young quarterbacks. And [Luck's] further along, too. He sees the field really well. All those things people said about him right out of school. He's just rare. He's not like everybody else."
October, 10, 2013
10/10/13
8:00
AM ET
INDIANAPOLIS -- Not that any further proof is necessary, but quarterback
Andrew Luck
continues to prove the
Indianapolis Colts
made the right decision in selecting him as the No. 1 overall pick.
The numbers back it up, too.
Luck has a quarterback rating of 77.1 this season. That's good enough for the fourth highest in the league and is more than an 18-percent increase from last season.
Need further proof that Luck is clearly ahead of his class? Check out the QBR and team record with second-year quarterbacks this season.
RG III's QBR has dropped from 73.2 to 29.1 since last season.
Here are a few more tidbits on why Luck is having a better overall season.
His 88.4 QBR in the fourth quarter is third behind only
Chicago Bears
quarterback
Jay Cutler
(98.6) and
Denver Broncos
quarterback
Peyton Manning
(93.0). Luck has led the Colts to two fourth quarter comebacks this season.
Luck's completion percentage has increased to 62.2 percent, up from 54.1 percent last season. He's been able to complete a higher percentage because the Colts aren't relying on him to beat teams with his arm. They're the fourth best rushing team in the league.
Luck still likes to fling the ball down field. Twenty-five percent of his attempts have been for 15 yards or longer, that's barely less than the 27.1 percent he attempted last season. Luck is doing a better job of completing passes within 15 yards of the line of scrimmage. He's gone from 58.9 percent as a rookie to completing 68.9 percent of his attempts within 15 yards of the line of scrimmage this season.
September, 16, 2013
9/16/13
11:50
AM ET
A review of five hot issues from the
Indianapolis Colts
' 24-20
loss
to the
Miami Dolphins:
Problems going deep for Luck:
Colts quarterback
Andrew Luck
's best deep completion came when he connected with receiver
T.Y. Hilton
for a 47-yard gain along the right sideline in the second quarter. But that was about it for Luck when it came to throwing the ball 10 yards or more downfield. He was 7-of-20 on passes of at least 10 yards Sunday. He was only 1-of-4 for 18 yards when it came to attempting a pass to
Reggie Wayne
for more than 10 yards. One of those attempts was intercepted by Dolphins cornerback
Brent Grimes
in the end zone in the fourth quarter. Wayne, who stuck up for his quarterback, said he needs to do a better job of being a defender in those situations.
[+] Enlarge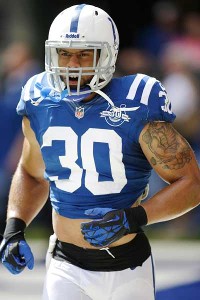 AJ Mast/AP PhotoSafety LaRon Landry has shown brilliant flashes of speed in both of the Colts' games this season.
Bradshaw wasn't bad:
The stat sheet reads as though Colts running back
Ahmad Bradshaw
had an average game based off his total yards. He ran for 65 yards on 15 attempts. What you had to like about Bradshaw, though, is that he ran hard and with a purpose. He didn't spend time dancing around trying to find holes; he was always looking to go forward. The loss of
Vick Ballard
will hurt the Colts this season (just recall
Donald Brown
's attempt to "block" on fourth down Sunday), but Bradshaw is healthy and ready to handle the bulk of the carries in the backfield.
No power when the opportunity presented itself:
Since the start of training camp, the Colts have been emphasizing the word "power" when talking about their running game. There was a perfect opportunity to put that on display on their opening drive Sunday. The Colts had a second-and-1 from Miami's 34 when they used a shotgun formation and Luck tried to hit
Darrius Heyward-Bey
in the end zone. Luck had to avoid the rush and missed Heyward-Bey on another attempt on third down. The Colts could have redeemed themselves by giving the ball to Bradshaw on fourth down, but coach Chuck Pagano pulled the safe card out and had kicker
Adam Vinatieri
attempt a 52-yard field goal. The kick was no good, hitting off the left upright.
Landry has strength and speed
: Colts safety
LaRon Landry
is 2-for-2 in catching a player from behind and saving a touchdown. He did it against Oakland when he caught tight end
Jeron Mastrud
on his 41-yard catch on the Raiders' final drive of the game. Then Landry was at it again Sunday when he caught
Charles Clay
on a 67-yard catch from Miami quarterback
Ryan Tannehill
. Landry was forced to chase Clay down from behind because
Antoine Bethea
gambled and went for the interception. Landry has led or tied the team in tackles in the first two games. He deserves credit for the tackles, but it's not a good sign when your safety is leading the team in that category.
Why was Brown in the game?
The most embarrassing play of the game was on the Colts' final offensive snap when Brown tried to block the blitzing
Philip Wheeler
. Wheeler threw Brown to the side like a bag of potatoes and sacked Luck. Pagano was asked whether Ballard would have been in the game on that play if healthy. "He was our third-down back before he got injured," the coach said. Pagano was asked a follow-up question about it. And again, he said, "he was our third-down back before he got injured." It was like Pagano knew Brown shouldn't have been in the game, but he didn't want to throw the running back under the bus. It won't be shocking news when Bradshaw is in the next time the Colts are put in that position. All Pagano and his staff have to do is look at the final offensive snap Sunday if they need a reminder.
September, 16, 2013
9/16/13
10:10
AM ET
September, 15, 2013
9/15/13
6:18
PM ET
INDIANAPOLIS --
Observed in the locker room after the Indianapolis Colts' 24-20 loss to Miami Dolphins.
Heyward-Bey
Heyward-Bey to be checked out:
Colts receiver
Darrius Heyward-Bey
is scheduled to get an MRI on his shoulder. He was injured when he went up in traffic and came down hard deep in Miami territory in the second quarter. He left the game and didn't return. "We'll see what happens," Heyward-Bey said.
An empty locker room:
Many of the Colts hung around the locker room for quite a while after their Week 1 victory over Oakland. That wasn't the case Sunday. The players quickly addressed the media and headed out the door after they gave up too many big plays to quarterback
Ryan Tannehill
and the Miami offense.
Hope the officials are right:
Colts receiver
Reggie Wayne
said he hopes the officials didn't make mistake on the illegal-shift penalty they called on him in the third quarter that took away what would have been tight end
Coby Fleener
's second touchdown catch. The Colts ended up having to settle for a 38-yard
Adam Vinatieri
field goal. "I hope that they're right, 'cause if they're wrong, it's probably going to be a tough pill to swallow," Wayne said.
September, 13, 2013
9/13/13
8:00
AM ET
INDIANAPOLIS – The
Indianapolis Colts
have gone from facing a mobile, do-whatever-it-takes-to-make-a-play quarterback in Oakland's
Terrelle Pryor
in Week 1 to the Week 2 prospect of a more traditional quarterback in Miami's
Ryan Tannehill
.
Tannehill
"(Tannehill) can still run," Colts defensive coordinator Greg Manusky said. "He's a guy that still feels the pocket. He has a good pocket sense. I didn't know (Pryor) was that dang big. He was fast, too."
Tannehill, who is trying to close the gap between him and some of the rest of the quarterbacks drafted in 2012, has the ability to create with his feet when he has to, but he beat the
Cleveland Browns
with his arm last weekend. He was 24-of-38 for 272 yards and a touchdown.
"He has the arm to make all the throws," Colts coach Chuck Pagano said. "He's got some skill guys around obviously that can make plays. Given time, he can burn you."
All the Colts have to do is look back at last season's game against the Dolphins if they need a reminder about Tannehill. The then-rookie passed for 290 yards and a touchdown in Miami's loss to the Colts.
"He's more of a pro-style quarterback," Colts cornerback
Vontae Davis
said. "So right now we got our hands full against a good Miami team that's coming into Indy."
Davis and
Greg Toler
will get their first test of the season against receivers
Mike Wallace
and
Brian Hartline
.
You can expect Miami to try to get the ball to the speedy Wallace at receiver. My ESPN.com colleague James Walker, who covers the Dolphins, wrote in our "
Double Coverage" breakdown
Thursday that Wallace will be the fastest player on the field. Wallace was a hot topic after he got frustrated and whined over only catching one pass against Cleveland. He cleared up his comments to the Miami media Monday.
"Mike Wallace, he's a stretch-the-field guy," Toler said. "He wants that deep ball a lot, so we have to keep him from that. He doesn't want short passes, pretty much."
Hartline was Tannehill's favorite target last week. He caught nine passes for 114 yards and a touchdown against the Browns.
"Everybody knows Mike can run," Davis said. "He's a fast guy, got a lot of ability and I'm pretty sure they're looking forward to using Mike to make different mismatches. We got a challenge ahead of us with Mike Wallace and also Brian Hartline."
September, 12, 2013
9/12/13
12:01
PM ET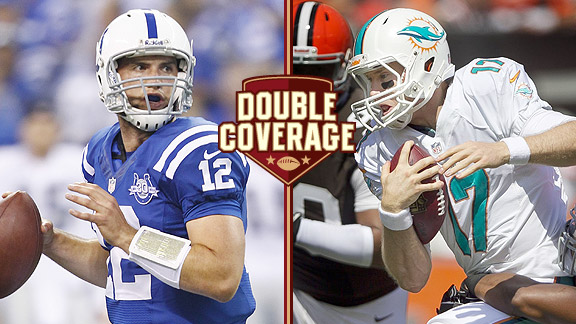 Getty ImagesSecond-year quarterbacks Andrew Luck and Ryan Tannehill face off in Indianapolis on Sunday.
The
Miami Dolphins
and
Indianapolis Colts
are two undefeated teams trying to establish themselves in the AFC. Both have young quarterbacks with promise and solid second-year head coaches.
Indianapolis beat Miami last year, 23-20, in an exciting matchup in which quarterbacks
Andrew Luck
and
Ryan Tannehill
both played well.
But who will win this season's matchup? ESPN.com Colts reporter Mike Wells and ESPN.com Dolphins reporter James Walker weigh in.
Wells:
Sunday will come down to which quarterback from the Class of 2012 -- Luck or Tannehill -- can limit his mistakes. And I'm sure we'll talk about them before we end this conversation, but before that, James, we have to address the
Mike Wallace
situation. It seems like Wallace was being selfish by making Sunday's win over Cleveland all about him because he only had one catch. For a Dolphins team that's had only one winning season since 2006, Sunday should have been about getting a nice road victory to open the season. Not about Wallace. I know Wallace cleared up his comments Monday, but it shouldn't have gotten to that point. Is that a sign of things to come out of Wallace, the $60-million man?
Walker:
The situation was not ideal, but I thought the Dolphins did a masterful job putting the Wallace issue to bed during the week. Miami's coaches supported Wallace's competitiveness and desire to make an impact. Wallace also clarified that he was more upset at himself, and I expect he will be extra motivated to have a big game. Speed kills in domes, and I don't think there will be a faster player in Sunday's game than Wallace. Look for Miami to find more creative ways to get him the football in the event the Colts consistently double Wallace, which was Cleveland's strategy. Speaking of strategy, I was surprised to see how much Indianapolis struggled last week with the
Oakland Raiders
. The Colts trailed Oakland at home with less than 6 minutes left in the game. Was this first-game jitters and what needs to be fixed?
Wells:
You weren't the only one surprised. I think most people were, especially when you look back at the Colts' first two offensive series. They scored with ease and all indications pointed to Luck having a special day after he started 11-of-11 with two touchdowns. But you have to give credit to Oakland quarterback
Terrelle Pryor
. He did an excellent job creating with his feet. He kept the Colts off balance and his team in the game until Luck became the hero. Tannehill is a more traditional quarterback. Luck,
Robert Griffin
III and
Russell Wilson
are the quarterbacks everybody talks about from 2012 -- and they should be talked about after they led their teams to the playoffs -- but do you get a sense down there in South Florida that Tannehill has the tools and work ethic to close gap on the three QBs I just mentioned?
Walker:
I really like Tannehill's tools, Mike. He can make all the throws, has good mobility and feet as a former college wide receiver, and he doesn't get rattled often. Those are all qualities you want in a quarterback. He looks the part, but I still need to see him win consistently. What was interesting about last week's win over Cleveland is Tannehill took over the game in the third and fourth quarters. Last year Tannehill played not to lose games. Last week Tannehill went out and won the game. That's probably the biggest thing that separates Tannehill from Luck and other members you mentioned from the 2012 quarterback draft class. Tannehill can certainly learn from Luck and his fourth-quarter comebacks. Mike, where is Luck in his development in Year 2?
Wells:
Everybody talks about sophomore slumps with players. You should go ahead and look elsewhere because that won't be the case with Luck. He refuses to settle. The only thing he wants to talk about is getting better. That's what you like to hear from your franchise player. Luck likely won't pass for as many as yards this season because the Colts are putting an emphasis on the running game with
Vick Ballard
and
Ahmad Bradshaw
. Those two players should take a significant load off Luck's shoulders. But it won't be easy for Luck this weekend. Miami's defense looked pretty good last week against the Browns. Six sacks and three interceptions. What makes the defense so dangerous?
Walker:
The Dolphins focused in the offseason and training camp on forcing turnovers and pressuring the quarterback. The work clearly paid off with the stats you mentioned. But perhaps the most impressive stat is Miami hit Browns quarterback
Brandon Weeden
16 times, which included the six sacks. The Dolphins' front seven is both fast and physical. They have a deep rotation on the defensive line. For example, No. 3 overall pick
Dion Jordan
is a backup who only gets limited snaps. Dolphins defensive coordinator Kevin Coyle has done a good job and really likes the group he has. I think the best way for Miami to beat the Colts is the rattle Luck, force turnovers and try to make it a low-scoring game.
August, 26, 2013
8/26/13
3:30
PM ET
Colts quarterback
Andrew Luck
joined "Mike & Mike" on Monday morning to talk about a wide range of topics.
Luck on surprising many around the league by winning 11 games last season: "Inside the locker room, inside our building, there wasn't too much surprise. Not to say we expected to win every game, but we worked hard and we prepared."
On being the leader: "I still defer to
Reggie Wayne
as sort of the leader of our offense."
Don't ever refer to Luck as Andy if you run into him on the street. He may not respond to you because he's rarely called that. "I probably get called Luck more than I get called Andrew, but not Andy."
Luck on the 2012 draft class that also featured
Robert Griffin
III,
Russell Wilson
,
Ryan Tannehill
and
Brandon Weeden
: "Wish all the best for them unless we have to play them."
Check out the rest of Luck's interview with "
Mike & Mike
."