Indianapolis Colts:

Steve Smith
April, 8, 2014
4/08/14
8:00
AM ET
INDIANAPOLIS -- The
Indianapolis Colts
have said a number of times that they know about the moves other teams in the NFL have made during free agency. They also noted that they're not letting other team's moves dictate what they do.
"Everybody's going to approach free agency and try to better their teams however they feel necessary," coach Colts coach Chuck Pagano said. "We really focus on what we have to do to get better. We're not really concerned. We keep an eye on things, certainly in your own conference. But our focus is on us trying to make ourselves better."
Denver and New England have been two of the most talked about teams when it comes to free-agent moves. But the Broncos and Patriots aren't the only two opponents the Colts face in 2014 that have been active in free agency. Washington and Baltimore have been active, too, with the addition of receivers
DeSean Jackson
and
Steve Smith
, respectively.
Here's a look at each of the Colts' 2014 opponents and the free agents they've signed that were with other teams last season with at least a 'C' grade by Bill Polian in his FA tracker.
New England
Key additions: CB
Darrelle Revis
, CB
Brandon Browner
, WR
Brandon LaFell
Denver
Key additions: CB
Aqib Talib
, S
T.J. Ward
, C
Will Montgomery
, DE
DeMarcus Ware
, WR
Emmanuel Sanders
Pittsburgh
Key additions: S
Mike Mitchell
, RB
LeGarrette Blount
, WR
Darrius Heyward-Bey
, LB
Arthur Moats
Baltimore
Key additions: WR Steve Smith, TE
Owen Daniels
Cleveland
Key additions: S
Donte Whitner
, WR
Nate Burleson
, LB
Karlos Dansby
, TE
Jim Dray
, G
Paul McQuistan
, RB
Ben Tate
Cincinnati
Key additions: S
Danieal Manning
, OT
Marshall Newhouse
Dallas
Key additions: None
New York Giants
Key additions: OT
Charles Brown
, RB
Rashad Jennings
, CB
Dominique Rodgers-Cromartie
, CB
Walter Thurmond
, DE
Robert Ayers
, TE
Kellen Davis
, G
John Jerry
, OL
Geoff Schwartz
Washington
Key additions: DT
Jason Hatcher
, WR DeSean Jackson, DE
Clifton Geathers
, LB
Adam Hayward
, LB
Akeem Jordan
, WR
Andre Roberts
, LB
Darryl Sharpton
Philadelphia
Key additions: OT
Andrew Gardner
Jacksonville
Key additions: DE
Red Bryant
, DE
Chris Clemons
, RB
Toby Gerhart
, DE
Ziggy Hood
Houston
Key additions: S
Chris Clemons
, RB
Andre Brown
, S
Kendrick Lewis
Tennessee
Key additions: WR
Dexter McCluster
, OT
Michael Oher
, DE
Al Woods
, LB
Wesley Woodyard
March, 17, 2014
3/17/14
8:00
AM ET
The
Carolina Panthers
made an offer to
Hakeem Nicks
thinking they had a legitimate shot to sign the former
New York Giants
receiver.
That was until the
Indianapolis Colts
stepped in and not only offered Nicks a one-year contract worth up to $5.5 million, but also an opportunity to be on the receiving end of passes from quarterback
Andrew Luck
and be a part of a team that could be one of the best in the AFC next season.
ESPN.com Panthers reporter David Newton and Colts reporter
Mike Wells
talk about Nicks' decision to sign with Indianapolis
[+] Enlarge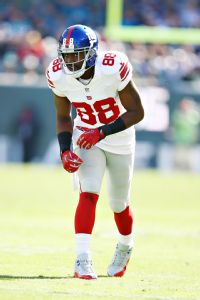 Al Bello/Getty ImagesHakeem Nicks chose the Indianapolis Colts over the Carolina Panthers.
Wells:
David, Carolina quarterback
Cam Newton
proved last season that he's one of the best young quarterbacks in the league. But Luck has proven in just two years -- with 22 victories -- that he has the complete package: arm, foot speed and mental toughness. So it seems Nicks made the right decision to sign with the Colts. What are your thoughts?
Newton:
Totally agree. When Nicks picked Indy over Carolina I mentioned one of the reasons may have been Luck was the more proven quarterback. It didn't sit well with Carolina fans. My argument was simple. Two trips to the playoffs to one. But the bigger reason is Nicks will be surrounded by proven receivers in Indy. Maybe that would have happened at Carolina, but at the time of the decision the Panthers didn't have a receiver on its roster with an NFL catch. When
Brandon LaFell
signed with New England on Saturday that guaranteed Newton won't have any of his top four wide receivers from last season. At Carolina, Nicks risked the possibility of being double-teamed because there wasn't anybody proven to take coverage away. He would have been the clear-cut No. 1, and I'm not sure he's a No. 1. Luck also has a more established offensive line. So when I said Luck was more proven there were other factors around that.
Having said that, if you were starting a team from scratch would you pick Luck or Newton?
Wells:
I like how Newton played last season, but I've still got to give Luck the edge over him and players such as Seattle's
Russell Wilson
and San Francisco's
Colin Kaepernick
. Luck's résumé speaks for itself. He led the Colts to an 11-5 record during a rookie season when his coach, Chuck Pagano, missed 12 games while battling cancer. He repeated that record last season while losing five offensive starters by Week 7. Luck has led the Colts on 11 fourth quarter or overtime game-winning drives in his young NFL career. Should I continue? It also helps that Luck's Colts have already beaten the Seahawks and 49ers. Maybe you and I can corner Rob Chudzinski somewhere after the season and ask him his thoughts because he obviously coached Newton in Carolina and he's about to coach Luck with the Colts next season.
It seems like the Panthers don't seem to know which direction they're headed with players like receiver
Steve Smith
being released. Am I wrong to think that could sway a free agent's decision?
Newton:
It would have to cast doubt. It certainly casts doubt in my mind. It'll all come down to how convincing general manager Dave Gettleman is on selling his plan. And yes, there's a plan.
Jerricho Cotchery
is coming in for a visit on Monday and
James Jones
says he'd like to play for Carolina. If the Panthers can get a couple of solid veterans -- even if they aren't bona fide No. 1s, and select a dynamic receiver with either their first- or second-round pick, the receiving corps potentially could be better than last season. Even Smith admitted he's not a No. 1 anymore. So for all the grief I've given Gettleman for making a mistake in dumping Smith, in the long run it could work out. I mean, the beef on LaFell last season was he wasn't a bona fide No. 2.
Ted Ginn
Jr. had a nice season, but he had only two catches the year before.
Domenik Hixon
had only one catch that impacted a game. So big picture, they didn't really lose a lot.
So how do you expect Nicks to fit in at Indianapolis? Can he help put Indy over the top?
Wells:
Colts fans are a little leery because there was high hope last year when
Darrius Heyward-Bey
, the No. 7 pick in the 2009 draft, signed a one-year contract the same way Nicks did. Heyward-Bey, to put it as nice as possible, was brutal last season. So brutal that he ended up being demoted to special teams where he actually did a great job downing punts inside the 20-yard line. I think Nicks will fit in nicely because he doesn't have the pressure of being the No. 1 receiver. He simply has to just fit in alongside of fellow receivers
Reggie Wayne
and
T.Y. Hilton
. Tight ends
Dwayne Allen
and
Coby Fleener
are also receiving options for Luck. The fact that Nicks had almost 900 yards receiving last season and that was considered a down year for him is a good thing for the Colts. Luck will find him as long as he can get open.
Newton needs somebody to throw the ball to. What are the Panthers going to do since Smith is gone and Nicks decided playing with the Colts was a better option?
Newton:
As I mentioned above, Cotchery is coming in for a visit and I still believe they'll get Jones. The plan is to find a few bargains and blend them in with a draft pick. Smith would have made a nice No. 2 receiver in this package in my opinion. But from everything I gather Newton won't be heartbroken to see his top receiver gone. Smith has gotten in Newton's face more than a few times the past few years. As much as that may have been needed, there is a belief on the team that Smith might have been a distraction to Newton as the central leader of the offense. It will be interesting to hear how Newton spins it when we finally hear from him.
Now that the Colts have Nicks, what's the rest of their free-agency plans?
Wells:
General manager
Ryan Grigson
has put an emphasis on defense so far. They still need to find a safety to replace
Antoine Bethea
, who signed with San Francisco last week. The interior part of the offensive line could use some help, too. They signed former Dallas center
Phil Costa
last week. The Colts haven't completely shut the door on Cleveland center
Alex Mack
even though it is a longshot that they'll be to get him because the Browns used the transition tag on him. Adding another guard wouldn't be a bad idea, either.
March, 13, 2014
3/13/14
8:45
AM ET
INDIANAPOLIS -- One by one, the options at receiver are starting to get smaller for the
Indianapolis Colts
.
Golden Tate
,
Jacoby Jones
and
Eric Decker
(good luck catching passes from
Geno Smith
or
Mark Sanchez
) are the off the market now, signing with Detroit, Baltimore and the
New York Jets
, respectively.
The Colts have yet to address their issues at receiver. They had depth problems there at the start of last season. They had it when
Reggie Wayne
went down with a torn ACL in Week 7. And they still have depth concerns.
Free agency is only in Day 3, so there's no need to panic, but the Colts can't get through the offseason without adding a veteran receiver. The receiver position is deep in this year's draft, but waiting until then to address it would be a risky move by Indianapolis. Part of the reason behind the concern at receiver is because of the uncertainty of what kind of player Wayne will be once he returns.
Good thing for the Colts the market hasn't dried up for receivers.
Former
New York Giants
receiver
Hakeem Nicks
should be at the top of the Colts' list. The issue could be that Nicks wants a multiyear deal. A one-year contract would be more ideal as some have alluded to because it could be a win-win situation for Nicks and the Colts. It'll allow Nicks to prove it was injuries that slowed him down the past two seasons and not simply lack of production. The Colts get another option for quarterback
Andrew Luck
to throw to for at least a year.
Steve Smith
's days in Carolina are reportedly numbered. Former Green Bay wideout
James Jones
and
Julian Edelman
remain available for the moment.
January, 6, 2014
1/06/14
9:00
PM ET
ESPNBoston.com NFL analyst and former New England Patriot linebacker Tedy Bruschi held
a chat on Monday afternoon
.
I pulled out a few of the questions and answers that involved the Colts.
Question:
Hey Tedy,I keep hearing the talk of Talib on Hilton, and I don't dislike the idea. But considering Talib seemed to have more success on big guys, and sometimes being beaten by Hilton-type guys (Steve Smith of course comes to mind) could you see Belichick and Patricia going a different route and using Ryan or Dennard on Hilton with safety help?
Bruschi:
I do see Talib matched up on Hilton in certain situations throughout the game. The interesting thing about T.Y. Hilton in Pep Hamilton's offense is that he moves around. Do the Patriots want Talib on Hilton if Hilton is lined up in the slot? Usually there are options for double teams with slot receivers. So it all depends on how creative Pep Hamilton wants to be with the Colts' offense. Is it possible that Bill Belichick says to Talib, "You have him no matter where he goes?" It is. But the Patriots usually like to use other players to double-team.
Question:
Tedy,Where does the X-Factor for a Pats victory lie this weekend? Vereen? Blount? Stopping TY Hilton? Pressure on Luck? It seemed from seeing last years game pressure on Luck paid dividends, I know he is more experienced but is this this weeks X-Factor?
Bruschi:
I think the X-factor is going to be LeGarrette Blount. This Colts defense is 26th vs. the run. I think Blount and the power running game can be successful, but watch out for sub runs with Shane Vereen. That's something the Colts have struggled with, as they like to substitute a smaller defensive lineup against multiple-WR sets.
Question:
What's a guy like Austin Collie going through? Being signed, cut, and re-signed can't be easy.
Bruschi:
This guy has had multiple concussions in his past. He's bounced around the league, but this is a case of what players will go through to play this game. I'm sure he's just happy to have the opportunity.
Question:
Do you think if we apply a lot of pressure with different blitzes that would benefit us or is that too risky?
Bruschi:
Andrew Luck is a dangerous quarterback. He does an outstanding job of staying alive in the pocket. Not only that, this is one of the strongest quarterbacks in the NFL. I've seen defenders draped all over him and he still completes a pass downfield. So bringing pressure can be dangerous. If you blitz, you better get there. This guy has a little Ben Roethlisberger in him. He will extend the play and make you pay.
Question:
Is Andrew Luck enough of a threat running with the ball to use a player to spy on him?
Bruschi:
I would say no, although Luck is extremely athletic. He has exceptional arm talent and you would rather give up a 20-yards scramble than a 5--60 yard pass. You need that extra player in coverage.
Question:
Who do you think will have to have a breakout game for the Colts knowing that Coach Belichick will blanket what they do well and that's take away T.Y. Hilton and everything deep?
Bruschi:
Donald Brown. This kid makes big plays as a receiver and a runner. He's a guy that has fought all year to earn his keep, starting the year behind Vick Ballard. Then they signed Ahmad Bradshaw in August. Then they traded for Trent Richardson. When all is said and done, he's still been their most productive back.