Indianapolis Colts:

Thomas Austin
May, 29, 2014
May 29
7:15
PM ET
INDIANAPOLIS -- Thursday was Day 3 of the
Indianapolis Colts
' organized team activities. It was also the first day that the media had access to the players.
Here's a quick roll call of players who didn't take part: Receiver
T.Y. Hilton
, running backs
Ahmad Bradshaw
and
Vick Ballard
, fullback
Stanley Havili
, linebacker
Cam Johnson
, guard
Donald Thomas
, tight end
Erik Swoope
and offensive lineman
Thomas Austin
.
Those players are likely dealing with some kind of injury.
Receivers
Reggie Wayne
and
Donte Moncrief
and safety
LaRon Landry
weren't in attendance Thursday.
Wayne isn't scheduled to take part in OTAs because he's still working his way back from the torn ACL. Moncrief is in Los Angeles at the NFLPA's Rookie Premiere event. Landry is absent because he prefers to work out on his own in the offseason. He did the same thing last offseason.
It's not mandatory for players to attend the OTAs, but it's a little surprising Landry decided not attend. You obviously don't have to worry about him being in shape because he lives in the weight room during the offseason and during the season. It's more about developing continuity at safety with
Delano Howell
, the frontrunner for the starting spot. There's a significant difference going from
Antoine Bethea
, a proven veteran, to Howell, who has limited starting experience. And it's not like Landry had an impressive first season with the Colts.
But again, OTAs aren't mandatory for the players. It would just be good if Landry attended as the Colts try to improve a defense that finished 2oth overall last season.
May, 12, 2014
May 12
1:30
PM ET
INDIANAPOLIS -- The NFL draft came and went without the
Indianapolis Colts
drafting a true center.
Surprised?
Holmes
You shouldn't be. Really, you shouldn't be.
Colts general manager Ryan Grigson and coach Chuck Pagano have talked up second-year center
Khaled Holmes
ever since they finally cut bait with
Samson Satele
in March.
Holmes is their starting center whether you like it or not.
"Khaled's our center," Grigson said over the weekend.
It should be noted that
Thomas Austin
is also a center on the roster and second-round pick
Jack Mewhort
and veteran
Donald Thomas
can play the position.
But it's Holmes' job and the Colts are going sink or swim with him snapping the ball to quarterback
Andrew Luck
.
"We're up front with everybody in the building and he still has to perform at a high level," Grigson said. "He's got to. Everybody has to. Like I said, to do what we want to do, everyone has to ascend to a championship level of play. That's the goal."
Some tend to believe Holmes will likely be the starter only because
Phil Costa
decided to suddenly retire last month. That's not true. Holmes had the inside track to be the starter even with Costa on the roster.
Grigson has said a number of times that they didn't select Holmes in the fourth round of the 2013 draft to stand on the sidelines supporting his teammates.
Holmes did enough of that as a rookie, playing a total of just 12 snaps after an injury caused him to miss most of training camp.
"We're the ones that have studied," Grigson said. "We're the ones that have watched all the film and not just 10 YouTube clips. Thirty-seventy starts at USC, it's like it's 'Whatsa Matta U.' It's a pretty good program .… Rarely do you have a surefire frontline starter sitting there waiting in the wings for you."
April, 22, 2014
Apr 22
12:30
PM ET
INDIANAPOLIS -- There was a lot of panic from the
Indianapolis Colts
' fan base when the team announced that center
Phil Costa
was retiring Monday.
Is Costa retiring significant news?
Yes, because the Colts have
Khaled Holmes
and
Thomas Austin
as the only other centers currently on the roster. Costa retired because he wasn't into it physically and mentally anymore.
But Costa's retirement was not as important from the standpoint that they lost their starting center. The Colts expect Holmes to be their starter at that position, barring a complete collapse by him.
Holmes could go from 12 snaps and being a healthy inactive 11 times last season to possibly being the person responsible for hiking the ball to quarterback
Andrew Luck
.
What?
Holmes was behind everybody after missing a significant amount of training camp last year with an ankle injury.
"This league, unfortunately, when a guy gets hurt in training camp he gets shelved," Colts general manager Ryan Grigson said last month at the NFL owners meetings. "There was a lot of optimism about him in minicamp, his level of intelligence. He's unique, he's 318 pounds. He's got guard versatility, even though I think he's a center, but he's got good arm length. At center, you have to have that. ... The guy knows how to play football."
The Colts, obviously, have high expectations for Holmes. That's why they selected him in the fourth round of the 2013 draft. Holmes started 37 games while at USC.
I do believe it's a risky move by Grigson because Holmes is raw. The importance of protecting Luck is paramount and the interior part of the Colts' offensive line was so bad last season.
We'll see if Grigson's move to go with Holmes pays off.
March, 25, 2014
Mar 25
7:30
AM ET
ORLANDO, Fla. -- Nine
Indianapolis Colts
players received
performance-based incentives for more than $100,000
each during the 2013 season. Linebacker
Jerrell Freeman
and offensive line
Hugh Thornton
both earned more than $218,000.
The incentives are based off playing time and a player's base salary. Veteran backup quarterback
Matt Hasselbeck
received only $827.05 out of the $3.46 million which teams are allotted. The money usually benefits minimum-salaried free-agent signings and players on their first NFL contracts who end up playing a lot.
Here's a breakdown of the top-10 performance bonuses on the Colts.
LB Jerrell Freeman $248,772.35
OL Hugh Thornton $218,167.75
WR
T.Y. Hilton
$162,808.35
FB Stanley Havili $132,945.28
TE Jack Doyle $128,223.40
DE Ricardo Mathews $118,490.40
LB Cam Johnson $109,230.89
WR Griff Whalen $101,056.36
LB Kelvin Sheppard $100,435.98
LB Mario Harvey $92,307.29
Here's a breakdown of the bottom-10 performance bonuses on the roster.
WR
Reggie Wayne
$6,651.65
TE Dwayne Allen $5,711.86
C Khaled Holmes $4,695.54
TE Justice Cunningham $3,913.60
OL Donald Thomas $3,384.86
K Adam Vinatieri $2,738.82
RB Robert Hughes $2,618.30
RB Kerwynn Williams $2,494.16
OL Thomas Austin $1,816.86
QB Matt Hasselbeck $827.05
March, 14, 2014
Mar 14
8:00
AM ET
INDIANAPOLIS -- The
Indianapolis Colts
possibly acquired their starting center Thursday when they signed
Phil Costa
, formerly of the
Dallas Cowboys
.
There's plenty of time left in the offseason for the Colts to add another center to the roster if they choose to.
But for the sake of pure entertainment – and to further make some fans upset over the Costa signing – let's take a look at the offensive line as if the Colts would be playing a game this Sunday afternoon.
Center: Costa,
Khaled Holmes
,
Thomas Austin
Guard:
Donald Thomas
,
Hugh Thornton
,
Zach Allen
,
Joe Reitz
Tackle:
Anthony Castonzo
,
Gosder Cherilus
,
Xavier Nixon
Costa, Thomas, Thornton, Castonzo and Cherilus would be the likely starters. That group should be able to do an adequate job – at least better than last season's group – of protecting quarterback
Andrew Luck
and blocking for the running backs.
I'm not sold that those will be the only three centers the Colts look at. It's not in general manager Ryan Grigson's blood to sit still and not look to make more moves. It likely won't be
Alex Mack
, but don't be surprised if there's another center on the roster before the start of training camp.
December, 24, 2013
12/24/13
6:00
PM ET
INDIANAPOLIS -- If the early struggles to protect quarterback
Andrew Luck
weren't problem enough, the injuries along the offensive line in recent weeks gave the
Indianapolis Colts
every excuse to fall apart up front.
Seven different starting lineups along the line, including five in the past five games, have forced coach Chuck Pagano to be creative in his tinkering with the line.
The Colts had only six healthy offensive linemen before they brought center
Thomas Austin
up from the practice squad the day before their game against the
Kansas City Chiefs
last weekend. Austin was released on Tuesday.
[+] Enlarge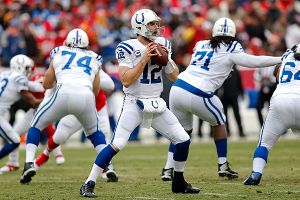 AP Photo/Ed ZurgaAndrew Luck is, at last, enjoying a good deal of protection from his offensive line.
But despite all the mixing and matching of interchangeable players, the Colts are in the midst of their best offensive-line play of the season.
Luck has been just sacked twice in the past three games and the Colts have rushed for at least 135 yards in each of the past two games.
"I think the more adversity you face sometimes, it tends to bring you together," Pagano said. "The players have found a way to put the pieces together week-in and week-out and it doesn't really matter who's up and who's down and who's available and who's playing where. They all know they all have position flexibility and know what to do. Those guys all prepare as starters and they've done a great job. And they have played well the last couple weeks, especially protecting Andrew."
The improved play comes after the Colts gave up 22 sacks through the first nine games. They've given up a total of nine since then, with five occurring against Tennessee on Dec. 1.
The only stability has been at tackle, where
Anthony Castonzo
and
Gosder Cherilus
have started every game on the left and right, respectively.
The interior three of the line – the weakest part of the group – is the one that has undergone the constant changes.
Jeff Linkenbach
replaced the struggling
Mike McGlynn
at right guard against Tennessee on Dec. 1. McGlynn was back starting at guard the following week because Linkenbach got injured. Then McGlynn had to start at center against Houston on Dec. 15 because
Samson Satele
went down with an injury.
Are you still with me?
Xavier Nixon
, a tackle during his college career at Florida, started at left guard against the Chiefs last weekend. His pull-block helped open a hole for
Donald Brown
on his 51-yard touchdown run that featured some poor tackling by the Chiefs.
Castonzo, the protector on Luck's back side, limited Chiefs linebacker
Tamba Hali
, who has 11 sacks this season, to only two tackles and no sacks in the game.
"There's been so much change that you really have to get back to your fundamentals because you don't know who is going to play next to you, so it comes down to everybody doing their own fundamentals properly," Castonzo said. "It might be just the refocus on fundamentals that's allowed us to play well."
The Colts could be getting close to having a healthy line (minus
Donald Thomas
, who is out for the season). Thornton, Linkenbach and
Joe Reitz
could return to practice later this week.
"Chuck and [general manager] Ryan [Grigson] brought the right guys in here," Cherilus said. "The new guys come in and they listen to the vets and when your number is called they show up and perform. They've been doing that. You want to finish the season with your starting lineup. But we're talking about football, change is going to come, you're going to have to make yourself available to be a part of it."
December, 21, 2013
12/21/13
12:30
PM ET
September, 1, 2013
9/01/13
5:20
PM ET
INDIANAPOLIS – The
Indianapolis Colts
rounded out their practice squad and claimed a player off waivers Sunday.

The Colts claimed tight end
Jack Doyle
, an Indianapolis native and undrafted rookie out of Western Kentucky, off waivers from Tennessee. The team also released rookie running back
Kerwynn Williams
.
The Colts have injury concerns at tight end, as
Dwayne Allen
and
Coby Fleener
, their top two players at the position, both missed at least half of the preseason. Allen didn't play in the preseason because of a foot injury. Fleener first dealt with a concussion and now is working his way back from a sprained knee. The Colts hope Fleener and Allen will be ready for the season opener against Oakland on Sept. 8.
Keeping four running backs turned out to be too much for the Colts, which is why Williams was released. The rookie handled the majority of the kickoff-return duties in the preseason. He averaged 21.5 yards a return in the preseason, and he rushed for 92 yards in the finale at Cincinnati last week.
Barring any changes,
David Reed
, whom the Colts acquired from Baltimore on Aug. 21, likely will be the team's kickoff returner. He led the league in 2010 with almost a 30-yard return average. Reed, however, suffered a concussion against Cincinnati last week.
The Colts signed linebacker Daniel Adongo, center
Thomas Austin
, quarterback Chandler Harnish, tight end
Dominique Jones
, linebacker Josh McNary and cornerback Sheldon Price to the practice squad.
August, 31, 2013
8/31/13
6:50
PM ET
Most significant move
: Defensive lineman
Fili Moala
didn't play in the preseason because was he was still rehabbing a knee injury from late 2012, but that didn't stop him from making the roster. Keeping Moala put an end to fellow defensive lineman
Drake Nevis
' time with the Colts. Fullback
Dominique Jones
was cut, leaving the Colts with only one fullback on the roster,
Stanley Havili
.

A feel-good story
: Linebacker
Caesar Rayford
kept hearing from NFL teams over the years that they liked what they saw out of him on video while he played in the Arena Football League. Rayford, however, never got an invite to a training camp from any of those teams. That changed this year when the Colts, led by general manager Ryan Grigson's willingness to search anywhere for talent, invited Rayford to camp. Rayford didn't disappoint, either. He had a team-high five sacks during the preseason. Rayford now has a spot on the 53-man roster. The 27-year-old rookie's best bet to get on the field will likely be on special teams. He'll take it after getting looked over for so many years while he played in the Canadian and Arena Football League.
What's next
: Grigson and his staff aren't going to sit tight. They'll continue to monitor which players -- especially offensive linemen and possibly fullback -- around the league were released, and don't be surprised if the roster the Colts take into their season opener against Oakland on Sept. 8 is completely different than the current one. The Colts will likely add quarterback
Chandler Harnish
and linebacker
Daniel Adongo
to the practice squad if both players clear waivers. Adongo didn't play in the preseason, but the Colts are intrigued by the former rugby player. Harnish was on the practice squad last season.
Colts cuts
: LB: Daniel Adongo,
Josh McNary
,
Monte Simmons
,
Shawn Loiseau
. DB:
Larry Asante
,
Marshay Green
,
Sheldon Price
,
Daxton Swanson
. OL:
Thomas Austin
,
Ben Ijalana
,
Bradley Sowell
,
Lee Ziemba
,
Emmett Cleary
. DL:
Lawrence Guy
,
Drake Nevis
,
Martin Tevaseu
. QB: Chandler Harnish. FB:
Robert Hughes
. TE: Dominique Jones. WR:
Jeremy Kelley
,
Jabin Sambrano
,
Lanear Sampson