Indianapolis Colts:

Trent Richardson to the Colts
September, 20, 2013
9/20/13
2:00
PM ET
INDIANAPOLIS – The ESPN.com NFL reporters were recently asked which young quarterback we would want to lead a team for an upcoming issue of ESPN The Magazine.
Here's the list:
I chose Luck (and it's not because I cover him on a daily basis).
Mike Holmgren evidently feels the same way.
Richardson
Holmgren, the former
Cleveland Browns
president, said he talked to Colts general manager
Ryan Grigson
about trading all of his picks in the 2012 draft to get the No. 1 overall pick to select Luck.
"I talked to him last year (at the owners meetings) before we made the trade (to move up and get Richardson)," Holmgren told Seattle radio station 950 KJR. "I said, 'I'll give you all of our draft picks for the No. 1 pick and I'll take Luck. I'll give the whole draft to you.
"I said, 'Ryan let's do the deal, right now, right here.' He said, 'We're taking Luck.' We were by the pool, I might've even had a lemonade in my hand. He didn't take me seriously, because I was ready to pull the trigger. They were going to take him, and they should've taken him. They did the right thing, but he said if some craziness would've happened, they would've taken
Trent Richardson
. And now a year later, they get both of them."
Holmgren was shocked that the Browns traded running back Trent Richardson to the Colts. Holmgren traded up in that draft to select Richardson at No. 3 pick in 2012.
"How do you make your team better by trading your best player?'' Holmgren told 950 KJR. "He's the best offensive player. He's a valuable, valuable guy.''
Holmgren wasn't done talking about his former team.
"I struggled with it,'' Holmgren told the radio station. "Philosophically, if I am the coach and someone came in anywhere and did that, I'd say, 'OK, fire me, or I'm going to quit. Or we're going to both go into the owner and talk about this and then we'll see who's still standing.'"
Browns CEO Joe Banner was on "Mike & Mike" on Friday morning and responded to Holmgren's comments.
"Mike's entitled to his opinion, he ran the team for three years and was able to do what he believes then," Banner said. "It's our turn for us to do what we think is right. Obviously we wouldn't have done this if we agreed with his comments. I think the most important thing for me to say is, we don't do anything with (coach Rob Chudzinski) not right in the middle of every discussion, every evaluation."
September, 19, 2013
9/19/13
11:18
AM ET
The
Cleveland Browns
shocked the football world when they traded running back
Trent Richardson
to the
Indianapolis Colts
for a 2014 first-round pick Wednesday.
According to the Elias Sports Bureau, Richardson joins defensive lineman John Matuszak as the only players since the NFL merger in 1970 to be drafted within the top three, play their first season with the team that drafted them, and then play for another team the following season.
Some believe it was a good trade for the Browns because this gives them another top pick that can be used to draft a franchise quarterback. Others feel like this is a sign that the Browns have given up on the season.
"We have to earn their belief and trust in the decisions we're going to make as a group, and I don't expect them to trust that until we prove that the trust is well placed," Browns CEO Joe Banner said. "So, I understand the skepticism for now. We have to do what we think is right, move the franchise forward and get it to where we want it to be."
Here is some reaction on Twitter to the surprising Richardson trade:
September, 18, 2013
9/18/13
8:50
PM ET
INDIANAPOLIS – You have to give
Indianapolis Colts
general manager Ryan Grigson credit.
His nonstop, never-willing-to-settle mentality with the roster reached an all-time high at around 6 p.m. Wednesday when he
acquired
running back
Trent Richardson
from the
Cleveland Browns
for a first-round draft pick in 2014.
[+] Enlarge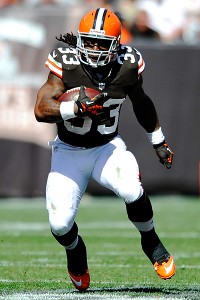 AP Photo/David RichardTrent Richardson should benefit from being surrounded by better offensive weapons in Indianapolis.
None of Grigson's previous 15 trades in his 20 months on the job as general manager were as big as this one.
Not
Vontae Davis
. Not
T.Y. Hilton
.
If Grigson and the Colts have their way, the pick will be in the late teens or early 20's next year because they have no intention of missing the playoffs this season.
The Colts have been ravaged by injuries to starters over the past week, losing running back
Vick Ballard
, guard
Donald Thomas
and tight end
Dwayne Allen
for the season.
"Since I've taken this job, my owner (Jim Irsay) has wanted to achieve greatness no matter the circumstances," Grigson said. "Losing three starters in one week, you can't let that affect your mindset."
Acquiring Richardson does more than make up for the loss of Ballard -- he's an upgrade at the position. Richardson, the No. 3 pick in the 2012 draft, rushed for 950 yards and 11 touchdowns despite playing with broken ribs most of his rookie season. He also had 51 catches for 367 yards and another touchdown.
Colts offensive coordinator Pep Hamilton has to be the happiest about the trade because Richardson is the type of back who could make their power running game successful.
Richardson will become the starter once he learns the offensive system. He'll team with
Ahmad Bradshaw
, the current starter, to give the Colts the backfield duo they envisioned with Bradshaw and Ballard before the latter was injured. But instead of them splitting the load 50-50, expect Richardson to get the majority of the carries as long as he remains healthy.
"That's the mindset of myself and (coach) Chuck (Pagano), we're always trying get better, always trying to upgrade, trying to make it a competitive environment," Grigson said. "We have a need at running back moving forward and the opportunity presented itself. This works for us in the near and long term over the next four years."
But it'll still take blocking in order for the Colts' running game, which is averaging 130 yards a game, to be effective and for quarterback
Andrew Luck
to have time to find his receivers.
Luck, who was sacked 41 times last season, has already been sacked seven times in just two games this season, and on Sunday the Colts will start rookie
Hugh Thornton
at left guard in place of the injured Thomas against the
San Francisco 49ers
.
Richardson should help in the way Ballard would have with his protection. Cleveland quarterbacks were sacked on only 4.8 percent of their dropbacks with Richardson on the field, compared with 9.4 percent when he was off the field.
The Colts lost their best blocking tight end in Allen earlier Wednesday, leaving
Coby Fleener
as the starter. Fleener was drafted thirty picks ahead of Allen in the 2012 draft, but he fell behind him on the depth chart because he doesn't have the all-around skill set that Allen does.
Acquiring Richardson is a start, but don't think Grigson is done yet.
It's not in his blood to sit still.