December, 12, 2013
Dec 12
8:24
AM ET
Associated Press
JACKSONVILLE, Fla. -- The Jacksonville Jaguars want running back Maurice Jones-Drew back next season.
Jones-Drew is doing all he can to make it happen.
He's sharing carries, playing through injuries and complaining about nothing. He's all in, fully committed to what's happening in Jacksonville under coach Gus Bradley, general manager Dave Caldwell and owner Shad Khan.
"I want to be here," Jones-Drew said. "It's a fun environment. It's different than I've ever been a part of. It works. It takes time to build anything. It's starting to turn around for us, and we're starting to play well. That's exciting."
It also might keep Jones-Drew from testing the free-agent market.
Jones-Drew has three games remaining on a five-year, $31 million contract he signed in 2009. He's earning $4.95 million this season.
Caldwell has made it clear he wants Jones-Drew back -- at the right price. Caldwell declined to discuss details, not wanting to tip his hand before negotiations begin after the season.
But some believe the Jaguars will start with a two-year, incentive-laden deal that could be worth up to $10 million.
"Seeing what I've seen and been through the business part of it, you want to work that thing out as best as possible," Jones-Drew said. "But sometimes it doesn't do that. We've seen it. Look at Peyton Manning. Who would have thought he wouldn't be playing for the Colts right now.
"It happens. Hopefully, things work out well. And if they do, we'll be back."
December, 12, 2013
Dec 12
8:00
AM ET
Jordan Todman is ready to go.
If Jaguars running back Maurice Jones-Drew cannot play in Sunday's game against Buffalo because of a strained right hamstring, Todman would get his
first career start
. The first-year running back from Connecticut has spent a total of 21 weeks on practice squads in his short career but has done a solid job for the Jaguars this season as the team's kickoff returner and No. 2 running back, writes the Florida Times-Union's Hays Carlyon.
"I'm looking for any opportunity to step on the field," said Todman, who has rushed for 138 yards and two touchdowns in limited carries. "I hope MoJo will be back and help us win this game, but if not, I'm excited for the opportunity. I know it's a big role."
Here are some additional pieces of Jaguars content from around the Web in our daily Reading the Coverage feature:
The T-U's Ryan O'Halloran provides
three storylines
to watch in Sunday's home game against Buffalo, including dealing with the Bills' defensive front.
The Jaguars are still mathematically alive for the playoffs, but coach Gus Bradley and the players
aren't talking about that
at all, writes the T-U's Vito Stellino.
The Jaguars are treating prosperity the same way they treated adversity and the approach
seems to be working
.
Jones-Drew continues to
aggressively rehab his hamstring
in the hopes of playing Sunday.
Here are some other items from this blog: the weekly
NFL Nation Buzz video
in which I hit the top storylines for the week and the Jaguars' teen TV show
won a regional Emmy
.
December, 11, 2013
Dec 11
6:30
PM ET
JACKSONVILLE, Fla. -- The
Jacksonville Jaguars
are having different results on game days, but everything has stayed the same during the week.
Same level of preparation, same mindset, same chemistry. Nothing has changed from that standpoint the entire season. It is the same now as it was when the Jaguars were 0-2, 0-4, 0-8, and coach Gus Bradley wants it to remain that way for the final three weeks.
"We had some adversity, and now we're having a little prosperity," said Bradley, whose team has won four of its last five games. "My hope is we treat both the same. I've said it to our team, 'Treat both impostors the same.' That's going to be the challenge. But I'm sure we'll make some mistakes. We made some mistakes on how we handled adversity, and we'll make some mistakes on some of these things that will be coming our way. But it will be good teachings for us."
[+] Enlarge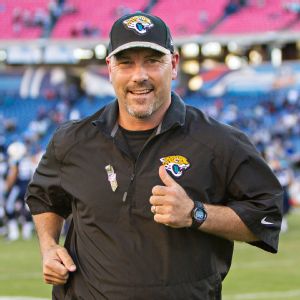 Wesley Hitt/Getty ImagesDespite the Jaguars' turnaround, coach Gus Bradley has told his players not to change their attitude.
It would have been logical for the Jaguars to change their practice habits, what they practice, their schemes, how they conduct meetings, how the players and coaches interact with each other, and how the players behave in the locker room. The way they were doing things wasn't working in the first two months of the season, when the Jaguars lost all eight games by double digits.
It's been said that the definition of insanity is doing the same thing over and over again and expecting different results. If something isn't working, you change it.
Not the Jaguars. Bradley stressed the importance of trusting the process, telling players to believe in the schemes and what the coaching staff was doing. Keep doing that and eventually the victories will come. Now that they have, it's a validation of the approach and, Bradley hopes, a clear message that the players shouldn't change now.
"We've had some success in some games, and what I'm monitoring is, do we have the same mindset?" Bradley said. "We should. Our whole objective is to … just go about what we do and remember what got us to this point and stay true to it."
The players have completely bought in. Receiver
Cecil Shorts
says the players have approached everything the same way in the five games since the bye as they did in the first eight. The results obviously have them feeling better about themselves, though.
"We don't want to be boastful," Shorts said. "We don't want to be, 'Hey, you guys are dogging us and then we win three games straight.' No, we want to stay humble, eat crumbs [and] understand that success always under construction. Understand we've got work to do, but if we're going to talk about something, talk about how we need to improve, how we need to get better."
To drive home his point about treating prosperity and adversity the same, Bradley used a scenario about walking down the street and seeing two men sitting on a bench. One is well-dressed. The other isn't. Do you say hello to both of them or only to the one who is well-dressed, he asked the players.
You should, he said after listening to their answers, treat them both the same because they deserve to be treated that way.
Guard
Uche Nwaneri
said the players got the message, and he hasn't seen any change in their approach.
"It doesn't matter whether you're successful or whether you're not successful," Nwaneri said. "You have to go about doing things the same way. You can't change it because you're on one side of the spectrum or the other.
"I haven't seen anybody acting any differently because we're so used doing what we've been doing because even when we weren't winning we still were doing the same thing. You're kind of stuck in your routine at that point and you're just focused on the small details that are going help you take it to the next level."
December, 11, 2013
Dec 11
2:45
PM ET
JACKSONVILLE, Fla. -- Jaguars running back
Maurice Jones-Drew
is aggressively rehabbing his strained right hamstring and maintains his hope that he'll be available for Sunday's game against Buffalo.
Until he tests it on Friday, though, things remain uncertain.
"I want to play," Jones-Drew said Wednesday afternoon. "I'm doing everything I can to get out there. It's just kind of a deal you don't want to make it worse so you have to make sure it's healed the right way. You want to be smart in that situation. I'm going to do everything I can to get out there."
Jones-Drew was injured during last Thursday's 27-20 victory over Houston, and the extra two days of rest could be the difference between him playing and first-year back
Jordan Todman
being the main back. Jones-Drew has been treating the hamstring with ice and massage and has also gotten in the pool to swim.
"Now it's just getting back healthy and getting it back where I can go out there and play and not hurt the team," Jones-Drew said. "I think that's the main goal by Friday, making sure I can go out there and do what I usually do and not necessarily go out there and be, like, dragging my leg around and things like that."
Jones-Drew has rushed for 719 yards and five touchdowns this season, with 264 yards coming in the past three games.
December, 11, 2013
Dec 11
12:00
PM ET
By
ESPN.com staff
| ESPN.com
Jacksonville Jaguars reporters Mike DiRocco talks about the status of Maurice Jones-Drew and the players who would back him up if he can't play this weekend against Buffalo.
December, 11, 2013
Dec 11
9:30
AM ET
JACKSONVILLE, Fla. -- The Jaguars Foundation's television program, "Jags Teen Talk … Game Plan for Success," has been awarded an Emmy award in the Community Service category by the Suncoast Chapter of the National Academy of Television Arts & Sciences.
The television program shows teens and parents how to develop a game plan for success in life. It shows teens how to overcome obstacles such as cyber bullying, pregnancy, drugs, tobacco, pregnancy and sexually transmitted diseases.
"Teens today are subjected to a barrage of negative influences that can derail them on their path to become successful adults," said Peter Racine, the president of the Jaguars Foundation. "This regional Emmy award reflects the amazing power of our tremendous media partners who work together to promote the important message to teens that making positive choices today will lead to a better future."
Florida Blue, local media and several non-profit organizations partnered with the Jaguars Foundation to produce the annual show. The 2013 show, which was co-hosted by Jaguars linebacker Russell Allen and cheerleader Shenette Howard, was aired on each Jacksonville television station between May 30 and June 2, 2013.
December, 11, 2013
Dec 11
8:15
AM ET
JACKSONVILLE, Fla. -- It took a while, but the move from defensive tackle to defensive end is finally starting to pay off for Tyson Alualu this season.
The Florida Times-Union's Hays Carlyon writes that Alualu
has been one of the reasons
the Jaguars' rush defense has gone from giving up 161.8 yards per game in the first eight games to allowing 72.8 yards per game in the last five games.
"Getting repetitions and being in games you start to get more and more comfortable with the scheme," said Alualu, whom the Jaguars selected with the 10th overall pick in the 2010 draft. "I'm understanding my job and trying to do it to the best of my ability. That understanding has helped me play faster."
Here are some additional pieces of Jaguars content from around the web in our daily Reading the Coverage feature:
It's
not easy being a practice-squad player
, writes the T-U's Ryan O'Halloran.
The Jaguars currently
own the No. 6 pick
in the 2014 draft.
NFL.com's Gil Brandt breaks down the upcoming quarterback class and lists the Jaguars among the teams that
must draft one
.
Here's a roundup of items from this blog: a
scouting report
on the Buffalo Bills, the Jaguars come in at
No. 29
in the ESPN.com Power Rankings; if Maurice-Jones Drew (hamstring) is unable to play Sunday, the Jaguars will miss his running and
pass blocking
; rookie receiver Ace Sanders has done a good job of
handling multiple roles
.
December, 10, 2013
Dec 10
3:30
PM ET
JACKSONVILLE, Fla. -- The
Buffalo Bills
aren't exactly heading to Jacksonville on a roll.
They have lost five of their last six games and have scored more than 17 points just once in the last five games.
The Jaguars, however, do have momentum. They've won four of the last five games, including three in a row.
Something will have to give when the teams square off at EverBank Field on Sunday. Kickoff is set for 1 p.m. ET and the game will be televised on CBS.
Here's a look at the Bills:
Record
: 4-9.
Last week:
lost to Tampa Bay Oakland 27-6.
Coach
: Doug Marrone, first season (4-9).
Offensive coordinator
: Nathaniel Hackett.
Defensive coordinator
: Mike Pettine.
Series record
: tied 6-6.
THREE PLAYERS TO KNOW ON OFFENSE
QB EJ Manuel:
The rookie quarterback from Florida State has had good days and some terrible days. Last Sunday's game against Tampa Bay was one of the latter. He completed 18 of 33 passes and threw four interceptions in the loss to the Bucs.
RB C.J. Spiller:
Spiller and
Fred Jackson
share the workload and both have similar numbers. Spiller has 149 carries for 678 yards while Jackson has 157 carries for 645 yards. Jackson has more touchdowns (7-2) but Spiller is more explosive (seven runs of 20 or more yards). However, Spiller is a bit of a feast or famine back. He's had four games this season in which he has averaged 2 or fewer yards per carry.
TE Scott Chandler
: He has 43 receptions for 515 yards and two touchdowns. He's also averaging 12.0 yards per catch, which is better than receiver
Stevie Johnson
(51 catches, 593 yards, 11.6 yards per catch).
THREE PLAYERS TO KNOW ON DEFENSE
LB Kiko Alonso:
The Bills' second-round pick out of Oregon is one of the leading candidates for Defensive Rookie of the Year. He leads the Bills in tackles (131) and interceptions (four) and also has two sacks for a defense that ranks sixth against the pass and 15
th
overall in the NFL.
DE Mario Williams
: He's having one of his better years as a pass-rusher. He is third in the NFL with 12.0 sacks, which is the second-highest total in his career and just two sacks shy of his career-best 14.0 sacks in 2007 for the
Houston Texans
.
DT Marcell Dareus:
He's one of the better defensive players that most people don't know about because he plays for a team that's not on television much. Dareus has seven sacks, three pass deflections, and 60 tackles
ETC
.
Marrone had the captains speak to the team following the loss to the Bucs. He also allowed anyone else who wanted to say a few words to speak as well. … Marrone also said after the Tampa Bay loss that the team is scaling back the offense a bit for Manuel. They feel they may have been giving too much in the game plan and thinning that out will help Manuel become more effective. ... S
Jairus Byrd
has four interceptions this season and 22 in his career, which puts him 10
th
on the Bill's all-time list.
December, 10, 2013
Dec 10
2:00
PM ET

A weekly examination of the Jaguars'
ESPN.com Power Ranking
:
Preseason
: 29 |
Last Week
: 31 |
ESPN.com Power Ranking since 2002
A three-game winning streak -- the franchise's first since 2010 -- has lifted the
Jacksonville Jaguars
(4-9) two spots in this week's ESPN.com Power Rankings. They're No. 29, the first time this season they've been out of the 30s.
Four of the six voters believe they should be higher, too. Jamison Hensley had the Jaguars 26th, John Clayton had them 27th, and Ashley Fox and Dan Graziano had them 28th.
The Jaguars are ahead of the
Atlanta Falcons
(3-10),
Washington Redskins
(3-10) and
Houston Texans
(2-11).
December, 10, 2013
Dec 10
12:00
PM ET
JACKSONVILLE, Fla. -- If
Maurice Jones-Drew
cannot play in Sunday's game against Buffalo because of a hamstring strain, that's obviously a huge blow to the running game.
Jones-Drew
But it's also a big problem for the passing game, as well.
Jones-Drew is one of the NFL's best backs in terms of pass-blocking and picking up blitzers. According to Pro Football Focus, Jones-Drew is the only running back in the NFL to not allow a quarterback pressure. He has picked up a rusher on each of the 100 snaps on which he has been tasked with blocking.
That's something in which he takes immense pride.
"To me that's what separates you from everybody else," said Jones-Drew, who has rushed for 719 yards and five touchdowns this season. "Everybody can run the ball and most guys can catch it and make plays with the ball in your hands but what you can do without the ball is what separates you. That's something people don't talk about."
Most fans don't appreciate it, either. Quarterback
Chad Henne
certainly does. He'll miss Jones-Drew more than anyone else if he can't play against the Bills.
"The biggest thing is that he's very smart so he understands where the pressures are coming from," Henne said. He's tough, he's physical, and if he needs to cut [block] he'll cut [block] and if he needs to stand up he'll stand up, so he's a really good third-down back."
If Jones-Drew is unable to play, first-year back
Jordan Todman
will take his place and be backed up by rookie
Denard Robinson
, a quarterback at Michigan who started the season at receiver before being moved to running back.
Justin Forsett
, a third-down specialist signed in March, was put on IR on Monday with a broken foot.
Coach Gus Bradley grimaced a bit when asked about his confidence level in Todman's blocking ability.
"Obviously [with] Maurice we feel better," Bradley said. "That's one of his things in third downs now. He's going to have to step it up if he's in one of those situations. ... I think he understands it. It's now, can he do it and if he is [on the field] we'll get it tested on Sunday."
December, 10, 2013
Dec 10
10:00
AM ET
JACKSONVILLE, Fla. -- Speed and quickness are what got
Ace Sanders
drafted.
It's his intelligence that's getting him on the field.
The Jaguars have had Sanders line up outside, in the slot, and in the backfield. That's a tough spot for any receiver, but for a rookie to handle the multiple roles and become a key part of the offense is remarkable.
"He really did better early than I thought he would do for the type of situation he was in," receivers coach Jerry Sullivan said. "Then there was a lull in there where nothing much was happening for him and then all of a sudden we began incorporating him a little bit more and he began to respond. The game slowed down a little bit for him now."
[+] Enlarge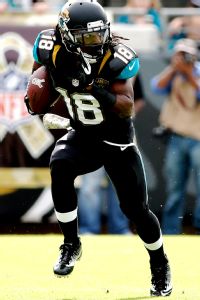 Photo by Sam Greenwood/Getty ImagesRookie receiver Ace Sanders has 23 catches for 215 yards in his past four games.
It's not easy for rookie receivers to make an impact in the NFL. But to do it at multiple spots is a testament to Sanders' football IQ. Rookies have to learn to read keys to identify coverages before the snap and adjust routes accordingly and learn the proper technique to run routes correctly and consistently. Now add shifts and motion, beating press coverage, and figuring out who to block if it's a running play or screen (which depends on the coverage).
That's just for, say, the slot receiver, which is Sanders' natural position and where he spent most of preseason. He also had to do that for playing outside, which he was forced to do because
Justin Blackmon
was suspended for the first four games of the season for violating the league's substance abuse policy.
That's a lot of work for someone who was only expected to return punts this season.
But Sanders handled it pretty well. He caught 14 passes for 162 yards in the first four weeks of the season, an average of 11.6 yards per catch.
When Blackmon returned, Sanders went back to the slot, but he has played inside and outside after Blackmon was suspended indefinitely for another violation of the substance abuse policy. Blackmon's return coincided with a mini-slump as Sanders adjusted to being back in the slot again. He caught just two passes for 20 yards in four games and missed a game with a concussion.
In his last four games, though, Sanders has 23 catches for 215 yards.
"I feel way more comfortable," Sanders said. "I'd be in my second season if this was still college, so definitely have had some time to get used to the game speed and I'm just finally starting to find my way."
That lull in which he wasn't doing much was actually beneficial, Sanders said. It helped him reflect and refocus after a hectic first half of the season.
"I actually hit my rookie wall a little earlier than most people just because with us being down players early in the season I had to do more stuff than expected," Sanders said. "I just had to realize that you're going to be a big part of this team. You're going to have to help. You've got to buckle down and really get in your playbook and just figure out a way to make it work."
He is a big part of the team. In addition to his 39 catches (second only to
Cecil Shorts
' 66) for 397 yards, Sanders has carried the ball twice after lining up in the backfield, and he threw a 21-yard touchdown pass to
Jordan Todman
on a trick play against Houston last week.
Next year he may be an even bigger part, Sullivan said.
"Going into next year he'll be much more experience in terms of the multiplicity [of playing different positions]," Sullivan said. "The only thing that's not fast in the NFL is the commercials. Everything else is fast. Fast timeouts, and the speed of the game in pro football is fast. That's a transition not a lot of young guys [can handle]."
December, 10, 2013
Dec 10
8:00
AM ET
JACKSONVILLE, Fla. -- Cecil Shorts came close last year and he's eyeing it again in 2013: 1,000 yards receiving.
The Jaguars' third-year receiver wants to reach that plateau, which would make him only the
third player in franchise history
to accomplish that feat, writes the Florida Times-Union's Ryan O'Halloran. Jimmy Smith did it nine times and Keenan McCardell did it four times.
"I'm trying to let it come to me but as a receiver that's what you want to hit," Shorts said. "That's the milestone for a receiver."
Shorts needs just 223 yards in the remaining three games to reach 1,000. He's averaging 60 yards per game, which would mean he'd end up with 957 yards, so he has to pick up his pace. He caught 55 passes for 979 yards last season.
Here are some additional pieces of Jaguars content from around the web in our daily Reading the Coverage feature:
Running back Maurice Jones-Drew will not practice this week because of a hamstring strain, coach Gus Bradley said Monday. Jones-Drew plans to
test the hamstring on Friday
, writes the T-U's Hays Carlyon.
O'Halloran
breaks down the Jaguars' pass rush
from last Thursday's game against Houston.
Here's my weekly recap of the Jaguars'
playoff chances
. They're somehow still alive at 4-9, but they obviously need a lot of help.