Jacksonville Jaguars:

Indianapolis Colts
September, 19, 2014
Sep 19
8:00
AM ET
Sunday's
Indianapolis Colts
-
Jacksonville Jaguars
game at EverBank Field isn't exactly a Super Bowl rematch, but there's still something pretty significant at stake: the first victory of the season.
Both teams enter the game 0-2, though the Colts have at least kept things close. Indianapolis lost its first two games to Denver and Philadelphia by a combined 10 points. The Jaguars lost games to Philadelphia and Washington by a combined 48 points, including a 31-point loss to the Redskins last Sunday.
This is a must-win game for the Colts, who risk falling behind the surprisingly undefeated
Houston Texans
in the AFC South. The Jaguars could use a victory if only to get some good vibes going, which was something the franchise had plenty of during the offseason with the new video boards, pools in the stadium and the excitement over rookie quarterback
Blake Bortles
.
ESPN Colts reporter Mike Wells and Jaguars reporter Michael DiRocco break down the matchup.
DiRocco:
The Colts' pass rush obviously isn't the same with
Robert Mathis
done for the season. How are they compensating and are they licking their chops because they are preparing to face a Jaguars team that just gave up 10 sacks?
Wells:
They're licking their chops, not because
Chad Henne
has been sacked 13 times in two games, but because they simply want to get some sacks. The Mathis-less Colts have only one sack this season. Remember Eagles quarterback
Nick Foles
from Week 1, the one the Jaguars sacked five times? The Colts didn't sack him once on Monday night. In fact, they hit Foles only four times the entire game. I'm not sure who's slower, Foles or
Peyton Manning
. I thought the Colts would be able to get to Foles. I was wrong. I'd like to think they'll be able to get to Henne, especially with two new starters on the offensive line for Jacksonville this weekend.
The Jaguars looked like they were on their way to gaining some momentum. They scored the first 17 points against Philadelphia in Week 1, but they've been outscored 75-10 since. Was Jacksonville teasing everybody in the first 30 minutes against the Eagles?
DiRocco:
That's what it's beginning to look like, because in the six quarters since those first 30 minutes the Jaguars have looked as bad as they did last season. Actually, they've looked worse in spots, especially the offensive line. The way the offense has played isn't that surprising, though. With a rebuilt offensive line and three rookie receivers, plus the limitations that Henne brings to the table, it was clear before the season began that the offense wasn't exactly going to be explosive. However, the way the defense has performed since the first half of the season opener is befuddling. The unit was supposed to be significantly better than 2013 after adding ends
Chris Clemons
and
Red Bryant
and tackle
Ziggy Hood
. Those three, along with a healthy
Roy Miller
and
Sen'Derrick Marks
, were supposed to form a solid defensive front that would stop the run, rush the passer well and keep the team in games into the second half. They've played poorly the past six quarters, giving up 191 yards rushing to the
Washington Redskins
. Guys are getting out of position, not making plays when in position to make them and are missing tackles.
It looked like
Trent Richardson
was pairing with
Ahmad Bradshaw
to give the Colts a pretty good one-two punch. But after fumbling twice against Philadelphia, are we going to see less of Richardson this week and the rest of the season?
Wells:
Not starting Richardson would be admitting that the trade with Cleveland was a complete bust. Richardson will continue to be the starter, but Bradshaw will get his fair amount of carries with his load continuing to increase if Richardson can't hold onto the ball. Richardson was going to be one of the most talked-about players in the Philly game if the Colts had won because he had his best rushing game (79 yards) since coming to Indianapolis in September 2013. Richardson was talked about a lot after the game, but not in a good way. The Colts recovered his first fumble, but his second one led to an Eagles touchdown and played a significant factor in why they lost the game.
How long will the Jags stick with Henne before giving the ball to the player they hope will be the face of their franchise for years to come in Bortles?
DiRocco:
At least one more week. Though coach Gus Bradley left a little wiggle room in his statement earlier in the week that Henne was still the starter, he reaffirmed it Wednesday morning. Henne is an average quarterback who holds onto the ball too long at times and doesn't throw down the field as much as he should, but he's not the reason the Jaguars are 4-16 since the start of 2013. He's not losing games. The Jaguars aren't going to play Bortles until they believe he's completely ready, and nobody is sure when that will happen. Plus, the Jaguars' offensive line is a mess and has two new starters this week, including rookie center
Luke Bowanko
. The Jaguars also are without tight end
Marcedes Lewis
(high ankle sprain) and have had to rely on three rookie receivers. That's not exactly a great environment in which to drop a rookie quarterback. Henne will continue to take those lumps but if things don't improve, the Jaguars might turn to Bortles for a spark within the next few weeks.
How effective has
Reggie Wayne
been since coming back from the torn ACL? He's obviously not the same player he was two years ago when he caught 106 balls -- what can he still give the Colts?
Wells:
You're right, Wayne isn't the same player he was two years ago. But what he's shown through the first two games is that he's still quarterback
Andrew Luck
's security blanket. Luck will look to Wayne first when he needs to get a first down or when he's under pressure and needs to get rid of the ball quickly. Wayne leads the Colts with 12 catches for 126 yards. He had no problem admitting that he wanted to prove the doubters wrong about his ability to come back from the torn ACL. He's proven -- so far -- that he can still be an effective player.
By the look of things it appears the Jaguars don't have an identity. They've given up 75 points, scored only 27 and given up 13 sacks in two games. Does this franchise have an identity as either an offensive- or defensive-dominant team?
DiRocco:
It was supposed to have an identity as a physical, hard-nosed defensive team, and that's exactly what it was in the first half against Philadelphia. After that, the Jaguars have been wandering aimlessly. Players have talked about getting punched in the mouth the last six quarters and not responding. That has to change against Indianapolis. It's the perfect scenario, too: the home opener against a team coming off a Monday night game and a team against which they've traditionally played well.
March, 13, 2014
Mar 13
5:30
PM ET
JACKSONVILLE, Fla. -- There's going to be a lot more bling inside the Jaguars' locker room this season.
In the past three days, the Jaguars have signed three players who appeared in the Super Bowl in February: former Denver guard
Zane Beadles
and former Seattle defensive ends
Red Bryant
and
Chris Clemons
. While that wasn't by design, it's a circumstance that general manager David Caldwell hopes to exploit as he continues to reshape and build the Jaguars in his second season.
Nothing ensures credibility like success and that's something most of the players on the Jaguars' roster have experienced little of.
"It's not just the fact they played in the Super Bowl but all three came from winning organizations, which is important," Caldwell said. "They have been through playoff games and they know what it takes to get to where we want to be.
"They know what it takes to get better."
It wouldn't be strange to see one player from one of the league's top teams sign a free-agent contract with one of the league's worst teams. Two might not garner much attention, either. But three is a bit unusual. Granted, two of the players -- Clemons and Bryant -- played for Jaguars coach Gus Bradley when he was Seattle's defensive coordinator from 2009-12, so that played a part in pulling them to Jacksonville.
But all three players had offers from other teams, including some that made the playoffs in 2013, and somehow ended up together with a Jaguars organization that has won just 11 games in the past three seasons and hasn't had a winning season since 2007.
The two former Seahawks are here now because they had made the decision to try and end up with the same team should they be released as part of Seattle's salary-cap management. Bryant was released on Feb. 28 and the Jaguars signed him March 8. The Seahawks released Clemons four days later and less than 24 hours after that he was signing a four-year deal with the Jaguars on Thursday.
"Once a lot of teams win the Super Bowl, some teams keep them together and some teams dismantle the whole team," Clemons said. "We are a group of guys that understand each other and know each other pretty well. That's our plan. Me and Red had talked about it already when our names first started coming up about the salary cap: 'Wherever you go, let me know so I can try and fit myself in because we know each other so well.'
"Once you have that camaraderie with somebody it's hard to actually go and find it somewhere else."
Beadles had wanted to stay in Denver -- which has geared itself up for a run at another Super Bowl in
Peyton Manning
's final seasons by signing
Aqib Talib
,
T.J. Ward
, and
DeMarcus Ware
-- but he and the Broncos were not close in negotiations. He was the Jaguars' top offensive line target and quickly agreed to a five-year, $30 million deal just hours after the free-agency period began.
Beadles goes from one of the league's top offenses to one of its worst.
"I think a lot of people would look at that and say, 'What's going on there?'" Beadles said. "But to me it's a good challenge. Like I said, I went from a team that was 4-12 my rookie year to being in the Super Bowl my fourth year."
That's a progression the Jaguars would like to make as well, and Caldwell is banking on the three Super Bowl participants playing a key role.
March, 10, 2014
Mar 10
10:00
AM ET
With the 2014 free-agency period starting at 4 p.m. Tuesday, here is a look at top free agents in the AFC South as compiled by reporters Tania Ganguli, Paul Kuharsky, Michael DiRocco and Mike Wells. The top seven free agents are on defense, led by cornerback
Vontae Davis
of the Colts. Running back
Maurice Jones-Drew
, a fixture in Jacksonville for the past eight years, is looking for a new team. Is this the end of
Antoine Bethea
's run in Indianapolis?
1. Vontae Davis, Colts CB:
Indianapolis needs a top cornerback to help a defense that finished 20th in the league last season. Davis has shown he has the talent to be one of the top cornerbacks in the league. He just needs to work on his consistency.
2. Alterraun Verner, Titans CB:
A smart, aware corner with a knack for getting to the ball, he just lacks top speed and size.
3. Antoine Bethea, Colts S:
A reliable player, having started every game he played during his eight years with the Colts. Finished with at least 100 tackles in five of those seasons.
4. Earl Mitchell, Texans NT:
Solid player at the point of attack and has shown the ability to get consistent penetration. He had 48 tackles and 1.5 sacks last season.
5. Bernard Pollard, Titans S:
Played well as an in-the-box safety and provided the sort of standard-setting leadership the Titans lacked previously.
Update:
Signed one-year, $2 million deal to remain with Titans.
6. Darryl Sharpton, Texans LB:
Led the Texans with 87 tackles but is not as good in coverage as he is against the run.
Smith
7. Antonio Smith, Texans DE:
He is more of a run-stuffing defensive end than a pass-rusher, although he did record five sacks in 2013.
8. Ben Tate, Texans RB:
He led the Texans with 771 yards rushing. He has been somewhat injury-prone but has produced when needed as
Arian Foster
's backup.
9. Maurice Jones-Drew, Jaguars RB:
Jones-Drew started 15 games and led the Jaguars with 803 yards and five touchdowns rushing. He also caught 43 passes (third on the team) for 314 yards. He got off to a slow start then battled through ankle, hamstring and knee issues and averaged a career-low 3.4 yards per carry.
Brown

10. Donald Brown, Colts RB:
Brown was the Colts' third running back twice in 2013 only to end the season as the starter. He has the speed but was too inconsistent during his five seasons in Indianapolis.
11. Garrett Graham, Texans TE:
He's not
Owen Daniels
, but he can line up tight or as a flex tight end. He came into his own as a receiver last season with 49 catches for 545 yards and five TDs.
12. Ahmad Bradshaw, Colts RB:
A neck injury limited Bradshaw to only three games last season. It took just those three games for him to show he was the Colts' most effective running back.
13. Ropati Pitoitua, Titans DE:
A giant, run-stuffing end who would be a solid, flexible piece in the hybrid front.
Update:
Signed 3-year, deal for $9.6 million to remain with Titans.
14. Adam Vinatieri, Colts K:
The 41-year-old Vinatieri was 35-of-40 on field goals and a perfect 34-of-34 on extra points in 2013.
15. Samson Satele, Colts C:
Was released by the team on March 6 after a disappointing 2013 season. He has started 98 of 102 games during his seven-year career.
December, 29, 2013
12/29/13
10:00
AM ET
By
ESPN.com staff
| ESPN.com
Join our ESPN.com NFL experts as they break down the Jacksonville Jaguars' visit to the Indianapolis Colts. Contribute your thoughts and questions beginning at 1:00 p.m. ET. And, be sure to visit our
NFL Nation Blitz page
for commentary from every game, as well as fan photos and the latest buzz from Twitter. See you there.
December, 26, 2013
12/26/13
10:00
AM ET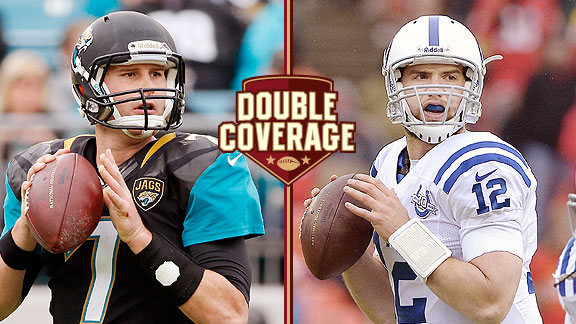 Getty ImagesAndrew Luck and the Colts will look to take momentum into the playoffs with a win over Chad Henne and the Jaguars.
It'll be a battle of teams headed in opposite directions at Lucas Oil Stadium on Sunday.
The
Indianapolis Colts
want to have momentum heading into the playoffs. They also need the victory to have a shot at moving up from the No. 4 seed in the AFC playoffs. The
Jacksonville Jaguars
are simply playing out the season before vacation starts following the game.
The Colts easily beat the Jaguars 37-3 in Week 4.
ESPN.com Colts reporter Mike Wells and Jaguars reporter Michael DiRocco discuss the rematch:
Wells:
Running back
Maurice Jones-Drew
has been a fixture in the organization for eight years. Will Sunday be the last time he wears a Jaguars uniform?
DiRocco:
My gut feeling is that he'll be back, but it's certainly not a slam dunk. Jones-Drew said after Sunday's loss to Tennessee that he wants to be back in Jacksonville, but he has a price and contract length in mind. So does general manager David Caldwell, so I expect this to be a deal that's going to take some negotiating to get done. Jones-Drew may still want to test the free-agent market to see what kind of money is out there, but he'll probably find that there isn't a lot of demand for a 29-year-old running back who has battled injuries the past two seasons. It really would be best for both sides to have Jones-Drew finish his career in Jacksonville. Jones-Drew wouldn't have to prove himself all over again and he would help bridge the gap between the past five terrible seasons and the new regime.
Since we're talking about running backs, was the
Trent Richardson
trade the worst move of the NFL season? What does it mean going forward for both the Colts and Richardson?
Wells:
The trade obviously hasn't worked out the way the Colts envisioned -- Richardson isn't even starting -- but the front office is nowhere near ready to ball up a white towel and throw it in on the second-year running back. They still believe he's a huge part of the team's future. The Colts believe a full offseason of organized team activities and training camp will help Richardson's development. Richardson has shown some flashes -- he ran for 51 yards on seven carries in the fourth quarter against Houston on Dec. 15 -- but the Colts don't want flashes. They want consistency out of him, and believe that will come.
I know I asked you about Sunday possibly being Jones-Drew's final game with the Jaguars, but what about the coaching situation down there? Do you think you'll be covering a coaching search in the offseason?
DiRocco:
It may look to outsiders that Gus Bradley should be on the hot seat after a 4-11 season that included an 0-8 start, but he's just as secure in his job as Bill Belichick, Andy Reid and Pete Carroll are theirs. Owner Shad Khan knew this was going to be a rough season because he, Caldwell and Bradley agreed to essentially blow things up and start over. The Jaguars' roster is the least talented in the league, and it's also one of the youngest. Caldwell is committed to building through the draft (the Jags have 10 picks in the 2014 draft) and Bradley is on board with that. The first priority is finding a quarterback, which likely will be done in May. Now, if the Jaguars are still only able to manage single-digit victories three seasons from now, Bradley would be in trouble.
Did Chuck Pagano use QB
Andrew Luck
correctly this season? Even with the
Reggie Wayne
injury, shouldn't Luck have been throwing it all over the place?
Wells:
The Colts put a heavy emphasis on being a power-running team this season. Any thought of that happening basically ended when
Ahmad Bradshaw
was lost for the season with a neck injury after the Week 3 game against the
San Francisco 49ers
. The Colts became a team that simply wanted to be able to run the football, and they weren't going to let anybody stop them from trying to do it. They've gained at least 104 yards in 10 games this season, with the idea of helping ease the burden on Luck's shoulders. Luck's passing yards are down from his rookie season, but he has had a better overall second year. His completion percentage is up and his interceptions are down. It didn't seem that would happen after Wayne was lost for the season and there wasn't much continuity with the rest of the receiving group outside of
T.Y. Hilton
. Have you ever heard of
Da'Rick Rogers
? But Luck's faith and trust with his receivers has improved each week because he has put in the time with them in practice.
The quarterback situation in Jacksonville is still a mess. Will the Jags look to upgrade the position in the offseason or will
Blaine Gabbert
get another shot?
DiRocco:
I mentioned it briefly above, but finding a franchise quarterback is the No. 1 priority and I believe the Jaguars will select one with their first-round pick. ESPN Insider Todd McShay's
first mock draft

had them selecting Johnny Manziel, which would certainly make them relevant nationally and bring some excitement to the franchise. Teddy Bridgewater is still an option, too, depending on how the draft plays out. The Jaguars also could opt to go defense in the first round and take a QB in the second. Regardless of their approach, I'd be stunned if the team doesn't draft a quarterback. Gabbert's days in Jacksonville are done.
Denver isn't a lock to win the AFC, by any means. How do you break down the Colts' chances in the playoffs?
Wells:
Health, continued improvement from the receivers, the defense forcing turnovers and having a running game are the biggest keys for the Colts in the playoffs. I believe it's a two-team race between Denver and New England in the AFC, but both teams have their flaws and are beatable. The Colts are in a situation where they could finish anywhere from the No. 2 seed to the No. 4 seed. They've been able to overcome the loss of Wayne to be in the position to possibly match their win total of 11 games from last season, but I think it's in the playoffs -- possibly in the second round if they get there -- that the Colts will miss Wayne's talent and experience.
September, 29, 2013
9/29/13
12:45
PM ET
By
ESPN.com staff
| ESPN.com
Join our ESPN.com NFL experts as they break down the Indianaplois Colts' visit to the Jacksonville Jaguars. Contribute your thoughts and questions beginning at 1 p.m. ET. And, be sure to visit our
NFL Nation Blitz page
for commentary from every game, as well as fan photos and the latest buzz from Twitter. See you there.
September, 26, 2013
9/26/13
12:00
PM ET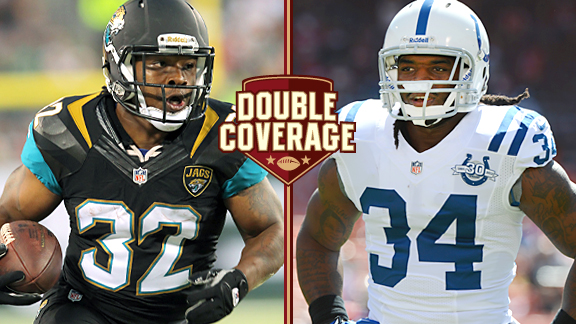 USA TODAY SportsMaurice Jones-Drew and Trent Richardson will square off Sunday in Jacksonville.
The winless
Jacksonville Jaguars
return to EverBank Field after spending more than a week on the West Coast -- they played at Oakland on Sept. 15 and remained in California to prepare for this past Sunday's game at Seattle -- for Sunday's game against the
Indianapolis Colts
. The Colts had a much better trip out West than the Jaguars. They routed host San Francisco 27-7 on Sunday by shutting down 49ers quarterback
Colin Kaepernick
. The Jaguars, meanwhile, fell to 0-3 after the Seahawks routed them 45-17. Sunday presents another tough task for the Jaguars. Colts reporter Mike Wells and Jaguars reporter Michael DiRocco take a look at this week's matchup.
Michael DiRocco:
Mike,
Peyton Manning
was such an iconic figure in Indianapolis. With all the success he's had in his first 20 games, has
Andrew Luck
come close to that level yet?
Mike Wells:
Manning may be on his way to his fifth MVP trophy out there in Denver, but the Colts could be set at quarterback for the next decade with Luck. It's only natural to compare the quarterbacks because they both carry themselves in the same manner. They're humble, perfectionists and, best of all, damn good quarterbacks. Luck isn't at the same level as Manning, but the goal in Indianapolis is for him to reach that status or beyond. Speaking of quarterbacks -- or maybe it's not a good idea -- what's going on down there in Jacksonville with that situation? When do the Jaguars officially throw in the towel and say
Blaine Gabbert
is not the answer for them?
DiRocco:
That is the general belief around Jacksonville, but that's not yet the case for new general manager Dave Caldwell and coach Gus Bradley. They have given Gabbert a clean slate and will evaluate him based on what they see from the 6-foot-4, 235-pounder this season. They have to find out whether Gabbert is the player around whom they can build the franchise, so this season is essentially a pressure-packed tryout for him. He has not performed well since being taken with the 10th overall pick in the 2011 draft. This year he's dealing with a pretty porous offensive line, and two of his top three weapons -- tight end
Marcedes Lewis
(calf) and
Justin Blackmon
(suspension) -- have yet to play this season. By the end of the season Caldwell and Bradley will know whether Gabbert is the answer. The Colts obviously have one piece of their foundation in Luck, but they recently traded for
Trent Richardson
to fulfill the role
Edgerrin James
had for years. My question is this: Who's the next
Marvin Harrison
?
Wells:
They don't have that receiver yet.
Reggie Wayne
is obviously a future Hall of Famer, and he's still playing at a very high level. But he's also 34 years old. The Colts are hoping that
Darrius Heyward-Bey
could be that receiver. He was the No. 7 overall pick in 2009, so he has the potential to complement Luck and Richardson. But Heyward-Bey has to get over his case of the drops. Playing well in spurts isn't good enough. In fact,
T.Y. Hilton
, the Colts' third receiver, outplayed Heyward-Bey in the preseason. I hate to do this to you -- and probably a lot of NFL fans -- but is there any possibility that the Jaguars would even think about bringing in
Tim Tebow
? There are fans down there rallying for him. And if anything, it'll help in the attendance department.
DiRocco:
Not going to happen, no matter how much noise Tebow's supporters make. The Jaguars are moving forward with Gabbert, and if it turns out he's not the player around whom they can build the franchise, they'll look to the 2014 draft to find a quarterback. I covered Tebow at Florida, and he was fantastic, one of the best collegiate players of all time, but he's just not able to make the leap. And there's nothing wrong with that. It doesn't diminish what he did at Florida in any way. As for attendance, the Jaguars actually ranked 20th in that stat last season, drawing an average of 64,984. That's ahead of teams such as Chicago (62,329), Minnesota (60,725) and Miami (57,379). That was for a 2-14 team that didn't have Tebow. Sometimes young, talented teams that make the playoffs take a step backward the following season before really taking off a year later. Do you see that being the case with the Colts in 2013?
Wells:
The Colts are a better team this season, but they will take a step back with their record by a game. Good fortune was on their side in more ways than one last season. They caught some breaks and Luck led them to seven fourth-quarter comebacks. They're still a playoff team, and if Houston slips up, the Colts will take advantage of it and win the division. The Jags are ranked last in this week's Power Rankings. Will they stay there all season?
DiRocco:
I think they'll battle the Browns and -- I can't believe I'm writing this -- the Steelers for the last spot all year. Right now no team is playing worse than the Jaguars, especially on offense. But I do think things will get a little better with the return of Lewis and Blackmon. The offensive line has to play much better, though. Cleveland's victory last week was surprising, but I see that as more of a byproduct of emotion and anger after the Richardson trade than anything else. The Steelers have looked horrible, and the loss of
Maurkice Pouncey
has them reeling. Plus, we all know it's a matter of time before
Ben Roethlisberger
gets hurt.