Jacksonville Jaguars:

2013 Week 13 JAC at CLE
December, 1, 2013
12/01/13
7:45
PM ET
JACKSONVILLE, Fla. -- Yeah, but …
That was the reaction to the
Jacksonville Jaguars
' first two victories.
Jacksonville 29,
Tennessee Titans
27: Yeah, but the Titans turned it over four times and gave the Jaguars a short field. The offense didn't have to put together any sustained drives.
Jacksonville 13,
Houston Texans
6: Yeah, but the Texans and quarterback
Case Keenum
were awful offensively and the Jaguars did nothing on offense after the first quarter.
[+] Enlarge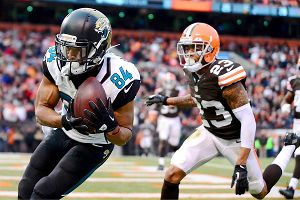 Andrew Weber/USA TODAY SportsCecil Shorts' fourth-quarter touchdown sealed the game for the Jaguars.
There won't be any of that after Sunday's game, and there shouldn't be. Not after the way the Jaguars beat the
Cleveland Browns
32-28
at FirstEnergy Stadium, driving 80 yards and scoring the go-ahead touchdown with 40 seconds remaining.
With the game on the line, the Jaguars delivered. That is something that seemed impossible two months ago.
"When I came in I said to our guys: 'Some things may happen around you. Some things may happen to you. But what's really important is the things that happen in you,'" Jaguars coach Gus Bradley said. "That's where I think this team has really gravitated around. It's not so much what happens to us. All those things can take place. [There is] a lot of noise out there, but it's more about where we're at inside and we're growing in that aspect.
"Whenever you have a victory like this, a tight, close game like this, it helps with that process."
The Jaguars appeared to be headed for another loss in typical Jaguars fashion: giving up a 95-yard touchdown pass to fall behind 28-25 with 3:55 remaining. Taking over at their own 20, the typical Jaguars response would be a three-and-out and Cleveland takes over and runs out the clock.
Instead, quarterback
Chad Henne
drove the Jaguars 80 yards on nine plays, capping the drive with a 20-yard touchdown pass to Cleveland native
Cecil Shorts
with 40 seconds remaining. Shorts, who had two drops earlier in the game, had pretty much been bottled up by Browns cornerback
Joe Haden
until then. He somehow got behind the Pro-Bowler who had shut down
Calvin Johnson
and
A.J. Green
earlier this season.
"I can't really put it into words," Shorts said. "It's a dream come true. For that play to happen in this game, in that situation, and in the home town … That last drive, guys were making plays and that one felt good."
This game for sure wasn't pretty. The Jaguars had just 5 yards and no first downs on offense in the third quarter. The secondary allowed
Josh Gordon
to catch 10 passes for 261 yards and two touchdowns. Cleveland out-gained Jacksonville 439-314, including 342 yards passing. None of that matters, though.
The Jaguars (3-9) made plays when it mattered and won the game in the final minutes, giving them their third victory in four games since the bye. That's a significant improvement from the first eight games, all of which the Jaguars lost by double digits. Heck, they scored just two points in the season opener and have scored just two touchdowns in four games at EverBank Field.
Bradley, in his first year as a head coach at any level, kept the team positive throughout the first half of the season. He preached to trust in the process and work on improving and not worry about winning games. By doing that, the victories would eventually come, Bradley said. The players never wavered.
Now they have the proof. Three wins in the last four games, back-to-back wins for the first time since Week 13-14 of the 2010 season, and victories in three consecutive road games for the first time since 2007.
"It's a good feeling as long as you keep it in perspective," Bradley said. "I think the big teaching for our players is [to] understand what got us to this place. What was our mentality? What was our approach? How did we practice? Those are the things that we want to concentrate on, not 'We've won two in a row' or whatever out of the last four since the bye week.
"I really want them to focus on what got us to this point and then build on that and then just trust."
Let's be honest: This game really meant nothing. The Browns (4-8) were mathematically still in the playoff race, but at 4-7 entering Sunday you didn't need to have aced calculus to figure out that wasn't going to happen. The Jaguars are one of the worst teams in the NFL and are at least two more years away from even being in contention for a playoff spot.
But that process has to start somewhere, and maybe it did today.
December, 1, 2013
12/01/13
4:26
PM ET
JACKSONVILLE, Fla. -- A few thoughts on the
Jacksonville Jaguars
' 32-28
victory
over the
Cleveland Browns
.

What it means:
It has been a while -- nearly three years, in fact -- but the Jaguars finally have a winning streak. Their victory over the Browns marks the first time they have won back-to-back games since Weeks 13-14 of the 2010 season. Jacksonville (3-9) has won three of its four games since the bye week. All of those victories have come on the road, which marks the first time since 2007 the Jaguars have won three consecutive road games.
Stock watch:
It had been a pretty miserable homecoming for Jaguars receiver
Cecil Shorts
, who grew up in Cleveland and played collegiately at Mount Union in Alliance, Ohio -- until the Jaguars' final drive. Browns cornerback
Joe Haden
had pretty much shut Shorts down and Shorts hurt himself with two drops. But he came up big when it mattered most, beating Haden for a 20-yard game-winning touchdown pass with 40 seconds remaining. On the other end of the spectrum, the secondary really struggled. The Jaguars had little trouble with Houston's
Andre Johnson
last week, holding the All-Pro to just two catches. But they appeared to be playing a man short because
Josh Gordon
absolutely shredded them for 261 yards and two touchdowns. Gordon's last touchdown was a 95-yard catch and run in which safety
Winston Guy
went for the interception instead of the tackle and rookie cornerback
Dwayne Gratz
chased Gordon for 20-plus yards and never dove for Gordon's legs.
Ace in the hole:
With Shorts a nonfactor for most of the game and
Mike Brown
playing with a very sore shoulder, the Jaguars needed somebody to step up at receiver, and
Ace Sanders
did, catching five passes for 38 yards and carrying it once for 4 yards in the first half. Those don't sound like big numbers, but Sanders converted four third downs. He finished with a team-high eight catches for 67 yards, including a 25-yarder on the Jaguars' game-winning touchdown drive.
Turnover binge:
The Jaguars went from trailing 14-7 to leading 20-14 in less than a two-minute span at the end of the first half thanks to three turnovers. Two were interceptions, which double the amount the Jaguars' secondary had entering the game. Rookie safety
Johnathan Cyprien
picked off the first pass of his career, which led to
Maurice Jones-Drew
's touchdown pass to
Marcedes Lewis
to tie the game with 1:24 remaining. Gratz intercepted
Brandon Weeden
's next pass, which led to
Josh Scobee
's 44-yard field goal and a 17-14 lead with 52 seconds remaining. The Browns tried to drive for a field goal but defensive end
Jason Babin
knocked the ball from Weeden's hand and defensive tackle
Sen'Derrick Marks
recovered the ball and returned it to the Cleveland 18-yard line with five seconds remaining. Scobee hit a 36-yard field goal to give the Jaguars a six-point lead.
What's next:
The Jaguars will play host to the
Houston Texans
on Thursday night.