Jacksonville Jaguars:

2014 Senior Bowl
January, 25, 2014
Jan 25
8:00
AM ET
MOBILE, Ala. -- It was a productive week for the
Jacksonville Jaguars
at the Reese's Senior Bowl. The information the coaching staff gained by their hands-on experience with the players is invaluable and will certainly help in draft evaluations.
The coaches were able to see how the players handled themselves in meetings, transferred what they learned onto the field, and reacted to unfamiliar situations. That's information they can't get at the combine, a school's pro day, or in interviews. That could be a tie-breaker on draft day.

Here are 10 players from the South team who could end up on the Jaguars' roster -- either as draft picks or free agents -- by the start of training camp. Obviously, not all of them will be available, but it wouldn't be surprising if three or four ended up in Jacksonville:
LB Jerry Attaochu (Georgia Tech):
He's one of the players the Jaguars tried out at their "Leo" position (hybrid end/linebacker) and that is where they would play him if they drafted him. He has a good burst off the line and was one of the more athletic linebackers on the roster.
QB Derek Carr (Fresno State):
He had the best week of all the South quarterbacks. He's more polished than the others, and you can tell he has benefited from his older brother's help. He's got a quick release, too, although he doesn't have ideal size (6-foot-2). He's likely the Jaguars' top quarterback target if they opt to take a pass-rusher in the first round.
DE Dee Ford (Auburn):
Ford is explosive off the edge and blew by offensive tackles all week. He's only 243 pounds, but his quickness more than makes up for his lack of bulk.
WR Kevin Norwood (Alabama):
The Jaguars need to add size to their receiving corps, and Norwood certainly brings that (6-2, 197). He's got good hands and ball skills. He can make plays on 50-50 balls, which is something the Jaguars lack. The only drawback is he doesn't have great speed.
C Bryan Stork (Florida State):
He might be a little undersized, but the guys at Scouts Inc. -- Todd McShay, Steve Muench and Kevin Weidl -- raved about his toughness all week. The Jaguars need a center to replace
Brad Meester
. Stork is smart and plays with a bit of a nasty edge.
DT Will Sutton (Arizona State):
He was the most impressive defensive lineman all week. He doesn't have ideal size (6-1, 315 pounds) so he'll have to get by on his quickness. He's more of a fit as a three-technique tackle, and he has shown the ability to rush the passer from the interior.
RB Lorenzo Taliaferro (Coastal Carolina):
What stood out about him was his pass blocking. He was clearly the best this week, and had no trouble locking up linebackers. He has good size (6-0, 231 pounds), runs downhill, and also showed he can be a factor in the passing game.
DE Brent Urban (Virginia):
He moves very well despite having a huge frame (6-7, 298 pounds) and did a good job shedding blockers and maintaining the edge. Though he's more of a run-stuffing end, his length makes him a factor as a pass-rusher. He's a fit for the spot that
Tyson Alualu
mans.
OLB Kyle Van Noy (BYU):
His athleticism really showed up this week. He was one of several players the Jaguars tried at the "Leo" position, and he did a solid job.
CB Jaylen Watkins (Florida):
He's versatile enough to play inside and outside (he did both in college) and his man coverage skills were the best of the group. He had some good battles with former Vanderbilt receiver
Jordan Matthews
, who was the best receiver this week. Watkins said his ability to recognize routes and his press coverage skills are because of his experience at Florida, where the Gators play nearly exclusively man coverage.
January, 24, 2014
Jan 24
10:00
AM ET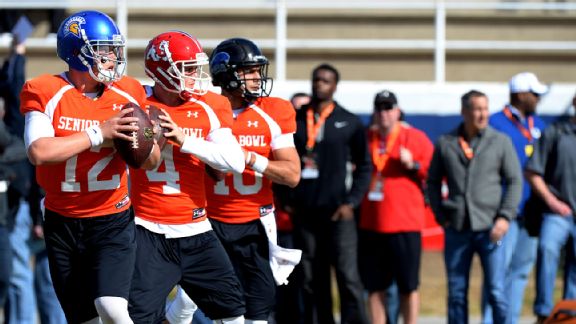 John David Mercer/USA TODAY SportsThe Senior Bowl gives players a taste of what February's NFL combine will be like.
MOBILE, Ala. -- One of the first things the players did at the Senior Bowl this week was get their official height and weight recorded.
It happened on a stage in an exhibit hall at the Mobile Convention Center in front of hundreds of scouts, NFL personnel people and executives, and members of the media in chairs and bleacher seating. The players stood behind a curtain until their name was called and then walked onstage, wearing nothing but their underwear.
The rest of the week was only slightly less weird.
There were interviews with scouts, team executives, the media, agents and their representatives, vendors and PR reps. Former NFL players wandered around. People with "business opportunities" tried to latch onto players.
It's a hectic, tumultuous experience for the players participating in the Senior Bowl, but it's also great training for what they're going to experience at the NFL combine in Indianapolis next month. This week has given them a taste of what to expect.
"This is a good precursor for the combine," Jaguars general manager David Caldwell said. "They get the interviews. They get their first interaction with coaches and scouts and really kind of digging into their background or family life and everything that they do. It'll school 'em up for the combine a little bit."
As each player's height and weight is announced, heads dip in unison as the hundreds in attendance diligently record the numbers on handouts that already include each player's hand width, arm length, and wingspan. That's not so bad considering what they'll experience at the combine, when they can be examined by the doctor of each of the NFL's 32 teams.
"We got into the big auditorium in the back and it's dead quiet and it's just the players back there, so we're like, 'Ah, there's no one. There's a couple people out there,'" offensive lineman
Brandon Linder
said. "And I guess someone got a picture on their phone of what was out there and they started showing around. It was an amphitheater of people. But it wasn't a big deal.
"It was pretty cool, walking across all serious, you get your height and weight and you walk off trying not to trip."
At least that doesn't require much thought. The interviews, however, are another matter. Some are planned, but others are pretty much spontaneous. After team meetings, practices and meals, players have to walk through the lobby and second-floor Senior Bowl headquarters of the team hotel, where at any moment a scout, agent, vendor, PR rep or member of the media can appear and ask for a few moments.
The meetings with the scouts and team officials are obviously the most important and most are pretty straightforward.
"It was very chaotic at the hotel and it still is," offensive lineman
Jon Halapio
said in the middle of the week. "I was used to interviews and stuff at Florida, but it was always about the games and stuff, but this was the first time I've had an interview asking about who I am as a person, about my personal life and stuff like that. It made me feel like, wow, this is an actual interview for a job."
And, as in any job interview, some of the questions are a bit unusual.
The
Cleveland Browns
, for example, dropped this one on some of the players they interviewed: Name as many uses as you can for a brick in one minute.
"I named a couple things," offensive lineman
Cyril Richardson
said. "I named paperweight, counter-balance, and stuff like that.
"Somebody warned me about it. I was like, 'Really?'"
Unusual for sure, but certainly less shocking than being asked if your mother is a prostitute as Dez Bryant was in an interview with the
Miami Dolphins
.
Players can expect the interviews at the combine to be even more intrusive. Each will meet with a representative from every team but the top players will often meet with the general manager and head coach as well. By then teams will have done more research on the players' pasts and will probe for answers about character issues, off-the-field issues, and any other potential red flags.
"I know it's a little bit more intense at the combine -- a lot more intense -- but this kind of gives you a taste and a feel for what you're going to get," San Jose State quarterback
David Fales
said.
One of the more infamous parts of the combine is the Wonderlic test, which is a timed 50-question test given to each player to assess their aptitude for learning and problem-solving ability. The players aren't given that test in Mobile, but they do take some similar exams.
One of the questions on this year's test was to determine to which of five people a fish belongs. Players were given clues.
"Those [tests] are a little off-the-wall," said receiver
Jeff Janis
, who admitted he didn't get the correct answer to the fish question. "I'm not sure what they're for, but I just filled them out and did my best."
While this week is a good trial run for the combine, it's particularly beneficial for small-school players who have not been exposed to this kind of environment. Players from LSU, Oklahoma, USC and Wisconsin have dealt with intense media coverage and have had numerous NFL scouts on their campus and at practice.
That's not the case for a guy like Janis, who played at Division II Saginaw Valley State, or cornerback
Pierre Desir
, who played at Lindenwood University in Missouri, another Division II school.
"It's been a crazy experience, something I'm going to remember forever," said Janis, who received his combine invitation a month ago. "I've just kind of been soaking everything up. This isn't something that happens very often where I'm from. I'm just trying to learn from everybody and take in as much as I can.
"It's different, but I realize that it's part of the game. I just kind of sit back and just enjoy it and have fun with it."
January, 23, 2014
Jan 23
12:50
PM ET
MOBILE, Ala. --
Logan Thomas
expects the question.
Whenever he meets with NFL teams, the quarterback knows he will be asked why he was so inconsistent throughout his career at Virginia Tech. Why his production was not nearly as impressive as his physical tools?
His answer is short and honest.
"I say, 'Ya'll are exactly right,'" he said. "I have been a little inconsistent, but it's all mechanical. It's all fixable, and they agree with me."
[+] Enlarge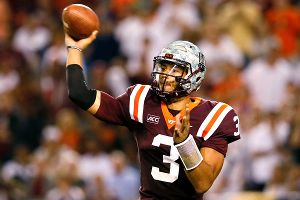 Kevin C. Cox/Getty ImagesLogan Thomas threw 53 touchdown passes and 39 interceptions at Virginia Tech.
Thomas is clearly the most physically gifted quarterback at the Reese's Senior Bowl. He's got a huge frame (6-feet-6, 250 pounds), a strong arm, and his athleticism and running ability compare to Carolina's
Cam Newton
. But he completed only 55.5 percent of his passes and threw 53 touchdown passes and 39 interceptions at Virginia Tech.
Thomas said his mechanical issues stem from poor fundamentals with his left leg, and he has been working with renowned quarterback coach George Whitfield.
Thomas has had his moments during Senior Bowl practices this week, but he has also delivered some off-balance, inaccurate throws. He has missed seeing open receivers, too, and has taken off running too soon at times.
Jaguars general manager David Caldwell said Thomas is an intriguing prospect, but in order to draft him a team has to decide if his inconsistency really is related to mechanical issues that can be corrected, or if that's just who Thomas is.
"Well you have to project a little bit, and what our offense would be, what he'll be two years from now, three years from now, and can you develop [him]," Caldwell said. "His issues with consistency, are they something that can be corrected or are they something that, as you know with certain quarterbacks, they're just habitual and they've had them their whole life."
That's the scenario that plagued Tim Tebow in his short NFL career. He tried to tinker and fix the throwing motion he used his entire life and was not able to make a significant change. Is Thomas the same way?
Caldwell said the Jaguars are interested in Thomas -- he said they are interested in everybody at the Senior Bowl, too -- but he would need some work before he'd be ready to get on the field.
"You always kind of draft for the floor," Caldwell said. "Whenever you take a player you hope that they're going to get better, but expect them to be who they are. If you expect to be like, 'Oh, we're going to turn this guy into a Pro Bowler even though he doesn't have this, this and that.' It doesn't happen. It happens sometimes, but if you draft to the floor you know you're going to at least get that, and then if it turns out to be more than that, that's great."
January, 22, 2014
Jan 22
7:00
PM ET
MOBILE, Ala. -- Here are 10 observations/thoughts from Wednesday's Senior Bowl practice(s) and interviews:
North team linebacker
Chris Borland
(Wisconsin) is a bit undersized at 5-feet-11 but that hasn't stopped him from making an impression this week. He's a stout 245 pounds so he's held up well in the run game and has been able to shed blocks. He also read
Logan Thomas
' eyes and easily intercepted a pass intended for running back David Fluellen (Tulane) during 11-on-11 drills. He also made a nifty juke to get by cornerback
Pierre Desir
(Lindenwood) during a kickoff coverage drill.
North receiver
Josh Huff
(Oregon) nearly made the catch of the day but just couldn't quite pull in a deep pass from
Stephen Morris
(Miami) in the end zone. Huff got a good release off the line of scrimmage and got behind cornerback
Marqueston Huff
(Wyoming). Huff has had a solid week.
Morris came right back several plays later with a good throw to receiver Mike Campanaro (Wake Forest) on an in cut. Morris was very accurate and looked better than
Tajh Boyd
(Clemson) and Thomas during that pass skeleton drill.
North Cornerback Stanley Jean-Baptiste (Nebraska) played well in 11-on-11, capped off by knocking away a fade pass in the back corner of the end zone intended for receiver
Jared Abbrederis
. Jean-Baptiste has the kind of size the Jaguars like in their corners (6-2, 215 pounds) but would be a luxury pick. The secondary is one area the Jaguars don't need to address this offseason.
South defensive end
Brent Urban
(Virginia) will miss the rest of the week and the game after suffering an ankle sprain. He had been having a solid week and was a player the Jaguars were keeping an eye on.
I really like the intensity and tenacity shown by South tight end Crockett Gillmore (Colorado State) during 9-on-7 drills. One personnel evaluator said they liked the 6-6, 255-pound Gillmore but he needed to improve as a blocker. He looked pretty darn good on Wednesday, though. He handled linebacker
Adrian Hubbard
(Alabama) on back-to-back snaps and took down defensive end IK Enemkpali (Louisiana Tech). He blocks through the whistle. He's a converted defensive end that brings a bit of nastiness to the position.
The Jaguars had defensive end
Kyle Van Noy
(BYU) working at outside linebacker and defensive coordinator Bob Babich was really pleased with Van Noy's performance in footwork and reaction drills. The Jaguars are looking for a leo (hybrid end/linebacker) and Van Noy is someone to watch.
The coaches also switched several offensive linemen around to see how they may fit at another position. Center
Travis Swanson
spent some time outside and really struggled with the ends during a pass rush drill. Guard
Jon Halapio
(Florida) took a few snaps at center and said after the practice that was the first time he had ever snapped.
South cornerback
Chris Davis
(Auburn) measured shorter than anticipated (5-10 ¾) but has shown the ability to deal with bigger and more physical receivers. He out-fought the 6-3
Jordan Matthews
(Vanderbilt) for a ball on the sideline and ripped it from Matthews' hands to force an incompletion.
North guard
Brandon Linder
(Miami) may have increased his draft stock with a solid three days of practice. The 6-5, 316-pounder had a reputation for being technically sound and that showed up this week. Linder, a three-year starter for the Hurricanes, was projected to be a late-round draft pick but that could change if he finishes the week strong.
January, 21, 2014
Jan 21
7:20
PM ET
MOBILE, Ala. -- Here are 10 observations/thoughts from Tuesday's Senior Bowl practice(s) and interviews:
After practicing Monday on a mild 65-degree day, players had to deal with temperatures in the 50s and wind gusts of more than 20 mph. Naturally, it wasn't an easy day for the quarterbacks, who had trouble throwing the ball into the wind. It also was an issue for the punt and kick returners, who had trouble adjusting to the ball. Jalen Saunders (Oklahoma) did the best job of any of the South returners. Lorenzo Taliaferro (Coastal Carolina) completely whiffed on one punt and Mike Davis (Texas) dropped two kickoffs.
Three South players are out with injuries: offensive tackle Ja'Wuan Jones (Tennessee) suffered a sprained knee; tight end Marcel Jensen (Fresno State) suffered an abdominal strain; and defensive end Ed Stinson (Alabama) suffered a groin strain. Former Colorado State tight end Crockett Gillmore has been added to the roster and was scheduled to arrive Tuesday night.
One of the more fun drills to watch was the running back/tight end pass-blocking drills. Taliaferro was the most impressive of the backs, which shouldn't be surprising considering he's the biggest back on the roster (231 pounds). He handled linebacker Christian Jones (Florida State) and stuffed linebacker Telvin Smith (Florida State) before finally getting beat by defensive end Kyle Van Noy (BYU). Jones rebounded nicely, though, and consistently got by the other backs. He also beat tight end Arthur Lynch (Georgia) twice, including once with a nasty spin move.
Running back Antonio Andrews (Western Kentucky) more than held his own in the pass-blocking drill despite being much shorter than the players he was blocking. Andrews is 5-foot-10 but a solid 225 pounds. He also showcased his agility with a nifty juke after catching a swing pass that left linebacker Lamin Barrow (LSU) on the ground.
Smith's size is becoming an issue. He was a 6-3, 217-pound linebacker at FSU but he's having trouble getting off blocks and has been pushed around too easily at times.
It's clear that Jordan Matthews (Vanderbilt) is the South team's top receiver. He made a twisting sideline catch after adjusting to deep ball that got caught up in the wind and showed the ability to fight through press coverage. He also caught a short pass on a drag route with a defensive back all over him.
Give the Senior Bowl staff credit for putting offensive tackle Billy Turner on the South team. Why is that interesting? Turner helped North Dakota State win three consecutive FCS national titles. The Jaguars are coaching the South team and head coach Gus Bradley played and coached at North Dakota State. "We talked a little bit. There's a saying up there, once a Bison always a Bison," Turner said. "I don't know if it'll help me but it's kind of a connection. I think that my play on the field will help me the most." Turner certainly has the size to be an NFL tackle (6-5, 316 pounds) but he has struggled a bit adjusting to the speed on the edge. Defensive end Chris Smith (Arkansas) blew by him quite easily in 11-on-11.
Cornerback Jaylen Watkins (Florida) had an impressive day. He broke up several passes, including one intended for Matthews, and had an interception. He's comfortable in press coverage, which was what he played most of the time at Florida under coach Will Muschamp. Watkins (5-11, 194) has experience at field and boundary.
Quarterback Derek Carr spent about 20 minutes throwing to Matthews after practice. He worked on slants and in routes because he missed several of those throws during practice. He wasn't just doing it for the field of scouts, either. It's part of his competitive nature, he said, and his commitment to continually improve. "If I miss a throw I'd be wrong to not throw it again after practice," Carr said.
One outside linebacker who has flown somewhat under the radar so far this week is Jordan Tripp (Montana). The 6-3, 237-pound Tripp isn't flashy and doesn't have the speed and quickness of some of his SEC teammates but he always seemed to be around the ball. He is a two-time FCS All-American and was twice a finalist for the FCS defensive player of the year award.
January, 21, 2014
Jan 21
12:30
PM ET
MOBILE, Ala. -- To
Aaron Murray
, there was no reason to bypass the Reese's Senior Bowl this week.
[+] Enlarge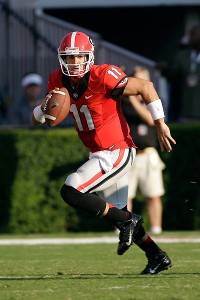 AP Photo/John BazemoreGeorgia product Aaron Murray, who is still recovering from a torn left ACL, decided the Senior Bowl was too good of an opportunity to pass up.
Even though he can't practice or play because he is still recovering from the torn left ACL he suffered in late November, the ex-Georgia quarterback felt participating in South team meetings, interacting with the Jaguars coaching staff and meeting other NFL GMs and scouts was too valuable an opportunity.
"I just felt like I needed to be here to start the process off, meet some of these coaches, talk to them," Murray said. "Obviously I can't physically go out there and do things right now so the best thing I can do is get on the board, show them what I know, also get them to know a little bit about my personality and things like that."
Former Alabama quarterback and Mobile native A.J. McCarron made the opposite decision, and he has been criticized pretty heavily for it. NFL Network analyst Mike Mayock said McCarron is blowing a chance to prove that he could be a first-round pick. Murray, however, is getting nothing but praise for coming from Jaguars head coach Gus Bradley and offensive coordinator Jedd Fisch.
"I think it's a really cool thing that he did that and I told him that and so did Gus," Fisch said. "It's an opportunity. So many guys miss the opportunity to be a part of something like this. Why? Why not be a part of being around an NFL coaching staff and an NFL coaching system and make yourself available and make yourself learn and showcase your intelligence? This is the only place you could ever do that. You can't showcase your football knowledge at the combine nearly the same as you do here."
Murray is doing that by taking notes and asking questions in meetings. He is also attending practices and essentially attaching himself to Fisch and quarterbacks coach Frank Scelfo. As for being an active participant instead of just showing up, hanging out, and meeting NFL people, Murray said it would be a wasted trip if he didn't participate.
"I just love football," he said. "I love being in meetings. I love learning new things. I love getting new ideas about things I already know. Like certain route concepts that we're learning right now we run at Georgia but they might have a little twist on it. Take any opportunity to learn something new, to work with these guys. There's a reason why they're professional coaches.
"It'd be silly for me just to sit there and not do anything. Like I said this is an opportunity for me to get better and I'm going to take full advantage of it."
Murray said he will go to the NFL combine next month but won't work out or throw because of his injury. He said he plans on throwing at Georgia's pro day in March. He is projected as a middle-round draft pick and is someone in whom the Jaguars could be interested if he' still on the board in the fifth round.
January, 20, 2014
Jan 20
7:10
PM ET
MOBILE, Ala. -- Here are 10 observations/thoughts from Monday's Senior Bowl practices and interviews:
1. Though there was only one period at the end of South team practice in which the entire offense faced off against the entire defense, Monday was a good day to evaluate the quarterbacks. It was mainly from a mental standpoint, Jaguars offensive coordinator Jedd Fisch said. The offense was put in Sunday night and Monday was the first chance to see how well the quarterbacks transferred it from the meeting room to the field. Fisch said he was pleased with the way
Jimmy Garoppolo
(Eastern Illinois),
Derek Carr
(Fresno State) and
David Fales
(San Jose State) handled that. There were mistakes and issues, but all the quarterbacks did a solid job.
2. There isn't a lot of size among the quarterbacks for either team, with the exception of
Logan Thomas
(Virginia Tech), who measured in at an impressive 6-5 5/8 and 250 pounds. Fales (6-1) and Carr (6-2) were both listed at 6-3 on the pre-measurement roster.
[+] Enlarge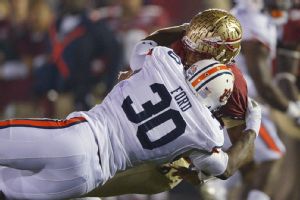 AP Photo/Mark J. TerrillDee Ford, who had 2 sacks in the national title game against Florida State and 10.5 sacks for the season, impressed on Monday at Senior Bowl practices.
3. Maybe it's my SEC background (I covered Florida and the league for 13 seasons), but defensive ends
Dee Ford
(Auburn) and
Chris Smith
(Arkansas) were noticeably quicker than the other defensive linemen. It really showed during one-on-one pass-rush drills. Offensive tackles
Joel Bitonio
(Nevada),
Wesley Johnson
(Vanderbilt),
Ja'Wuan James
(Tennessee),
Morgan Moses
(Virginia) and
Billy Turner
(North Dakota State) really struggled with those two players on the edge. Turner had a particularly hard time, which is partly to be expected because of the step up in competition. However, it was a bit surprising to see Johnson, James and Moses have issues. The layoff is partly to blame.
4. Ford had 10.5 sacks, including two in the national title game against Florida State, and was consistently beating the tackles around the edge. It'll be interesting to see how he handles coverage responsibilities. He's not really big enough to play a down end (6-2 1/4, 243 pounds) so he'd likely fit in the Jaguars' scheme as a leo.
5.
Jon Halapio
(Florida) had a rough start in one-on-one run-blocking drills -- defensive tackle
Will Sutton
(Arizona State) threw him aside pretty easily -- but he rebounded to have a solid performance in the pass-rushing drills. He handled Sutton and tackle
Deandre Coleman
(California) in pass-rush drills.
6. From the Don't Read Too Much Into This Department: Jaguars GM
David Caldwell
wandered over to watch some of the one-on-one run-blocking drills and stood next to end
Ed Stinson
for a while. The two appeared to be chatting while Stinson was sitting out some drills. Stinson weighed in at 292 pounds so he'd be a better fit for the spot that
Tyson Alualu
plays. The Jaguars were satisfied with the way Alualu played the run last season but they'd like more pass-rush production out that spot.
7. Here's a name to keep an eye on as the draft rolls into the later rounds: defensive tackle
Caraun Reid
(Princeton). He had a really strong day in run-blocking and pass-rushing drills. He moves very well for his size (6-2 1/8, 301 pounds) and showed good strength and quickness. He tossed guard
Gabe Jackson
(Mississippi State) aside and got underneath center
Bryan Stork
(Florida State) and drove him back.
8. Another small-school player that caught my eye was running back Lorenzo Taliaferro (Coastal Carolina), mainly because he's the biggest running back participating this week (6-0, 231 pounds). He had a couple nice runs during the short 11-on-11 period. He ran for 1,742 yards and 27 touchdowns and averaged 6.3 yards per carry last season. He has lost only 20 yards in 356 career carries.
9. Receiver
Jordan Matthews
(Vanderbilt) made a nice catch with a DB all over him during 11-on-11. Matthews (6-2, 209 pounds) is a physical player who caught 201 passes the past two seasons. He has good hands, knows how to use his body, and will make the tough catch. He doesn't have top-end speed, but he'll be one of the first several receivers drafted.
10. I wasn't that impressed with fullback
Jay Prosch
(Auburn), who struggled whenever he had to block an end or on the edge. Granted, there were only a few live periods but he seemed to be much better whenever he had to take on an inside linebacker.
January, 20, 2014
Jan 20
1:15
PM ET
MOBILE, Ala. -- Nearly the entire Jaguars football staff is on hand for the Reese's Senior Bowl. The Jaguars will coach the South team and the
Atlanta Falcons
will coach the North team, but each will switch rosters for a day on Thursday so they can interact with all the players.
Here's a primer of what to expect:
Help wanted:
Jaguars coach Gus Bradley said he expected his staff to remain intact, but linebackers coach Mark Duffner left the team on Sunday night to take the same position with the
Miami Dolphins
. Duffner just finished his eighth season with the team. Defensive coordinator Bob Babich, who spent seven seasons as a linebackers coach with the
Chicago Bears
and
St. Louis Rams
, will work with the linebackers this week. In addition to being a college all-star game, the Senior Bowl is also part coaches convention. Unemployed assistants are here trying to land jobs and head coaches are also here trying to fill staffs.
Keep your eye on:
The Jaguars certainly have a lot of needs to fill, beginning with quarterback and pass rusher. So naturally all the quarterbacks -- particularly
Derek Carr
,
Tajh Boyd
and
David Fales
-- are players to watch during the practices and games. Though he is unable to play because of a torn ACL he suffered in late November against Kentucky,
Aaron Murray
is here to participate in meetings and interviews. It's a smart decision and one that GMs will like.
As for those pass rushers, Jeremiah Attaochu (who played linebacker at Georgia Tech), Michael Sams,
Kareem Martin
,
Chris Smith
, and
James Gayle
are defensive ends to watch. At outside linebacker,
Trent Murphy
and
Christian Jones
are worth watching.
Unfortunately, two of the country's top pass rushers won't be here. Buffalo's
Khalil Mack
has opted not to participate and UCLA's
Anthony Barr
will miss the week because of an undisclosed injury. Both are considered top-10 draft picks.
Some other players to watch: WR
Jordan Matthews
, TE
C.J. Fiedorowicz
, TE Jacob Pederson, G
Cyril Richardson
and C
Weston Richburg
.
What you'll get:
Each day I'll provide Jaguars news and notes as well as observations from practice. I'll concentrate on players at positions that correspond to the Jaguars' top needs (QB, DE, OLB, interior OL, RB, WR) but there will be other players as well. I'll have several blog posts a day and you also can follow me on Twitter @ESPNdirocco.
ETC.:
Among the other players who either opted out or cannot participate because of injury are RBs
Carlos Hyde
(opted out),
Andre Williams
(injury) and
Tyler Gaffney
(injury), OTs
Jake Matthews
(opted out) and
Taylor Lewan
(injury), WR
Tevin Reese
(injury), and DT
Dominique Easley
(injury).