Jacksonville Jaguars:

Andre Ellington
November, 17, 2013
11/17/13
8:55
PM ET
JACKSONVILLE, Fla. --
Jacksonville Jaguars
defensive end
Jason Babin
found himself in a pretty hairy situation on Sunday.
Luckily for him, it wasn't his hair.
Babin
Babin ended up with a handful of
Andre Ellington
's hair after he tackled the
Arizona Cardinals
running back late in the third quarter of the Cardinals'
27-14 victory
at EverBank Field. More than a handful, actually. Nearly 2 feet of dreadlocks.
"Seems like everyone's making a big deal about it," Babin said. "But it's just one of the plays in the football game."
NFL rules state that a player's hair hanging out of the back of his helmet is considered part of the uniform, therefore making it fair game to be used to tackle a runner. It usually happens when a defensive player is chasing a runner down from behind, but on Sunday it happened on a play in the middle of the field, a carry in which Ellington lost a yard.
As the tangle of players got up, Babin stood up with Ellington's hair in his right hand. It's not the first time it has happened to him, Ellington said, but he said this may be the first time it was done intentionally.
"I didn't know what was going on," Ellington said. "I was getting tackled and I looked and saw that he had a handful of my hair. It was a little dirty play by their part, but it's OK, we got the win. I didn't feel it at all. With the adrenalin flowing, I didn't feel anything. You don't feel anything when you're being tackled by some of those 300-pounders.
"I saw him holding it and said, 'Come on, man.' He said, 'It's part of the uniform.' I've lost some before, but not that much came out at one time like this. Guys don't intentionally try to grab it out. I think he was trying to grab it and pull it out."
Babin denied that.
"It was one of those things," Babin said. "It wasn't like it was pre-planned. It just happened. When you've got that much hanging out of the back of your helmet, sometimes I imagine it gets grabbed."
Babin dropped the hair on the field as he walked to the sideline.
"Their guy looked down and was like, 'Oh, man, that's nasty,'" Jaguars defensive tackle
Sen'Derrick Marks
said. "I was like, 'Actually, that's your running back's hair,' and he laughed at it. It was a pretty funny moment."
Ellington's hair stayed on the field for a while until Cardinals defensive tackle
Frostee Rucker
picked it up and brought it to the sideline and gave it to him.
Jaguars players were laughing about it in the locker room after the game.
"That's just Babs being Babs," Marks said. "Get a guy down any way you can. If you don't grab his hair, you grab his jersey [and] he slips out, he could take it to the house."
November, 17, 2013
11/17/13
8:00
PM ET
JACKSONVILLE, Fla. -- Defensive tackle
Sen'Derrick Marks
has said for a while that it would be pretty simple to fix the Jaguars' porous rush defense.
Everyone just needed to do their job. Stay in their assigned gap. Quit freelancing. Just do what you're supposed to do on each play.
Turns out he was correct.
[+] Enlarge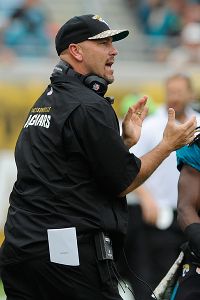 AP Photo/Stephen MortonGus Bradley and the Jaguars held the Cardinals to 14 rushing yards on Sunday, but were burned for several big plays through the air.
The Jaguars held Arizona to just 14 yards on the ground in a 27-14 loss at EverBank Field. That's the second-lowest single-game total in franchise history, behind only the 10 yards the Jaguars yielded to Kansas City in 2007.
It also is pretty much the only positive thing you can say about the defense on Sunday.
Carson Palmer
threw for 419 yards and two touchdowns, including a 91-yarder to
Michael Floyd
in which three players missed a tackle, and the Cardinals controlled the ball for nearly 36 minutes. But the defensive front -- which was without middle linebacker and leading tackler
Paul Posluszny
(concussion) -- showed up.
"Just like I've been saying the whole year, every time we've had runs get out on us, we have a guy out of a gap," Marks said. "Our thing was after the bye we had to hold everybody accountable. We've been doing it ever since we came off the bye week. We've got guys in the right gaps, and everybody is where they're supposed to be.
"Everybody's been accountable, and when you do that you tend to stop the run."
Rashard Mendenhall
gained 14 yards on 13 carries. One of which was a 5-yard touchdown run, which means he managed just nine yards on his other 12 carries.
Andre Ellington
, a speedy breakaway threat, managed just 3 yards on eight carries. The Jaguars entered the game giving up an average of 153.0 yards per game rushing.
"We were aware of the run game, and we did not want that to get going," head coach Gus Bradley said. "We did a good job attacking the run and controlling Ellington."
The defense certainly felt the loss of Posluszny, who is by far the team's best defensive player. He has two interceptions, eight pass breakups, two forced fumbles, and one fumble recovery. Posluszny didn't practice all week, and was finally ruled out on Saturday morning.
Russell Allen
, who normally starts at outside linebacker, filled in and made seven tackles, but failed to deliver a big play.
Actually, he made one but it didn't count. He stepped in front of Palmer's pass to
Larry Fitzgerald
inside the Jacksonville 20-yard line in the third quarter, but officials announced that the Cardinals had called timeout before the snap.
"I think you grow to appreciate Poz and what he's all about, but for Russell to step in and manage the defense like he did ... then he had the interception that would have helped out," Bradley said. "He did a nice job managing the defense. If he got more reps [during the week] we would see even better."
The Jaguars were certainly better against the run than in stopping Palmer, Fitzgerald, Floyd, and whichever tight end happened to be in the game at the time. Floyd caught six passes for 193 yards, including a 91-yard catch-and-run in which Allen, safety
Josh Evans
, and cornerback
Will Blackmon
missed tackles.
Fitzgerald caught a modest six passes for 61 yards and one touchdown, but tight ends
Jim Dray
,
Jake Ballard
and
Rob Housler
combined to catch nine passes for 117 yards -- continuing the trend of tight ends taking advantage of the Jaguars' rookie safeties (Evans and
Johnathan Cyprien
).
Things could have been even worse had cornerback
Alan Ball
not broken up four passes in the first half.
The
Tennessee Titans
had similar trouble on the ground (83 yards) and success through the air (288 yards, two TDs) last week. The biggest difference is the Jaguars forced the Titans into four turnovers. They didn't get any against the Cardinals.
"We feel good about how we played against the run, and we felt like it was something we were going to be able to do going in, but unfortunately we gave up too many big plays in the passing game," Allen said. "Any time we can give our offense a short field it's important, giving them an opportunity to put points on the board. Getting some breaks ... would have helped a lot."
November, 17, 2013
11/17/13
5:28
PM ET
JACKSONVILLE, Fla. -- Observed in the locker room after the
Jacksonville Jaguars
' 27-14
loss
to the
Arizona Cardinals
.
Preplanned surprise:
Head coach Gus Bradley said he and offensive coordinator Jedd Fisch planned to go for the first down on a fourth down at some point in the game. He just didn't expect it to be from their own 38-yard line less than three minutes into the game. "That was a little bit out of the range [they wanted], but I just felt like we needed it at that time," Bradley said. The misdirection play resulted in a 62-yard touchdown by little-used tight end
Danny Noble
.
Jones-Drew
Stifled:
Maurice Jones-Drew
managed just 23 yards on 14 carries against the Cardinals' third-ranked rush defense. He gained 9 yards on one run, meaning he had 14 yards on his other 13 carries. The 23 yards is tied for the second-lowest total of his career in games in which he had 10 or more carries. His lowest was 10 yards on 10 carries against Indianapolis in 2007.
No comment:
Jaguars defensive end
Jason Babin
spoke for a few minutes about ripping out a chunk of
Andre Ellington
's hair, but when another member of the media arrived late and asked him about it again, he politely declined to comment. Why? Because the question was phrased like this: Have you ever held another man's hair up in your hands like that? As he joked afterward, answering a question phrased that way can only result in his comments getting twisted or taken out of context.
November, 15, 2013
11/15/13
12:30
PM ET
JACKSONVILLE, Fla. -- Looking for some help with your fantasy football lineup? Every Friday I'll give you my opinions on which
Jacksonville Jaguars
players to play and sit, as well as which of the opposing players might be a good play against the Jags. For more fantasy football advice, check out ESPN.com's
fantasy football page
.
Jaguars
Henne
QB Chad Henne:
In three games vs. NFC West teams this season, Henne has completed 56.3 percent of his passes for 552 yards and three touchdowns with two interceptions. He'll be throwing a lot again Sunday, because the Cardinals have the league's No. 3 rush defense. However,
Patrick Peterson
will likely shadow top receiver
Cecil Shorts
.
Verdict
: Sit him.
RB Maurice Jones-Drew:
The Cardinals are allowing only 86.9 yards per game rushing thanks to a stout defensive front. Even if he gets 20-plus touches again, there won't be a lot of room for Jones-Drew.
Verdict
: Sit him.
WR Cecil Shorts:
He is the Jaguars' top receiver with
Justin Blackmon
suspended, but that means he'll likely draw Peterson all day. That's not a good matchup for the Jaguars.
Verdict
: Sit him.
TE Marcedes Lewis:
He should be a bigger factor in the passing game, especially if Shorts is shadowed by Peterson. But that's what everyone thought last week, too, and Lewis caught three passes. Maybe this will be the week he breaks out.
Verdict
: Might be worth a gamble.
K Josh Scobee:
He is the only Jaguar other than linebacker
J.T. Thomas
to have scored a point this season at EverBank Field.
Verdict
: Start him.
Defense/special teams:
It's unlikely that middle linebacker
Paul Posluszny
plays, and if that's the case, the Jaguars' defense won't have its best player and biggest playmaker. Still waiting on
Ace Sanders
to break out as a punt returner, although kick returner
Jordan Todman
had a good game last week.
Verdict
: Sit them.
Cardinals
Palmer
QB Carson Palmer:
Palmer has struggled with turnovers (15 interceptions) and is averaging 222.9 yards per game passing. The Jaguars' pass rush, however, has only managed 12 sacks and 30 pressures, and the secondary includes three rookies.
Verdict
: If you're in a league that allows two quarterbacks, he'd be a good option.
RB Rashard Mendenhall:
He hasn't been especially productive (388 yards), but he'll be facing the NFL's 31
st
-ranked rush defense -- likely without Posluszny.
Verdict
: He'd be a good play for a No. 3 back or a flex in deeper leagues.
RB Andre Ellington:
He ranks No. 1 among running backs with a 7.2 per-carry average, which is more than twice what Mendenhall averages (3.1).
Verdict
: He's got more of a chance of breaking a long run than Mendenhall, so he's worth a start as a flex player.
WR Larry Fitzgerald:
Fitzgerald has caught just 39 passes, but he's averaging a touchdown every eight catches. Plus, the Jaguars' secondary has three rookies.
Verdict
: Start him.
WR Michael Floyd:
He said he will play Sunday despite injuring the AC joint in his shoulder last week. He has 36 catches, so he's just as much of an option for Palmer as Fitzgerald.
Verdict
: That's an easy injury to aggravate for a receiver. The safe bet would be to sit him.
TE Rob Housler:
He just caught the first touchdown pass of his career last week against Houston, and has just 18 catches.
Verdict
: If there was ever a week to start him it would be this one, because the Jaguars have struggled against tight ends all season.
K Jay Feely:
He has missed just one field goal attempt all season (16-for-17). The Cardinals' offense should be able to move up and down the field, so he'll get plenty of work.
Verdict
: Start him.
Defense/special teams:
The Cardinals' defensive front is among the best in the NFL, so the Jaguars won't have much success on the ground. That means more opportunities for
Tyrann Mathieu
, the ballhawking rookie from LSU.
Verdict:
Start them.
November, 15, 2013
11/15/13
12:00
PM ET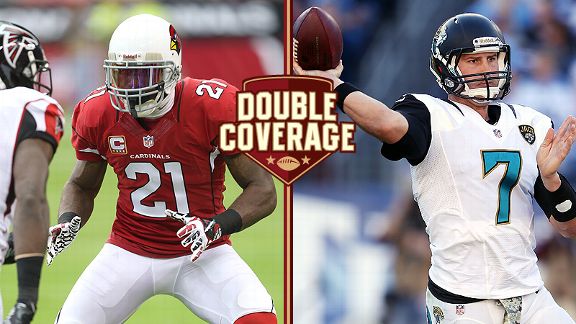 AP PhotoCornerback Patrick Peterson, left, and the Cardinals could make life hard for the Jags' Chad Henne.
JACKSONVILLE, Fla. -- The
Jacksonville Jaguars
finally took 0-16 off the table with their 29-27 upset of Tennessee in Nashville.
But that doesn't mean things are wonderful in Jacksonville. The team still ranks last in the NFL in total offense and rush defense and next-to-last in rushing offense.
To the Jaguars' credit, the players said those same things almost immediately after the game and have repeated them throughout the week. Finally getting that first victory doesn't change the fact that the team still has a long way to go.
The
Arizona Cardinals
have won back-to-back games for the second time this season and find themselves in the hunt for a playoff spot. The offense hasn't been especially productive, but the defensive front has been stellar, which is why the Cardinals are the NFL's third-best rush defense.
ESPN.com Jaguars reporter Michael DiRocco and Cardinals reporter Josh Weinfuss break down Sunday's matchup at EverBank Field:
DiRocco:
Josh, running back
Rashard Mendenhall
has really struggled this season. Rookie
Andre Ellington
has clearly outplayed him, yet coach Bruce Arians seems to be sticking with Mendenhall. What gives?
Weinfuss:
If I had the answer to that question, I would sell it to Arians, retire and be living on a beach. Nobody really knows. There are a few guesses as to why, but the most common one is that Arians is simply loyal to players he brings in. Mendenhall was Arians' handpicked running back, and the coach will go with him through thick and thin. There's also the fact that Arians doesn't consider Ellington an every-down back. Arians would rather give Mendenhall the brunt of the carries -- especially between the tackles -- while he uses Ellington out in space. That said, Arians won't shy away from using Ellington more than Mendenhall throughout the game if the rookie has the rhythm.
After getting their first win, are the Jags feeding off that momentum, or are they basking a little bit in not being a winless team?
DiRocco:
The Jaguars certainly enjoyed their first victory, but I would call it a tempered excitement. In the locker room after the game, players talked about fixing mistakes and staying humble. That message was reiterated Monday and Wednesday. The players remember what happened after the Denver game. They played relatively well against the Broncos, trailing 14-12 at halftime before eventually losing by 16 in a game in which they were 28-point underdogs. They figured the progress they showed would naturally continue, but they followed that performance by playing two of their worst games of the season, against San Diego and San Francisco. The players say they've learned their lesson and that won't happen again. We'll have to see Sunday if that's the case.
Like the Jaguars, the Cardinals are searching for a long-term answer at quarterback. But they're also in contention for a playoff berth, so they're not likely to be picking near the top of the draft. Louisville standout Teddy Bridgewater, Oregon's Marcus Mariota and Texas A&M's Johnny Manziel are probably out. So which quarterbacks to do you think they have their eyes on, and which would be the best fit?
Weinfuss:
I think this draft could be the long-term answer to the Cardinals' quarterback situation. If the Cardinals end up in the playoffs, they won't be picking near the top, which means they might get their hands on a college veteran. I've liked Aaron Murray from Georgia for a long time, and I think he's the type of player who can come in and have the talent to play right away. Another guy who could benefit the Cardinals is LSU senior Zach Mettenberger. They are both pocket passers who have big arms and are smart. Mettenberger might pick up an NFL offense quicker than Murray, because he's been running an NFL offense under offensive coordinator Cam Cameron. Arians' offense calls for a big arm, but I think Arians is seeing what life is like in the NFC West, facing mobile quarterbacks like Seattle's
Russell Wilson
and San Francisco's
Colin Kaepernick
, who can run and have big arms. Both Murray and Mettenberger could benefit from playing behind
Carson Palmer
for another season, if the Cardinals bring Palmer back. If a slinger like Clemson's Tajh Boyd is available, I wouldn't be shocked to see him drafted. At the same time, I also wouldn't be surprised if Arizona waits on a quarterback until the second or third round, hoping a gem like Wilson is available then.
Speaking of quarterbacks, is
Chad Henne
the short-term or long-term answer, and what will the Jags do with
Blaine Gabbert
?
DiRocco:
Right now, Henne gives the Jaguars a better chance to win than Gabbert, but Henne isn't the long-term answer for the franchise. The Jags' first pick in the 2014 draft -- whether it's No. 1 or not -- will almost certainly be a quarterback. That's a clear indication that the team is ready to move on without Gabbert, who was the No. 10 overall pick in 2011. I would be surprised if he's on the roster next season. Henne will be a free agent after the season and might opt to go somewhere else to compete for a starting spot. If he decides to come back to Jacksonville, it would likely be to serve as a mentor to whichever quarterback is drafted.
Cardinals cornerback
Patrick Peterson
has shadowed top receivers
Calvin Johnson
,
Steve Smith
and
Andre Johnson
and did a good job against them. I'm assuming he'll draw
Cecil Shorts
on Sunday. Is that the case, and where do you think Peterson ranks among the league's top corners?
Weinfuss:
If Shorts is the Jags' top receiver threat, then Peterson will most likely draw that assignment. Peterson prides himself on stopping the opponent's top receiver, as he has done in wins against Detroit and Houston -- despite two touchdowns by Andre Johnson that were barely inbounds. Peterson is no doubt one of the top two or three cornerbacks in the game, and depending on how you grade them, he could be the best. He's definitely the most athletic, but sometimes his fundamentals aren't as sound as they should be. He's shown that size doesn't matter as he takes on bigger players and makes them all but a nonfactor.
Is the Jacksonville defense better than people give it credit for, or is its 32nd ranking in stopping the run an accurate representation of the unit?
DiRocco:
It's pretty bad. The defensive line, outside of
Sen'Derrick Marks
, has played pretty poorly. It has been physically handled way too often, has poor gap control and has had trouble with missed tackles. Linebacker
Geno Hayes
has been inconsistent, and there are three rookies in the secondary. Middle linebacker
Paul Posluszny
has been terrific, but he might not play this week because of a concussion.