Jacksonville Jaguars:

Andy Reid
January, 28, 2014
Jan 28
10:00
AM ET
JACKSONVILLE, Fla. -- Three of the Jaguars who participated in this NFL Nation confidential survey are probably a bit disappointed today. The survey asked which NFL coach other than their own they'd most like to play for .
Their choice is unemployed.
Those three players picked Gary Kubiak, who at the time of the survey was still the
Houston Texans
' coach. He was fired on Dec. 6, one day after the Jaguars beat the Texans for the second time in 2013.
Kubiak received the most votes of any coach among the 10 players surveyed. Pittsburgh's Mike Tomlin was the only other coach to receive multiple votes. He was named twice. San Francisco's Jim Harbaugh, St. Louis' Jeff Fisher, Kansas City's Andy Reid, Seattle's Pete Carroll, and New England's Bill Belichick each got one vote.
It's understandable why Kubiak received more votes than anyone else. He coached a division rival so the players are familiar with him. Several players also are friends with Texans fullback
Greg Jones
, who spent the first nine season of his career with the Jaguars before signing with Houston as a free agent last March.
Carroll was the coach most named by the 320 players who participated in the survey. He got 72 votes. Tomlin received 44.
December, 26, 2013
12/26/13
10:00
AM ET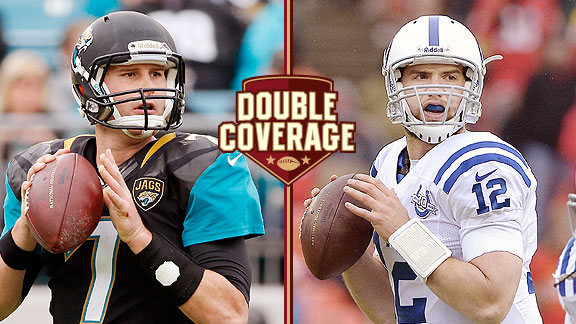 Getty ImagesAndrew Luck and the Colts will look to take momentum into the playoffs with a win over Chad Henne and the Jaguars.
It'll be a battle of teams headed in opposite directions at Lucas Oil Stadium on Sunday.
The
Indianapolis Colts
want to have momentum heading into the playoffs. They also need the victory to have a shot at moving up from the No. 4 seed in the AFC playoffs. The
Jacksonville Jaguars
are simply playing out the season before vacation starts following the game.
The Colts easily beat the Jaguars 37-3 in Week 4.
ESPN.com Colts reporter Mike Wells and Jaguars reporter Michael DiRocco discuss the rematch:
Wells:
Running back
Maurice Jones-Drew
has been a fixture in the organization for eight years. Will Sunday be the last time he wears a Jaguars uniform?
DiRocco:
My gut feeling is that he'll be back, but it's certainly not a slam dunk. Jones-Drew said after Sunday's loss to Tennessee that he wants to be back in Jacksonville, but he has a price and contract length in mind. So does general manager David Caldwell, so I expect this to be a deal that's going to take some negotiating to get done. Jones-Drew may still want to test the free-agent market to see what kind of money is out there, but he'll probably find that there isn't a lot of demand for a 29-year-old running back who has battled injuries the past two seasons. It really would be best for both sides to have Jones-Drew finish his career in Jacksonville. Jones-Drew wouldn't have to prove himself all over again and he would help bridge the gap between the past five terrible seasons and the new regime.
Since we're talking about running backs, was the
Trent Richardson
trade the worst move of the NFL season? What does it mean going forward for both the Colts and Richardson?
Wells:
The trade obviously hasn't worked out the way the Colts envisioned -- Richardson isn't even starting -- but the front office is nowhere near ready to ball up a white towel and throw it in on the second-year running back. They still believe he's a huge part of the team's future. The Colts believe a full offseason of organized team activities and training camp will help Richardson's development. Richardson has shown some flashes -- he ran for 51 yards on seven carries in the fourth quarter against Houston on Dec. 15 -- but the Colts don't want flashes. They want consistency out of him, and believe that will come.
I know I asked you about Sunday possibly being Jones-Drew's final game with the Jaguars, but what about the coaching situation down there? Do you think you'll be covering a coaching search in the offseason?
DiRocco:
It may look to outsiders that Gus Bradley should be on the hot seat after a 4-11 season that included an 0-8 start, but he's just as secure in his job as Bill Belichick, Andy Reid and Pete Carroll are theirs. Owner Shad Khan knew this was going to be a rough season because he, Caldwell and Bradley agreed to essentially blow things up and start over. The Jaguars' roster is the least talented in the league, and it's also one of the youngest. Caldwell is committed to building through the draft (the Jags have 10 picks in the 2014 draft) and Bradley is on board with that. The first priority is finding a quarterback, which likely will be done in May. Now, if the Jaguars are still only able to manage single-digit victories three seasons from now, Bradley would be in trouble.
Did Chuck Pagano use QB
Andrew Luck
correctly this season? Even with the
Reggie Wayne
injury, shouldn't Luck have been throwing it all over the place?
Wells:
The Colts put a heavy emphasis on being a power-running team this season. Any thought of that happening basically ended when
Ahmad Bradshaw
was lost for the season with a neck injury after the Week 3 game against the
San Francisco 49ers
. The Colts became a team that simply wanted to be able to run the football, and they weren't going to let anybody stop them from trying to do it. They've gained at least 104 yards in 10 games this season, with the idea of helping ease the burden on Luck's shoulders. Luck's passing yards are down from his rookie season, but he has had a better overall second year. His completion percentage is up and his interceptions are down. It didn't seem that would happen after Wayne was lost for the season and there wasn't much continuity with the rest of the receiving group outside of
T.Y. Hilton
. Have you ever heard of
Da'Rick Rogers
? But Luck's faith and trust with his receivers has improved each week because he has put in the time with them in practice.
The quarterback situation in Jacksonville is still a mess. Will the Jags look to upgrade the position in the offseason or will
Blaine Gabbert
get another shot?
DiRocco:
I mentioned it briefly above, but finding a franchise quarterback is the No. 1 priority and I believe the Jaguars will select one with their first-round pick. ESPN Insider Todd McShay's
first mock draft

had them selecting Johnny Manziel, which would certainly make them relevant nationally and bring some excitement to the franchise. Teddy Bridgewater is still an option, too, depending on how the draft plays out. The Jaguars also could opt to go defense in the first round and take a QB in the second. Regardless of their approach, I'd be stunned if the team doesn't draft a quarterback. Gabbert's days in Jacksonville are done.
Denver isn't a lock to win the AFC, by any means. How do you break down the Colts' chances in the playoffs?
Wells:
Health, continued improvement from the receivers, the defense forcing turnovers and having a running game are the biggest keys for the Colts in the playoffs. I believe it's a two-team race between Denver and New England in the AFC, but both teams have their flaws and are beatable. The Colts are in a situation where they could finish anywhere from the No. 2 seed to the No. 4 seed. They've been able to overcome the loss of Wayne to be in the position to possibly match their win total of 11 games from last season, but I think it's in the playoffs -- possibly in the second round if they get there -- that the Colts will miss Wayne's talent and experience.
September, 6, 2013
9/06/13
5:15
PM ET
Looking for some help with your fantasy football lineup? Every Friday I'll give you my opinions on which
Jacksonville Jaguars
players to play and sit as well as which of the opposing players might be a good play against the Jags. For more fantasy football advice, check out ESPN.com's
fantasy football page
.
Jaguars
RB Maurice Jones-Drew:
He says he's healthy and ready for whatever workload Jaguars offensive coordinator Jedd Fisch throws his way. He had just 10 carries during the preseason because the team was trying to ease him back. If he is healthy, he's capable of a 1,300-yard season. The only question is his TD production, which has fallen off from a high of 15 in 2009.
Verdict:
Play him as a flex option this week until a clearer picture emerges of his workload.
WR Cecil Shorts:
With
Justin Blackmon
serving a four-game suspension, Shorts is the Jaguars' top receiver. He's coming off a year in which he caught 55 passes for 979 yards and seven touchdowns. He averaged 17.8 yards per catch -- better than
Calvin Johnson
,
Demaryius Thomas
, and
DeSean Jackson
.
Verdict:
Only play him as your No. 3 WR because of the uncertainty at quarterback.
TE Marcedes Lewis:
He has been ruled out with a calf injury.
K Josh Scobee:
He's been a consistent performer and has made at least 22 field goals the past three seasons. However, after making five field goals of 50 or more yards in 2011, he only made one last season.
Verdict:
Because of the uncertainty of the offense, you'd be better off keeping him on the bench.
Jaguars defense/special teams:
The special teams were pretty poor during training camp and the first half of the preseason schedule but an influx of players claimed off waiver claims has helped improved the units. Still, there aren't any game breakers. The defense is starting two rookies in the secondary and is trying to improve a pass rush that produced NFL-worst 20 sacks last season.
Verdict:
Bench 'em.
Kansas City
QB Alex Smith:
Smith has been an efficient quarterback over the past three seasons. He has thrown only 20 interceptions in that span, the fewest in the NFL. However, he's not regularly ripping off 300-yard games and with the Chiefs' running game, his role will be as more of a game manager, even in Andy Reid's West Coast offense. Make a few key throws here and there, but most importantly take care of the ball.
Verdict:
Keep him on your bench.
RB Jamaal Charles:
He ran for 1,509 yards last season and there's no reason to think he's not going to threaten that number again in 2013. He's the key to the Chiefs' offense. He can be a grinder as well as a big-play runner -- he had three TD runs of at least 80 yards last season.
Verdict:
No question he's a starter.
WR Dwayne Bowe:
Bowe is one of the most talented receivers in the NFL, but he has been hurt by poor quarterback play. Smith is an upgrade from
Matt Cassel
in terms of efficiency and not turning the ball over, but the problem is that teams can double Bowe because of a lack of complementary playmakers at receiver. However, Bowe has caught 11 passes for 225 yards and two touchdowns in three games against the Jaguars.
Verdict:
Play him as your No. 2/3 receiver.
WR Donnie Avery:
He is the starter opposite Bowe. He caught 62 passes for 781 yards last season but is more of a deep threat. Since Reid's West Coast offense stresses shorter passes, he may not have as many opportunities for big plays.
Verdict:
Sit him.
TE Anthony Fasano:
He is entering his eighth season and coming off a career year in which he caught 41 passes for 332 yards and five touchdowns. The Jaguars struggled to cover tight ends in the preseason, so he could have a big day.
Verdict:
Play him.
K Ryan Succop:
He makes 81.5 percent of his field goals and the Chiefs' offense should be improved.
Verdict:
Start him.
Chiefs defense/special teams:
Rookie
Knile Davis
returned two kickoffs for touchdowns in the preseason and he'll get some work on Sunday. The defense is loaded with playmakers -- linebackers
Tamba Hali
and
Justin Houston
and safety
Eric Berry
-- and the Jaguars are starting a rookie right tackle in
Luke Joeckel
.
Verdict:
Start the Chiefs against a Jaguars offense with few experienced pass catchers and either a QB with a fractured right thumb or his back up.
September, 6, 2013
9/06/13
1:00
PM ET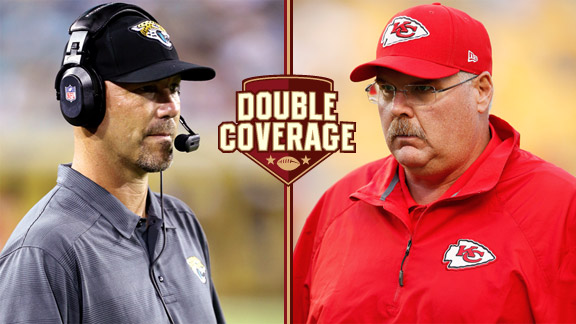 AP PhotoGus Bradley and Andy Reid are looking to get off to fast starts with their new teams.
JACKSONVILLE, Fla. -- Fans know a lot about their favorite teams, but they don't have the same depth of knowledge of the 31 other teams in the NFL. That's not going to be a problem any longer.
Each week the NFL Nation writers will team up Q&A style to help you get a handle on each team. Today, Kansas City Chiefs reporter Adam Teicher and Jacksonville Jaguars reporter Michael DiRocco help break down Sunday's matchup.
Michael DiRocco:
Is
Alex Smith
really an upgrade over
Matt Cassel
?
Adam Teicher:
He had better be or the Chiefs are in some trouble. Cassel and
Brady Quinn
turned over the ball far too many times last season. One thing we know about Smith is that he hasn't thrown many interceptions. He threw just 10 in his last 25 starts with the 49ers. So he's been a quarterback who protects the ball, and if he can just do that, he's already an upgrade over Cassel and Quinn. Another thing: Andy Reid's West Coast offense will succeed if the quarterback completes a high percentage of throws. Smith completed 70 percent last season. If he can get close to that number this season, he's even more of an upgrade.
Teicher:
How patient will the Jaguars be with
Blaine Gabbert
on Sunday and this season?
DiRocco:
This is a make-or-break season for Gabbert, who must prove he's capable of being a franchise quarterback. That's the team's No. 1 goal for the season, so there will be a certain amount of patience. It does no good to give him a half or one game and yank him because the team will essentially be where it was heading into the season. That being said, if Gabbert really struggles during the first two months of the season, then the team will have its answer and may turn to
Chad Henne
or the recently signed
Ricky Stanzi
for the remainder of the season.
DiRocco
: What's the biggest change Andy Reid has brought to Kansas City?
Teicher
: It's a change brought by Reid and John Dorsey, the new general manager. Everybody seems to be pulling in the same direction. The Chiefs went through plenty of infighting the past few years and it was dragging them down. People often had their own agendas or felt they had to align themselves with one person or another. Dorsey and Reid swept that out the door. Winning looks to be the only goal and it certainly appears everybody is on board with that. Of course, it's easy for a new administration to have everybody on board when it's undefeated. So it's an issue to keep an eye on once the Chiefs start losing some games.
Teicher:
What are the biggest changes Gus Bradley and Dave Caldwell have brought to the Jags?
DiRocco:
On the field, it's on defense, where Bradley is implementing a more aggressive attitude and trying to rebuild the secondary with bigger, more physical cornerbacks -- essentially what he did in Seattle. Off the field, Bradley and Caldwell have changed the culture in the locker room. There's a lot of energy and enthusiasm around the franchise even though everyone knows that the talent level needs a significant upgrade and the team likely isn't going to reach .500. It was a much-needed boost, because the atmosphere around the team the past few seasons under Jack Del Rio and Mike Mularkey had become somewhat stale.
DiRocco:
Some NFL experts have pegged the Chiefs as a playoff team just one season after finishing 2-14. What are a few things that have to happen for that to become a reality?
Teicher:
They have many good players, but from the GM to the coach to the coordinators to the offensive and defensive system to the quarterback to 29 other players who didn't play for the Chiefs last season, there's a lot new here. How quickly Reid and his staff can pull everything together will be a key. The Chiefs have a favorable schedule the first half of the season and they need to take advantage because it gets more difficult after that. On the field, the Chiefs have to fix a turnover differential that was minus-24 last season. Their defense and special teams have to do a better job of providing better field position for the offense. This offense won't make a lot of big plays, and if it has to go 80 yards on every possession, it will be a struggle.
Teicher:
What are realistic expectations for the Jags this season in terms of number of wins?
DiRocco:
I kind of let that slip in my earlier answer, but a six-win season would be the best-case scenario for the Jaguars. Four or five victories seems more likely, though, especially considering the team has back-to-back road games on the West Coast, plays San Francisco in London, and has to play at Denver, Indianapolis and Houston.
September, 5, 2013
9/05/13
10:00
AM ET
It has been a little more than four months and
Luke Joeckel
is still annoyed.
And the source of his irritation is coming to town on Sunday.
Joeckel
Joeckel is still miffed that the
Kansas City Chiefs
passed on him with the No. 1 overall pick in April's NFL draft, instead opting for another offensive tackle --
Eric Fisher
of Central Michigan.
That he went one pick later to the Jaguars doesn't ease his frustration, either.
"I'm a very competitive guy. I think every guy that was down in New York was competing for that first pick," Joeckel said. "Not getting that and having another tackle go before me, that puts a chip on my shoulder. I'm ready to work. It's going to push me even harder. He's a good player and all, but I'm ready to go prove Kansas City wrong."
If he wants a reason why the Chiefs opted for Fisher, he's not going to get it from Chiefs coach Andy Reid.
"Both of them -- and I felt this way at the draft time -- are very good players," Reid said on a conference call. "They're both going to have long careers and a lot of success in this league and I'm not going to get into why we did it. The end result was we did it and that speaks for itself.
"I think Luke is a heck of a football player and I think he's done well in the preseason so I know he's going to have a great career."
Joeckel isn't unhappy in Jacksonville. Nor is he harboring the kind of grudge that
Maurice Jones-Drew
did because 32 teams passed on him in the first round of the 2006 NFL draft before the Jaguars took him in the second.
Joeckel just wanted to be the first player drafted. Sunday is his first chance to prove to the Chiefs that he should have been No. 1.
"There's a little bit of a chip, but I'm ready to go," he said. "I'm glad I'm here and I'm playing for the Jags. Now we've got to go get a win."
September, 3, 2013
9/03/13
11:00
AM ET
JACKSONVILLE, Fla. -- The Jaguars' 2013 season -- and with it the Gus Bradley/Dave Caldwell era -- finally begins on Sunday when they play host to Kansas City. The Jaguars and Chiefs were two of the worst teams in the NFL last season, but there's optimism in both cities that 2013 will be better.

In Jacksonville, it's because of the energy and enthusiasm of Bradley, who spent the past four seasons as the Seattle Seahawks' defensive coordinator, and the presence of Caldwell, who spent his formative years in the NFL under two of the league's top executives in Bill Polian and Thomas Dimitroff. In Kansas City, it's because of the addition of Andy Reid, who led Philadelphia to nine postseason appearances in 14 seasons, and quarterback
Alex Smith
, who seemed to turn a corner and become a consistent player for San Francisco before being injured and eventually replaced by
Colin Kaepernick
.
The Chiefs also have a new general manager in John Dorsey, who spent the past 12 seasons as the director of college scouting for the
Green Bay Packers
.
Kickoff is set for 1 p.m. EST and the game will be televised on CBS with a broadcast team of Spero Dedes (play-by-play), Steve Beurlein (color) and
Steve Tasker
(sideline).
Here's a look at the Chiefs:
2012 Record:
2-14.
Coach:
Andy Reid, first season; 14
th
season overall (130-93-1).
Offensive coordinator:
Doug Pederson.
Defensive coordinator:
Bob Sutton.
Series record:
Jaguars lead 6-3.
THREE PLAYERS TO KNOW ON OFFENSE
RB Jamal Charles:
The Chiefs were fifth in the NFL (and tops in the AFC) in rushing last season and were paced by Charles' 1,509 yards. His 4,536 career rushing yards is fourth on the Chiefs' all-time rushing list and he's 361 yards shy of third place (Christian Okoye, 4,897 yards) and 1,536 yards shy of tying all-time leader
Priest Holmes
(6,070). The 5-foot-11, 199-pound Charles is a capable between-the-tackles runner, but he's also a big-play threat, having recorded four touchdown runs of 80 or more yards in his career.
QB Alex Smith:
He may not be a dynamic passer, but he has been careful with the football. Since 2010, Smith has thrown the fewest interceptions (20) among quarterbacks who have thrown at least 1,000 passes. That's four fewer than
Tom Brady
, five fewer than
Aaron Rodgers
, and seven fewer than
Ben Roethlisberger
. One of the Chiefs' biggest issues last season was turnovers. Kansas City turned the ball over 37 times, including 20 interceptions by Chiefs quarterbacks.
WR Dwayne Bowe:
Bowe is one of the league's most dangerous receivers but was hurt last season by inconsistent quarterback play. He caught 59 passes for 801 yards and three touchdowns in 13 games, which were his lowest numbers since he caught 47 passes for 589 yards in 11 games in 2009. He'll be a tough player for the Jaguars' secondary to handle, especially considering the Jaguars will be starting a pair of rookies in cornerback
Dwayne Gratz
and safety Johnathan Cyprien.
THREE PLAYERS TO KNOW ON DEFENSE
OLB Justin Houston:
The third-year player from Georgia had a team-high 10 sacks to go along with 66 tackles last season. He emerged as one of the league's top young defenders and was voted to the Pro Bowl. The Chiefs want to pressure the quarterback more this season and Houston is a big part of that plan, but he's also athletic enough to drop into pass coverage. He'll likely be matched up against Jaguars tight end
Marcedes Lewis
.
S Eric Berry:
Berry is a Pro Bowler who will sometimes be used as a linebacker in Sutton's defensive scheme. He bounced back last season with 86 tackles and 10 passes defensed after missing all but one game of the 2011 season with a torn ACL. Expect Berry to be all over the place as the Chiefs try to take advantage of the athleticism and playmaking ability of one of the league's top young defenders.
OLB Tamba Hali:
Nobody has been more reliable and consistent for the Chiefs than Hali, who has missed just one game in eight seasons. Although his sack production has slipped the past two seasons (12.0 in 2011 and 9.0 last season) from 14.5 in 2010, he is still a solid pass rusher off the edge and he was voted to the Pro Bowl last season. He'll be matched up against Jaguars left tackle
Eugene Monroe
, who is coming into his own as one of the league's better tackles.
ETC.
Kansas City has lost six of its last seven season openers. … The Chiefs' special teams were impressive during the preseason. They blocked two kicks and returned two kickoffs for touchdowns. Kicker
Ryan Succop
made all nine of his field goal attempts. … The Chiefs have 30 new players on the 53-man roster, but among the 23 returning players are six Pro Bowlers from 2012. … Punter
Dustin Colquitt
put 45 punts inside the opponents' 20-yard line last season.