Jacksonville Jaguars:

Arian Foster
April, 8, 2014
Apr 8
12:00
PM ET
JACKSONVILLE, Fla. -- The upcoming NFL draft will be the 20
th
in
Jacksonville Jaguars
' history, not counting the expansion draft.
To commemorate that milestone, I'm looking back at each draft and giving you the best and worst selections in each round. Today is the sixth round and the first round will appear on Tuesday, April 15 -- appropriate since that's the day taxes are due and first-rounders make the most money.
These rankings are based on what the player did with the Jaguars. If they failed to produce with the Jaguars but had success somewhere else -- whether they left as free agents, were cut and caught on somewhere else, or traded -- that's a negative.
I'm expecting some disagreement, which is fine. Your feedback is welcomed (click the email link at the bottom), and I'm going to post some of the best comments (read: those without profanity) on April 16.
Here we go ...
Round 6
Best pick
This wasn't that easy because the Jaguars have had less success in the sixth round in their history than they have had in the seventh. Only five of 15 players selected in the sixth round from 1995-2008 lasted more than three years in the NFL. That's slim pickings but there were a few options.
It's arguable, but the best sixth-round pick in franchise history played only two seasons with the Jaguars. Running back/kick returner
Deji Karim
, the first of the team's two sixth-round picks in 2010, ran for 290 yards and returned 77 kickoffs in 2010-11. His best season was his rookie season, when he rushed for 160 yards and averaged 25.0 yards on 50 kickoff returns.
The Jaguars released Karim in April 2012 and he signed with Indianapolis. He played in three games for the Colts and returned a kickoff 101 yards for a touchdown against Houston. He signed with the Texans following the 2012 season but was waived in the final cuts. He returned to the team in late October because of injuries to
Arian Foster
and
Ben Tate
and had 12 carries, one catch, and five kickoff returns in seven games.
Honorable mention
Fullback
Daimon Shelton
(1997) played the first four years of his nine-year career with the Jaguars. He had 39 of his 40 career carries and 26 of his 82 career receptions in Jacksonville. He missed only five games in four seasons with the Jaguars.
Tight end
Zach Miller
(2009) caught 45 passes for 470 yards and four touchdowns in three seasons with the Jaguars. He battled injuries throughout his career with the Jaguars and did not play in the NFL in 2012 and 2013. He recently signed a reserves/futures contract with Chicago.
Worst pick
Much like I did with the seventh-round pick on Monday, it's really not fair to label any sixth-round selection as the worst pick in that round because sixth-round picks aren't supposed to make the team anyway. I'm kind of changing the criteria a little bit and choosing from the players who played at least two seasons in the NFL. And by play I mean actually got on the field and didn't just hold a roster spot.
Basically I'm choosing from players who did little while with the Jaguars but had more success elsewhere. That's probably not fair, but otherwise I'd just be listing the guys who were drafted and then cut.
That being said, the worst sixth-round pick is receiver
Chad Owens
(2005). He was drafted to help the Jaguars' return game but muffed two punts in the preseason and was cut after the first game of the 2005 season after muffing three punts. He was re-signed to the practice squad a few days later.
Owens played in four games in 2006 and only one in 2007. That was against Houston in the regular-season finale and he also muffed a punt. He was cut a month later.
Honorable mention
Offensive tackle
Marcus Price
(1995) had a 10-year career in which he played in 77 games (10 starts), but he was in Jacksonville for only one year and never appeared in a game.
April, 4, 2014
Apr 4
12:15
PM ET
JACKSONVILLE, Fla. -- Some
Jacksonville Jaguars
fans may not be too happy with the way their team is portrayed in the movie "Draft Day," which was made in conjunction with the NFL.
The movie stars Kevin Costner as
Cleveland Browns
executive Sonny Weaver Jr., who agrees to a draft-day trade with the
Seattle Seahawks
for the No. 1 overall pick in the 2014 draft because Browns owner Anthony Molina wants him to make a big splash and select quarterback Bo Callahan.
Amid some personal issues and strife within the organization, Weaver starts having second thoughts about Callahan.
Nothing goes as expected on the night of the draft and that's where the Jaguars come in. Weaver eventually contacts the Jaguars' first-year GM, played by Pat Healy, in the hopes of taking advantage of his inexperience.
There's a fantastic shot of the Jacksonville skyline and EverBank Field at night, but the Jaguars' GM does come off as a bit of a rube. It's not as if the movie mocks the Jaguars, but Jaguars fans are understandably sensitive about the team's perception in the national media, so there may be some grumbles at that scene.
NFL fans are going to like the movie because it does try to show what goes on between GMs, coaches, scouts, and other teams leading up to the draft. It's over-dramatized and not realistic in spots -- especially the scene in which the Browns' current quarterback trashes Weaver's office -- but entertaining. It's also fun to spot the cameos by current NFL players, such as
Arian Foster
, as well as Ray Lewis, commissioner Roger Goodell, Jim Brown, and numerous members of the media.
The movie opens April 11.
February, 7, 2014
Feb 7
10:00
AM ET
JACKSONVILLE, Fla. -- The Jaguars had the least-talented roster in the NFL in 2013.
Based on what head coach Gus Bradley was able to do in the second half of the season and the success of general manager David Caldwell's first draft, there is a lot of optimism that the Jaguars will make progress in 2014. It won't be a turnaround similar to what the
Kansas City Chiefs
made from 2012 to 2013, but the Jaguars should be significantly better next season.
They aren't the only team in that situation, though. During the NFL Nation season wrap-ups, eight bloggers among the 20 who cover non-playoff teams said the teams they cover are trending up heading into the offseason: Buffalo, Pittsburgh, Arizona, Jacksonville, Houston, Tennessee, St. Louis and the
New York Jets
.
Some, like the Cardinals and Steelers, were close to making the playoffs in 2013. Others, such as the Texans, Jaguars and Rams, didn't even come close. But all of those teams should take steps forward in 2014.
The eight bloggers got together, thanks to Bills reporter Mike Rodak, and ranked those eight teams based on their chances of making the playoffs next season. Not surprisingly, the Jaguars finished last. Yes, behind a Texans team that is riding a 14-game losing streak.
Houston had the league's worst record in 2013, but the Texans do have some talent on the roster -- led by
J.J. Watt
,
Arian Foster
and
Andre Johnson
-- and need only a piece or two to become a playoff team again. Quarterback is the top priority, of course, but a change in leadership from Gary Kubiak to Bill O'Brien also could provide the boost the Texans need to make them a factor in the AFC South again.
The Jaguars went 4-4 in the second half of the season (two victories came against Houston) but they have so many needs and holes to fill that it'll be another season before they can realistically make a playoff run. Caldwell and Bradley have to find a quarterback, a pass-rusher, a running back and outside linebackers. They have to beef up the interior of the offensive line and add quality depth at defensive tackle.
It wouldn't hurt to add a big, physical receiver to the roster, either.
November, 19, 2013
11/19/13
4:00
PM ET
JACKSONVILLE, Fla. -- The Jaguars' poor season was expected. What has happened in Houston, however, was not.
The Texans started the season 2-0 but have lost eight consecutive games. Quarterback
Matt Schaub
, who threw for 4,008 yards last season, has been a mess in 2013. He set an NFL record by throwing a pick-six in four consecutive weeks and had nine interceptions before getting benched.
Running back
Arian Foster
, who has rushed for at least 1,224 yards and 10 touchdowns the past three seasons, is out for the season with a back injury.
The Texans, a preseason Super Bowl pick by some experts, now have to win out just to have a chance to make the playoffs. It's an unlikely scenario, but they do get the play the Jaguars (1-9) twice in 12 days.
Kickoff for Sunday's game in Houston is set for 1 p.m. EST and the game will be televised on CBS.
Here's a look at the Texans:
Record
: 2-8.
Last week:
lost to Oakland 28-23.
Coach:
Gary Kubiak, eighth season (61-59).
Offensive coordinator:
Rick Dennison.
Defensive coordinator:
Wade Phillips.
Series record:
Texans lead 13-9.
THREE PLAYERS TO KNOW ON OFFENSE
QB Case Keenum:
He will make his fifth career start against the Jaguars. Keenum, an undrafted free agent from Houston, has thrown for 992 yards and eight touchdowns with only one interception since taking over for Matt Schaub.
WR Andre Johnson:
He has persevered through Schaub's horrible year and the inexperience of
T.J. Yates
and Keenum and is on the verge of his seventh 1,000-yard season. He needs just 34 yards to reach that plateau. He's also on pace to tie his career high of 115 receptions (2008).
RB Ben Tate:
With Arian Foster done for the season because of a back injury, Tate is the Texans' top back. His stats right now are nearly identical to Foster's: Tate has 122 carries for 543 yards and one touchdown while Foster has 121 carries for 542 yards and one touchdown. Both are averaging 4.5 yards per carry. It's the touchdowns, however, that are the problem. The Texans have rushed for only two all season.
THREE PLAYERS TO KNOW ON DEFENSE
DE J.J. Watt:
He leads the team in tackles (47), sacks (8.5) and forced fumbles (three). However, he has not been as effective as he was last season when he knocked down 16 passes. He has just four knockdowns this season, three of which came in the first two weeks of the season.
OLB Whitney Mercilus:
The loss of ILB
Brian Cushing
has been hard for the Texans to overcome, but Mercilus has done a solid job in trying to help replace Cushing's production. He has 4.5 sacks, which is just 1.5 sacks shy of the 6.0 he had as a rookie last season.
CB Johnathan Joseph:
The Texans' best corner has knocked down 11 passes and appears to be completely over the sports hernias that bothered him throughout 2012. He has been a factor in Kareem Jackson's development as well.
ETC.
Kubiak coached the team from the press box in the Oakland game in his return from a mini-stroke. … The Texans have forced just eight turnovers (four fumbles, four interceptions). … Opponents have scored a league-high eight touchdowns on returns. … The Texans' eight-game losing streak is the longest in franchise history. Houston has won five in a row over Jacksonville. The Jaguars' last victory in the series came on Nov. 14, 2010.
November, 5, 2013
11/05/13
7:45
PM ET
JACKSONVILLE, Fla. -- The Jaguars begin the second half of the 2013 season Sunday still in search of their first victory.

Since the schedule is considerably easier than it was in the first half, the Jaguars have a much better chance of avoiding becoming just the second team in NFL history to go 0-16. Or do they?
Here's a look at the remaining games:
At Tennessee (Nov. 10):
The coaching staff, scouting staff and management had a huge meeting last week to evaluate every player on the team. The coaching staff also evaluated schemes, personnel groupings and strategy. With all that information, they should be able to put together a game plan that takes advantages of the few strengths they do have. The defense has regressed the past two games, struggles to stop the run and can't get off the field on third down. The Titans' offense isn't explosive, but it is efficient. Running back
Chris Johnson
should have a pretty big day against a team that's giving up 161.8 yards per game on the ground.
Arizona (Nov. 17):
The Cardinals have one of the NFL's worst offenses (29
th
overall), which would be a good matchup for a Jaguars offense that struggles to run the ball (66.0 yards per game). Now that the Jaguars have finally scored a touchdown in a "home" game, maybe that could open the door for the team to score a TD at EverBank Field.
At Houston (Nov. 24):
The Texans are somewhat of a mess, as high expectations have disintegrated during a six-game losing streak. Even though he has looked solid,
Case Keenum
is still a first-year player. Arian Foster is banged up, too. That's as good a scenario as the Jaguars could hope for in Houston.
At Cleveland (Dec. 1):
This is a game many probably circled as a victory when the schedule came out, but the Browns just manhandled the
Baltimore Ravens
last week. They have the league's No. 4 overall defense and rank in the top 10 in rush and pass defense. That's not a good matchup for an offense that struggles to run the ball and is ineffective in the red zone (five TDs on 20 trips).
Houston (Dec. 5):
The schedule certainly helps the Jaguars here. The Texans play host to New England the Sunday before this Thursday night game. The Patriots shredded a good Houston team twice last season, so what will they do to this year's Texans? It could be a demoralized team coming into EverBank Field.
Buffalo (Dec. 15):
Quarterback
EJ Manuel
is scheduled to return from a knee injury this weekend, and the rookie from Florida State has been all over the place. He delivered a game-winning drive against Carolina but has also made confusing throws. Which guy shows up?
Tennessee (Dec. 22):
This could be the game in which we see a lot more of some young players --
Ricky Stanzi
, perhaps? -- if the Jaguars have already secured a victory.
At Indianapolis (Dec. 29):
What if the Colts can't improve or hurt their playoff seed based on the outcome of this game? Does Chuck Pagano play
Andrew Luck
and other starters for a quarter, a half, or not at all? If the Jaguars are 0-15 entering this game, does that factor into his decision? It could be the biggest game of the season for the Jaguars.
August, 29, 2013
8/29/13
11:50
AM ET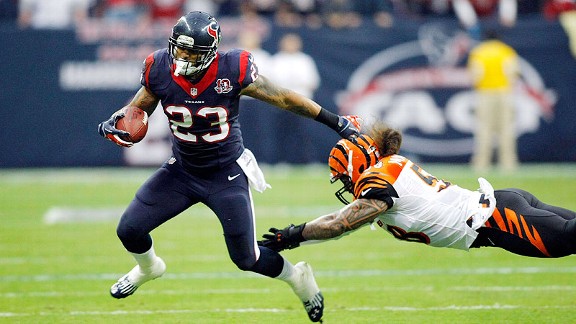 Brett Davis/USA TODAY SportsThe AFC South has three of the 15 running backs in the #NFLRank top 100, including Arian Foster.
The AFC South is the lone division in the NFL with three running backs rated in the top 100 players on offense in #NFLRank, ESPN.com's widespread player-ranking poll.
Fifteen running backs made the top 100, so the AFC South accounts for one-fifth of them, with Houston's
Arian Foster
14th, Jacksonville's
Maurice Jones-Drew
50th and Tennessee's
Chris Johnson
68th.
Indianapolis, the only team in the division whose quarterback is on the list --
Andrew Luck
is 41st -- is also the only team from the division without a running back on it.
But the Colts came close.
Vick Ballard
finished 110th.
Having a top running back doesn't automatically make a team run-centric, though Tennessee and Jacksonville certainly will be. Houston's passing game with quarterback
Matt Schaub
(No. 108) is equipped to make big plays, but is also most effective when it's built off play-action that is triggered by Foster's success. (See sidebar.)
While running effectively and playing good defense remain things good football teams typically need to do to win, it's rare for a team without a good passer to have a great deal of success. And that has changed the way running backs are regarded.
Foster, Jones-Drew and Johnson are all playing under lucrative second contracts in a league where a back is highly unlikely to get big dollars or years the third time his agent sits down for negotiations.
Increasingly, teams are wary of drafting a running back high, as the Titans did with the 24th pick overall in 2008. Instead, they seek to find a back in the middle or late rounds. Some even hit a home run in the undrafted rookie pool, as the Texans did with Foster in 2009.
"A lot of things we do start with the run," Texans coach Gary Kubiak said. "I think you've got to do what your team does best. You can't worry about what everybody else does or what everybody else thinks is the formula. Last year, our formula, we played great defense, we ran the ball well, we held onto the ball longer than anybody in football. It was an excellent formula for our football team. This year, I don't know. We've got to go see."
Foster gives the Texans a great combination of speed and power, running with a gliding, effortless style and catching the ball well. Those qualities have earned him 1,115 regular-season touches over the past three seasons.
"He's a real good running back," Johnson said. "He's a bigger guy. He can run the ball and catch the ball out of the backfield. Just seeing him run the ball is interesting, because he is a very smooth runner. They've got a great scheme with him, they like to run that stretch with him, he's got a great feel for his linemen and they've got a great thing going where they know when to cut the backside down. The offense he's in is a very good offense."
Jones-Drew was knocked out of action last season after just six games. He's back from a foot injury now, and while he's on a team with better receivers than they've had in some time, the Jaguars still have a giant question mark with
Blaine Gabbert
at quarterback as well as a susceptible defense.
The Jaguars will hand the ball to him against loaded boxes and when trailing. He could face those situations more than any of the league's top backs.
He came into the league as a second-round pick just seven years ago but has seen a dramatic change in perception about the position in that span.
"I think money-wise they tried to change it, but there are certain players and every team understands that you need a balanced attack," he said. "So
Aaron Rodgers
, they threw the ball so many times. I remember last year he was like, 'We need a running game, we need a running back.' And they went out and drafted two.
"Teams want to portray it as if running backs aren't valuable or are interchangeable. No, everybody has a piece. Your piece [as a quarterback] may be bigger than the other positions. But in order for the whole offense to work …"
Jones-Drew points to the 2010 Packers who won Super Bowl XLV. Come the playoffs, pass-happy Green Bay got quality play from
James Starks
, who ran well and created a new option. Last season's Super Bowl teams, San Francisco and Baltimore, had hot quarterbacks who were supplemented by good runners.
Balance and co-existing skill players -- it's an easy formula to want, and often a difficult one to execute.
Things won't work if they are too pass-centered, Jones-Drew said. And it's the same if his team is over-reliant on him.
"I've been screaming for balance ever since I've been here," he said. "People can't say I've been like, 'Oh, let's run the ball.' 'Cause I know what balance brings. It opens it up for everybody."