Jacksonville Jaguars:

Brett Hundley
January, 23, 2014
Jan 23
4:00
PM ET
Got questions about the
Jacksonville Jaguars
? I'll try to answer a representative selection of them every Thursday. Submit your questions via Twitter to @ESPNdirocco.
.
January, 6, 2014
Jan 6
8:15
AM ET
JACKSONVILLE, Fla. -- Jaguars general manager Dave Caldwell is
doing the right thing
by not committing to either quarterback Blaine Gabbert or running back Maurice Jones-Drew.
In Jones-Drew's case, letting him test the free-agent market to find the best offer and then deciding if he wants to match that is a sound strategy by Caldwell, Florida Times-Union columnist Gene Frenette writes. In Gabbert's case, it all hinges on whether the Jaguars can re-sign quarterback Chad Henne. If they can, then Gabbert is expendable. If not, then he's a cheap option as a backup in 2014.
But until the Henne signing plays out, there's no point in doing anything with Gabbert.
Here are some additional pieces of Jaguars content from around the Web in our daily Reading the Coverage feature:
Some news that will impact the Jaguars' draft: The Orlando Sentinel reports that Central Florida quarterback Blake Bortles will
officially declare for the draft
on Monday. ESPN's Adam Schefter reports that UCLA quarterback Brett Hundley
will stay in school
and an announcement is expected this week.
This is the place to go to see
which underclassmen have declared
for the NFL draft.
December, 31, 2013
12/31/13
3:30
PM ET
JACKSONVILLE, Fla. -- The draft is nearly five months away, but it's not too early to start breaking things down. That's what Steve Muench of Scouts Inc. did for the AFC South.
He discusses each team, lists their top three needs and provides a list of players worth keeping an eye on at each of those positions. Here's a snippet of what Muench
writes about the Jaguars

.
If the Jaguars don't take a quarterback, they need to improve their pass rush and add an offensive tackle who can start opposite 2013 second-overall pick Luke Joeckel so they would do well to land [Jadeveon] Clowney, [Anthony] Barr or [Jake] Matthews. Like Houston, the Jaguars could then target a quarterback like UCLA's Brett Hundley in the second round.
I don't agree with Muench when he lists the Jaguars' top three needs, though. I'm in agreement on Nos. 1 and 2 -- quarterback and defensive end -- but Muench lists offensive tackle as No. 3. I'd list outside linebacker, interior offensive line and possibly receiver ahead of offensive tackle.
Joeckel solidifies things at left tackle and the Jaguars should be able to get by with
Austin Pasztor
/
Cameron Bradfield
at right tackle for another season. The Jaguars don't have playmakers at linebacker (other than
Paul Posluszny
in the middle) and they need to upgrade there.
Geno Hayes
has been solid but he had three pass breakups and two interceptions and didn't force or recover a fumble.
The Jaguars were next to last in total offense and rushing in 2013 and need to upgrade the interior of the offense, which is something they'll most likely do in free agency. If that's the case, then the Jaguars should try to add a big, physical receiver.
Cecil Shorts
is a solid No. 2 receiver and there's so much uncertainty surrounding
Justin Blackmon
's status for 2014. The Jaguars have a slew of receivers 6-foot-1 or smaller. It's time to add a bigger receiver.
December, 19, 2013
12/19/13
4:45
PM ET
December, 19, 2013
12/19/13
1:15
PM ET
JACKSONVILLE, Fla. -- The Jaguars need a quarterback.
They also need a pass-rushing defensive end or outside linebacker.
The question in May's draft will be which one they should grab first.
[+] Enlarge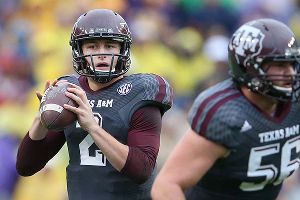 Crystal LoGiudice/USA TODAY SportsIf you believe you can build around a quarterback such as Texas A&M's Johnny Manziel, you grab him. Right?
Six weeks ago there wasn't a question the Jaguars would be taking a quarterback with their first-round draft pick. But that was when they were winless and held the No. 1 overall pick. And it was also before two of the top college quarterbacks decided they were going to return to school in 2014.
Now, things aren't so clear.
The Jaguars currently sit at No. 4 in the draft order and have two winnable games remaining, which means they could be picking in the 5-7 range. That would most likely not allow general manager
David Caldwell
and coach Gus Bradley to have their pick of the quarterbacks that are available.
Depending on their draft board and what happens ahead of them (a trade?), they may not even be able to get their No. 2 choice. Would taking the pass rusher they desperately need and picking up a quarterback in the second or third round make more sense in that scenario?
This debate is going to go on for months, especially after the Jan. 15 deadline for underclassmen to declare and there's a set list of quarterbacks that will be available. Here's a quick argument for each, with the caveat that Louisville's
Teddy Bridgewater
, UCLA's
Brett Hundley
, Texas A&M's
Johnny Manziel
and UCF's
Blake Bortles
decide to declare for the draft as most expect:
Take the QB
This isn't a secret, but the NFL is all about the quarterback. Elite teams have great quarterbacks. All you have to do is look at the teams in the hunt for the playoffs. For the most part, they all have very good quarterbacks, and the teams that don't are going to be early exits.
It's imperative the Jaguars find a franchise quarterback. While this class doesn't have the sure-fire star like
Andrew Luck
it is a relatively deep class, and there are several quarterbacks who have the pre-draft look of a franchise QB: Bridgewater, Manziel, Bortles, Hundley, and Fresno State's
Derek Carr
. Any one of those has the potential to develop into the quarterback around which the franchise can be built.
That's pretty much the golden rule of the NFL now. If you can get what you believe will be a franchise quarterback, you grab him. No questions asked. Everything else is secondary to finding that guy.
So, take the quarterback.
Take the pass rusher
Remember that line about the depth of this quarterback class? That means you should be able to find a quarterback in the second or third round. There are plenty from which to choose: Alabama's A.J. McCarron, LSU's
Zach Mettenberger
, Georgia's
Aaron Murray
, Virginia Tech's
Logan Thomas
and Miami's
Stephen Morris
, for example.
[+] Enlarge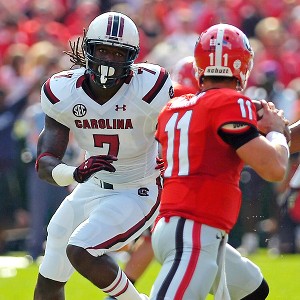 AP Photo/Mike StewartWith such a deep quarterback class in this year's draft, it may benefit the Jaguars to chose an elite defender first such as South Carolina's Jadeveon Clowney.
Are they as highly rated as Bridgewater, Bortles or Manziel? No, but that doesn't mean they won't be better players.
Colin Kaepernick
was a second-round pick. So was
Drew Brees
.
Russell Wilson
was a third-round pick.
Tom Brady
a sixth.
Tony Romo
went undrafted. They seem to be doing pretty well.
The NFL is all about the quarterback, which also means finding a way to stop great QBs. You do that by pressuring them over and over again. That's why teams need elite pass rushers and the Jaguars have a chance to get one of the most gifted ones we've seen in a long time.
Remember
Jadeveon Clowney
? The guy people said would have been the No. 1 overall pick last year had he been able to come out? The player some experts said shouldn't even play in 2013 because he'd be risking too much? He could still be available when it's the Jaguars' turn to pick. Can't pass him up.
Or UCLA's
Anthony Barr
and Buffalo's
Khalil Mack
. All have the ability to become double-digit sack machines.
So, take the pass rusher, then the quarterback.
December, 16, 2013
12/16/13
2:30
PM ET
JACKSONVILLE, Fla. -- The
Jacksonville Jaguars
' loss to Buffalo ended a three-game winning streak, but it also improved their draft position by two spots.
If the season ended today the Jaguars (4-10) would own the No. 4 overall pick. Houston (2-12), St. Louis (6-8) and Oakland (4-10) would have the first three picks, with the Rams picking that high because of a trade with Washington.
Bradford
Cutler
If the current order holds, the Jaguars are in a good spot if they indeed want to pick a quarterback with their first pick. There are rumblings that the Texans are going to make a run at
Jay Cutler
in the offseason, which would be a smart move because the Texans -- despite this season's record -- are still a playoff-caliber team if they find a good quarterback.
Cutler would keep the Texans' window open for the next few seasons. It would be unfair to expect a rookie quarterback to carry the team, especially since none of the them appear to be in the same class as
Andrew Luck
.
St. Louis wouldn't appear to be thinking quarterback, although there is some uncertainty there because of the season-ending knee injury to
Sam Bradford
. Before he was hurt in October, Bradford was on pace to have the best season of his career, and there were reports that the Rams wanted to do a contract extension for the former No. 1 overall selection.
If the injury has changed their mind, the Rams could take a quarterback with their first of two first-round picks, but they also need help on the offensive line and at safety. Texas A&M offensive tackle Jake Matthews is an option.
Oakland would be the wild card.
Terrelle Pryor
appeared to be their quarterback early in the season, but now it's
Matt McGloin
. Is either a long-term answer? Probably not, so quarterback would be the Raiders' top need. The Raiders are unpredictable, and it wouldn't be a shock if they bypassed a quarterback for one of the top linebackers or Clemson receiver Sammy Watkins.
If the Raiders did take a quarterback, that would leave the Jaguars with at worst their second choice among the available quarterbacks. It isn't as deep a crop as originally thought now that Oregon's Marcus Mariota and Baylor's Bryce Petty have said they are returning to school. Louisville's Teddy Bridgewater and Texas A&M's Johnny Manziel are expected to leave early and UCLA's Brett Hundley is waffling, but there also are several senior prospects worth considering in the first round, including LSU's Zach Mettenberger and Fresno State's Derek Carr.
November, 21, 2013
11/21/13
6:15
PM ET
November, 7, 2013
11/07/13
6:05
PM ET
Got questions about the Jacksonville Jaguars? I'll try to answer a representative selection of them every Thursday. Submit your questions via Twitter to @ESPNdirocco.