Jacksonville Jaguars:

E.J. Manuel
December, 16, 2013
12/16/13
8:00
AM ET
JACKSONVILLE, Fla. -- A review of four hot issues from the
Jacksonville Jaguars
'
27-20 loss
to the
Buffalo Bills
:
Grounded:
One of the reasons the Jaguars had been 4-1 since the bye week was their improved rush defense. After giving up 162 yards per game in the first eight games, they had allowed opponents an average of just 71 yards in the next five games. The Bills ran for 198 yards, including 80 by
Fred Jackson
, 67 by
C.J. Spiller
and 37 by quarterback
EJ Manuel
. The Jaguars struggled with all the things they did well in the last five games: staying in their gaps, tackling, communication. "The biggest thing for us was the fundamentals," defensive end
Jason Babin
said. "We did it to ourselves; whether it was 10 guys on the field, whether it was missed tackles, whether it was missed alignment, missed assignment, looking back I'm pretty sure when we watch the tape that's what we're going to see. That's I think what makes it most frustrating, is we did it to ourselves."

Lewis
Lewis more involved:
Tight end
Marcedes Lewis
was more of a factor in the passing game against the Bills than he has been all season. That was partly due to the absence of receiver
Cecil Shorts
(groin). Getting Lewis more involved is something offensive coordinator Jedd Fisch should make a priority. Lewis caught a season-high four passes for 54 yards and one touchdown, the first time in his career he's had touchdown catches in three consecutive games. Lewis made several catches on back-shoulder throws and scored on a screen. He can be much more of a factor in the middle of the field and certainly is a big target in the red zone. He's a good blocker and a huge help in the running game, but if Shorts is unable to play the next two weeks, Lewis needs to get more work.
Line shuffle:
With the news that backup guard
Mike Brewster
is out for the rest of the season with a fractured left ankle, the Jaguars' situation on the offensive line is somewhat shaky. Brewster was in the game because starter
Will Rackley
did not play due to a concussion (it's unclear how long he will be out).
Jacques McClendon
replaced Brewster and had an up-and-down day, committing two false starts but doing a solid job in the run game. The Jaguars likely will sign
Drew Nowak
from the practice squad to replace Brewster, and Nowak could be forced to start Sunday's game against Tennessee if Rackley can't play. Nowak has not appeared in a game in his two seasons.
Guy trouble:
Winston Guy
had an up-and-down day as well, but it was almost expected since he has been playing free safety all season and was forced into duty as the starting strong safety because
Johnathan Cyprien
(thigh) was inactive. Guy had six tackles, a sack and a forced fumble, but he also missed several tackles and was penalized for unsportsmanlike conduct for hitting Bills receiver
Marquise Goodwin
in the head, a play that's likely to draw a fine. "He has the ability to make some big plays but in four days of practice [at strong safety] like that we knew that there could be some opportunities that we missed," coach Gus Bradley said.
December, 15, 2013
12/15/13
4:11
PM ET
JACKSONVILLE, Fla. -- A few thoughts on the
Jacksonville Jaguars
' 27-20
loss
to the
Buffalo Bills
:

What it means:
What could have been a gut-it-out victory because of the loss of four starters turned into another loss at EverBank Field in front of 60,085 fans. The Jaguars turned it over four times, including once when
Denard Robinson
fumbled the ball at the Buffalo 1-yard line, and it bounced out of the back of the end zone for a touchback. The Jaguars had won three games in a row and were coming off their first victory at EverBank Field in more than a year.
Stock watch:
It's harder to be much higher than
Jordan Todman
, who ran for 109 yards and had 44 yards receiving. The first-year player was making his first start because
Maurice Jones-Drew
was inactive with a hamstring injury. Todman also had a pair of big plays, a 33-yard run on a drive that ended with a field goal, and a 30-yard catch-and-run to convert a third down and continue a drive that ended with a touchdown. Quarterback
Chad Henne
did not have one of his better games. He threw two interceptions, including one in the end zone late in the fourth quarter, and threw several other passes that were nearly intercepted. He made some plays with his feet and had to deal with heavy pressure, but he wasn't able to overcome his mistakes.
Banged-up offensive line:
The offensive line was hit hard by injuries. Starting left guard
Will Rackley
was added to the injury report on Saturday with a concussion and did not play. His replacement, Mike Brewster, suffered a left ankle injury in the first half and did not return.
Jacques McClendon
finished the game at left guard, which left the Jaguars with just one other healthy offensive lineman (
Sam Young
).
In a rush:
One of the things that had keyed the Jaguars' turnaround in the second half of the season was better rush defense. They went from allowing 162 yards per game in the first eight games to holding the next five opponents under 100 yards. That changed on Sunday, when the Bills battered the Jaguars for 198 yards on the ground.
Fred Jackson
rushed for 80 yards,
C.J. Spiller
67, and quarterback
EJ Manuel
37.
What's next:
The Jaguars play their final home game of the season against Tennessee at 1 p.m. on Sunday.
December, 14, 2013
12/14/13
8:00
AM ET
Here are five things to watch in Sunday's
Jacksonville Jaguars
-
Buffalo Bills
game at EverBank Field:
Pre-game warmups:
If you get there early enough, check out how running back
Maurice Jones-Drew
, receiver
Cecil Shorts
, and safety
Johnathan Cyprien
are moving around. Jones-Drew (hamstring) and Cyprien (thigh) are doubtful while Shorts (groin) is questionable. All three will test their injuries during warm-ups to see if they're able to play. Coach Gus Bradley said it didn't look good for Jones-Drew and Cyprien.
Pass rush:
The Bills lead the NFL in sacks (44), including 12 by defensive end
Mario Williams
and eight by defensive end
Jerry Hughes
. The Jaguars' offensive line has only given up three sacks in the last two games and effectively neutralized Houston's
J.J. Watt
. Williams is the right defensive end and will line up against
Cameron Bradfield
so keep an eye on that battle.
Trickery:
Two weeks ago Jaguars offensive coordinator Jedd Fisch had Jones-Drew throw a touchdown pass. Last week it was receiver
Ace Sanders
. What kind of trick play does he have ready for the Bills? Fisch said he doesn't like to call them trick plays, though. "We want our guys to believe that they're not trick plays, just part of the offense," he said. "I think that was something I got from Coach [Steve] Spurrier. If we call a double pass it just happened to be a play that we called that game and it could have been like any other play."
Getting his chance:
The team's decision to cut defensive end
Jeremy Mincey
means more playing time for first-year player
Ryan Davis
, who was signed from the practice squad on Nov. 15. He has been nearly as effective as Mincey (three sacks, three quarterback pressures). Davis has one sack and four quarterback pressures in just four games. In the first game that Mincey missed after he was late for a team meeting, Davis came up with a game-saving interception in the final minutes.
Secondary issues:
The Jaguars are giving up more than 300 yards per game passing since the bye week, but Bills quarterback
EJ Manuel
has had a rough rookie season and is coming off his worst performance. The Jaguars' pass rush has been better the past few weeks and the hope is putting pressure on the inexperienced Manuel will result in turnovers. Manuel, however, has shown flashes of elite ability and if there's any team he's going to carve up it'll be the Jaguars, who may be down Cyprien.
December, 13, 2013
12/13/13
5:15
PM ET
JACKSONVILLE, Fla. -- Looking for some help with your fantasy football lineup? Every Friday I'll give you my opinions on which Jacksonville Jaguars players to play and sit, as well as which of the opposing players might be a good play against the Jags. For more fantasy football advice, check out ESPN.com's fantasy football page.
Jaguars
QB Chad Henne:
Henne could have a good day -- if he can stay upright. The Bills lead the NFL in sacks (44) but have the 28
th
ranked pass defense. Henne has thrown four touchdown passes and one interception in his last two games.
Verdict
: Start him if you're in a league that plays two quarterbacks.
RB Maurice Jones-Drew:
He said Friday it's 50-50 whether he plays because of a strained right hamstring. Coach Gus Bradley said it'll be a game-day decision.
Verdict
: Sit him. Even if he can play, how effective will he be?
WR Cecil Shorts:
Shorts is battling a groin injury that will need surgery in the offseason but he practiced on a limited basis on Friday and it appears he'll be able to play. But as with Jones-Drew, the question will be his effectiveness.
Verdict
: Sit him.
TE Marcedes Lewis:
He has caught touchdown passes in his last two games. He has never caught a touchdown pass in three consecutive games. With Shorts ailing, he should be a bigger part of the passing game.
Verdict
: Start him.
K Josh Scobee:
He has had a left hip issue this week but it isn't expected to affect his performance. The early forecast is for rain on Sunday. That could affect him, though.
Verdict
: He has missed just one field goal attempt all year. Start him.
Defense/special teams:
The rush defense has been much better the last five games but the Jaguars have given up an average of more than 300 yards per game in that same stretch. However, Bills rookie quarterback
EJ Manuel
is coming off his worst game and there will be opportunities for turnovers.
Verdict
: They are as good a play as any defense. Start them.
Bills
QB EJ Manuel:
He has had an up-and-down first year and coach Doug Marrone has talked about simplifying the offense a bit. That probably means fewer passes and an even heavier reliance on the run game.
Verdict
: Sit him.
RB C.J. Spiller:
It has been hit-or-miss with Spiller. He leads the team with 678 yards rushing but has just two rushing scores and has had four games this season in which he has averaged 2.0 or fewer yards per carry. Still, he's a breakaway threat.
Verdict
: He's a solid option as a No. 3 back or flex.
RB Fred Jackson:
He is right behind Spiller with 645 yards, but he has rushed for seven touchdowns. He also is a bigger factor in the passing game, catching 41 passes and averaging 7.8 yards per catch.
Verdict
: Start him as a No. 2 back.
WR Stevie Johnson:
Having a rookie quarterback has obviously hurt Johnson's stats (51 catches, 593 yards, three touchdowns) and if the offense is getting scaled down that could mean even less action. The Jaguars secondary has been burned the last few games, however.
Verdict
: It's close, but sit him.
TE Scott Chandler:
His numbers are solid, though (43 catches, 515 yards) but he has just two touchdowns. Still, tight ends have feasted on the Jaguars all season long.
Verdict
: Start him.
K Dan Carpenter:
He has made 25 of 27 field goal attempts, including 10 from 40 or more yards.
Verdict
: Start him.
Defense/special teams:
The Bills lead the NFL in sacks and rookie linebacker
Kiko Alonso
is a candidate for Defensive Rookie of the Year. If the Jaguars don't have Jones-Drew and Shorts, expect the Bills to really come after Henne in an effort to force mistakes and get turnovers.
Verdict
: Start them.
December, 13, 2013
12/13/13
10:00
AM ET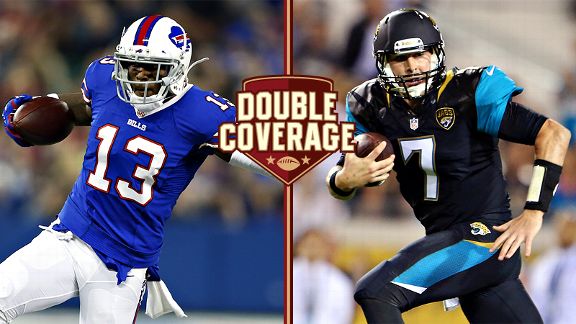 USA TODAY SportsStevie Johnson's Bills and Chad Henne's Jaguars are both 4-9, but the teams appear headed in opposite directions.
It has been a different second half for the
Jacksonville Jaguars
and
Buffalo Bills
.
Both teams are 4-9 but they're on opposite wavelengths. The Jaguars have won four of their past five games and are currently riding a three-game winning streak for the first time since 2010. The Bills have lost four of their past five and are coming off an abysmal performance in Tampa Bay.
Jaguars coach Gus Bradley is talking about making sure his players treat prosperity the same way they treated the adversity they faced in the first half of the season. Bills coach Doug Marrone is talking about scaling back the offense to help rookie quarterback
EJ Manuel
.
The teams meet Sunday at EverBank Field. ESPN.com Bills reporter Mike Rodak and Jaguars reporter Michael DiRocco break down the matchup:
DiRocco:
Manuel is pretty familiar to fans in Jacksonville from his time at Florida State. He has had an up-and-down season, but what have you seen from him that leads you to believe the Bills made the correct choice in deciding to build the franchise around him?
Rodak:
I think the jury is still out on whether the Bills made the correct choice in Manuel. In Sunday's loss to the Buccaneers, Manuel posted a 3.8 QBR, which ranks 415 out of 426 single-game performances in the NFL this season. It's dangerous to give too much weight to what's most recent, but in this case, Sunday had to be alarming for the Bills. Manuel has the leadership and character traits that any NFL team wants in its quarterback, but his on-field performance has left a lot to be desired. These last three games will be critically important to determining which direction Manuel is heading.
The Jaguars have gone on a surprising run lately, winning four of their past five games. Have they been doing anything different than early in the season? Or are things just simply starting to come together for Gus Bradley and his players?
DiRocco:
Schematically, no, other than just paring down the defensive game plan a bit and focusing more on the coverages and blitzes they do well. But three things stand out: better run defense, a better turnover ratio and better success in the red zone. In the first eight games -- all losses by double digits -- the Jaguars were allowing 161.8 yards per game rushing, were minus-7 in turnover ratio, and scored TDs on only 25 percent of red-zone possessions. The numbers in the past five games: 70.8 yards per game allowed, plus-5, and 66.7 percent. The offensive line has been much more consistent, quarterback
Chad Henne
is making few mistakes, and the defensive line has held up at the point of attack much better.
Kiko Alonso
is one of the candidates for defensive rookie of the year and is second in the NFL in tackles. Obviously a second-round pick is expected to produce, but has the kind of impact he has made on the defense been a surprise?
Rodak:
I think so. When I spoke to defensive coordinator Mike Pettine last month about Alonso, he indicated that the Bills inserted him into the starting lineup in the spring, but it was a wait-and-see deal. If it didn't work out, they were going to turn somewhere else, but Alonso has certainly fit well within this defense. He has drawn a lot of praise from coaches and veterans on this team for his work ethic and ability to pick up the scheme quickly. However, I do think that Alonso's play has tailed off slightly over the past several weeks after he had a hot start this season. He had four interceptions, one sack, and one forced fumble in the first month of the season. Since then, he has had one sack, no interceptions and no forced fumbles. Is that overly concerning for the Bills, though? Most likely not. I think Alonso will be a fixture in this defense for the foreseeable future.
What's the latest on
Maurice Jones-Drew
? I remember hearing some trade talk around him a few months ago, but once the deadline passed, he hasn't been on the radar as much. Does he have a future in Jacksonville?
DiRocco:
He does if he's willing to be realistic about a contract. No team is going to pay big money for a 29-year-old running back that has battled injuries the past two seasons, which is what he'll find out if he decides to test the free-agent market when his contract expires after this season. The Jaguars are interested in re-signing him and likely will offer him an incentive-filled two-year contract worth $6-10 million. Jones-Drew, who would like to finish his career in Jacksonville, is making $4.95 million this season so that would be a pay cut. If he's OK with that, then I'd be surprised if he's not around.
What do you think of the job Doug Marrone has done in his first season? And what do you think of his long-term future in Buffalo?
Rodak:
I think it has been a trying season for Marrone. It's not that there were high hopes for the team in his first season -- nobody realistically expected them to make the playoffs -- but I don't think everything fell into place as well as he would have liked. His hire of Mike Pettine as defensive coordinator has generally paid off well, but ultimately what's going to define Marrone's tenure in Buffalo will be the quarterback position. Coaches don't often get more than one chance to get it right at quarterback, so if Manuel doesn't work out in Buffalo, it may not work out for Marrone, either. That's just today's NFL. It's a brutal league.
What about for the Jaguars? Their roster was about as bare bones as it gets this past offseason -- in much worse shape than the Bills' entering this season -- and they've managed to put on a nice little run here. What's the next step that general manager David Caldwell needs to take?
DiRocco:
His No. 1 priority is to find a franchise quarterback. At the beginning of the season I would have told you the Jaguars would draft Teddy Bridgewater with the No. 1 overall selection, but since it now appears the Jaguars will be picking in the Nos. 5-7 range it seems unlikely Bridgewater will be around. Caldwell is going to have to figure out whether there's somebody else he likes just as much or if he's going to be willing to gamble that he can get a good QB a little later in the draft, whether it's A.J. McCarron, Aaron Murray or somebody else.
December, 10, 2013
12/10/13
3:30
PM ET
JACKSONVILLE, Fla. -- The
Buffalo Bills
aren't exactly heading to Jacksonville on a roll.
They have lost five of their last six games and have scored more than 17 points just once in the last five games.
The Jaguars, however, do have momentum. They've won four of the last five games, including three in a row.
Something will have to give when the teams square off at EverBank Field on Sunday. Kickoff is set for 1 p.m. ET and the game will be televised on CBS.
Here's a look at the Bills:
Record
: 4-9.
Last week:
lost to Tampa Bay Oakland 27-6.
Coach
: Doug Marrone, first season (4-9).
Offensive coordinator
: Nathaniel Hackett.
Defensive coordinator
: Mike Pettine.
Series record
: tied 6-6.
THREE PLAYERS TO KNOW ON OFFENSE
QB EJ Manuel:
The rookie quarterback from Florida State has had good days and some terrible days. Last Sunday's game against Tampa Bay was one of the latter. He completed 18 of 33 passes and threw four interceptions in the loss to the Bucs.
RB C.J. Spiller:
Spiller and
Fred Jackson
share the workload and both have similar numbers. Spiller has 149 carries for 678 yards while Jackson has 157 carries for 645 yards. Jackson has more touchdowns (7-2) but Spiller is more explosive (seven runs of 20 or more yards). However, Spiller is a bit of a feast or famine back. He's had four games this season in which he has averaged 2 or fewer yards per carry.
TE Scott Chandler
: He has 43 receptions for 515 yards and two touchdowns. He's also averaging 12.0 yards per catch, which is better than receiver
Stevie Johnson
(51 catches, 593 yards, 11.6 yards per catch).
THREE PLAYERS TO KNOW ON DEFENSE
LB Kiko Alonso:
The Bills' second-round pick out of Oregon is one of the leading candidates for Defensive Rookie of the Year. He leads the Bills in tackles (131) and interceptions (four) and also has two sacks for a defense that ranks sixth against the pass and 15
th
overall in the NFL.
DE Mario Williams
: He's having one of his better years as a pass-rusher. He is third in the NFL with 12.0 sacks, which is the second-highest total in his career and just two sacks shy of his career-best 14.0 sacks in 2007 for the
Houston Texans
.
DT Marcell Dareus:
He's one of the better defensive players that most people don't know about because he plays for a team that's not on television much. Dareus has seven sacks, three pass deflections, and 60 tackles
ETC
.
Marrone had the captains speak to the team following the loss to the Bucs. He also allowed anyone else who wanted to say a few words to speak as well. … Marrone also said after the Tampa Bay loss that the team is scaling back the offense a bit for Manuel. They feel they may have been giving too much in the game plan and thinning that out will help Manuel become more effective. ... S
Jairus Byrd
has four interceptions this season and 22 in his career, which puts him 10
th
on the Bill's all-time list.
November, 5, 2013
11/05/13
7:45
PM ET
JACKSONVILLE, Fla. -- The Jaguars begin the second half of the 2013 season Sunday still in search of their first victory.

Since the schedule is considerably easier than it was in the first half, the Jaguars have a much better chance of avoiding becoming just the second team in NFL history to go 0-16. Or do they?
Here's a look at the remaining games:
At Tennessee (Nov. 10):
The coaching staff, scouting staff and management had a huge meeting last week to evaluate every player on the team. The coaching staff also evaluated schemes, personnel groupings and strategy. With all that information, they should be able to put together a game plan that takes advantages of the few strengths they do have. The defense has regressed the past two games, struggles to stop the run and can't get off the field on third down. The Titans' offense isn't explosive, but it is efficient. Running back
Chris Johnson
should have a pretty big day against a team that's giving up 161.8 yards per game on the ground.
Arizona (Nov. 17):
The Cardinals have one of the NFL's worst offenses (29
th
overall), which would be a good matchup for a Jaguars offense that struggles to run the ball (66.0 yards per game). Now that the Jaguars have finally scored a touchdown in a "home" game, maybe that could open the door for the team to score a TD at EverBank Field.
At Houston (Nov. 24):
The Texans are somewhat of a mess, as high expectations have disintegrated during a six-game losing streak. Even though he has looked solid,
Case Keenum
is still a first-year player. Arian Foster is banged up, too. That's as good a scenario as the Jaguars could hope for in Houston.
At Cleveland (Dec. 1):
This is a game many probably circled as a victory when the schedule came out, but the Browns just manhandled the
Baltimore Ravens
last week. They have the league's No. 4 overall defense and rank in the top 10 in rush and pass defense. That's not a good matchup for an offense that struggles to run the ball and is ineffective in the red zone (five TDs on 20 trips).
Houston (Dec. 5):
The schedule certainly helps the Jaguars here. The Texans play host to New England the Sunday before this Thursday night game. The Patriots shredded a good Houston team twice last season, so what will they do to this year's Texans? It could be a demoralized team coming into EverBank Field.
Buffalo (Dec. 15):
Quarterback
EJ Manuel
is scheduled to return from a knee injury this weekend, and the rookie from Florida State has been all over the place. He delivered a game-winning drive against Carolina but has also made confusing throws. Which guy shows up?
Tennessee (Dec. 22):
This could be the game in which we see a lot more of some young players --
Ricky Stanzi
, perhaps? -- if the Jaguars have already secured a victory.
At Indianapolis (Dec. 29):
What if the Colts can't improve or hurt their playoff seed based on the outcome of this game? Does Chuck Pagano play
Andrew Luck
and other starters for a quarter, a half, or not at all? If the Jaguars are 0-15 entering this game, does that factor into his decision? It could be the biggest game of the season for the Jaguars.