Jacksonville Jaguars:

Eli Manning
April, 24, 2014
Apr 24
5:20
PM ET
JACKSONVILLE, Fla. -- NFL Nation reporters
took a look back at the 2004 NFL draft
today. Just looking at the list of players selected in the first round shows how impressive the talent that year turned out to be.
Eli Manning
,
Ben Roethlisberger
,
Philip Rivers
,
Larry Fitzgerald
, Sean Taylor,
Vince Wilfork
and
Steven Jackson
are some of the players taken in the first round that went on to have fantastic careers.
But the first round had its share of busts, too, and there was no bigger bust in the top 10 than receiver Reggie Williams, whom the Jaguars took with the ninth pick.
Williams missed only one game in his five-year career with the Jaguars, but he never became an elite receiver. In fact, he was pretty average, never catching more than 52 passes in a season. His best season was 2007, when he caught 38 passes for 629 yards and a 10 touchdowns. The 10 TD catches are still a single-season team record (
Marcedes Lewis
also had 10 in 2010).
Williams became a free agent after the 2008 season, but did not sign with a team and spent the 2009 season out of football. He signed a contract with Seattle in April 2010, but was waived two months later. He also played for Sacramento in the United Football League in 2011 and spent a few months with the CFL's Toronto Argonauts in 2013.
Though Williams turned out to be a bust, the Jaguars did have some success in the later rounds of the 2004 draft with linebacker
Daryl Smith
(second), fullback
Greg Jones
(second), kicker
Josh Scobee
(fifth) and defensive end Bobby McCray (seventh).
February, 4, 2014
Feb 4
12:00
PM ET
JACKSONVILLE, Fla. --
Jacksonville Jaguars
owner Shad Khan created a bit of a stir among fans when he said it's no mystery that the team would draft a quarterback in May -- and possibly even two.
Notably absent from his comments, however, was the phrase "in the first round."
The Jaguars have the No. 3 overall selection and will have a shot at
Teddy Bridgewater
,
Johnny Manziel
or
Blake Bortles
. For months I've been on the Bridgewater bandwagon. I believe he's the most polished, NFL-ready quarterback in the draft. Manziel wouldn't be a bad option either because he's such a dynamic player and will certainly make the Jaguars instantly relevant nationally.
The Jaguars, though, should pass on a quarterback with their first-round pick. They should do the same in the second round, too.
[+] Enlarge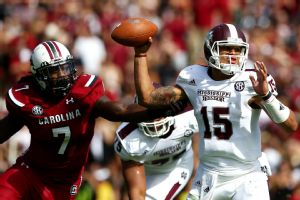 Streeter Lecka/Getty ImagesUsing the No. 3 overall pick on an elite defender like South Carolina's Jadeveon Clowney, 7, could appeal to Jacksonville head coach Gus Bradley.
That certainly won't be a popular opinion among fans, who desperately want the team to move on from
Blaine Gabbert
and
Chad Henne
. But it's the best decision for general manager David Caldwell and coach Gus Bradley as they continue their rebuild of the franchise. Fix and bolster the defense first, especially the pass rush and the secondary, then make quarterback a priority.
Two reasons:
Defense is more important to winning championships than most people realize.
Young, inexperienced quarterbacks, provided they have the pieces in place around them, can make it to and win Super Bowls.
Seattle won the Super Bowl last Sunday because of its stifling defense, which led the NFL in yards allowed per game, passing yards allowed and scoring, and finished tied for seventh in rushing yards allowed. The Seahawks absolutely throttled Denver's record-setting offense and badgered Denver quarterback
Peyton Manning
in a 43-8 victory.
But don't believe that what the Seahawks did signifies a changing philosophy or the start of a new trend in the NFL in which defense -- and not elite quarterbacks -- win championships. Defense has been winning Super Bowls for years, but people overlook that because of the elite quarterbacks.
Six of the past 10 Super Bowl winners had a defense that ranked in the top 11 in the NFL in three of the four major statistical categories (total defense, rush defense, pass defense and scoring defense): Seattle, Green Bay (2011), Pittsburgh (2009, 2006),
New York Giants
(2008), and New England (2005). Each of those teams -- with the exception of the Seahawks because it's too early to tell how good
Russell Wilson
will be -- also had elite quarterbacks.
The Green Bay team that thrived on
Aaron Rodgers
' right arm? The Packers' defense ranked second in scoring and fifth in passing and total defense. Pittsburgh's 2009 Super Bowl title team led the league in total defense, pass defense and scoring defense.
The last time New England won the Super Bowl was 2005. That was
Tom Brady
's third title in four years, but the Patriots' defense was one of the league's best that season, ranking second in scoring, sixth in rushing and ninth in total defense.
The four other Super Bowl champs of the past decade won because of their quarterbacks (Baltimore in 2013, New York Giants in 2012, New Orleans in 2010 and Indianapolis in 2007), but the Giants wouldn't have won without their pass rush, and the Saints might not have won without cornerback
Tracy Porter
's fourth-quarter interception return for a touchdown.
The Jaguars' defense has some solid building blocks -- tackle
Sen'Derrick Marks
, linebacker
Paul Posluszny
, safety
Johnathan Cyprien
and cornerback
Dwayne Gratz
-- but Caldwell and Bradley need to bolster the pass rush, get more depth on the defensive line and add help at outside linebacker. They should address those areas in the first two rounds, especially if they can nab defensive end
Jadeveon Clowney
with the No. 3 pick.
Bradley is surely in favor of taking that approach. It's the way Seattle did it during his four years as the Seahawks' defensive coordinator, and we just saw how well it worked. The team was built around its defense, and everything was in place for a Super Bowl run once Wilson was added to the mix.
Wilson is clearly not an elite quarterback right now. He wasn't even in the Seahawks' plans two years ago when they drafted him in the third round, because Pete Carroll had traded for
Matt Flynn
in the offseason and gave Flynn the starting job. Wilson beat out Flynn and has played solid but not spectacular football, winning a Super Bowl ring in his second season.
More proof that young quarterbacks aren't a hindrance to success:
Colin Kaepernick
led San Francisco to the Super Bowl in his second season in the league;
Andrew Luck
has led Indianapolis to the playoffs in his first two seasons;
Ben Roethlisberger
led the Steelers to the AFC Championship Game as a rookie; and Brady won a Super Bowl in his first season as a starter, which was his second season in the NFL.
Taking a quarterback with the No. 3 pick won't guarantee that the Jaguars will be ready for a playoff run in 2014 or 2015, especially if, as some inside the building believe, none of the quarterbacks available in this draft are ready to contribute right away. There is no guarantee that Bridgewater, Manziel or Bortles will turn out to be a better quarterback than
Aaron Murray
,
Zach Mettenberger
or
Jimmy Garoppolo
, anyway, and those latter three are players the Jaguars could land in the third round or later.
The Jaguars need immediate impact players, which is why taking Clowney or another elite pass-rusher in the first two rounds is the better -- albeit not popular -- option.
January, 29, 2014
Jan 29
10:00
AM ET
Jacksonville Jaguars
players don't agree with the majority of NFL players that named
Tom Brady
as the quarterback they'd like to have with two minutes remaining and the score tied in the Super Bowl.
In an NFL Nation confidential survey of 320 players, 40 percent (128) said they'd want the
New England Patriots
quarterback taking snaps. However, most of the 10 Jaguars players that participated in the survey said they want
Peyton Manning
.
In fact, Brady got just one vote.
Manning got four votes,
Aaron Rodgers
received two, and
Eli Manning
,
Drew Brees
and
Andrew Luck
each were named once.
Those results are a bit surprising considering Brady and Eli Manning have both led their teams to a pair of Super Bowl victories with late-game drives. When Peyton Manning's Colts won Super Bowl XLI 29-17 over the
Chicago Bears
, they didn't score an offensive point in the fourth quarter. He also threw an interception that was returned for a touchdown with 3:12 remaining in the Colts' 31-17 loss to New Orleans in Super Bowl XLIV.
The Jaguars had the fifth-youngest roster in the NFL when the season began (according to research done by philly.com's Jimmy Kempski) which means some of the players were as young as 9 or 10 years old when Brady won his first Super Bowl title after the 2001 season.