Jacksonville Jaguars:

Fred Taylor
July, 7, 2014
7/07/14
10:00
AM ET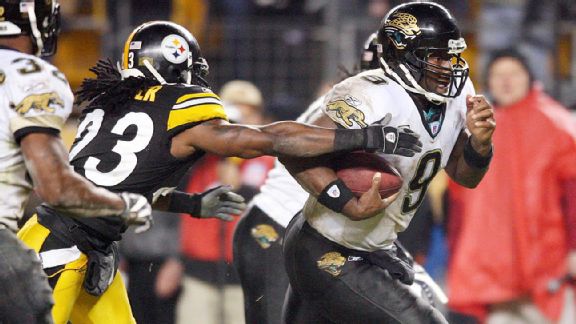 Gary W. Green/Orlando Sentinel/MCT/Getty Images
»
VOTE HERE
»
NFC Plays:
East
|
West
|
North
|
South
»
AFC:
East
|
West
|
North
|
South
This is one of three nominations for the most memorable play in
Jacksonville Jaguars
history. On Monday we featured Morten Andersen's missed field goal in the 1996 regular-season finale that sent the Jaguars to the playoffs. On Tuesday we featured Mark Brunell's touchdown pass to Jimmy Smith to clinch the 1996 AFC divisional playoff game over the Broncos.
Score
: Jaguars 31, Steelers 29
Date
: Jan. 5, 2008
Site
: Heinz Field
The Jaguars have won just one playoff game since their run to the 1999 AFC Championship Game, and it came thanks to a gutsy play call, a couple of good blocks and a holding penalty that wasn't called.

The Jaguars appeared headed for an easy victory over Pittsburgh in a 2007 AFC wild-card game after beginning the fourth quarter with an 18-point lead and the Steelers facing a fourth-and-12 at the Jacksonville 37-yard line. But
Ben Roethlisberger
and
Santonio Holmes
hooked up for a touchdown, and Pittsburgh's comeback got jump-started.
The Steelers eventually took a 29-28 lead with a little more than six minutes to play. After the teams traded possessions, the Jaguars drove into Pittsburgh territory but faced a critical fourth-and-2 from the Steelers' 43 with 1:56 remaining.
Offensive coordinator Dirk Koetter didn't choose a pass play or a run by Fred Taylor or
Maurice Jones-Drew
. He called a quarterback draw out of the shotgun formation, putting the season on David Garrard's feet.
Four players threw key blocks: Center Brad Meester sealed linebacker James Farrior on the inside, left guard
Vince Manuwai
drove defensive end
Brett Keisel
backward, right tackle Maurice Williams took down nose tackle
Casey Hampton
and tight end
Marcedes Lewis
turned safety
Troy Polamalu
outside.
That opened a huge hole for Garrard, who put a move on safety Tyrone Carter and ran by him at the 30 before Carter finally ran him down at the Pittsburgh 11-yard line. That play set up
Josh Scobee
's 25-yard field goal with 37 seconds remaining, and defensive end Bobby McCray sacked Roethlisberger and forced a fumble that defensive tackle
Derek Landri
recovered with 20 seconds to play to give the Jaguars a 31-29 victory.
Except it shouldn't have happened.
Officials missed a pretty blatant hold by left tackle
Khalif Barnes
on linebacker
James Harrison
. Barnes got his feet crossed as Harrison went outside and then back inside and grabbed Harrison's jersey by his shoulders. By the time Barnes let go, Garrard was already past the first-down marker.
Steelers players and fans were irate about the noncall. Their complaints were eventually validated when the NFL's head of officiating admitted the following spring that the crew working that game missed the holding call.
There was obviously nothing the NFL could do about the outcome. That remains the last time the Steelers lost a playoff game at home.
@ESPNdirocco David Garrard on 4th down in Pitt: made jags only team to ever beat the steelers on their home soil twice in same season

— David Lipton (@d_lipton14) June 10, 2014
May, 1, 2014
5/01/14
8:20
AM ET
Which is the best draft class in Jacksonville Jaguars history?
NFL.com's
Chris Wesseling picked the best class for each AFC team and he writes that while there's no obvious answer, he'd pick the first draft in franchise history.
The Jaguars' 1995 draft produced offensive tackle Tony Boselli, a member of the 1990s all-decade team and arguably the best player in franchise history, as well as multiyear starters in running back James Stewart, linebacker Bryan Schwartz, safety Chris Hudson and guard Brian DeMarco.
The '95 draft also was responsible for eventually netting another of the greatest players in franchise history. The team's fourth-round pick in '95 was quarterback Rob Johnson, who was eventually traded to Buffalo for a first-round pick and the Jaguars used that selection to take running back Fred Taylor.
Here are some additional pieces of Jaguars-related content from around the Web in our Reading the Coverage feature:
The Florida Times-Union's Ryan O'Halloran writes that the Jaguars' projected 2014 offensive line is going to
look a lot different than the one that ended the 2013 season
.
Here are the three minicamp practices that are
open to the public
.
CBSSports.com's Pete Prisco has the Jaguars taking linebacker Khalil Mack in his
latest mock draft
.
Jaguars.com's John Oehser writes that Mike Brewster is
confident he'll get the job done at center
.
Sports Illustrated's Chris Burke and Doug Farrar did a mock draft on Twitter and
predicted the Jaguars would take
quarterback Teddy Bridgewater.
April, 15, 2014
4/15/14
3:30
PM ET
JACKSONVILLE, Fla. -- The upcoming NFL draft will be the 20th in
Jacksonville Jaguars
history, not counting the expansion draft.
To commemorate that milestone, I'm looking back at each draft and giving you the best and worst selections in each round. Today is the first round.
These rankings are based on what the player did with the Jaguars. If they failed to produce with the Jaguars but had success somewhere else -- whether they left as free agents, were cut and caught on somewhere else, or traded -- that's a negative.
I'm expecting some disagreement, which is fine. Your feedback is welcome (click the email link at the bottom), and I'm going to post some of the best comments (read: those without profanity) on April 16.
Here we go ...
Round 1: Best pick
[+] Enlarge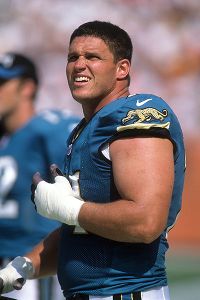 Matthew Emmons/USA TODAY SportsTony Boselli made five pro Bowls during his seven-season NFL career.
The first pick the Jaguars ever made still remains their best.
Tom Coughlin selected offensive tackle
Tony Boselli
with the No. 2 overall pick in the 1995 draft and Boselli became one of the cornerstones of the franchise's surprising early success. He went on to make five Pro Bowls and was voted to the All-Pro team three times in his seven-year career with the Jaguars.
Boselli started 12 games as a rookie and all 16 in his second season. By his third season, he was regarded as one of the best tackles in the game. That soon changed into him being regarded as the best tackle in the game. Unfortunately, a shoulder injury cut short a career that could have ended with Boselli being the first Jaguars player inducted into the Hall of Fame.
Honorable mention
RB
Fred Taylor
(1998) holds Jaguars career records in rushing yards (11,271) and attempts (2,428) and single-game records in yards (234) and attempts (37). He is currently 15th on the NFL's all-time rushing list.
LB
Kevin Hardy
(1996) ranks fourth on the Jaguars' all-time sack list (28.5) and fourth in team history with 789 tackles. He had 10.5 sacks and was voted to the All-Pro team and the Pro Bowl in 1999.
DT
John Henderson
(2002) is third on the Jaguars' all-time sack list (29), which is a significant achievement for a defensive tackle. He also ranks fifth in team history in tackles (563) and is a two-time Pro Bowler.
Round 1: Worst pick
The Jaguars took receiver R. Jay Soward with the 29th overall pick in 2000. It turned out to be the biggest bust in team history.
Soward eventually admitted that he battled alcohol issues throughout his career and smoked marijuana regularly while he was at USC. That's why his NFL career ended with just 14 receptions for 154 yards and a touchdown, three carries for 28 yards, and 18 punt and kickoff returns.
Soward struggled just getting to practices and meetings on time. Coughlin sent limos to pick Soward up to make sure he made it on time. He was suspended multiple times for violating the league's substance abuse policy.
Honorable mention
DE
Derrick Harvey
(2008) never came close to living up to the hype of being the eighth overall pick. He was an elite pass-rusher at Florida but managed just eight sacks in his three seasons with the Jaguars.
QB
Blaine Gabbert
(2011) was 5-22 as a starter and threw 22 touchdown passes and 24 interceptions in 28 career games. The No. 10 overall pick also couldn't stay healthy. He missed games because of injuries to his shoulder, forearm (the final six games of the 2012 season), thumb, hamstring, and a cut on his hand. He failed to finish six of his last 10 starts (including preseason) because of those injuries.
WR
Justin Blackmon
(2012) has already violated the league's substance abuse policy three times in his first two seasons and is currently suspended indefinitely.
March, 24, 2014
3/24/14
8:15
PM ET
ORLANDO, Fla. -- Jaguars general manager David Caldwell isn't ruling out a return by running back
Maurice Jones-Drew
, regardless of how unlikely it seems.
Caldwell said he has not spoken with Jones-Drew or his agent, Adisa Bakari, since the Senior Bowl but that doesn't mean that the team doesn't want to re-sign Jones-Drew to allow him to finish out his career in Jacksonville.
"We haven't closed the door," Caldwell said. "We're not the type of people generally that never say never or ever say ever, but I think we'll just see how that plays out. We have a ton of respect for MoJo and ton of respect for his career and the person he is."
[+] Enlarge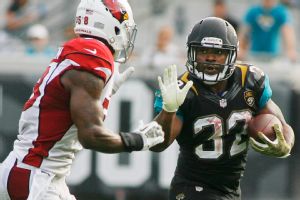 Phil Sears/USA TODAY SportsMaurice Jones-Drew has played all eight of his NFL seasons with the Jaguars, rushing for 8,071 yards.
However, despite Caldwell's assertion to the contrary, Jones-Drew's return is doubtful. At this point it has more to do with playing time than money. The Jaguars signed free agent
Toby Gerhart
earlier this month to be the team's No. 1 back, meaning Jones-Drew would have to share carries if he were to return.
Jones-Drew did that earlier in his career with
Fred Taylor
, but by his third season he was getting the majority of the carries and Taylor was released following the 2008 season. But Taylor was the team's all-time leading rusher (11,271 yards) and Jones-Drew understood his role was to be a complementary back in his first two seasons.
Jones-Drew went on to rush for more than 1,300 years from 2009-11, including an NFL-leading 1,606 yards in 2011. However, he missed 10 games in 2012 because of a Lisfranc injury. He ran for 803 yards in 2013, but averaged a career-low 3.4 yards per carry.
If he were to return he would have to share the load with Gerhart, who has carried the ball just 276 times in four seasons as
Adrian Peterson
's backup in Minnesota. Jones-Drew, whose 8,071 yards is second in franchise history, may not be willing to do that.
As free agency continues, however, he may not have much choice. It isn't exactly a lucrative market for running backs. Though the
New England Patriots
,
New York Jets
,
Miami Dolphins
and
Pittsburgh Steelers
are reportedly interested in Jones-Drew, Bakari would only confirm that Jones-Drew has met with the Steelers.
Jones-Drew may opt to hold off until closer to training camp to sign, or wait even longer to see if there's a team that needs to add a running back because of injury.
At the end of the 2013 season Jones-Drew said he was interested in signing a three-year contract and is reportedly seeking a deal worth $3.5 million annually. That's a lot of money for a 29-year-old, 5-foot-7, 210-pound, back with a lot of mileage. He has carried the ball 1,804 times, caught 335 passes for 2,873 yards, and returned 79 kickoffs and 15 punts in his eight seasons.
Caldwell wouldn't say it, but that's a number he won't get from the Jaguars. Caldwell did say, however, that the team did not extend Jones-Drew an offer before free agency began.
"He's testing the market and we haven't really got to that point," Caldwell said. "We just had some very candid discussion with his representation and I think just needs to find out where he feels he's going to be best utilized."
It's unlikely that's Jacksonville.
October, 2, 2013
10/02/13
8:00
AM ET
JACKSONVILLE, Fla. -- The Jacksonville Jaguars got a little more help for their rebuilding project.
GM Dave Caldwell
traded left tackle Eugene Monroe to the Baltimore Ravens
on Tuesday night for three third-day draft picks, making the first of what is surely to be several personnel moves involving one of the team's most high-profile players. According to Ryan O'Halloran of the Florida Times-Union, the
Jaguars will now have 11 picks
in the 2014 draft.
The trade means rookie first-round pick Luke Joeckel will move from right tackle to left tackle, the position he played at Texas A&M. Only nine of former general manager Gene Smith's 24 draft picks
remain with the team
.
Monroe, who is in the final year of his contract, told O'Halloran and the Associated Press that he was looking forward to a fresh start and that he had no ill feelings toward the Jaguars or Caldwell.
While the trade is certainly beneficial for the Jaguars, it's also a
good deal for the Ravens
, writes ESPN Ravens reporter Jamison Hensley. Their offensive line has struggled and Monroe is a significant upgrade from Bryant McKinnie.
The T-U's Hays Carlyon
weighs in on the trade
and WJXT TV-4 sports director Sam Kouvaris and Cole Pepper discuss which player could
potentially be next
.
Here are some other pieces of Jaguars content from around the web in our daily Reading the Coverage feature:
The Jaguars will
induct former quarterback Mark Brunell into the Pride of the Jaguars
. He joins former offensive tackle Tony Boselli, former running back Fred Taylor and former owners Wayne and Delores Weaver in the team's hall of fame.
O'Halloran provides a statistical recap of the first month of the season in his weekly
Inside the Game
feature.
Here's a roundup of items from this blog: a
scouting report
on the St. Louis Rams; the Jaguars are
No. 32 (again)
in the ESPN.com NFL Power Rankings; the weekly ranking of the
Jaguars' top 10 playmakers
, which this time includes a special guest.
October, 1, 2013
10/01/13
1:15
PM ET
JACKSONVILLE, Fla. -- Quarterback Mark Brunell will be back on the field with the Jaguars one more time.

The team will honor him at halftime of the Dec. 15 game against Buffalo at EverBank Field as the newest member of the Pride of the Jaguars. He joins offensive tackle Tony Boselli, running back Fred Taylor, and previous owners Wayne and Delores Weaver in the organization's hall of fame.
"This is real special," Brunell said Tuesday. "The passing records, they get broken eventually. The other individual awards, Pro bowls and those things, big games, sometimes get forgotten. But the opportunity to be on the Pride, that goes on. That lives on."
Brunell played nine years in Jacksonville (1995-2003) and still owns or shares 23 franchise passing records, including career passing yards (25,698), single-season passing yards (4,367 in 1996), single-game passing yards (432 vs. New England in 1996), touchdown passes (144), and 300-yard passing games (six).
He led the NFL in passing in 1996 and helped guide the Jaguars on an improbable playoff run to the AFC Championship Game in just the franchise's second season. Brunell led the Jaguars to a franchise-best 14-2 regular season and another appearance in the AFC title game in 1999. He is a three-time Pro Bowler and was the game's MVP in 1997.
"I was very fortunate," Brunell said. "I'm a firm believer that to do well as a quarterback in the NFL you've got to have good people around you. From the first day that I stepped foot in Jacksonville I was very thankful that I had very good people around me, starting with the head coach in Tom Coughlin, a great coaching staff, and like I said, great teammates like Tony, Fred, and the list goes on and on."
This will mark the third consecutive season in which the team has inducted someone into the Pride of the Jaguars. Boselli was the first player inducted in 2006, followed by the Weavers in 2011 and Taylor last season.
"It has never been a question of whether or not Mark belonged there," Jaguars president Mark Lamping said. "It was only a question of when."