Jacksonville Jaguars:

Gary Kubiak
November, 19, 2013
Nov 19
4:00
PM ET
JACKSONVILLE, Fla. -- The Jaguars' poor season was expected. What has happened in Houston, however, was not.
The Texans started the season 2-0 but have lost eight consecutive games. Quarterback
Matt Schaub
, who threw for 4,008 yards last season, has been a mess in 2013. He set an NFL record by throwing a pick-six in four consecutive weeks and had nine interceptions before getting benched.
Running back
Arian Foster
, who has rushed for at least 1,224 yards and 10 touchdowns the past three seasons, is out for the season with a back injury.
The Texans, a preseason Super Bowl pick by some experts, now have to win out just to have a chance to make the playoffs. It's an unlikely scenario, but they do get the play the Jaguars (1-9) twice in 12 days.
Kickoff for Sunday's game in Houston is set for 1 p.m. EST and the game will be televised on CBS.
Here's a look at the Texans:
Record
: 2-8.
Last week:
lost to Oakland 28-23.
Coach:
Gary Kubiak, eighth season (61-59).
Offensive coordinator:
Rick Dennison.
Defensive coordinator:
Wade Phillips.
Series record:
Texans lead 13-9.
THREE PLAYERS TO KNOW ON OFFENSE
QB Case Keenum:
He will make his fifth career start against the Jaguars. Keenum, an undrafted free agent from Houston, has thrown for 992 yards and eight touchdowns with only one interception since taking over for Matt Schaub.
WR Andre Johnson:
He has persevered through Schaub's horrible year and the inexperience of
T.J. Yates
and Keenum and is on the verge of his seventh 1,000-yard season. He needs just 34 yards to reach that plateau. He's also on pace to tie his career high of 115 receptions (2008).
RB Ben Tate:
With Arian Foster done for the season because of a back injury, Tate is the Texans' top back. His stats right now are nearly identical to Foster's: Tate has 122 carries for 543 yards and one touchdown while Foster has 121 carries for 542 yards and one touchdown. Both are averaging 4.5 yards per carry. It's the touchdowns, however, that are the problem. The Texans have rushed for only two all season.
THREE PLAYERS TO KNOW ON DEFENSE
DE J.J. Watt:
He leads the team in tackles (47), sacks (8.5) and forced fumbles (three). However, he has not been as effective as he was last season when he knocked down 16 passes. He has just four knockdowns this season, three of which came in the first two weeks of the season.
OLB Whitney Mercilus:
The loss of ILB
Brian Cushing
has been hard for the Texans to overcome, but Mercilus has done a solid job in trying to help replace Cushing's production. He has 4.5 sacks, which is just 1.5 sacks shy of the 6.0 he had as a rookie last season.
CB Johnathan Joseph:
The Texans' best corner has knocked down 11 passes and appears to be completely over the sports hernias that bothered him throughout 2012. He has been a factor in Kareem Jackson's development as well.
ETC.
Kubiak coached the team from the press box in the Oakland game in his return from a mini-stroke. … The Texans have forced just eight turnovers (four fumbles, four interceptions). … Opponents have scored a league-high eight touchdowns on returns. … The Texans' eight-game losing streak is the longest in franchise history. Houston has won five in a row over Jacksonville. The Jaguars' last victory in the series came on Nov. 14, 2010.
August, 29, 2013
Aug 29
11:50
AM ET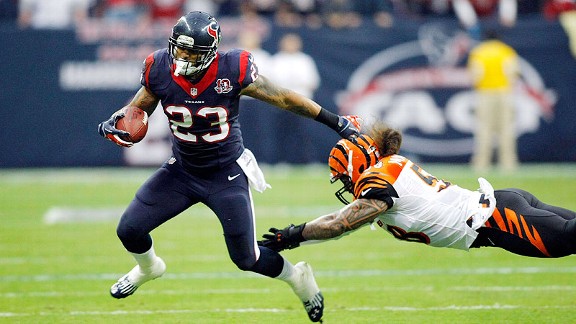 Brett Davis/USA TODAY SportsThe AFC South has three of the 15 running backs in the #NFLRank top 100, including Arian Foster.
The AFC South is the lone division in the NFL with three running backs rated in the top 100 players on offense in #NFLRank, ESPN.com's widespread player-ranking poll.
Fifteen running backs made the top 100, so the AFC South accounts for one-fifth of them, with Houston's
Arian Foster
14th, Jacksonville's
Maurice Jones-Drew
50th and Tennessee's
Chris Johnson
68th.
Indianapolis, the only team in the division whose quarterback is on the list --
Andrew Luck
is 41st -- is also the only team from the division without a running back on it.
But the Colts came close.
Vick Ballard
finished 110th.
Having a top running back doesn't automatically make a team run-centric, though Tennessee and Jacksonville certainly will be. Houston's passing game with quarterback
Matt Schaub
(No. 108) is equipped to make big plays, but is also most effective when it's built off play-action that is triggered by Foster's success. (See sidebar.)
While running effectively and playing good defense remain things good football teams typically need to do to win, it's rare for a team without a good passer to have a great deal of success. And that has changed the way running backs are regarded.
Foster, Jones-Drew and Johnson are all playing under lucrative second contracts in a league where a back is highly unlikely to get big dollars or years the third time his agent sits down for negotiations.
Increasingly, teams are wary of drafting a running back high, as the Titans did with the 24th pick overall in 2008. Instead, they seek to find a back in the middle or late rounds. Some even hit a home run in the undrafted rookie pool, as the Texans did with Foster in 2009.
"A lot of things we do start with the run," Texans coach Gary Kubiak said. "I think you've got to do what your team does best. You can't worry about what everybody else does or what everybody else thinks is the formula. Last year, our formula, we played great defense, we ran the ball well, we held onto the ball longer than anybody in football. It was an excellent formula for our football team. This year, I don't know. We've got to go see."
Foster gives the Texans a great combination of speed and power, running with a gliding, effortless style and catching the ball well. Those qualities have earned him 1,115 regular-season touches over the past three seasons.
"He's a real good running back," Johnson said. "He's a bigger guy. He can run the ball and catch the ball out of the backfield. Just seeing him run the ball is interesting, because he is a very smooth runner. They've got a great scheme with him, they like to run that stretch with him, he's got a great feel for his linemen and they've got a great thing going where they know when to cut the backside down. The offense he's in is a very good offense."
Jones-Drew was knocked out of action last season after just six games. He's back from a foot injury now, and while he's on a team with better receivers than they've had in some time, the Jaguars still have a giant question mark with
Blaine Gabbert
at quarterback as well as a susceptible defense.
The Jaguars will hand the ball to him against loaded boxes and when trailing. He could face those situations more than any of the league's top backs.
He came into the league as a second-round pick just seven years ago but has seen a dramatic change in perception about the position in that span.
"I think money-wise they tried to change it, but there are certain players and every team understands that you need a balanced attack," he said. "So
Aaron Rodgers
, they threw the ball so many times. I remember last year he was like, 'We need a running game, we need a running back.' And they went out and drafted two.
"Teams want to portray it as if running backs aren't valuable or are interchangeable. No, everybody has a piece. Your piece [as a quarterback] may be bigger than the other positions. But in order for the whole offense to work …"
Jones-Drew points to the 2010 Packers who won Super Bowl XLV. Come the playoffs, pass-happy Green Bay got quality play from
James Starks
, who ran well and created a new option. Last season's Super Bowl teams, San Francisco and Baltimore, had hot quarterbacks who were supplemented by good runners.
Balance and co-existing skill players -- it's an easy formula to want, and often a difficult one to execute.
Things won't work if they are too pass-centered, Jones-Drew said. And it's the same if his team is over-reliant on him.
"I've been screaming for balance ever since I've been here," he said. "People can't say I've been like, 'Oh, let's run the ball.' 'Cause I know what balance brings. It opens it up for everybody."