Jacksonville Jaguars:

J.J. Watt
February, 7, 2014
Feb 7
10:00
AM ET
JACKSONVILLE, Fla. -- The Jaguars had the least-talented roster in the NFL in 2013.
Based on what head coach Gus Bradley was able to do in the second half of the season and the success of general manager David Caldwell's first draft, there is a lot of optimism that the Jaguars will make progress in 2014. It won't be a turnaround similar to what the
Kansas City Chiefs
made from 2012 to 2013, but the Jaguars should be significantly better next season.
They aren't the only team in that situation, though. During the NFL Nation season wrap-ups, eight bloggers among the 20 who cover non-playoff teams said the teams they cover are trending up heading into the offseason: Buffalo, Pittsburgh, Arizona, Jacksonville, Houston, Tennessee, St. Louis and the
New York Jets
.
Some, like the Cardinals and Steelers, were close to making the playoffs in 2013. Others, such as the Texans, Jaguars and Rams, didn't even come close. But all of those teams should take steps forward in 2014.
The eight bloggers got together, thanks to Bills reporter Mike Rodak, and ranked those eight teams based on their chances of making the playoffs next season. Not surprisingly, the Jaguars finished last. Yes, behind a Texans team that is riding a 14-game losing streak.
Houston had the league's worst record in 2013, but the Texans do have some talent on the roster -- led by
J.J. Watt
,
Arian Foster
and
Andre Johnson
-- and need only a piece or two to become a playoff team again. Quarterback is the top priority, of course, but a change in leadership from Gary Kubiak to Bill O'Brien also could provide the boost the Texans need to make them a factor in the AFC South again.
The Jaguars went 4-4 in the second half of the season (two victories came against Houston) but they have so many needs and holes to fill that it'll be another season before they can realistically make a playoff run. Caldwell and Bradley have to find a quarterback, a pass-rusher, a running back and outside linebackers. They have to beef up the interior of the offensive line and add quality depth at defensive tackle.
It wouldn't hurt to add a big, physical receiver to the roster, either.
January, 9, 2014
Jan 9
10:00
AM ET
Not surprisingly,
Detroit Lions
defensive tackle
Ndamukong Suh
was voted the
most feared player
in the NFL in our NFL Nation confidential survey of more than 320 players.
Suh has been fined seven times and suspended twice during his four-year NFL career for various illegal hits and incidents. He was fined an NFL-record $100,000 for an illegal hit in the 2013 season opener against Minnesota.
However, Suh only drew one vote from the 10 Jaguars polled. Houston defensive end
J.J. Watt
topped the list with three votes, most likely because the Jaguars face the Texas twice every season and rarely play the Lions.
Detroit receiver
Calvin Johnson
got two votes, while San Francisco defensive end
Justin Smith
, Denver quarterback
Peyton Manning
, New Orleans tight end
Jimmy Graham
and
Philadelphia Eagles
quarterback
Michael Vick
each earned one vote.
Clearly, players looked at "most feared" in a variety of ways. Some viewed it synonymously with "dirtiest," while others felt it meant the most dangerous player to face.
December, 5, 2013
12/05/13
11:00
AM ET
JACKSONVILLE, Fla. -- Here are five things to watch in Thursday's
Jacksonville Jaguars
-
Houston Texans
game at EverBank Field in Jacksonville, Fla.:
Where's Andre?
The Jaguars did a good job in the last meeting of limiting
Andre Johnson
to two catches for 36 yards. Part of the reason was how poorly quarterback
Case Keenum
played, but the Jaguars did have a hand in that as well, sacking him twice, hitting him five other times, and breaking up nine passes. But the Jaguars also made sure they knew where Johnson was at all times and gave the corners safety help over the top. Plus, a player without coverage responsibilities slid over to help on shorter routes. Expect the Texans to get Johnson involved early and often.
Playing loose:
Coach Gus Bradley told the players he didn't want them getting amped up because Thursday's game will be on national TV. "What are we doing next Sunday?" Bradley said. "Don't get amped up? I don't want to send them that double message." Still, you can sense excitement among the players, who are eager to show they're a significantly better team than the one that started the season 0-8. Does that mean they'll play loose and trust their preparation, like Bradley told them, or will be they a big tight? Sometimes you don't know what you're going to get from a young team until the moment happens.
Watt's happening:
Texans DE
J.J. Watt
had only one sack in the first meeting, but he hit quarterback
Chad Henne
five times and had two tackles for loss. The Jaguars have to do a better job of neutralizing him this time. Henne took quite a beating in that game (four sacks, 13 hits) but stood in the pocket and didn't make poor throws. Look for some quicker throws to keep that from happening in this meeting.
More Todman:
Running back
Jordan Todman
has gotten more work the past four games, in part to give
Maurice Jones-Drew
a bit of a break but also because he has proven he deserves carries. He has run for 82 yards and a touchdown on 21 carries in the last four games, including 62 yards on 16 carries in the past two games. He had a career-high 11 carries for 31 yards against Houston on Nov. 24, which was also the day that Jones-Drew produced a season-high 144 all-purpose yards.
Defensive line surprise:
Bradley said defensive end
Jeremy Mincey
and defensive tackle
Abry Jones
will both be active against the Texans. That means another defensive lineman -- possibly tackle
Brandon Deaderick
or end
Ryan Davis
-- will be inactive. Tackle
Roy Miller
has been battling a shoulder injury all season but the Jaguars going non-contact this week because of the short turnaround gave him additional time to rest the shoulder.
December, 4, 2013
12/04/13
8:15
AM ET
JACKSONVILLE, Fla. --Thursday's game will go a long way to determine whether the Jaguars have the No. 1 overall draft pick in May.
If the Jaguars lose to the Houston Texans
they're in good shape to have that first pick
. If they win, however, they could drop all the way to ninth by the end of the weekend -- depending on what happens elsewhere around the league, writes Times-Union columnist Gene Frenette.
If the season ended today, the Jaguars would have the
No. 3 overall pick
.
Here are some additional pieces of Jaguars content from around the web in our daily Reading the Coverage feature:
O'Halloran gives
three storylines
for Thursday's game, including having to deal with Texans defensive end J.J. Watt again.
Coach Gus Bradley says defensive end Jeremy Mincey is
likely to play against the Texans
after sitting out the last two games for disciplinary reasons, the T-U's Vito Stellino writes.
The T-U's Hays Carlyon writes that the Jaguars had their
best mix of play calling and execution
against Cleveland.
Here's a roundup of items from this blog: stopping Texans receiver Andre Johnson like the Jaguars did in the first meeting
won't be easy
; receiver Cecil Shorts has the top spot in the weekly rankings of the
Jaguars' top 10 playmakers
; the Jaguars
remained No. 31
in the ESPN.com Power Rankings; Marcus Mariota's decision to return to school
impacts the Jaguars' draft
.
November, 25, 2013
11/25/13
8:00
AM ET
HOUSTON -- A review of four hot issues from the
Jacksonville Jaguars
' 13-6
victory
over the
Houston Texans
:
[+] Enlarge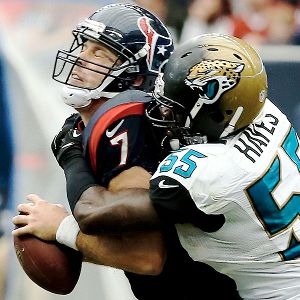 Scott Halleran/Getty ImagesJacksonville brought constant pressure against Case Keenum on Sunday.
Shorts involved:
Jaguars coach Gus Bradley and offensive coordinator Jedd Fisch said they were going to get receiver
Cecil Shorts
more involved in the offense this week after Shorts complained about getting only two catches in a loss to Arizona. They were true to their word. Shorts was targeted a team-high 11 times and caught a team-high eight passes for 71 yards. The Jaguars got him involved early, too, targeting him four times on their first three possessions.
Good gambles:
Bradley's new buzz word is "bold," and he's coaching that way. He went for it on fourth-and-goal from the 1-yard line on the game's opening possession and also called a Wildcat formation pass by
Denard Robinson
, a play that would have worked for a big gain had Shorts not dropped the pass. Bradley also told Fisch to stay with the offense and not just call running plays when the Jaguars got the ball back with 4:24 to play and clinging to a seven-point lead. "We preach to our players that we're going to be bold when opportunities present themselves," Bradley said.
Front plays well:
Texans defensive end
J.J. Watt
is usually the one who bats down passes at the line of scrimmage, but the Jaguars did a better job of that on Sunday. Defensive tackle
Sen'Derrick Marks
deflected two and defensive end
Andre Branch
deflected one. The front seven pressured quarterback
Case Keenum
all day, sacking him twice and hitting him five other times. The Jaguars generally don't blitz a lot, but defensive coordinator Bob Babich called several middle blitzes to try to get players in Keenum's face. Keenum said he never felt comfortable and could never get in a rhythm.
Henne hangs in:
Quarterback
Chad Henne
took a pounding against the Texans, especially early, but hung in there and had one of his better games despite not throwing a touchdown pass. Henne was sacked four times, including three in the first half, and hit 13 other times. Watt sacked him once and hit him five more times and linebacker
Whitney Mercilus
sacked him once and hit him four times. Despite the battering, Henne completed 23 of 32 passes for 239 yards. He did not throw an interception. "You just have to sit in there and sometimes you're going to get hit and sometimes you're not, but overall the offensive line did a good job," Henne said. "For the most part we got the ball out on time and really fought through and did really well."
November, 22, 2013
11/22/13
1:00
PM ET
JACKSONVILLE, Fla. -- Looking for some help with your fantasy football lineup? Every Friday I'll give you my opinions on which
Jacksonville Jaguars
players to play and sit, as well as which of the opposing players might be a good play against the Jags. For more fantasy football advice, check out ESPN.com's
fantasy football page
.

Jacksonville Jaguars
QB Chad Henne:
This is a bad matchup for Henne and the Jaguars. The Texans have the league's No. 1 pass defense and
J.J. Watt
is playing as good as he did last season. The Jaguars may not have receiver
Mike Brown
as well.
Verdict
: Sit him.
RB Maurice Jones-Drew:
We're 10 games into the season and Jones-Drew's numbers haven't gotten any better. There are a lot of issues for the run game's problems -- starting with poor blocking up front -- but the bottom line is there are few solutions to try.
Verdict
: Sit him.
WR Cecil Shorts:
Shorts was bottled up last week by Arizona cornerback
Patrick Peterson
and the Texans will certainly try and do the same. The Jaguars are going to move him around a bit, even putting him in the slot, to try and get him free. His production will be better but he's not going to have a big day:
Verdict
. Sit him.
TE Marcedes Lewis:
He has only caught eight passes in the four games since he returned from a calf injury. I keep expecting him to get targeted more, especially after the loss of
Justin Blackmon
, but it hasn't happened.
Verdict
: Until the Jaguars start targeting him more, he's best kept on the bench.
K Josh Scobee:
His perfect season ended last week when he missed a 60-yarder at the end of the first half. But, he's still the Jaguars' best offensive weapon. With the Jaguars struggling to run the ball and Houston's top-ranked pass defense, Scobee is the team's top scoring option this week.
Verdict
: Sit him.
Defense/special teams:
The Jaguars' special teams have become a strength, especially kickoff return where
Jordan Todman
has been close to breaking a couple returns for TDs. The Jaguars have done a much better job against the run in the last two weeks, but they're coming off a game in which
Carson Palmer
threw for more than 400 yards. They'll have to contend with
Andre Johnson
and whatever tight ends the Texans want to throw out there. The key will be rattling
Case Keenum
to force a few turnovers.
Verdict
: Might be worth a gamble if you have a defense on a bye.

Houston Texans
QB Case Keenum:
He has thrown for 992 yards and eight touchdowns with only one interception in his four previous starts, but he and the rest of the Houston offense has struggled in the second half (they've scored 32 second-half points in the eight losses).
Verdict
: Sit him.
RB Ben Tate:
Tate's numbers haven't been great -- until you consider he's been playing with broken ribs. He's getting healthier each week but still isn't 100 percent. The Jaguars have been good against the run the last two weeks, but is that a trend or an anomaly?
Verdict
: Sit him.
TE Garrett Graham:
He's coming off a career-best 136 receiving yards in last week's loss to Oakland and has four touchdowns. The Jaguars gave up 117 yards receiving to Arizona tight ends last week.
Verdict
: This is the safest play you could get. Start him.
WR Andre Johnson:
His 72 catches are second the NFL and he needs just 34 yards receiving for his seventh 1,000-yard season.
Verdict
: Start him.
K Randy Bullock:
Bullock is 17-for-26, but all of his misses have come from 40 yards or longer.
Verdict
: Sit him.
Defense/special teams:
This could be a real good day for the Texans' defense. The Jaguars can't run the ball and are without their best receiver. Watt should be in the backfield all day long.
Verdict
: Start them.
November, 19, 2013
11/19/13
4:00
PM ET
JACKSONVILLE, Fla. -- The Jaguars' poor season was expected. What has happened in Houston, however, was not.
The Texans started the season 2-0 but have lost eight consecutive games. Quarterback
Matt Schaub
, who threw for 4,008 yards last season, has been a mess in 2013. He set an NFL record by throwing a pick-six in four consecutive weeks and had nine interceptions before getting benched.
Running back
Arian Foster
, who has rushed for at least 1,224 yards and 10 touchdowns the past three seasons, is out for the season with a back injury.
The Texans, a preseason Super Bowl pick by some experts, now have to win out just to have a chance to make the playoffs. It's an unlikely scenario, but they do get the play the Jaguars (1-9) twice in 12 days.
Kickoff for Sunday's game in Houston is set for 1 p.m. EST and the game will be televised on CBS.
Here's a look at the Texans:
Record
: 2-8.
Last week:
lost to Oakland 28-23.
Coach:
Gary Kubiak, eighth season (61-59).
Offensive coordinator:
Rick Dennison.
Defensive coordinator:
Wade Phillips.
Series record:
Texans lead 13-9.
THREE PLAYERS TO KNOW ON OFFENSE
QB Case Keenum:
He will make his fifth career start against the Jaguars. Keenum, an undrafted free agent from Houston, has thrown for 992 yards and eight touchdowns with only one interception since taking over for Matt Schaub.
WR Andre Johnson:
He has persevered through Schaub's horrible year and the inexperience of
T.J. Yates
and Keenum and is on the verge of his seventh 1,000-yard season. He needs just 34 yards to reach that plateau. He's also on pace to tie his career high of 115 receptions (2008).
RB Ben Tate:
With Arian Foster done for the season because of a back injury, Tate is the Texans' top back. His stats right now are nearly identical to Foster's: Tate has 122 carries for 543 yards and one touchdown while Foster has 121 carries for 542 yards and one touchdown. Both are averaging 4.5 yards per carry. It's the touchdowns, however, that are the problem. The Texans have rushed for only two all season.
THREE PLAYERS TO KNOW ON DEFENSE
DE J.J. Watt:
He leads the team in tackles (47), sacks (8.5) and forced fumbles (three). However, he has not been as effective as he was last season when he knocked down 16 passes. He has just four knockdowns this season, three of which came in the first two weeks of the season.
OLB Whitney Mercilus:
The loss of ILB
Brian Cushing
has been hard for the Texans to overcome, but Mercilus has done a solid job in trying to help replace Cushing's production. He has 4.5 sacks, which is just 1.5 sacks shy of the 6.0 he had as a rookie last season.
CB Johnathan Joseph:
The Texans' best corner has knocked down 11 passes and appears to be completely over the sports hernias that bothered him throughout 2012. He has been a factor in Kareem Jackson's development as well.
ETC.
Kubiak coached the team from the press box in the Oakland game in his return from a mini-stroke. … The Texans have forced just eight turnovers (four fumbles, four interceptions). … Opponents have scored a league-high eight touchdowns on returns. … The Texans' eight-game losing streak is the longest in franchise history. Houston has won five in a row over Jacksonville. The Jaguars' last victory in the series came on Nov. 14, 2010.
November, 7, 2013
11/07/13
6:05
PM ET
Got questions about the Jacksonville Jaguars? I'll try to answer a representative selection of them every Thursday. Submit your questions via Twitter to @ESPNdirocco.
August, 28, 2013
8/28/13
6:00
PM ET
JACKSONVILLE, Fla. -- The two-hour Jaguars chat to kick off the launch of NFL Nation was a success.
There was a constant flow of questions -- and only a handful of weird comments -- that kept me busy for the entire time. You can read the entire transcript
here
if you'd like.
Below are five questions I pulled from the chat. Because of the format, it's better to give shorter answers but I felt like these questions deserved to be answered more fully. Plus, they were, in my opinion, among the most interesting.
Here they are, with an extended response:
Is Blaine Gabbert is the right quarterback for this team?
This was by far the most-asked question, which is understandable because Gabbert has struggled in his first two seasons, and finding out if he can be a franchise quarterback is the No. 1 question the team faces in 2013.
There are plenty who have already formed an opinion about Gabbert, but coming in as someone who hasn't seen him play as much I'm going to reserve judgment for now. I'll concede that he hasn't shown anything in his two seasons (53.8 percent completions, 21 TDs, 17 INTs, 70.2 passer rating) and he hasn't been impressive at all during training camp, but there is a mitigating factor. He has had three different head coaches and three different offensive coordinators in his career.
That's bound to mess with a quarterback's head. Learn a system, get a new coach. Again. And Again. And as a rookie, stay away from the facility until camp starts because of a player lockout. Add in the fact that Gabbert was only 20 years old as a rookie, and it's understandable why he has struggled.
That being said, he's got to prove himself this season or the Jaguars will look for a quarterback early in the 2014 draft. In fact, there might not be another quarterback in the NFL under more pressure than Gabbert this season. He will not get another chance.
More sacks this year: J.J. Watt or the entire Jags team?
While it seems funny on the surface, that's actually a legitimate question, because Watt edged the Jaguars by half of a sack last season. He led the NFL with 20.5. The Jaguars, as a team, had 20.
The next closest team was Oakland (25). Defensive end
Tyson Alualu
led the Jaguars with 3.5 sacks. Seven players had that many or more in a game last season.
The pass rush will again be an issue in 2013. Seven players who had sacks for the Jaguars last season return, including ends
Jeremy Mincey
, who had 3.0 sacks last season after leading the team with 8.0 the year before, and
Jason Babin
, who joined the team late last season and had 1.5 sacks in five games. Babin did have 5.5 sacks in 11 games with the Eagles before being waived. Those two are the most likely to provide the most pressure from the edge.
To answer the question: I took the Jaguars. Figured it can't be worse than last season, and having back-to-back 20-sack seasons is not easy to do.
Jaguars rookie with the biggest impact in 2013?
It's tempting to say offensive weapon
Denard Robinson
, receiver
Ace Sanders
, or cornerback
Dwayne Gratz
because they play glamour positions. But the right choice is offensive tackle
Luke Joeckel
.
He has been limited lately by a hip flexor injury, but he has had a solid camp and preseason. The 6-foot-6, 306-pounder says he's still adjusting to the speed of the game, but he has progressed as expected. He'll get some more snaps against Atlanta in the preseason finale on Thursday, and should be ready for the season opener against Kansas City on Sept. 8
The Jaguars have little depth on the offensive line, but Joeckel and left tackle
Eugene Monroe
are clearly the team's two best linemen. Joeckel is an immediate upgrade from
Guy Whimper
, and the pass protection on the edge should be significantly better.
What do you feel MJD will do this year?
Maurice Jones-Drew
hasn't played much in the preseason because the team is being cautious in his return from a left foot injury, but he recently pronounced himself ready for the season opener.
That's good news for the Jaguars, who desperately need him on the field and healthy to take the pressure off Gabbert. If he remains healthy, a good target number for Jones-Drew would be around 1,300 yards and 8-10 touchdowns rushing.
I think Jones-Drew's workload will be a little less than it was two years ago when he led the NFL in rushing with 1,606 yards. The Jaguars have better options in the backfield to take some of the load off Jones-Drew's 28-year-old legs.
Justin Forsett
(1,661 yards rushing in six seasons) was signed as an unrestricted free agent, and the team drafted Robinson in the fifth round and has used him in the backfield.
Do you think Justin Blackmon will perform to his top-five draft pick potential?
It really depends more on his head than his hands.
The 6-1, 210-pound Blackmon has the physical tools to become one of the league's top receivers. He can run, and he's got great hands and fantastic body control. Rookie receivers have traditionally struggled in the NFL, but Blackmon led the team with 64 catches for 865 yards last season.
But he's had three substance-related instances in less than three years, and he will miss the first four games of the season because he was suspended for violating the league's substance abuse policy for the second time in less than year. He is meeting regularly with coach Gus Bradley and says he has a support system in place to help him avoid further trouble, but there's a feeling of doubt around the team that Blackmon has truly cleaned up his act.
If he's able to avoid more off-field issues -- and plenty of players have rebounded from some early trouble in their careers -- then Blackmon could become one of the league's best young receivers in short time.