Jacksonville Jaguars:

Jake Matthews
May, 21, 2014
May 21
3:45
PM ET
JACKSONVILLE, Fla. -- The
Houston Texans
did the sensible thing and took
Jadeveon Clowney
with the No. 1 overall pick, landing the best pass-rusher to come out of college in more than a decade and pairing him with
J.J. Watt
to have one of the best pass-rushing duos in the league.
But what if they hadn't?
What if they had taken quarterback
Blake Bortles
instead? Tony Pauline of TFYDraftInsiders.com wrote this week that the Texans' choice
came down to Clowney and Bortles
and the team had draft cards with both of their names written on it before finally settling on Clowney.
[+] Enlarge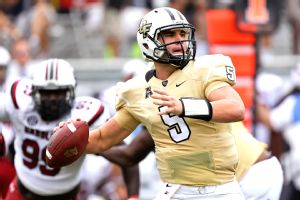 AP Photo/John RaouxIf the Houston Texans had used the No. 1 overall pick on Blake Bortles, it would have had a ripple effect throughout the draft.
That would have significantly impacted the AFC South.
It might not have altered the rest of the Texans' draft plans. They took guard
Xavier Su'a-Filo
with the first pick of the second round, and it's logical to assume they would have stayed with that pick to help protect their new franchise quarterback.
Same with the third-round selection of tight end
C.J. Fiedorowicz
. It only makes sense to add additional weapons for a young quarterback, and Fiedorowicz caught 75 passes in his final two seasons at Iowa. He's also a solid blocker who should help in the run game.
The Texans' other third-round pick was defensive tackle
Louis Nix III
, who will be a big piece of defensive coordinator Romeo Crennel's hybrid 3-4 scheme. General manager Rick Smith likely wouldn't have changed his strategy there.
But he certainly wouldn't have taken quarterback
Tom Savage
with the 35
th
pick in the fourth round. Who might he have drafted? Mammoth Stanford offensive tackle
Cameron Fleming
(6-foot-5, 323 pounds), Florida State outside linebacker
Telvin Smith
, LSU outside linebacker
Lamin Barrow
, and San Jose State cornerback
Bene Benwikere
are possibilities. All would have addressed a need.
Certainly the Texans wouldn't have ended up with a defensive player that could make the kind of impact that Clowney can had they taken Bortles, but they might have fixed perhaps the biggest reason for the team's disastrous 2013 season.
It's hard to argue with the Clowney pick, though, because he and Watt will be terrorizing quarterbacks for years.
If they had taken Bortles, though, that would have forced the
Jacksonville Jaguars
to drastically alter their draft plan.
It has been widely reported that the Jaguars and
Atlanta Falcons
had agreed to a trade in principal that would have allowed the Falcons to move up to No. 3. Jaguars GM David Caldwell called Falcons GM Thomas Dimitroff on the day before the first round to tell him that he was going to stay put and take the player he wanted, which only a few people knew was Bortles.
Had the Texans taken Bortles, Caldwell would have tried to rekindle the trade. The Falcons really wanted Clowney, and it's likely he would have still been available at No. 3 because the
St. Louis Rams
were intent on shoring up their offensive line for quarterback
Sam Bradford
. Offensive tackle was their No. 1 need, which is why they took
Greg Robinson
with the No. 2 overall pick, and it likely wouldn't have changed if Clowney were available.
The Jaguars and Falcons would have swapped picks, allowing Dimitroff to take Clowney. At No. 6, the Jaguars would not have gone quarterback. It would have been offensive tackle
Luke Matthews
,
whom the team really liked
, or receiver
Mike Evans
.
Derek Carr
was the No. 2 quarterback on the Jaguars' board, but they might have missed out on him, as well, because Oakland selected him with the fourth pick of the second round -- three spots ahead of the Jaguars. The Falcons' first pick in the second round was No. 5, so even if the Jaguars had gotten that pick as part of the trade they would have been unable to get Carr -- unless they worked another trade.
That probably would not have happened. The Jaguars tried to work out a trade to move up higher into the second round to get receiver
Marqise Lee
, but couldn't get anything done. Lee ended up falling to the Jaguars at No. 39 anyway, but would he have been the pick had they taken Evans in the first round?
The bulk of the Texans' draft might not have changed significantly had they chosen Bortles with the No. 1 pick, but it would have certainly altered the Jaguars' draft.
May, 3, 2014
May 3
8:00
AM ET
Got questions about the
Jacksonville Jaguars
? I'll try to answer a representative selection of them every Saturday. Submit your questions via Twitter to
@ESPNdirocco
.
.
May, 2, 2014
May 2
5:00
PM ET
Here are highlights from the weekly Jacksonville Jaguars chat. You can find the full transcript
here
.
Dirk (Jax, Fl)
: It's just speculation based on some info that the Jags have a trade in place. I believe the cost of moving up to number one for the Falcons is too steep, and that [Khalil] Mack fits better in their new 34 scheme. So I expect a trade with the Falcons, and than the Jags will select Jake Matthews. I know you don't think the Jags will take another T two years in a row, but if you consider having to face the Texans with [J.J.] Watt and [Jadeveon] Clowney it makes sense. I think a two this year and next with some later rd picks does the deal. I think the Texans want a first next year, and rather trade with the Jags for Mack. Does that scenario make sense?
DiRocco
: I spoke to a league source earlier this week that said the Jaguars were considering Matthews. I think if they swap picks with the Falcons and move back then Matthews could be the guy. I don't think they'd take him at 3, though. The 49ers used first-round picks on both OTs, though not in back-to-back years, and you can make an argument that building the LOS is more important than adding a pass rusher and/or WR.
Big Al (My Throne)
: What were some of the key bits of info you discovered after talking with [Gus] Bradley and [David] Caldwell. Did you get a sense of who they will pick if they stay at 3, or if a trade down is more likely?
DiRocco
: Two teams have called the Jaguars about moving up, but Caldwell wouldn't name them. I'm all but sure one of them is Atlanta, which makes sense because of his relationship with [Atlanta GM Thomas] Dimitroff. Caldwell also said he's more likely to trade down in the first round than up and that he wouldn't mind trading up in other rounds to get targeted guys. They're also making plans as if they aren't going to have Justin Blackmon. I didn't get anything out of Caldwell or Bradley to change my mind that they'll take Clowney if he's there and then either Mack or [Sammy] Watkins if he isn't. If they do work out a trade and move down, I wouldn't be surprised if they went OT.
Tom Boerwinkle (Chicago)
: What do you make of Caldwell's comments about Blackmon? Would the team normally be in contact with a suspended player? Thanks for the chats.
DiRocco
: NFL rules limit the kind of contact teams can have with players. And it varies. Blackmon, for instance, was allowed to be around the facility during his four-game suspension early last season. As for what Dave said, it's smart to take that approach. That way you're not caught short-handed if he gets into trouble again. Personally, I'd cut him as soon as I was able. He's not worth the trouble.
Brian (Cville, VA)
: Complete the sentence Mike, "we will look back on the 2014 FA class and say that __________ was the best value signing"
DiRocco
: Good question. I think I'd say Dekoda Watson, who has the chance to really thrive in the role the Jaguars have for him. I'm not saying he'll become a pro bowler, but he'll give them good production for reasonable salary (three years, $6.25 million).
April, 30, 2014
Apr 30
8:00
AM ET
The Jacksonville Jaguars are
unlikely to invest a high pick in a linebacker
, writes the Florida Times-Union's Hays Carlyon.
That means Khalil Mack isn't going to be the player the Jaguars take with the No. 3 overall pick next week. The position will be addressed but it seems more likely that it would be done in the later rounds. The Jaguars want linebackers who can run and they'll be able to find those kind of players in the fourth and fifth round.
"We're very scheme specific, especially the outside linebackers," Jaguars general manager David Caldwell said. "I would say it's typical [the overall linebacker class]. Lately, there haven't been a lot of great linebackers. I would rather have us teach them how to cover. If you can find a guy that can rush, you will always be getting some value."
Here are some additional pieces of Jaguars-related content from around the Web in our Reading the Coverage feature:
The San Francisco Chronicle's Vic Tafur writes that former Jaguars running back Maurice Jones-Drew said he doesn't believe the running back position has been devalued and
wondered why teams
gave Ben Tate and Toby Gerhart a bunch of money in free agency.
The T-U's Ryan O'Halloran writes that ESPN analyst Jon Gruden
really likes
quarterback Johnny Manziel and would have taken Teddy Bridgewater off his draft board had he still been coaching.
NFL.com's Adam Schein writes that the Jaguars are one of nine franchises that should draft a QB.
He remains skeptical that the Jaguars
will do it in the first round, though.
The Sporting News' Vinnie Iyer lists the following players as the
five safest picks in the upcoming draft
: offensive tackle Jake Matthews, receiver Sammy Watkins, Mack, linebacker C.J. Mosley and guard Zack Martin.
It's interesting that Matthews makes that list because the Jaguars had the former Texas A&M standout in for a visit and a league source says he's
one of the players Caldwell may take
with the No. 3 pick.
April, 29, 2014
Apr 29
10:55
AM ET
JACKSONVILLE, Fla. -- Taking an offensive tackle in the first round for the second year in a row is a real possibility for the
Jacksonville Jaguars
.
According to a league source, Texas A&M offensive tackle
Jake Matthews
visited
the Jaguars last week
and he is one of the players who general manager David Caldwell may target with the No. 3 overall pick on May 8.
The 6-foot-5, 305-pound Matthews -- the son of NFL Hall of Fame offensive tackle Bruce Matthews -- spent last Thursday at the Jaguars' facility. It was an under-the-radar visit by one of the draft's top prospects, who at one point was regarded as the best offensive lineman in the draft.
Most draft analysts have Matthews rated behind Auburn offensive tackle
Greg Robinson
, who was among the 16 players who visited the Jaguars during the week of April 6-11, but he still is projected to be a top-10 selection.
"With Jake Matthews' pedigree and his ability, he could be the best value in the draft that nobody's talking about," the league source said.
If the Jaguars were to take Matthews, it would reunite him with his former college teammate
Luke Joeckel
, whom the Jaguars took with the No. 2 overall pick in last year's draft. It also would give the Jaguars the chance to solidify the edges of the offensive line for years. Though Matthews played left tackle as a senior, he spent his first three seasons playing at right tackle while Joeckel started at left tackle.
The Jaguars certainly aren't one player away from making a run at the playoffs, and while their needs at pass-rusher, quarterback and receiver are more pressing than right tackle, this is a draft deep on offensive talent. The Jaguars spent most of their 2013 draft picks on defense, and Caldwell and coach Gus Bradley have said this year's draft would be more focused on offense. There are no other elite offensive tackles outside of Robinson and Matthews but the Jaguars can find quality receivers and quarterbacks in the second and third round.
There is a precedent for building an offensive line with a pair of high draft picks at offensive tackle. The
San Francisco 49ers
took
Joe Staley
with the second of their two first-round picks in 2007 (28
th
overall) and he has started 98 games at left tackle. Three years later San Francisco took
Anthony Davis
with the 11
th
pick and he has started every game since at right tackle.
Adding Matthews also would allow the Jaguars to move
Austin Pasztor
, who started 12 games at right tackle in 2013, to right guard and shore up a spot that was a weakness last season. The team signed
Zane Beadles
in free agency and installed him as the starter at left guard, so the only position that would be questionable is center.
Bradley said last week that third-year player Mike Brewster is the No. 1 center but he'll be pushed by several players -- including
Patrick Lewis
, another former Texas A&M player whom the Jaguars claimed off Cleveland's practice squad last December.
The Jaguars have been transparent and open regarding their visits, so the secrecy surrounding Matthews' visit is intriguing. If they are indeed interested in taking Matthews, keeping his visit quiet may have been an attempt to keep teams that also may be considering offensive tackles -- Buffalo, Atlanta and Oakland -- from making a move to trade up. If Houston were to take Robinson with the No. 1 overall pick -- unlikely, but not out of the question -- and those other teams knew the Jaguars were going to take Matthews at No. 3, they may try to work out a trade with St. Louis, which has the No. 2 pick.
April, 14, 2014
Apr 14
8:15
AM ET
March, 3, 2014
Mar 3
8:00
AM ET
Denard Robinson finally settled in as a running back with the Jaguars last season, and that's probably the most important thing for him as he enters his first full offseason. Knowing where he belongs allows him to concentrate on getting better instead of trying to learn yet another position.
It also helps the Jaguars evaluate him and he
should get a lot of work in training camp and during the preseason
as the team tries to do that, writes the Florida Times-Union's Ryan O'Halloran.
"I'm intrigued to see [what happens with Robinson during the offseason]," head coach Gus Bradley said. "He's really competitive and he's really spirited. I think he went through last year and said, 'OK, I don't want to go through that feeling again.'"
Here are some additional pieces of Jaguars-related content from around the Web in our Reading the Coverage feature:
O'Halloran takes a look at the Jaguars'
seven unrestricted free agents
and predicts whether they'll re-sign with the Jaguars. He believes Chad Henne will be with the team next season but Maurice Jones-Drew won't.
ESPN draft analyst Mel Kiper Jr. updates his
Big Board

after the NFL combine. Sammy Watkins moved up to from No. 5 to No. 4, Jake Matthews dropped from No. 4 to No. 5 and Mike Evans jumped from No. 16 to No. 6. Teddy Bridgewater is now the only quarterback in the top 10.
Jaguars.com's John Oehser reports that Luke Joeckel's
rehab from a fractured ankle is progressing well
.
March, 1, 2014
Mar 1
8:00
AM ET
Got questions about the Jaguars? I'll try to answer a representative selection of them every Saturday. Submit your questions via Twitter to
@ESPNdirocco
.
January, 20, 2014
Jan 20
1:15
PM ET
MOBILE, Ala. -- Nearly the entire Jaguars football staff is on hand for the Reese's Senior Bowl. The Jaguars will coach the South team and the
Atlanta Falcons
will coach the North team, but each will switch rosters for a day on Thursday so they can interact with all the players.
Here's a primer of what to expect:
Help wanted:
Jaguars coach Gus Bradley said he expected his staff to remain intact, but linebackers coach Mark Duffner left the team on Sunday night to take the same position with the
Miami Dolphins
. Duffner just finished his eighth season with the team. Defensive coordinator Bob Babich, who spent seven seasons as a linebackers coach with the
Chicago Bears
and
St. Louis Rams
, will work with the linebackers this week. In addition to being a college all-star game, the Senior Bowl is also part coaches convention. Unemployed assistants are here trying to land jobs and head coaches are also here trying to fill staffs.
Keep your eye on:
The Jaguars certainly have a lot of needs to fill, beginning with quarterback and pass rusher. So naturally all the quarterbacks -- particularly
Derek Carr
,
Tajh Boyd
and
David Fales
-- are players to watch during the practices and games. Though he is unable to play because of a torn ACL he suffered in late November against Kentucky,
Aaron Murray
is here to participate in meetings and interviews. It's a smart decision and one that GMs will like.
As for those pass rushers, Jeremiah Attaochu (who played linebacker at Georgia Tech), Michael Sams,
Kareem Martin
,
Chris Smith
, and
James Gayle
are defensive ends to watch. At outside linebacker,
Trent Murphy
and
Christian Jones
are worth watching.
Unfortunately, two of the country's top pass rushers won't be here. Buffalo's
Khalil Mack
has opted not to participate and UCLA's
Anthony Barr
will miss the week because of an undisclosed injury. Both are considered top-10 draft picks.
Some other players to watch: WR
Jordan Matthews
, TE
C.J. Fiedorowicz
, TE Jacob Pederson, G
Cyril Richardson
and C
Weston Richburg
.
What you'll get:
Each day I'll provide Jaguars news and notes as well as observations from practice. I'll concentrate on players at positions that correspond to the Jaguars' top needs (QB, DE, OLB, interior OL, RB, WR) but there will be other players as well. I'll have several blog posts a day and you also can follow me on Twitter @ESPNdirocco.
ETC.:
Among the other players who either opted out or cannot participate because of injury are RBs
Carlos Hyde
(opted out),
Andre Williams
(injury) and
Tyler Gaffney
(injury), OTs
Jake Matthews
(opted out) and
Taylor Lewan
(injury), WR
Tevin Reese
(injury), and DT
Dominique Easley
(injury).
January, 2, 2014
Jan 2
6:45
PM ET
Got questions about the Jaguars? I'll try to answer a representative selection of them every Thursday. Submit your questions via Twitter to @ESPNdirocco.
December, 31, 2013
12/31/13
3:30
PM ET
JACKSONVILLE, Fla. -- The draft is nearly five months away, but it's not too early to start breaking things down. That's what Steve Muench of Scouts Inc. did for the AFC South.
He discusses each team, lists their top three needs and provides a list of players worth keeping an eye on at each of those positions. Here's a snippet of what Muench
writes about the Jaguars

.
If the Jaguars don't take a quarterback, they need to improve their pass rush and add an offensive tackle who can start opposite 2013 second-overall pick Luke Joeckel so they would do well to land [Jadeveon] Clowney, [Anthony] Barr or [Jake] Matthews. Like Houston, the Jaguars could then target a quarterback like UCLA's Brett Hundley in the second round.
I don't agree with Muench when he lists the Jaguars' top three needs, though. I'm in agreement on Nos. 1 and 2 -- quarterback and defensive end -- but Muench lists offensive tackle as No. 3. I'd list outside linebacker, interior offensive line and possibly receiver ahead of offensive tackle.
Joeckel solidifies things at left tackle and the Jaguars should be able to get by with
Austin Pasztor
/
Cameron Bradfield
at right tackle for another season. The Jaguars don't have playmakers at linebacker (other than
Paul Posluszny
in the middle) and they need to upgrade there.
Geno Hayes
has been solid but he had three pass breakups and two interceptions and didn't force or recover a fumble.
The Jaguars were next to last in total offense and rushing in 2013 and need to upgrade the interior of the offense, which is something they'll most likely do in free agency. If that's the case, then the Jaguars should try to add a big, physical receiver.
Cecil Shorts
is a solid No. 2 receiver and there's so much uncertainty surrounding
Justin Blackmon
's status for 2014. The Jaguars have a slew of receivers 6-foot-1 or smaller. It's time to add a bigger receiver.
December, 29, 2013
12/29/13
9:30
PM ET
JACKSONVILLE, Fla. -- The top 20 of the draft order has been set and the Jaguars have the No. 3 pick -- and it sets up for the Jaguars to possibly end up with the top-rated quarterback in the draft.
Houston picks No. 1 followed by St. Louis (from Washington). The prevailing theory is that Houston, because there is enough talent to make a playoff run if the quarterback position is fixed, will go after free agent
Jay Cutler
. If they land him, they wouldn't take a quarterback. Instead, they could go with South Carolina defensive end
Jadeveon Clowney
.
St. Louis was ready to negotiate a long-term deal with starting quarterback
Sam Bradford
before he was injured this season and there hasn't been any indication that team officials have backed off that stance. That would mean the Rams wouldn't go quarterback at No. 2, either, and could instead opt for OT
Jake Matthews
from Texas A&M.
That would mean the Jaguars would be free to take Louisville's
Teddy Bridgewater
.
That's just one scenario. Here's another: The Texans could opt to take Bridgewater regardless of whether they sign Cutler. The Rams aren't likely to take a quarterback so they go Clowney or Matthews. The Jaguars could go pass-rusher with UCLA's
Anthony Barr
or take Texas A&M quarterback
Johnny Manziel
.
There's a lot of time between now and the draft. And Bridgewater, Manziel and Clowney haven't even declared for the draft yet.
It's going to be a fun five months, though.
The rest of the top 10 is: Cleveland, Oakland, Atlanta, Tampa Bay, Minnesota, Buffalo and Detroit.