Jacksonville Jaguars:

Jim Harbaugh
March, 20, 2014
3/20/14
8:00
AM ET
JACKSONVILLE, Fla. --
Blaine Gabbert
never became the franchise quarterback former
Jacksonville Jaguars
general manager Gene Smith envisioned when he traded two picks to get him in the first round of the 2011 draft. The Jaguars finally gave up on Gabbert last Tuesday when current GM David Caldwell traded Gabbert to San Francisco for a sixth-round pick in this year's draft and a possible conditional pick in 2015.
ESPN.com Jaguars reporter Michael DiRocco and 49ers reporter Bill Williamson break down the trade:
DiRocco:
Blaine Gabbert clearly wasn't in the Jaguars' plans any longer and I, like most people, expected the team to release him at some point -- though I thought he'd at least go to training camp. But GM David Caldwell was somehow able to work out a trade with 49ers GM Trent Baalke to send Gabbert to San Francisco for a sixth-round pick and a conditional pick in 2015.
What does Baalke like about Gabbert and why did he swing that trade?
[+] Enlarge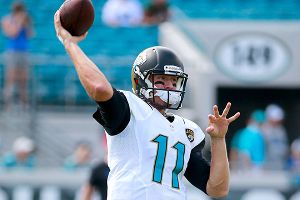 Sam Greenwood/Getty ImagesUnder the guidance of coach Jim Harbaugh, the 49ers are hoping that Blaine Gabbert can finally flourish.
Williamson:
The 49ers had 12 draft picks and they have a stacked roster, thus, low-round draft picks don't mean much to them. Baalke and 49ers coach Jim Harbaugh (who loves taking fliers in young quarterbacks) were both at Gabbert's pro day three years ago and they had him visit prior to the draft. The 49ers have a need for a backup and always kept Gabbert in mind. I know it may have come as a surprise to folks in Jacksonville that the Jaguars got anything more than a loaf of San Francisco sourdough bread from the 49ers, but they actually do see value in Gabbert.
Mike, what do you think the 49ers are actually getting in Gabbert?
DiRocco:
They're getting exactly what you want physically in a quarterback: a big (6-foot-4, 235 pounds), athletic, strong-armed player. That has never been his issue. It's what happens mentally that has held him back. He's somewhat skittish in the pocket and he makes too many questionable decisions on where to throw the ball. It's disconcerting because he's a pretty good practice player, but it doesn't transfer to game day.
There seems to be the thought that if anyone can fix him, it's Jim Harbaugh. But how much time can he devote to Gabbert while still working with
Colin Kaepernick
?
Williamson:
You make a good point. Kaepernick is still not a finished product. But Harbaugh loves tinkering with quarterbacks. Gabbert's time will be in the offseason, training camp and in the preseason. He needs to take advantage of working with the Quarterback Whisperer.
Colt McCoy
said last year he learned more about quarterbacking in his one season in San Francisco than in his entire playing career. So this is an opportunity for Gabbert; Harbaugh and his staff are top notch.
Mike, do you think Gabbert can put the misery of the past three years behind him and take advantage of this opportunity?
DiRocco:
I think he will definitely benefit from the fresh start, but I don't know if he can overcome his mental issues. I don't buy the argument that he panics and is afraid to get hit. I think he was hurt by being forced to play before he was ready, plus he didn't exactly have a lot of weapons in the passing game. Not many quarterbacks are going to flourish under those conditions. If he's willing to start over from ground zero and approaches this with an open mind, I think he can make strides. He's still only 24 years old.
Bill, it may be too early to tell, but do you think the 49ers view Gabbert as a potential long-term backup or is this just them kicking the tires to see if he's a viable option?
Williamson:
I think it's a total kick-the-tires expedition. Again, it's a low risk at a low cost. He'll be the backup this year and they will see what he can do. If he's terrible, they will move on. If they fix him, perhaps they will try to flip him and make a nice draft-pick profit. Basically, this is a guy who previously intrigued them and they are confident they can make him better. If it doesn't work, well, at least Baalke and Harbaugh will know they tried.
January, 28, 2014
1/28/14
10:00
AM ET
JACKSONVILLE, Fla. -- Three of the Jaguars who participated in this NFL Nation confidential survey are probably a bit disappointed today. The survey asked which NFL coach other than their own they'd most like to play for .
Their choice is unemployed.
Those three players picked Gary Kubiak, who at the time of the survey was still the
Houston Texans
' coach. He was fired on Dec. 6, one day after the Jaguars beat the Texans for the second time in 2013.
Kubiak received the most votes of any coach among the 10 players surveyed. Pittsburgh's Mike Tomlin was the only other coach to receive multiple votes. He was named twice. San Francisco's Jim Harbaugh, St. Louis' Jeff Fisher, Kansas City's Andy Reid, Seattle's Pete Carroll, and New England's Bill Belichick each got one vote.
It's understandable why Kubiak received more votes than anyone else. He coached a division rival so the players are familiar with him. Several players also are friends with Texans fullback
Greg Jones
, who spent the first nine season of his career with the Jaguars before signing with Houston as a free agent last March.
Carroll was the coach most named by the 320 players who participated in the survey. He got 72 votes. Tomlin received 44.
October, 24, 2013
10/24/13
12:00
PM ET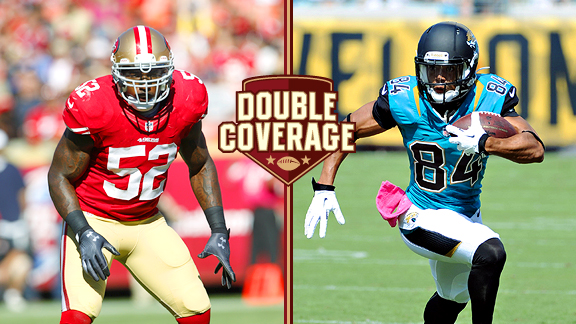 Getty Images, USA Today SportsPatrick Willis' 49ers meet Cecil Shorts' Jaguars in the second NFL game in London this season.
JACKSONVILLE, Fla. -- The
San Francisco 49ers
have righted the ship after a shaky start. The
Jacksonville Jaguars
are still sinking.
The teams going in opposite directions will meet Sunday in London's Wembley Stadium in the second of two NFL games being played in the United Kingdom this season.
The 49ers (5-2) have won four games in a row -- and scored at least 31 points in each of those games -- since starting the season 1-2. The Jaguars are 0-7 and are the first team since the 1984 Houston Oilers to lose their first seven games by double digits.
That makes Sunday's game look like a giant mismatch, yet the Jaguars were 28-point underdogs to the
Denver Broncos
two weeks ago but lost by only 16 points -- and trailed by just two at halftime.
ESPN.com Jaguars reporter Michael DiRocco and 49ers reporter Bill Williamson break down the matchup:
DiRocco:
The 49ers used the read-option the most they have all season against Tennessee in Week 7. Will that be a bigger part of the offense again as the season progresses?
Williamson:
Mike, I think it is going to be a week-to-week situation. The 49ers used the read-option seven times last week after using it a total of nine in the first six games. The 49ers saw they could exploit Tennessee's defense using it. I think we will see it again, but probably in more challenging games and only in certain situations, when the 49ers are confident it will work. We could maybe see it some in London, but I have a feeling it will be more like the first six weeks of the season.
Mike, if the 49ers do run a lot of read-option offense, do you think the Jaguars can handle it?
DiRocco:
Probably not. The Jaguars are last in the NFL in rushing defense (153.3 yards per game) and have given up a league-high nine rushing touchdowns. The defense's biggest problem against the rush is that it has given up a lot of explosive plays. Jacksonville has allowed an NFL-worst 10 rushing plays of 20 or more yards. Stopping the read-option is assignment football and the Jaguars' ends have not been as disciplined as needed. For example, Oakland's
Terrelle Pryor
ran for 50 yards in Week 2, including a 27-yard run in which the entire defensive front bit on the inside fake.
Bill, the Jaguars have had trouble with tight ends all season and now they face
Vernon Davis
. Who is the last team that's shut him down how?
Williamson:
Davis hurt his hamstring late in the Seattle game in Week 2. He was pretty well shut down in that game before getting hurt. He missed Week 3 against the Colts and then came back against the Rams. He's been good and he is healthy. If the Jaguars have trouble against tight ends, the 49ers will exploit it. Davis and quarterback
Colin Kaepernick
have a great chemistry going this season. The 49ers' coaching staff is great at exploiting weaknesses.
Mike, do you seeing this being a big problem for Jacksonville?
DiRocco:
Absolutely. Tight ends have combined to catch 42 passes for 401 yards and five touchdowns against Jacksonville this season. Depending on the defense called, the Jaguars will either have a safety or linebacker on the tight end. At times, the job has fallen to middle linebacker
Paul Posluszny
, who is very good against the run but not fast or quick enough in pass coverage. The Jaguars won't use the approach New England did against New Orleans standout
Jimmy Graham
-- the Patriots put their best corner,
Aqib Talib
, on him -- so I'd expect Davis to have chances to exploit some matchups with linebackers on Sunday.
Speaking of exploitation, the
Anquan Boldin
trade looked like a steal in Week 1. How is it regarded now?
Williamson:
Still, unabashed thievery. Sure, Boldin had 13 catches in the first week and a combined 21 catches in the following six. But the 49ers would be in trouble without Boldin. He had three circus catches at Tennessee and he's been the team's only reliable wide receiver with
Michael Crabtree
and
Mario Manningham
out. The 49ers would not be 5-2 without Boldin.
Mike, do you think the Jaguars will keep him in check Sunday?
DiRocco:
The Jaguars have done a solid job the past two weeks of playing umbrella coverage and making sure they don't give up deep throws. That does leave the short and intermediate routes open, though, and that's where Boldin thrives. He's a physical receiver and the Jaguars don't yet have the kind of personnel to match up with him. Coach Gus Bradley wants to build a secondary similar to the one he helped build in Seattle, which includes big, physical corners. The Jaguars still have work to do there, although rookie third-round pick
Dwayne Gratz
(5-foot-11, 201 pounds) is finally back from his high-ankle sprain.
.