Jacksonville Jaguars:

Knowshon Moreno
February, 25, 2014
Feb 25
2:00
PM ET
Here is the second of a 10-part series breaking down the Jaguars' free-agency needs, position by position:
Running backs
Who's on the roster:
Delone Carter
,
Shaun Chapas
(FB),
Justin Forsett
,
Maurice Jones-Drew
,
Denard Robinson
,
Jordan Todman
and
Will Ta'ufo'ou
(FB).
Analysis
: Jones-Drew becomes an unrestricted free agent next month, but every other player is under contract through at least 2014. Jones-Drew fought through ankle, hamstring and knee issues to rush for 803 yards and five touchdowns. The running game, though, never really got going until the 11
th
game of the season. The Jaguars ran for at least 112 yards in games 11-14 but things dropped off the table after that: 105 yards in the last two games combined. Part of the yearlong issue was due to the offensive line's struggles, but the fact that the Jaguars rarely made any explosive plays in the run game was a big factor as well. The Jaguars had just four runs of 30 or more yards all season. Todman was solid as Jones-Drew's backup and ran for 109 yards in his only start, but he's not a featured back. Forsett was hurt in camp and never found his fit in the offense and likely will be released. Robinson never had a defined role until settling in at running back midway through the season and he has had ball-security issues. Carter and Chapas (practice squad) were signed late in the season.
NFL free agents of interest:
Ben Tate
,
Darren McFadden
,
Knowshon Moreno
,
James Starks
,
Anthony Dixon
and
LeGarrette Blount
.
Need meter: 7.
If Jones-Drew does not re-sign with the Jaguars -- and right now it appears he won't -- the team needs to sign a replacement via free agency. There are a lot of affordable options on the market because of the number of players available. Tate tops the list and should be the Jaguars' top target at this position, but if they're looking for a cheaper option then Starks, who has been a featured back in spurts with Green Bay, could be an option. Robinson is an intriguing player on the roster, though, because the staff is having him bulk up a bit to handle the pounding of playing running back. If he can solve his fumbling problems, he could be a surprise. Expect the team to draft at least one back as well.
February, 3, 2014
Feb 3
6:15
PM ET
Each day this week I'll provide an answer to a key question facing the Jaguars in the offseason.
JACKSONVILLE, Fla. -- In mid-December I wrote that the Jaguars should re-sign running back
Maurice Jones-Drew
because he'd be a valuable asset in the locker room during the rebuild under general manager
David Caldwell
and coach Gus Bradley. I still believe that.
For that to happen, though, Jones-Drew will have to swallow some pride. He will have to accept less money and a shorter contract than he wants. For that reason, I believe Jones-Drew has played his last game in teal and black.
Jones-Drew is after the kind of money that
Steven Jackson
,
Reggie Bush
and
Shonn Greene
got when they signed free-agent contracts in 2013. Jackson signed a three-year deal worth $12 million ($4 million guaranteed) with Atlanta, Bush got a four-year deal worth $16 million ($4 million signing bonus) from Detroit, and Green received a three-year deal worth $10 million ($5 million guaranteed) from Tennessee.
In each case, the teams overpaid for backs past the mid-point of their careers. The Falcons signed Jackson, who turned 30 just before the 2013 season, because they felt they were a player or two away from making a Super Bowl run. Atlanta won just four games. Bush, who will turn 30 in March, did produce on the field but he also was signed with a Super Bowl run in mind and it obviously didn't help, either, because the Lions missed the playoffs.
The Titans' signing of Greene, who turns 29 in August, was insurance in case
Chris Johnson
floundered. None of those signings worked out.
Jones-Drew will be 29 in March, but he's got significant wear-and-tear on his body: 2,233 touches (rushes, receptions, kick and punt returns) in eight seasons, and that includes the 2012 season in which he played just six games. Despite being 5-foot-7 and 210 pounds, Jones-Drew is a physical, between-the-tackles runner and has taken quite a pounding in his career.
He's also coming off back-to-back seasons in which he's battled injuries. He missed 10 games with a Lisfranc injury in 2012 and was hobbled by hamstring, ankle and knee issues in 2013.
In watching him this past season, he clearly did not look similar to the player who led the NFL in rushing in 2011. He wasn't as explosive through the hole and wasn't able to get to the edge and turn the corner as well as he has in the past. Jones-Drew said he was robbed of a full offseason of conditioning last summer because he was still recovering from the Lisfranc surgery but will be able to fully train this year.
That may be the case, but GMs will see the film from 2013 and wonder if he's capable of being a No. 1 back. Plus, the free-agent market is saturated with quality backs that are better (and younger) options than Jones-Drew:
Knowshon Moreno
,
LeGarrette Blount
,
Ben Tate
,
Darren McFadden
, and
Anthony Dixon
, to name a few.
Jones-Drew will draw interest, but he's going to have to deal with the fact that most teams aren't going to be willing to sign him to a three- or four-year deal, not when that means he'll be 32 or 33 years old when the contract expires. The offers won't be as lucrative as he'd like.
The Jaguars want Jones-Drew back but on their terms, which likely is a two-year deal with incentives that could be worth up to $5 million per year. Jones-Drew said it's about the money, and the Jaguars, despite having roughly $54 million in cap space in 2014, aren't going to be willing to go higher. Jones-Drew tried a hardline approach with the Jaguars once, holding out all of training camp in 2012 and most of the preseason in an effort to get a new contract, and it didn't work.
He'll likely get the same result again this spring and take the money somewhere else.
January, 31, 2014
Jan 31
4:45
PM ET
JACKSONVILLE, Fla. -- Here are highlights from the weekly
Jacksonville Jaguars
chat. You can find the full transcript
here
.
James (KY):
Why are people so enamored with "if player X" isn't there then Caldwell should trade back"? I'm not trying to be rude but do people think that there's this trade-back card a GM turns if his player isn't there? I love the idea of having additional picks early in the draft but there has to be a trading partner, the deal would have to be worth it, and there'd need to be a player worth trading up for, and if there is a player worth it, in most cases, especially for this team, why wouldn't we just draft him?
DiRocco:
You hit on the thing that I always talk about when people talk about trading a pick or a player (especially
Blaine Gabbert
). You can want to trade all you want but if there's no trade partner or you don't get a fair offer, then it's moot. There will definitely be a player worth drafting at No. 3. Caldwell could decide that he wants more picks, though, and move back. That's definitely an option.
Ronnie Gardocki (The Beach):
Has
Denard Robinson
played his last game in Jacksonville? Why are the local guys defending him?
DiRocco:
I don't know about "defending" him. He's actually been criticized a lot in my opinion. Denard had ball security issues and needs to work on his hands, but the Jags aren't giving up on him. They're going to have a better plan in place for him next season, which should help as long as he gets better in the offseason.
Kyle (DC):
Thoughts on Shad Khan comments that everyone knows the Jaguars will draft a QB and possibly two?
DiRocco:
Not surprising at all. He didn't say they'd take one at No. 3, though. I can see a scenario where they take one in the second round and then one with one of their 3 picks in the fifth round.
Jason (Brooklyn, NY):
Same years and dollars, do you sign MJD, Moreno or McFadden?
DiRocco:
Moreno. Both he and McFadden will be 27 by the time the season starts, but McFadden always seems to be banged up. I'd take both over MJD, who will be 29 and has a lot of mileage.
Omar Little (B-More):
How many wins should Jags fans realistically hope for?
DiRocco:
I think challenging the .500 mark would be a realistic scenario for the Jaguars in 2014.
January, 30, 2014
Jan 30
8:00
AM ET
Coaching the South team in last weekend's Senior Bowl has given the Jacksonville Jaguars a leg up in preparation for the upcoming draft, general manager David Caldwell said.
The Florida Times-Union's Hays Carlyon writes that the time Caldwell, the coaching staff and scouts spent with the players
will help them sharpen their focus
as they begin to put together their draft board.
"There were 110 guys there that we now feel good about," Caldwell said. "Generally, some of those guys we'd be interested in working out or bringing in for a visit. We don't have to do that with a lot of those guys because we had them for a week. There's not that much more that we need to know about those players in terms of a workout or interview."
Here are some additional pieces of Jaguars-related content from around the Web in our daily Reading the Coverage feature:
The T-U's Ryan O'Halloran asked Seattle assistant head coach/offensive line coach Tom Cable about
Bradley's ability to stay positive
throughout the Jaguars' 0-8 start.
Something to keep your eye on as free agency nears: According to NFL Network's Ian Rapoport, the Denver Broncos
don't expect to re-sign
running back Knowshon Moreno in the offseason. The Broncos have two young running backs, including Montee Ball, that will be featured in the running game. If Maurice Jones-Drew does not re-sign with the Jaguars, Moreno could be a potential target. Denver also could be a potential landing spot for Jones-Drew.
October, 13, 2013
10/13/13
10:50
PM ET
DENVER -- Linebacker
Paul Posluszny
spent a lot of time after the
Jacksonville Jaguars
' 35-19
loss
to the
Denver Broncos
playing good cop-bad cop.
He lauded the defense for forcing three turnovers (including his interception return for a touchdown) and holding the Broncos to season lows in total yards (407) and points.
But he also was critical of several costly defensive mistakes that ruined the Jaguars' chances of winning, mainly stupid penalties and failing to get off the field on third down.
While there were a lot of positives, the mistakes bother him more because they helped keep the Jaguars winless.
"We've got to take a really hard look at the type of mistakes we made," Posluszny said. "Early in the game we had them third-and-forever and they hit a checkdown, kind of a running back screen to get a first down. We're off the field on third down and all of a sudden we get a penalty.
[+] Enlarge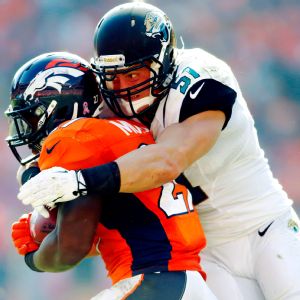 Chris Humphreys/USA TODAY SportsPaul Posluszny had seven tackles and also returned an interception 59 yards for a TD against Denver, but admitted the defense made too many mistakes.
"This is Peyton Manning of the Denver Broncos. You can't do things like that and expect to be successful."
There aren't moral victories in football, but what the Jaguars did defensively against the NFL's top team should qualify. The Broncos hadn't scored fewer than 37 points and had scored 52 and 51 points the past two weeks. But in the first half, the Jaguars held them to 14 points and 165 yards and frustrated
Peyton Manning
.
They forced two turnovers as well. Posluszny had the biggest play, picking off a Manning pass intended for
Wes Welker
and returning it 59 yards for a touchdown that cut the Broncos' lead to 14-12 with 36 seconds remaining.
"They ran a simple play-action and I had a guy running up the seam," Posluszny said. "I was able to read the quarterback's eyes, make a break on it, and get my hands on the ball.
"I just wanted to catch the ball and secure it first and then it opened up.
Andre Branch
makes a great block, make a cut off that, and we get to go. So that was great for us."
Posluszny described the play without a smile, strange because it was his first career touchdown. But he was so bothered by the mistakes the Jaguars made on what seemed to be every Broncos scoring drive that he couldn't enjoy it.
Manning converted a third-and-20 with a dump-down pass that running
Knowshon Moreno
took 28 yards to the Jaguars' 9-yard line. Moreno simply turned around and went straight up the middle of the field and got a couple blocks from receivers before cornerback
Will Blackmon
was able to drag him down. Two plays later they led 7-0.
The Jaguars stopped the Broncos on their next possession when Moreno caught a pass and gained just 4 yards on third-and-14. But Branch was penalized for unnecessary roughness.
The Broncos scored five plays later for a 14-0 lead.
The Jaguars held the Broncos scoreless on their next four possessions, ending one by recovering a Manning fumble and another with Posluszny's interception.
There were more mistakes in the third quarter. Safety
Josh Evans
was penalized for pass interference and unsportsmanlike conduct and safety
Johnathan Cyprien
was penalized for pass interference in the end zone -- all on Denver's first drive.
In Posluszny's mind, all those things ruined the things the defense did well, and coach Gus Bradley agrees.
"We celebrate the victories within the game," he said. "We celebrate the good things that took place. We're going to celebrate that we got a pick-six because we talk about that. Get the ball and score. That defines you as a defense. That's a good thing. We'll celebrate that. But the overall, the outcome that we're looking for, it's not where we want to be."
October, 11, 2013
10/11/13
3:15
PM ET
JACKSONVILLE, Fla. -- Looking for some help with your fantasy football lineup? Every Friday I'll give you my opinions on which Jacksonville Jaguars players to play and sit, as well as which of the opposing players might be a good play against the Jags. For more fantasy football advice, check out ESPN.com's
fantasy football page
.
Jaguars
QB Chad Henne:
Henne might be a decent play this week. The Jaguars are going to have to throw a lot to keep up with
Peyton Manning
so it wouldn't be a surprise if Henne throws for 270-plus yards and a touchdown or two.
Verdict
: Play him if you're in a league that allows you to play two quarterbacks.
RB Maurice Jones-Drew:
He got a season-high 17 carries last week and offensive coordinator Jedd Fisch said he'd like Jones-Drew to have even more. The Jaguars are going to try and run the ball to keep Manning off the field, but the team is still only averaging 2.7 yards per rush. Once the Jaguars fall behind by more than a couple touchdowns, Jones-Drew won't have much of an impact.
Verdict
: Sit him.
Blackmon
WR Justin Blackmon:
Pretty good debut for him last week: five catches, 136 yards, one touchdown. There's no doubt he's the Jaguars' top receiver and he is in the best shape of his career. The Jaguars are going to have to make plays in the passing game to keep up.
Verdict
: Start him.
WR Cecil Shorts:
He played through a groin injury last Sunday and has battled it all week but will play. He will benefit from Blackmon's presence because it'll open things up for him. Again, the Jaguars will have to throw a lot to keep up.
Verdict
: He's a solid No. 3 receiver option.
TE Marcedes Lewis:
He's not playing. He probably shouldn't be on your roster by now, either.
K Josh Scobee:
The lighter air is great for kickers and Scobee is allegedly going to try an 80-yard field goal in pregame warm-ups. How many field goals will he attempt in the game, though? If the Jaguars are down big he won't get many shots.
Verdict
: Sit him
Defense/special teams:
Peyton Manning,
Eric Decker
,
Wes Welker
and
Demaryius Thomas
vs. two rookie safeties.
Verdict
: Put them on the bench.
Broncos
Manning
QB Peyton Manning:
He has thrown 20 touchdown passes and only one interception and hasn't thrown for less than 307 yards in any game this season.
Verdict
: Do I really have to tell you?
RB Knowshon Moreno:
He has enjoyed a resurgence in Denver, rushing for 331 yards (third in the AFC) and four touchdowns. He does share time with
Ronnie Hillman
and
Montee Ball
, but he's the No. 1 back and should get a lot of work Sunday.
Verdict
: Start him.
WR Demaryius Thomas:
He is sixth in the NFL with 450 receiving yards fifth in receptions (34). Remember the two rookie safeties? This is the guy who will burn them.
Verdict
: Start him.
WR Wes Welker:
He has already caught seven touchdown passes. The most he ever caught in one season with New England was nine in 2011. He and Manning have quickly developed a bond, especially in the red zone.
Verdict
: If you have a Denver receive on your roster, start him.
WR Eric Decker:
Nobody has benefitted more from Manning's arrival than Decker. He caught a career-high 85 passes last season and is on pace for 93 this season.
Verdict
: See above.
TE Julius Thomas:
Thomas has already caught 27 passes, but the more interesting stat is he's averaging a touchdown catch every 4.5 receptions. Considering the trouble the Jaguars have had covering tight ends, Thomas should put up good numbers.
Verdict
: Start him.
K Matt Prater:
Prater is 9-for-9 in field goal attempts this season and has made three field goals of 50-plus yards. He'll get a lot of work Sunday.
Verdict
: Start him.
Defense/special teams:
The Broncos gave up 522 yards of total offense and 506 yards passing to Dallas last week, but the Cowboys' offense is a little more efficient than the Jaguars' offense. Plus, defensive coordinator Jack Del Rio was the Jaguars' head coach from 2003-2011, and don't think he doesn't want to dominate the team that fired him. The Jaguars have already thrown nine interceptions, allowed 20 sacks, and scored just five touchdowns this season.
Verdict
: A no-brainer start.