Jacksonville Jaguars:

Lamin Barrow
May, 21, 2014
May 21
3:45
PM ET
JACKSONVILLE, Fla. -- The
Houston Texans
did the sensible thing and took
Jadeveon Clowney
with the No. 1 overall pick, landing the best pass-rusher to come out of college in more than a decade and pairing him with
J.J. Watt
to have one of the best pass-rushing duos in the league.
But what if they hadn't?
What if they had taken quarterback
Blake Bortles
instead? Tony Pauline of TFYDraftInsiders.com wrote this week that the Texans' choice
came down to Clowney and Bortles
and the team had draft cards with both of their names written on it before finally settling on Clowney.
[+] Enlarge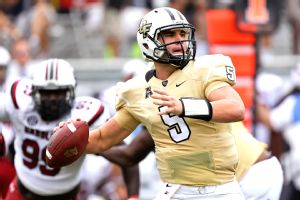 AP Photo/John RaouxIf the Houston Texans had used the No. 1 overall pick on Blake Bortles, it would have had a ripple effect throughout the draft.
That would have significantly impacted the AFC South.
It might not have altered the rest of the Texans' draft plans. They took guard
Xavier Su'a-Filo
with the first pick of the second round, and it's logical to assume they would have stayed with that pick to help protect their new franchise quarterback.
Same with the third-round selection of tight end
C.J. Fiedorowicz
. It only makes sense to add additional weapons for a young quarterback, and Fiedorowicz caught 75 passes in his final two seasons at Iowa. He's also a solid blocker who should help in the run game.
The Texans' other third-round pick was defensive tackle
Louis Nix III
, who will be a big piece of defensive coordinator Romeo Crennel's hybrid 3-4 scheme. General manager Rick Smith likely wouldn't have changed his strategy there.
But he certainly wouldn't have taken quarterback
Tom Savage
with the 35
th
pick in the fourth round. Who might he have drafted? Mammoth Stanford offensive tackle
Cameron Fleming
(6-foot-5, 323 pounds), Florida State outside linebacker
Telvin Smith
, LSU outside linebacker
Lamin Barrow
, and San Jose State cornerback
Bene Benwikere
are possibilities. All would have addressed a need.
Certainly the Texans wouldn't have ended up with a defensive player that could make the kind of impact that Clowney can had they taken Bortles, but they might have fixed perhaps the biggest reason for the team's disastrous 2013 season.
It's hard to argue with the Clowney pick, though, because he and Watt will be terrorizing quarterbacks for years.
If they had taken Bortles, though, that would have forced the
Jacksonville Jaguars
to drastically alter their draft plan.
It has been widely reported that the Jaguars and
Atlanta Falcons
had agreed to a trade in principal that would have allowed the Falcons to move up to No. 3. Jaguars GM David Caldwell called Falcons GM Thomas Dimitroff on the day before the first round to tell him that he was going to stay put and take the player he wanted, which only a few people knew was Bortles.
Had the Texans taken Bortles, Caldwell would have tried to rekindle the trade. The Falcons really wanted Clowney, and it's likely he would have still been available at No. 3 because the
St. Louis Rams
were intent on shoring up their offensive line for quarterback
Sam Bradford
. Offensive tackle was their No. 1 need, which is why they took
Greg Robinson
with the No. 2 overall pick, and it likely wouldn't have changed if Clowney were available.
The Jaguars and Falcons would have swapped picks, allowing Dimitroff to take Clowney. At No. 6, the Jaguars would not have gone quarterback. It would have been offensive tackle
Luke Matthews
,
whom the team really liked
, or receiver
Mike Evans
.
Derek Carr
was the No. 2 quarterback on the Jaguars' board, but they might have missed out on him, as well, because Oakland selected him with the fourth pick of the second round -- three spots ahead of the Jaguars. The Falcons' first pick in the second round was No. 5, so even if the Jaguars had gotten that pick as part of the trade they would have been unable to get Carr -- unless they worked another trade.
That probably would not have happened. The Jaguars tried to work out a trade to move up higher into the second round to get receiver
Marqise Lee
, but couldn't get anything done. Lee ended up falling to the Jaguars at No. 39 anyway, but would he have been the pick had they taken Evans in the first round?
The bulk of the Texans' draft might not have changed significantly had they chosen Bortles with the No. 1 pick, but it would have certainly altered the Jaguars' draft.
February, 24, 2014
Feb 24
10:10
AM ET
JACKSONVILLE, Fla. -- A daily
Jacksonville Jaguars
-related look at what's happening at the NFL combine in Indianapolis:
Monday, Feb. 24
What
: Defensive linemen and linebackers on-field workout (timing, stations, skill drills). Defensive backs psychological testing, bench press and interviews.
TV:
9 a.m. ET, NFL Network.
The skinny
: Today is one of the most anticipated days of the NFL combine because we'll finally get to see defensive end
Jadeveon Clowney
run the 40-yard dash. While it's really not that important for a defensive end to run a blazing 40, it'll still be impressive to watch the 6-foot-5, 266-pound Clowney run a sub-4.5. That's not likely to raise his draft stock any because he's already one of the players in the mix to be the top pick in the draft.
Clowney also is among the players the Jaguars are considering with the No. 3 pick, but so is linebacker
Khalil Mack
. The Jaguars need help at outside linebacker as well so several other players to watch are Ryan Shazier,
Telvin Smith
,
Lamin Barrow
. Some defensive ends to watch are
Dee Ford
(who on Sunday said he was better than Clowney), Brent Urban,
Jackson Jeffcoat
and
Scott Crichton
.
February, 21, 2014
Feb 21
10:30
AM ET
JACKSONVILLE, Fla. -- A daily
Jacksonville Jaguars
-related look at what's happening at the NFL combine in Indianapolis:
Friday, Feb. 21
What
: Place-kickers, special teams, offensive linemen and tight ends bench press, psychological testing, and interviews. Quarterbacks, receivers and running backs measurements, medical exams, media, and interviews. Defensive linemen and linebackers medical pre-exam, orientation and interviews.

TV
: 2 p.m. ET, NFL Network.
The skinny
: As Ryan O'Halloran of the Florida Times-Union reported from Indianapolis, the Jaguars are scheduled to meet with 12 quarterbacks this week, including
Teddy Bridgewater
,
Johnny Manziel
and
Blake Bortles
. That process will begin in earnest on Friday. The Jaguars also are looking for help along the interior of the offensive line and at running back, too, and will meet with some of those players as well. The Jaguars did not request to meet with any players from the Senior Bowl, so that means they won't be speaking with guys like
Derek Carr
,
Jimmy Garoppolo
,
Bryan Stork
, and
Lorenzo Taliaferro
, all players they liked in Mobile, Ala.
The linebackers include potential targets for the No. 3 pick in
Anthony Barr
and
Khalil Mack
. The Jaguars are looking to fill their leo spot, which is a hybrid end/linebacker whose main responsibility is rushing the passer, and Barr and Mack fit that profile. But the Jaguars also are looking for additional help at outside linebacker. Potential targets there include
Ryan Shazier
,
Telvin Smith
,
Lamin Barrow
.
Jaguars head coach Gus Bradley's news conference is scheduled for noon EST. We'll provide a recap of his comments.
February, 18, 2014
Feb 18
11:00
AM ET
With the NFL combine starting Wednesday, here's a look at the Jacksonville Jaguars' positions of need on defense and which prospects the team might be looking taking a closer look at in Indianapolis. Positions of need are listed in order of importance. We looked at the offense on Monday.
JACKSONVILLE, Fla. -- The Jaguars have a lot of holes to fill on the roster and the next part in the process comes this week when general manager David Caldwell and head coach Gus Bradley evaluate, watch, and interview prospects at the NFL combine.
Here's a breakdown of what the Jaguars need, in order, on defense and some potential targets:
Babin
Leo
: Call this need No. 1A, just barely behind quarterback. The Jaguars have finished last in the NFL in sacks in each of the last two seasons and desperately need someone that can affect the quarterback on a consistent basis.
Jason Babin
and
Andre Branch
manned this spot in 2013 but Babin is scheduled to make $6.175 million in 2014. The 33-year-old Babin led the Jaguars with 7.5 sacks in 2013 but he's making elite defensive end money and he's not an elite defensive end. He has said he'd be willing to re-negotiate his contract because he likes it in Jacksonville, but he also can declare himself a free agent because of a clause in the new CBA. It'd be a surprise if Babin is on the roster in 2014 under his current contract. Branch really improved in 2013 because defensive coordinator Bob Babich and defensive line coach Todd Wash got him to become more consistent with his effort. He's a long way from being a 15-sack player, though, and that's what the Jaguars need.
Potential targets:
Jadeveon Clowney
,
Dee Ford
,
Anthony Barr
,
Khalil Mack
.
Outside linebacker:
Geno Hayes
turned in a solid year in 2013 (78 tackles, two interceptions, three pass break-ups) despite playing through a nagging knee injury that eventually forced him to miss the last two games. But the Jaguars still need to upgrade both outside spots. It was partly due to his knee injury, but Hayes didn't make very many impact plays and
Russell Allen
, the starter on the other side, made none. The leo spot is a hybrid end/outside linebacker that specializes in rushing the passer, so the outside linebackers don't need to be elite pass rushers. They need to be athletic enough to play in coverage and have the ability to blitz if needed.
Potential targets:
Ryan Shazier
,
Telvin Smith
,
Lamin Barrow
.
Defensive end:
This is the spot opposite the leo in the Jaguars' defense and it doesn't call for an elite pass-rusher. The Jaguars want a big, physical end who can anchor the line of the scrimmage in the run game.
Tyson Alualu
held the job last season and was solid (44 tackles, eight QB pressures, three tackles for loss), but the Jaguars need more production there. The only other player at that spot is
Ryan Davis
, who spent most of last season on the practice squad. They're also hoping for a little more pass rush production than what Alualu had, but it's not the primary responsibility.
Potential targets:
Brent Urban
,
Jackson Jeffcoat
,
Scott Crichton
.
Defensive tackle:
The Jaguars' two starters are set with
Sen'Derrick Marks
and
Roy Miller
, but the Jaguars need to add some quality depth here. Marks is coming off a career year and was awarded a four-year extension. Miller battled a shoulder problem all season but underwent surgery after the season concluded and should be fine by the time OTAs begin in April.
Potential targets:
Will Sutton
,
Caraun Reid
,
Deandre Coleman
.
January, 21, 2014
Jan 21
7:20
PM ET
MOBILE, Ala. -- Here are 10 observations/thoughts from Tuesday's Senior Bowl practice(s) and interviews:
After practicing Monday on a mild 65-degree day, players had to deal with temperatures in the 50s and wind gusts of more than 20 mph. Naturally, it wasn't an easy day for the quarterbacks, who had trouble throwing the ball into the wind. It also was an issue for the punt and kick returners, who had trouble adjusting to the ball. Jalen Saunders (Oklahoma) did the best job of any of the South returners. Lorenzo Taliaferro (Coastal Carolina) completely whiffed on one punt and Mike Davis (Texas) dropped two kickoffs.
Three South players are out with injuries: offensive tackle Ja'Wuan Jones (Tennessee) suffered a sprained knee; tight end Marcel Jensen (Fresno State) suffered an abdominal strain; and defensive end Ed Stinson (Alabama) suffered a groin strain. Former Colorado State tight end Crockett Gillmore has been added to the roster and was scheduled to arrive Tuesday night.
One of the more fun drills to watch was the running back/tight end pass-blocking drills. Taliaferro was the most impressive of the backs, which shouldn't be surprising considering he's the biggest back on the roster (231 pounds). He handled linebacker Christian Jones (Florida State) and stuffed linebacker Telvin Smith (Florida State) before finally getting beat by defensive end Kyle Van Noy (BYU). Jones rebounded nicely, though, and consistently got by the other backs. He also beat tight end Arthur Lynch (Georgia) twice, including once with a nasty spin move.
Running back Antonio Andrews (Western Kentucky) more than held his own in the pass-blocking drill despite being much shorter than the players he was blocking. Andrews is 5-foot-10 but a solid 225 pounds. He also showcased his agility with a nifty juke after catching a swing pass that left linebacker Lamin Barrow (LSU) on the ground.
Smith's size is becoming an issue. He was a 6-3, 217-pound linebacker at FSU but he's having trouble getting off blocks and has been pushed around too easily at times.
It's clear that Jordan Matthews (Vanderbilt) is the South team's top receiver. He made a twisting sideline catch after adjusting to deep ball that got caught up in the wind and showed the ability to fight through press coverage. He also caught a short pass on a drag route with a defensive back all over him.
Give the Senior Bowl staff credit for putting offensive tackle Billy Turner on the South team. Why is that interesting? Turner helped North Dakota State win three consecutive FCS national titles. The Jaguars are coaching the South team and head coach Gus Bradley played and coached at North Dakota State. "We talked a little bit. There's a saying up there, once a Bison always a Bison," Turner said. "I don't know if it'll help me but it's kind of a connection. I think that my play on the field will help me the most." Turner certainly has the size to be an NFL tackle (6-5, 316 pounds) but he has struggled a bit adjusting to the speed on the edge. Defensive end Chris Smith (Arkansas) blew by him quite easily in 11-on-11.
Cornerback Jaylen Watkins (Florida) had an impressive day. He broke up several passes, including one intended for Matthews, and had an interception. He's comfortable in press coverage, which was what he played most of the time at Florida under coach Will Muschamp. Watkins (5-11, 194) has experience at field and boundary.
Quarterback Derek Carr spent about 20 minutes throwing to Matthews after practice. He worked on slants and in routes because he missed several of those throws during practice. He wasn't just doing it for the field of scouts, either. It's part of his competitive nature, he said, and his commitment to continually improve. "If I miss a throw I'd be wrong to not throw it again after practice," Carr said.
One outside linebacker who has flown somewhat under the radar so far this week is Jordan Tripp (Montana). The 6-3, 237-pound Tripp isn't flashy and doesn't have the speed and quickness of some of his SEC teammates but he always seemed to be around the ball. He is a two-time FCS All-American and was twice a finalist for the FCS defensive player of the year award.