Jacksonville Jaguars:

Larry Fitzgerald
January, 16, 2014
Jan 16
10:00
AM ET
JACKSONVILLE, Fla. -- Maybe it's because the Jaguars used to face
Peyton Manning
twice a year, but he was the overwhelming favorite as the NFL's most respected player among the 10 Jaguars players who participated in an NFL Nation confidential survey.
Five players voted for Manning, now with the
Denver Broncos
, and New England's
Tom Brady
was the only other player to receive multiple votes (two). Seattle's
Marshawn Lynch
, Arizona's
Larry Fitzgerald
and Houston's
Greg Jones
also received votes.
That Jones received a vote wasn't a surprise since he spent the first nine seasons of his career in Jacksonville before choosing to sign with the Texans after the 2012 season. Jones was one of the Jaguars' most respected players.
Manning also was the overwhelming favorite in the survey of 320 players as well, earning 26.8 percent of the vote (86 votes). Brady and Minnesota's
Adrian Peterson
were the closest players, with each earning 7.5 percent of the vote (24 votes).
January, 14, 2014
Jan 14
4:07
PM ET
JACKSONVILLE, Fla. -- The
Jacksonville Jaguars
might be better off taking a pass-rusher instead of a quarterback with the No. 3 overall pick in the upcoming NFL draft.
Looking back at the last 20 players selected third overall reveals teams had much better success in drafting offensive and defensive linemen and wide receivers than quarterbacks. Twelve linemen and receivers were drafted since 1994 and eight went on to have above average or very good careers. In fact, six of those eight could be considered among the best players at their position at some point in their careers.
Only three players -- receiver
Braylon Edwards
, defensive end
Andre Wadsworth
, and defensive end
Tyson Jackson
-- could be considered busts. One other player, Miami defensive end
Dion Jordan
, just finished his rookie season.
But the ratio is much worse when it comes to quarterbacks. Four of the six quarterbacks drafted No. 3 overall in the last 20 years were busts:
Vince Young
,
Joey Harrington
,
Akili Smith
, and
Heath Shuler
. Only
Matt Ryan
and
Steve McNair
proved to be worthy of their high selection.
Does that mean Jaguars general manager
David Caldwell
should not take
Johnny Manziel
,
Teddy Bridgewater
or
Blake Bortles
with the No. 3 overall pick? Not necessarily. Smith's flameout has nothing to do with whether Manziel will make it in the NFL. But it's certainly interesting to go back and see how the players selected third overall have turned out and the trend is that taking an offensive or defensive lineman is a much safer bet than picking a quarterback.
Here's a look at the breakdown of the last 20 players selected third overall:
Quarterbacks (6)
Matt Ryan (Atlanta, 2008):
Ryan has completed 63.7 percent of his passes for 23,472 yards and has a nearly 2:1 touchdown-interception ratio: 153 touchdown passes, 77 interceptions. He was the Associated Press' Offensive Rookie of the Year in 2008 and has led the Falcons to the playoffs in four of his six seasons. He is 60-34 as a starter.
Vince Young (Tennessee, 2006):
Young was one of the most dynamic college players, but his game never quite translated to the NFL. He was named the Associated Press' Offensive Rookie of the Year in 2006 after he threw for 2,199 yards and 12 touchdowns with 13 interceptions and ran for 552 yards and seven TDs. But he threw nine touchdown passes and 17 interceptions in 2007 and started just 22 games over the next four seasons with Tennessee and Philadelphia.
Joey Harrington (Detroit, 2002):
Harrington played for three teams in his six seasons and only had one season in which he threw more touchdown passes than interceptions.
Akili Smith (Cincinnati, 1999):
He started just 17 games in four years with the Bengals and three five touchdown passes and 13 interceptions.
Steve McNair (Houston/Tennessee, 1995):
His 13-year career included three Pro Bowls and a 91-62 record as a starter. He became the Titans' starter in his third year and led them to a 12-3 record in 2000. His best season was 2003, when he threw for 3,215 yards and 24 touchdowns with only seven interceptions.
Heath Shuler (Washington, 1994):
He went 8-14 in his 22 starts in his four seasons in the NFL, throwing 15 touchdown passes and 33 interceptions.
Running backs (1)
Trent Richardson (Cleveland, 2012):
It's early, but his career is not exactly on par with what you'd expect from a No. 3 overall pick. He has rushed for 1,513 yards (3.3 yards per carry) and 14 touchdowns in his two seasons. He was traded to Indianapolis after the second game of the 2013 season and averaged just 2.9 yards per carry on 157 attempts with the Colts.
Wide receivers (3)
Braylon Edwards (Cleveland, 2005):
He had one great year, but otherwise was an average to below-average player. He caught 359 passes for 5,522 yards and 40 TDs, including a career-high 80 catches for 1,289 yards and 16 TDs in 2007.
Larry Fitzgerald (Arizona, 2004):
Fitzgerald has made seven Pro Bowls in his 10 seasons and has 846 catches for 11,367 yards and 87 touchdowns.
Andre Johnson (Houston, 2003):
He is currently 17th on the NFL's all-time receiving yardage list (12,661 yards). He has made seven Pro Bowls and is a two-time first-team All-Pro selection.
Offensive tackles (2)
Joe Thomas (Cleveland, 2007):
He just finished his seventh season and made his seventh Pro Bowl. That's right, he has been voted to the Pro Bowl in every season.
Chris Samuels (Washington, 2000):
He played 10 seasons in the NFL (all with the Redskins) and made the Pro Bowl six times.
Defensive ends (4)
Dion Jordan (Miami, 2013):
He played 20-30 snaps per game throughout most of his rookie season because the Dolphins used him only in obvious passing situations. He needs to work harder to become an every-down player.
Tyson Jackson (Kansas City, 2009):
The Chiefs plugged him in as a 3-4 defensive end, which means he wasn't counted on to provide much impact in the pass rush. He has just nine sacks in five seasons and has never forced nor recovered a fumble. Expectations are a little higher for a No. 3 overall pick.
Andre Wadsworth (Arizona, 1998):
After a lengthy holdout he had a solid rookie season (five sacks and 42 tackles) but knee injuries ended his career after just three seasons with the Cardinals.
Simeon Rice (Arizona, 1996):
Rice played for four teams in his 12-year career and made the Pro Bowl three times. He recorded double-digit sacks in eight seasons, including a career-high 16.5 in 1999. He was voted the NFL Defensive Rookie of the Year by the Associated Press after recording 12.5 sacks in 1996. He finished his career with 122 sacks, which currently ranks 15
th
on the NFL's all-time list.
Defensive tackles (3)
Marcell Dareus (Buffalo, 2011):
He has established himself as one of the NFL's better interior pass rushers and has 18.5 sacks in three seasons, including 7.5 in 2013.
Gerald McCoy (Tampa Bay, 2010):
He is coming off his best season as a pro. He set career highs in tackles (35) and sacks (nine) and made his second Pro Bowl and was a first-team All-Pro selection. He has 18 sacks, 90 tackles, and 10 pass breakups in his career.
Gerard Warren (Cleveland, 2001):
He never made the Pro Bowl, but was a solid run-stopper who still managed to compile 36.5 sacks in his 11-year career.
Cornerback (1)
Shawn Springs (Seattle, 1997):
He intercepted 33 passes and broke up 84 passes in his 13-year career. He picked off seven passes (two for touchdowns) in 1998, which was the only season in which he made the Pro Bowl.
November, 17, 2013
11/17/13
8:00
PM ET
JACKSONVILLE, Fla. -- Defensive tackle
Sen'Derrick Marks
has said for a while that it would be pretty simple to fix the Jaguars' porous rush defense.
Everyone just needed to do their job. Stay in their assigned gap. Quit freelancing. Just do what you're supposed to do on each play.
Turns out he was correct.
[+] Enlarge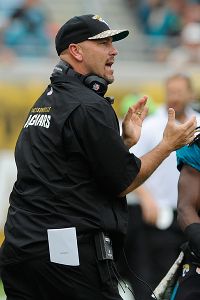 AP Photo/Stephen MortonGus Bradley and the Jaguars held the Cardinals to 14 rushing yards on Sunday, but were burned for several big plays through the air.
The Jaguars held Arizona to just 14 yards on the ground in a 27-14 loss at EverBank Field. That's the second-lowest single-game total in franchise history, behind only the 10 yards the Jaguars yielded to Kansas City in 2007.
It also is pretty much the only positive thing you can say about the defense on Sunday.
Carson Palmer
threw for 419 yards and two touchdowns, including a 91-yarder to
Michael Floyd
in which three players missed a tackle, and the Cardinals controlled the ball for nearly 36 minutes. But the defensive front -- which was without middle linebacker and leading tackler
Paul Posluszny
(concussion) -- showed up.
"Just like I've been saying the whole year, every time we've had runs get out on us, we have a guy out of a gap," Marks said. "Our thing was after the bye we had to hold everybody accountable. We've been doing it ever since we came off the bye week. We've got guys in the right gaps, and everybody is where they're supposed to be.
"Everybody's been accountable, and when you do that you tend to stop the run."
Rashard Mendenhall
gained 14 yards on 13 carries. One of which was a 5-yard touchdown run, which means he managed just nine yards on his other 12 carries.
Andre Ellington
, a speedy breakaway threat, managed just 3 yards on eight carries. The Jaguars entered the game giving up an average of 153.0 yards per game rushing.
"We were aware of the run game, and we did not want that to get going," head coach Gus Bradley said. "We did a good job attacking the run and controlling Ellington."
The defense certainly felt the loss of Posluszny, who is by far the team's best defensive player. He has two interceptions, eight pass breakups, two forced fumbles, and one fumble recovery. Posluszny didn't practice all week, and was finally ruled out on Saturday morning.
Russell Allen
, who normally starts at outside linebacker, filled in and made seven tackles, but failed to deliver a big play.
Actually, he made one but it didn't count. He stepped in front of Palmer's pass to
Larry Fitzgerald
inside the Jacksonville 20-yard line in the third quarter, but officials announced that the Cardinals had called timeout before the snap.
"I think you grow to appreciate Poz and what he's all about, but for Russell to step in and manage the defense like he did ... then he had the interception that would have helped out," Bradley said. "He did a nice job managing the defense. If he got more reps [during the week] we would see even better."
The Jaguars were certainly better against the run than in stopping Palmer, Fitzgerald, Floyd, and whichever tight end happened to be in the game at the time. Floyd caught six passes for 193 yards, including a 91-yard catch-and-run in which Allen, safety
Josh Evans
, and cornerback
Will Blackmon
missed tackles.
Fitzgerald caught a modest six passes for 61 yards and one touchdown, but tight ends
Jim Dray
,
Jake Ballard
and
Rob Housler
combined to catch nine passes for 117 yards -- continuing the trend of tight ends taking advantage of the Jaguars' rookie safeties (Evans and
Johnathan Cyprien
).
Things could have been even worse had cornerback
Alan Ball
not broken up four passes in the first half.
The
Tennessee Titans
had similar trouble on the ground (83 yards) and success through the air (288 yards, two TDs) last week. The biggest difference is the Jaguars forced the Titans into four turnovers. They didn't get any against the Cardinals.
"We feel good about how we played against the run, and we felt like it was something we were going to be able to do going in, but unfortunately we gave up too many big plays in the passing game," Allen said. "Any time we can give our offense a short field it's important, giving them an opportunity to put points on the board. Getting some breaks ... would have helped a lot."
November, 17, 2013
11/17/13
4:07
PM ET
JACKSONVILLE, Fla. -- A few thoughts on the
Jacksonville Jaguars
' 27-14
loss
to the
Arizona Cardinals
.

What it means:
The Jaguars were trying to achieve something that hasn't happened since 2010: win back-to-back games. They beat Tennessee and Oakland in consecutive weeks in December that season but have won just eight games since. There is a silver lining in the loss, though. Tampa Bay was routing the Falcons, which leaves the Jaguars as the league's only team with a single victory and puts them in the lead for the No. 1 overall selection in the 2014 draft.
Stock watch:
Punter
Bryan Anger
had perhaps his best game of the season, averaging nearly 50 yards per punt and pinning the Cardinals deep in their own territory. In the third quarter alone he forced the Cardinals into starting drives on their 9-, 10- and 2-yard line. Anger kept the Jaguars in the game while the offense sputtered in the second half. Cornerback
Alan Ball
had a solid game, too, by breaking up four passes in the first half -- three of which were intended for
Michael Floyd
.
TOs overturned:
The Jaguars had what appeared to be two turnovers deep in Arizona territory wiped out.
Patrick Peterson
fumbled a punt at his own 10-yard line. Three Jaguars pounced on the ball but somehow Peterson came out with it and the Cardinals retained possession. Replays appeared to show long-snapper
Carson Tinker
coming out of the pile with the ball and the Jaguars challenged the play, but officials upheld the ruling on the field. Two plays later, middle linebacker
Russell Allen
intercepted
Carson Palmer
's pass to
Larry Fitzgerald
, but officials announced after the play that the Cardinals had called timeout before the snap.
Sneaky:
The Jaguars scored their first touchdown on an interesting fourth-and-1 call. They lined up at their own 38 with extra tight ends. The Cardinals played run all the way, and the play-action fake allowed recently acquired tight end
Danny Noble
to get behind the first level of defenders.
Chad Henne
hit him with a good pass and Noble broke a tackle to score a 62-yard touchdown. What made the play work is the fact that Noble is a blocking tight end who had played in only five games and never had a catch until Sunday.
What's next:
The Jaguars will play at Houston on Sunday.
November, 15, 2013
11/15/13
12:30
PM ET
JACKSONVILLE, Fla. -- Looking for some help with your fantasy football lineup? Every Friday I'll give you my opinions on which
Jacksonville Jaguars
players to play and sit, as well as which of the opposing players might be a good play against the Jags. For more fantasy football advice, check out ESPN.com's
fantasy football page
.
Jaguars
Henne
QB Chad Henne:
In three games vs. NFC West teams this season, Henne has completed 56.3 percent of his passes for 552 yards and three touchdowns with two interceptions. He'll be throwing a lot again Sunday, because the Cardinals have the league's No. 3 rush defense. However,
Patrick Peterson
will likely shadow top receiver
Cecil Shorts
.
Verdict
: Sit him.
RB Maurice Jones-Drew:
The Cardinals are allowing only 86.9 yards per game rushing thanks to a stout defensive front. Even if he gets 20-plus touches again, there won't be a lot of room for Jones-Drew.
Verdict
: Sit him.
WR Cecil Shorts:
He is the Jaguars' top receiver with
Justin Blackmon
suspended, but that means he'll likely draw Peterson all day. That's not a good matchup for the Jaguars.
Verdict
: Sit him.
TE Marcedes Lewis:
He should be a bigger factor in the passing game, especially if Shorts is shadowed by Peterson. But that's what everyone thought last week, too, and Lewis caught three passes. Maybe this will be the week he breaks out.
Verdict
: Might be worth a gamble.
K Josh Scobee:
He is the only Jaguar other than linebacker
J.T. Thomas
to have scored a point this season at EverBank Field.
Verdict
: Start him.
Defense/special teams:
It's unlikely that middle linebacker
Paul Posluszny
plays, and if that's the case, the Jaguars' defense won't have its best player and biggest playmaker. Still waiting on
Ace Sanders
to break out as a punt returner, although kick returner
Jordan Todman
had a good game last week.
Verdict
: Sit them.
Cardinals
Palmer
QB Carson Palmer:
Palmer has struggled with turnovers (15 interceptions) and is averaging 222.9 yards per game passing. The Jaguars' pass rush, however, has only managed 12 sacks and 30 pressures, and the secondary includes three rookies.
Verdict
: If you're in a league that allows two quarterbacks, he'd be a good option.
RB Rashard Mendenhall:
He hasn't been especially productive (388 yards), but he'll be facing the NFL's 31
st
-ranked rush defense -- likely without Posluszny.
Verdict
: He'd be a good play for a No. 3 back or a flex in deeper leagues.
RB Andre Ellington:
He ranks No. 1 among running backs with a 7.2 per-carry average, which is more than twice what Mendenhall averages (3.1).
Verdict
: He's got more of a chance of breaking a long run than Mendenhall, so he's worth a start as a flex player.
WR Larry Fitzgerald:
Fitzgerald has caught just 39 passes, but he's averaging a touchdown every eight catches. Plus, the Jaguars' secondary has three rookies.
Verdict
: Start him.
WR Michael Floyd:
He said he will play Sunday despite injuring the AC joint in his shoulder last week. He has 36 catches, so he's just as much of an option for Palmer as Fitzgerald.
Verdict
: That's an easy injury to aggravate for a receiver. The safe bet would be to sit him.
TE Rob Housler:
He just caught the first touchdown pass of his career last week against Houston, and has just 18 catches.
Verdict
: If there was ever a week to start him it would be this one, because the Jaguars have struggled against tight ends all season.
K Jay Feely:
He has missed just one field goal attempt all season (16-for-17). The Cardinals' offense should be able to move up and down the field, so he'll get plenty of work.
Verdict
: Start him.
Defense/special teams:
The Cardinals' defensive front is among the best in the NFL, so the Jaguars won't have much success on the ground. That means more opportunities for
Tyrann Mathieu
, the ballhawking rookie from LSU.
Verdict:
Start them.
November, 15, 2013
11/15/13
8:00
AM ET
Jaguars rookie cornerback Dwayne Gratz is back in the starting lineup, which is a place he was expected to be all season.
Gratz had a good training camp and secured a starting spot, but a high-ankle sprain in the season opener against Kansas City put him out of action for the next five games. The Jaguars eased him back into the lineup his first two games back and he
looked like he hadn't missed a step
, writes the Florida Times-Union's Vito Stellino.
Gratz got his first career interception against Tennessee last Sunday.
"Each rep he gets better," defensive coordinator Bob Babich said. "He's a rookie. To get a pick in a big game like that -- and he's made some big tackles and he played physical -- it was a neat thing to see. We really like Dwayne."
Sunday, though, will be Gratz's biggest test. He'll be facing off against Arizona Cardinals receiver Larry Fitzgerald.
Here are some additional pieces of Jaguars content from around the Web in our daily Reading the Coverage feature:
WJXT TV-4 sports director Sam Kouvaris and Cole Pepper discuss the Jaguars' chances of
winning back-to-back games
.
With middle linebacker Paul Posluszny missing practice again on Thursday, his status for Sunday's game is in doubt. Russell Allen will start if Posluszny can't play and Nate Stupar will be Allen's backup. The team is giving Stupar, whom the Jaguars claimed off waivers Nov. 4,
a crash course to get him ready
, writes the T-U's Hays Carlyon.
Here is a roundup of items from this blog: the weekly
mailbag
; running back Justin Forsett is
adjusting to a smaller role
than he anticipated when he signed with the Jaguars in March; the
stat of the week
, which chronicles the Jaguars' inability to score a touchdown at EverBank Field this season.