Jacksonville Jaguars:

Logan Thomas
March, 1, 2014
3/01/14
8:00
AM ET
Got questions about the Jaguars? I'll try to answer a representative selection of them every Saturday. Submit your questions via Twitter to
@ESPNdirocco
.
February, 20, 2014
2/20/14
8:15
AM ET
The Jaguars are almost certainly going to draft a quarterback in May. When that will be, however, is still up for debate.
If the Jaguars choose to bypass the top three quarterbacks and address other areas of need first, there are still viable options available. ESPN's Kevin Seifert
examines that next tier of quarterbacks
by getting Scouts Inc.'s Steve Muench to provide a short evaluation of each.
One of the more intriguing prospects on the list is former Virginia Tech standout Logan Thomas.
Here are some additional pieces of Jaguars-related content from around the Web in our Reading the Coverage feature:
The Florida Times-Union's Ryan O'Halloran breaks down what he believes is the
Jaguars' dream scenario for the upcoming draft
. He believes the team should take Teddy Bridgewater.
The T-U's Hays Carlyon spoke with former Jaguars trainer Mike Ryan about the importance of a team's medical staff in the draft evaluation process,
especially at the combine
.
South Carolina coach Steve Spurrier didn't exactly rave about Jadeveon Clowney's
work ethic
.
January, 23, 2014
1/23/14
12:50
PM ET
MOBILE, Ala. --
Logan Thomas
expects the question.
Whenever he meets with NFL teams, the quarterback knows he will be asked why he was so inconsistent throughout his career at Virginia Tech. Why his production was not nearly as impressive as his physical tools?
His answer is short and honest.
"I say, 'Ya'll are exactly right,'" he said. "I have been a little inconsistent, but it's all mechanical. It's all fixable, and they agree with me."
[+] Enlarge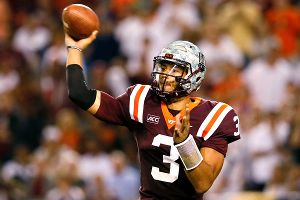 Kevin C. Cox/Getty ImagesLogan Thomas threw 53 touchdown passes and 39 interceptions at Virginia Tech.
Thomas is clearly the most physically gifted quarterback at the Reese's Senior Bowl. He's got a huge frame (6-feet-6, 250 pounds), a strong arm, and his athleticism and running ability compare to Carolina's
Cam Newton
. But he completed only 55.5 percent of his passes and threw 53 touchdown passes and 39 interceptions at Virginia Tech.
Thomas said his mechanical issues stem from poor fundamentals with his left leg, and he has been working with renowned quarterback coach George Whitfield.
Thomas has had his moments during Senior Bowl practices this week, but he has also delivered some off-balance, inaccurate throws. He has missed seeing open receivers, too, and has taken off running too soon at times.
Jaguars general manager David Caldwell said Thomas is an intriguing prospect, but in order to draft him a team has to decide if his inconsistency really is related to mechanical issues that can be corrected, or if that's just who Thomas is.
"Well you have to project a little bit, and what our offense would be, what he'll be two years from now, three years from now, and can you develop [him]," Caldwell said. "His issues with consistency, are they something that can be corrected or are they something that, as you know with certain quarterbacks, they're just habitual and they've had them their whole life."
That's the scenario that plagued Tim Tebow in his short NFL career. He tried to tinker and fix the throwing motion he used his entire life and was not able to make a significant change. Is Thomas the same way?
Caldwell said the Jaguars are interested in Thomas -- he said they are interested in everybody at the Senior Bowl, too -- but he would need some work before he'd be ready to get on the field.
"You always kind of draft for the floor," Caldwell said. "Whenever you take a player you hope that they're going to get better, but expect them to be who they are. If you expect to be like, 'Oh, we're going to turn this guy into a Pro Bowler even though he doesn't have this, this and that.' It doesn't happen. It happens sometimes, but if you draft to the floor you know you're going to at least get that, and then if it turns out to be more than that, that's great."
January, 22, 2014
1/22/14
7:00
PM ET
MOBILE, Ala. -- Here are 10 observations/thoughts from Wednesday's Senior Bowl practice(s) and interviews:
North team linebacker
Chris Borland
(Wisconsin) is a bit undersized at 5-feet-11 but that hasn't stopped him from making an impression this week. He's a stout 245 pounds so he's held up well in the run game and has been able to shed blocks. He also read
Logan Thomas
' eyes and easily intercepted a pass intended for running back David Fluellen (Tulane) during 11-on-11 drills. He also made a nifty juke to get by cornerback
Pierre Desir
(Lindenwood) during a kickoff coverage drill.
North receiver
Josh Huff
(Oregon) nearly made the catch of the day but just couldn't quite pull in a deep pass from
Stephen Morris
(Miami) in the end zone. Huff got a good release off the line of scrimmage and got behind cornerback
Marqueston Huff
(Wyoming). Huff has had a solid week.
Morris came right back several plays later with a good throw to receiver Mike Campanaro (Wake Forest) on an in cut. Morris was very accurate and looked better than
Tajh Boyd
(Clemson) and Thomas during that pass skeleton drill.
North Cornerback Stanley Jean-Baptiste (Nebraska) played well in 11-on-11, capped off by knocking away a fade pass in the back corner of the end zone intended for receiver
Jared Abbrederis
. Jean-Baptiste has the kind of size the Jaguars like in their corners (6-2, 215 pounds) but would be a luxury pick. The secondary is one area the Jaguars don't need to address this offseason.
South defensive end
Brent Urban
(Virginia) will miss the rest of the week and the game after suffering an ankle sprain. He had been having a solid week and was a player the Jaguars were keeping an eye on.
I really like the intensity and tenacity shown by South tight end Crockett Gillmore (Colorado State) during 9-on-7 drills. One personnel evaluator said they liked the 6-6, 255-pound Gillmore but he needed to improve as a blocker. He looked pretty darn good on Wednesday, though. He handled linebacker
Adrian Hubbard
(Alabama) on back-to-back snaps and took down defensive end IK Enemkpali (Louisiana Tech). He blocks through the whistle. He's a converted defensive end that brings a bit of nastiness to the position.
The Jaguars had defensive end
Kyle Van Noy
(BYU) working at outside linebacker and defensive coordinator Bob Babich was really pleased with Van Noy's performance in footwork and reaction drills. The Jaguars are looking for a leo (hybrid end/linebacker) and Van Noy is someone to watch.
The coaches also switched several offensive linemen around to see how they may fit at another position. Center
Travis Swanson
spent some time outside and really struggled with the ends during a pass rush drill. Guard
Jon Halapio
(Florida) took a few snaps at center and said after the practice that was the first time he had ever snapped.
South cornerback
Chris Davis
(Auburn) measured shorter than anticipated (5-10 ¾) but has shown the ability to deal with bigger and more physical receivers. He out-fought the 6-3
Jordan Matthews
(Vanderbilt) for a ball on the sideline and ripped it from Matthews' hands to force an incompletion.
North guard
Brandon Linder
(Miami) may have increased his draft stock with a solid three days of practice. The 6-5, 316-pounder had a reputation for being technically sound and that showed up this week. Linder, a three-year starter for the Hurricanes, was projected to be a late-round draft pick but that could change if he finishes the week strong.
January, 22, 2014
1/22/14
8:30
AM ET
It was all football all the time for quarterback Tajh Boyd during his senior season at Clemson and he says that approach was invaluable.
Boyd needed just one class to graduate and he took an online strength and conditioning course during the fall semester. That allowed him to be at the Tigers' football facility as much as he wanted. He sat in on offensive line and receiver meetings. He sat in on staff meetings. He watched an endless amount of film.
"I just felt like I advanced my game mentally," he said.
The Florida Times-Union's Ryan O'Halloran writes that the
extra work certainly paid off
because the Tigers went 11-2 and beat Ohio State in the Discover Orange Bowl. Boyd is taking the same approach to this week's Senior Bowl and he hopes the payoff is to raise his draft stock.
Here are some additional pieces of Jaguars-related content in our daily Reading the Coverage feature:
Scouts Inc. takes a look at
several players who stood out

in one particular area and gives team fits for each. The Jaguars are a good fit for cornerback Keith McGill.
Here are my
observations from Tuesday's South team practice
.
CBSSports.com's Bruce Feldman writes that this week is important for quarterback Logan Thomas to
prove he's better than his inconsistent play
over the past several seasons.
Quarterback Stephen Morris spent two seasons with Jaguars offensive coordinator Jedd Fisch at Miami and
credits Fisch with his development as a passer
, O'Halloran writes.
The T-U's Hays Carlyon
recaps NFL Network's broadcast of the South team practice
.
January, 20, 2014
1/20/14
7:10
PM ET
MOBILE, Ala. -- Here are 10 observations/thoughts from Monday's Senior Bowl practices and interviews:
1. Though there was only one period at the end of South team practice in which the entire offense faced off against the entire defense, Monday was a good day to evaluate the quarterbacks. It was mainly from a mental standpoint, Jaguars offensive coordinator Jedd Fisch said. The offense was put in Sunday night and Monday was the first chance to see how well the quarterbacks transferred it from the meeting room to the field. Fisch said he was pleased with the way
Jimmy Garoppolo
(Eastern Illinois),
Derek Carr
(Fresno State) and
David Fales
(San Jose State) handled that. There were mistakes and issues, but all the quarterbacks did a solid job.
2. There isn't a lot of size among the quarterbacks for either team, with the exception of
Logan Thomas
(Virginia Tech), who measured in at an impressive 6-5 5/8 and 250 pounds. Fales (6-1) and Carr (6-2) were both listed at 6-3 on the pre-measurement roster.
[+] Enlarge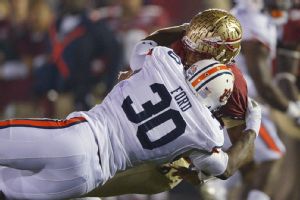 AP Photo/Mark J. TerrillDee Ford, who had 2 sacks in the national title game against Florida State and 10.5 sacks for the season, impressed on Monday at Senior Bowl practices.
3. Maybe it's my SEC background (I covered Florida and the league for 13 seasons), but defensive ends
Dee Ford
(Auburn) and
Chris Smith
(Arkansas) were noticeably quicker than the other defensive linemen. It really showed during one-on-one pass-rush drills. Offensive tackles
Joel Bitonio
(Nevada),
Wesley Johnson
(Vanderbilt),
Ja'Wuan James
(Tennessee),
Morgan Moses
(Virginia) and
Billy Turner
(North Dakota State) really struggled with those two players on the edge. Turner had a particularly hard time, which is partly to be expected because of the step up in competition. However, it was a bit surprising to see Johnson, James and Moses have issues. The layoff is partly to blame.
4. Ford had 10.5 sacks, including two in the national title game against Florida State, and was consistently beating the tackles around the edge. It'll be interesting to see how he handles coverage responsibilities. He's not really big enough to play a down end (6-2 1/4, 243 pounds) so he'd likely fit in the Jaguars' scheme as a leo.
5.
Jon Halapio
(Florida) had a rough start in one-on-one run-blocking drills -- defensive tackle
Will Sutton
(Arizona State) threw him aside pretty easily -- but he rebounded to have a solid performance in the pass-rushing drills. He handled Sutton and tackle
Deandre Coleman
(California) in pass-rush drills.
6. From the Don't Read Too Much Into This Department: Jaguars GM
David Caldwell
wandered over to watch some of the one-on-one run-blocking drills and stood next to end
Ed Stinson
for a while. The two appeared to be chatting while Stinson was sitting out some drills. Stinson weighed in at 292 pounds so he'd be a better fit for the spot that
Tyson Alualu
plays. The Jaguars were satisfied with the way Alualu played the run last season but they'd like more pass-rush production out that spot.
7. Here's a name to keep an eye on as the draft rolls into the later rounds: defensive tackle
Caraun Reid
(Princeton). He had a really strong day in run-blocking and pass-rushing drills. He moves very well for his size (6-2 1/8, 301 pounds) and showed good strength and quickness. He tossed guard
Gabe Jackson
(Mississippi State) aside and got underneath center
Bryan Stork
(Florida State) and drove him back.
8. Another small-school player that caught my eye was running back Lorenzo Taliaferro (Coastal Carolina), mainly because he's the biggest running back participating this week (6-0, 231 pounds). He had a couple nice runs during the short 11-on-11 period. He ran for 1,742 yards and 27 touchdowns and averaged 6.3 yards per carry last season. He has lost only 20 yards in 356 career carries.
9. Receiver
Jordan Matthews
(Vanderbilt) made a nice catch with a DB all over him during 11-on-11. Matthews (6-2, 209 pounds) is a physical player who caught 201 passes the past two seasons. He has good hands, knows how to use his body, and will make the tough catch. He doesn't have top-end speed, but he'll be one of the first several receivers drafted.
10. I wasn't that impressed with fullback
Jay Prosch
(Auburn), who struggled whenever he had to block an end or on the edge. Granted, there were only a few live periods but he seemed to be much better whenever he had to take on an inside linebacker.
January, 20, 2014
1/20/14
12:15
PM ET
MOBILE, Ala. -- Here's a breakdown of some measurements from some key players and position groups from today's weigh-in at the Reese's Senior Bowl:
Quarterbacks
Tajh Boyd
(Clemson): 6-0 3/4, 222 pounds
Derek Carr
(Fresno State): 6-2 1/8, 215 pounds
David Fales
(San Jose State): 6-1 3/8, 220 pounds
Jimmy Garoppolo
(Eastern Illinois): 6-2 1/4, 219 pounds
Aaron Murray (Georgia): 6-0 3/8, 201 pounds
Stephen Morris (Miami): 6-1 3/4, 208 pounds
Logan Thomas (Virginia Tech): 6-5 3/4, 250 pounds
Note
: Murray is not participating in the game because of an ACL injury but he is participating in meetings with the South team and will interview with NFL teams this week.
Defensive ends
Will Clarke (West Virginia): 6-6 1/8, 271 pounds
James Gayle
(Virginia Tech): 6-3 5/8, 255 pounds
Kareem Martin
(North Carolina): 6-5 7/8, 272 pounds
Trent Murphy
(Stanford): 6-5 3/8, 252 pounds
Ed Stinson
(Alabama): 6-3 1/8, 292 pounds
Brent Urban
(Virginia): 6-6 3/4, 298 pounds
Superlatives
Tallest player
: DT
Dan McCullers
(Tennessee) and OT
Seantrel Henderson
(Miami), 6-6 7/8
Shortest player
: WR
Solomon Patton
(Florida), 5-8 1/2
Heaviest player
: Dan McCullers, 348 pounds
Lightest player
: WR
Jalen Saunders
(Oklahoma), 164 pounds
January, 17, 2014
1/17/14
2:45
PM ET
JACKSONVILLE, Fla. -- The Jaguars are looking for a quarterback and will have a chance to get a close look at six next week in preparation for the Reese's Senior Bowl.
Derek Carr
,
David Fales
and
Jimmy Garoppolo
are on the South team, which the Jaguars will coach. So those three will be scrutinized more than the other three, but the Jaguars are going to get a chance to scout them all.
Here's an educated guess on how they rank in terms of Jaguars interest:
[+] Enlarge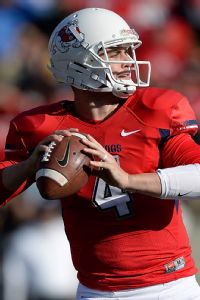 Thearon W. Henderson/Getty ImagesFresno State's Derek Carr has the size and passing yards that scouts like.
Derek Carr (Fresno State):
He was once regarded as a first-round pick but his stock has fallen in the wake of a poor performance against USC in the Royal Purple Las Vegas Bowl: 29-for-54, 216 yards, two touchdowns, one interception. Still, he led FBS in passing yards (5,082) and touchdown passes (50) and has the size (6-foot-3, 218) that scouts like. He played in a spread offense so there are questions about his ability to function in a pro offense and whether he can read defenses.
Tajh Boyd (Clemson):
He finished his career with a bang, completing 31 of 40 passes for 378 yards and five touchdowns with two interceptions in the Tigers' 40-35 victory over Ohio State in the Discover Orange Bowl. He's a little shorter than the ideal QB height (6-1) but he has the ability to scramble out of trouble and run with the ball (1,163 yards and 26 TDs rushing). Sometimes he's too quick to run, though, instead of trying to find a second or third option.
David Fales (San Jose State):
Fales and Carr each threw for 300 or more yards nine times and Fales finished third in FBS with 4,189 yards. He has a quick release and has shown that he will look for his second and third options if his primary receiver is covered. He's a little raw, though, and probably isn't going to be a quarterback who can play right away. He may need a season or two.
Stephen Morris (Miami):
The Jaguars are likely more familiar with Morris than any other quarterback because offensive coordinator Jedd Fisch was with Morris at Miami for two seasons. There's a lot to like about him. He's 6-2 and 218 pounds with a strong arm. He's tough, athletic, and can make all the throws. However, he has been inconsistent throughout his career, especially when he plays against some of the weaker teams that he and the Canes should dominate. He also makes too many of those what-the-heck decisions that drive coaches crazy.
Jimmy Garoppolo (Eastern Illinois):
He was added to the South roster as a replacement for A.J. McCarron and is coming off a week of practices before the East-West Shrine game in which he drew a lot of praise. He has been productive (5,050 yards and 53 TD passes this season) but he did it at the FCS level so there are questions about whether he can do it against a higher level of competition. The buzz about him at Shrine game practices centered on his accuracy, arm strength, and quick release.
Logan Thomas (Virginia Tech):
His size (6-6, 254 pounds), athleticism and arm strength have scouts drooling and comparing him to
Cam Newton
physically. His production doesn't match his talent, though. He has completed only 55.5 percent of his passes in his career and has thrown 53 touchdown passes and 39 interceptions. He's a project, but the payoff could be high if he finally figures things out.
January, 16, 2014
1/16/14
4:00
PM ET
Got questions about the Jaguars? I'll try to answer a representative selection of them every Thursday. Submit your questions via Twitter to @ESPNdirocco.
.
January, 2, 2014
1/02/14
5:15
PM ET
JACKSONVILLE, Fla. -- As expected, the
Jacksonville Jaguars
were announced as one of the two teams that will coach in the Reese's Senior Bowl later this month.
Head coach Gus Bradley and the staff will coach the South team while Atlanta head coach Mike Smith and his staff will coach the North team. The game will be played Jan. 25 at Ladd Peebles Stadium in Mobile, Ala.
This should be a huge benefit for the Jaguars (4-12), who have the No. 3 overall pick. Getting a firsthand look at some of the country's top senior talent, as well as getting hands-on coaching experience with them, is valuable additional information that should give the Jaguars and Falcons a leg up over other teams.
"I think it's awesome," Bradley said. "I think it's a great opportunity. I did it one year and was part of it when we did it in Tampa and I think it's great.
"It's a great evaluation tool. It's maybe better for us as coaches instead of sitting in our rooms watching tape over and over again. We can evaluate all aspects of the game. I don't want to make a habit of it but as long as we have this opportunity we need to take advantage of it."
Coaching in the game should provide valuable insight into how each player handles himself in the locker room and meeting room and how well they handle being pushed at practice. The game plans will be stripped down and simplified, but it will still give the coaching staff a chance to see how quickly players can pick up and adjust to NFL concepts.
That's especially important for the quarterbacks, which is the Jaguars' most pressing need. Rosters won't be released until mid-January but so far six quarterbacks have accepted invitations to play in the game: Clemson's
Tajh Boyd
, Fresno State's
Derek Carr
, San Jose State's
David Fales
, Miami's
Stephen Morris
, Virginia Tech's
Logan Thomas
and Georgia's
Aaron Murray
. Murray will not play because of a torn ACL.
The Jaguars' No. 2 need is pass-rusher and so far eight defensive ends have accepted invites: Georgia Tech's
Jeremiah Attaochu
, Auburn's
Dee Ford
, Virginia Tech's
James Gayle
, North Carolina's
Kareem Martin
, Missouri's Michael Sams, Arkansas' Chris Smith, Louisville's Marcus Smith, and Virginia's
Brent Urban
.
This is Bradley's second chance to coach the Senior Bowl -- he was part of a Tampa Bay staff that coached in the Senior Bowl in 2006 -- and he's hoping the Jaguars do a better job of capitalizing on the opportunity than the Bucs did. Their No. 1 pick, Oklahoma guard
Davin Joseph
, developed into a Pro Bowler and second-round pick
Jeremy Trueblood
just finished his eighth season (he's now with Atlanta).
Quarterback
Bruce Gradkowski
, whom the Bucs took in the sixth round, has been a backup for five teams. The other seven draft picks lasted three or fewer seasons.
This is the second time the Jaguars have coached in the game. Jack Del Rio and his staff coached in the game in 2009. Six of the nine players the team drafted that year are still active -- all with other teams. First-round pick
Eugene Monroe
was the lone remaining player from the Jaguars' draft on the roster this season until he was traded to Baltimore a month into the season.
Offensive tackle
Eben Britton
(Chicago), defensive tackle
Terrance Knighton
(Denver), cornerback
Derek Cox
(San Diego), receiver
Tiquan Underwood
(Tampa Bay) and running back
Rashad Jennings
(Oakland) are also still active.
Receivers Jarett Dillard and Mike Thomas and tight end Zach Miller are out of the league.
December, 19, 2013
12/19/13
1:15
PM ET
JACKSONVILLE, Fla. -- The Jaguars need a quarterback.
They also need a pass-rushing defensive end or outside linebacker.
The question in May's draft will be which one they should grab first.
[+] Enlarge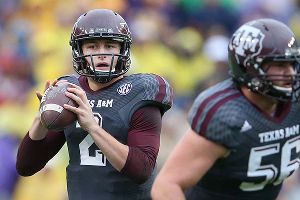 Crystal LoGiudice/USA TODAY SportsIf you believe you can build around a quarterback such as Texas A&M's Johnny Manziel, you grab him. Right?
Six weeks ago there wasn't a question the Jaguars would be taking a quarterback with their first-round draft pick. But that was when they were winless and held the No. 1 overall pick. And it was also before two of the top college quarterbacks decided they were going to return to school in 2014.
Now, things aren't so clear.
The Jaguars currently sit at No. 4 in the draft order and have two winnable games remaining, which means they could be picking in the 5-7 range. That would most likely not allow general manager
David Caldwell
and coach Gus Bradley to have their pick of the quarterbacks that are available.
Depending on their draft board and what happens ahead of them (a trade?), they may not even be able to get their No. 2 choice. Would taking the pass rusher they desperately need and picking up a quarterback in the second or third round make more sense in that scenario?
This debate is going to go on for months, especially after the Jan. 15 deadline for underclassmen to declare and there's a set list of quarterbacks that will be available. Here's a quick argument for each, with the caveat that Louisville's
Teddy Bridgewater
, UCLA's
Brett Hundley
, Texas A&M's
Johnny Manziel
and UCF's
Blake Bortles
decide to declare for the draft as most expect:
Take the QB
This isn't a secret, but the NFL is all about the quarterback. Elite teams have great quarterbacks. All you have to do is look at the teams in the hunt for the playoffs. For the most part, they all have very good quarterbacks, and the teams that don't are going to be early exits.
It's imperative the Jaguars find a franchise quarterback. While this class doesn't have the sure-fire star like
Andrew Luck
it is a relatively deep class, and there are several quarterbacks who have the pre-draft look of a franchise QB: Bridgewater, Manziel, Bortles, Hundley, and Fresno State's
Derek Carr
. Any one of those has the potential to develop into the quarterback around which the franchise can be built.
That's pretty much the golden rule of the NFL now. If you can get what you believe will be a franchise quarterback, you grab him. No questions asked. Everything else is secondary to finding that guy.
So, take the quarterback.
Take the pass rusher
Remember that line about the depth of this quarterback class? That means you should be able to find a quarterback in the second or third round. There are plenty from which to choose: Alabama's A.J. McCarron, LSU's
Zach Mettenberger
, Georgia's
Aaron Murray
, Virginia Tech's
Logan Thomas
and Miami's
Stephen Morris
, for example.
[+] Enlarge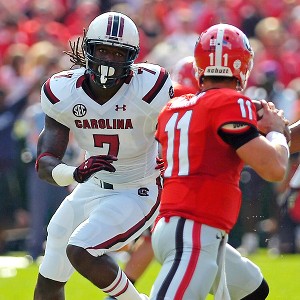 AP Photo/Mike StewartWith such a deep quarterback class in this year's draft, it may benefit the Jaguars to chose an elite defender first such as South Carolina's Jadeveon Clowney.
Are they as highly rated as Bridgewater, Bortles or Manziel? No, but that doesn't mean they won't be better players.
Colin Kaepernick
was a second-round pick. So was
Drew Brees
.
Russell Wilson
was a third-round pick.
Tom Brady
a sixth.
Tony Romo
went undrafted. They seem to be doing pretty well.
The NFL is all about the quarterback, which also means finding a way to stop great QBs. You do that by pressuring them over and over again. That's why teams need elite pass rushers and the Jaguars have a chance to get one of the most gifted ones we've seen in a long time.
Remember
Jadeveon Clowney
? The guy people said would have been the No. 1 overall pick last year had he been able to come out? The player some experts said shouldn't even play in 2013 because he'd be risking too much? He could still be available when it's the Jaguars' turn to pick. Can't pass him up.
Or UCLA's
Anthony Barr
and Buffalo's
Khalil Mack
. All have the ability to become double-digit sack machines.
So, take the pass rusher, then the quarterback.