Jacksonville Jaguars:

Marshawn Lynch
April, 28, 2014
Apr 28
2:45
PM ET
Which player should the Jacksonville Jaguars take with the No. 3 pick in the NFL draft? That's a question that general manager David Caldwell and head coach Gus Bradley are trying to answer before the first round on May 8. Not that they're asking, but I'm here to offer some help. Every day until the first round I'll argue for a certain player. We're going to go with the caveat that each of the players are available when the Jaguars make their selection.
We'll start with defensive end Jadeveon Clowney. Tuesday will be linebacker Khalil Mack.
JACKSONVILLE, Fla. -- The best argument for the Jaguars to draft defensive end Clowney came on Feb. 2, 2014.
Russell Wilson
played well.
Marshawn Lynch
was effective.
Percy Harvin
delivered the knockout blow. But the reason the
Seattle Seahawks
won the Super Bowl was its pass rush. They sacked
Peyton Manning
only once but they were in his face all day. They disrupted the rhythm of a record-setting offense and the
Denver Broncos
could only manage eight points.
If quarterback is the most important building block, then finding someone who can disrupt the quarterback is 1A. There is no better pass-rusher in the draft than Clowney.
There may not have been a better pass rusher in any of the past 10-15 drafts, either.
Clowney is 6-foot-5, 266 pounds and he ran an official 4.53 second 40-yard dash at the NFL combine. More impressive was the fact that he covered the first 10 yards in 1.56 seconds. That's a faster burst than running backs
Montee Ball
and
Zac Stacy
had in 2013.
It's another example of Clowney's explosiveness and athleticism, which is off the charts for someone of his size. He's got long arms (83-inch wingspan) and his vertical jump of 37 ½ inches was a half-inch higher than
Mike Evans
and more than 3 inches higher than
Sammy Watkins
. So you can make the argument that he's the best pure athlete in the draft regardless of position.
Forget the questions about Clowney's work ethic. We, the media, are more to blame for that criticism. In the days after the 2012 college football season ended, there were countless columns and stories and experts saying that Clowney should sit out the 2013 season so he wouldn't risk his status as the No. 1 pick in the 2014 draft. That went on for months. Clowney only turned 21 in February. How many 20-year-olds would not have been impacted by reading that he was potentially jeopardizing millions of dollars by playing -- especially after seeing South Carolina teammate
Marcus Lattimore
rip up his knee twice and end up becoming a fourth-round pick?
Clowney has the potential to be a double-digit sack guy immediately and it may only take him a year or two to become one of the league's best pass-rushers.
And if he doesn't work hard consistently? Well, the Jaguars have already proved they can fix that. Second-year defensive end
Andre Branch
looked like a bust because of the same issue, but Bradley, defensive line coach Todd Wash, and defensive coordinator Bob Babich worked with him and got him to give consistent effort. The result was five of his six sacks last in the last seven games.
The Jaguars certainly need to get more pressure on the quarterback. They've been last in sacks in each of the past two seasons (20 in 2012 and 31 in 2013) and haven't had a player with double digit sacks since
Bobby McCray
had 10 in 2006.
Another reason to take Clowney:
Andrew Luck
. To win the AFC South the Jaguars are going to have to beat the
Indianapolis Colts
. Sending one of the league's top pass-rushers after him twice a year would certainly make things tough for Luck.
Ask Manning.
January, 22, 2014
Jan 22
11:00
AM ET
A large portion of the 320 players that participated in an NFL Nation confidential survey about which non-teammate they'd like to see play in a Super Bowl didn't get their wish.

Three Jaguars players did, though.
Minnesota's
Adrian Peterson
topped the survey with 59 votes, narrowly edging out Atlanta's
Tony Gonzalez
(56 votes), who retired last month after 17 years in the NFL.
Obviously neither was able to make to the Super Bowl this year, but three of the players named by the 10 Jaguars players polled did: Denver's
Terrance Knighton
and
Demaryius Thomas
and Seattle's
Marshawn Lynch
. It's not a surprise that someone named Knighton because he was the Jaguars' third-round pick in 2009 and one of the most well-liked players in the locker room during his four seasons in Jacksonville.
The interesting thing about the Jaguars' responses was that no player was named more than once. In addition to Knighton, Thomas and Lynch, seven other players were named:
Jake Long
,
Brandon Carr
,
Julio Jones
,
Matt Ryan
,
Andrew Luck
, Peterson and
Michael Vick
.
January, 16, 2014
Jan 16
10:00
AM ET
JACKSONVILLE, Fla. -- Maybe it's because the Jaguars used to face
Peyton Manning
twice a year, but he was the overwhelming favorite as the NFL's most respected player among the 10 Jaguars players who participated in an NFL Nation confidential survey.
Five players voted for Manning, now with the
Denver Broncos
, and New England's
Tom Brady
was the only other player to receive multiple votes (two). Seattle's
Marshawn Lynch
, Arizona's
Larry Fitzgerald
and Houston's
Greg Jones
also received votes.
That Jones received a vote wasn't a surprise since he spent the first nine seasons of his career in Jacksonville before choosing to sign with the Texans after the 2012 season. Jones was one of the Jaguars' most respected players.
Manning also was the overwhelming favorite in the survey of 320 players as well, earning 26.8 percent of the vote (86 votes). Brady and Minnesota's
Adrian Peterson
were the closest players, with each earning 7.5 percent of the vote (24 votes).
September, 23, 2013
9/23/13
2:00
PM ET
A review of four hot issues from the
Jacksonville Jaguars
' 45-17 loss to the
Seattle Seahawks
:
First-down woes:
The Jaguars continue to struggle on first down. Of the 27 first-down plays the Jaguars had against Seattle, they had negative yardage or no gain on 17 of them. The offense does not have the kind of playmakers, especially when the offensive line is struggling, to overcome that. It's not because the Jaguars weren't aggressive, though.
Chad Henne
threw 17 passes on first down, but he completed only seven. He did throw for 121 yards, but nearly half of that came on one play (a 59-yard catch-and-run by
Cecil Shorts
). Here's a startling stat: Through three games, the Jaguars have 18 three-and-outs on 41 possessions (44 percent).
[+] Enlarge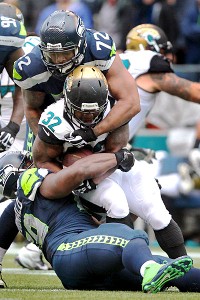 Tony Overman/The OlympianSeattle free-agent defensive linemen Michael Bennett, No. 72, and Clinton McDonald are likely to get hefty contract offers this offseason.
Ineffective ground game:
Jaguars coach Gus Bradley said the team will examine whether switching from a zone blocking scheme to a man or gap blocking scheme is warranted. Something has to be done to fix the paltry production. The Jaguars rushed for 51 yards against Seattle, including just 20 (on 12 carries) in the first half. Jones-Drew had just 17 yards on nine carries in the first half. He had 8 on one carry, meaning he averaged 1.1 yards on his other eight carries. The Jaguars ran more gap blocking schemes in the second half, and things were slightly better (31 yards on 12 carries), but they had to throw the ball because they were behind. The lack of production in the ground game is killing the offense, and it has been that way all season.
Brad Meester
,
Uche Nwaneri
and
Will Rackley
aren't getting consistent push off the ball or enough movement to create holes or creases for the backs.
Tight end damage:
Seattle tight ends
Zach Miller
,
Luke Willson
and
Kellen Davis
combined to catch nine passes for 112 yards and two touchdowns on Sunday. Up until then, the Jaguars had done a solid job of limiting the damage done by the position (five catches for 40 yards in two games). Play-action hurt the Jaguars on Sunday. For example, safety
Chris Prosinski
got caught looking in the backfield on Miller's 1-yard touchdown catch because of
Russell Wilson
's play fake to
Marshawn Lynch
. Miller cut-blocked defensive end
Tyson Alualu
, then popped up and was wide-open in the end zone for an easy catch.
More Denard:
The Jaguars tried to get
Denard Robinson
more work on Sunday by having him return kicks. He was solid, averaging 27.0 yards on two returns -- but he also nearly had a disaster by starting to take the ball out of the end zone but taking a knee just behind the goal line. The team is in desperate need of playmakers, so it was a good idea to try to take advantage of Robinson's open-field ability. That might be the best way to use him because the Wildcat formation is not working. Robinson fumbled an exchange and had minus-2 yards on his other carry.
September, 20, 2013
9/20/13
2:30
PM ET
Looking for some help with your fantasy football lineup? Every Friday I'll give you my opinions on which
Jacksonville Jaguars
to play and sit, as well as which of the opposing players might be a good play against the Jags. For more fantasy football advice, check out ESPN.com's
fantasy football
page.
Jaguars
QB Chad Henne:
Henne threw for 241 yards and a touchdown last week, but the bulk of that came in the fourth quarter when the game was decided. That's irrelevant in terms of fantasy football, but it's something to keep in mind whenever playing a Jaguars quarterback. They'll likely be in the situation of needing to throw a lot after falling behind.
Verdict:
Playing Seattle's defense is a bad matchup for any quarterback. Sit him.
RB Maurice Jones-Drew:
The swelling from the left ankle injury he suffered against Oakland kept him out of practice all week. Even if he's cleared to play, just how effective can he be? Can he handle 20 carries? Expect more
Jordan Todman
,
Denard Robinson
and
Justin Forsett
even if Jones-Drew does play.
Verdict:
He's too risky to start.
WR Cecil Shorts:
He has been targeted 25 times in two games and has 11 catches for 133 yards. He is clearly the Jaguars' top weapon in the passing game, but he's going up against what is regarded as the league's top secondary. The corners are big and physical, too.
Verdict:
It's not a good matchup. Only play him if you need a No. 3 or 4 receiver in deeper leagues. Otherwise, sit him.
TE Marcedes Lewis:
It looks like Lewis will be on the field for the first time this season and that's good news for an offense desperate for playmakers. But will he be rusty? And how much of a difference will he really make.
Verdict:
Sit him for another week just to see how he does in his return.
K Josh Scobee:
He has attempted just one field goal and the Jaguars attempted a two-point conversion after their only TD.
Verdict:
Until the offense shows some evidence of being able to consistently move the ball, Scobee needs to stay on the bench.
Defense/special teams:
The Jaguars are last in the NFL in rushing defense. They're facing one of the league's top backs, who has touched the ball 50 times in two games. Still waiting for a big play in the return game.
Verdict:
Sit 'em.
Seahawks
QB Russell Wilson:
Wilson has gotten off to slow starts in each of his first two games, but he is still completing 63.5 percent of his passes and has thrown for 462 yards. He has only tossed two TD passes, though. The Jaguars have given up the second-fewest passing yards in the NFL through the first two weeks, but part of that is because they've given the up the most yards rushing.
Verdict:
Don't start him as your No. 1 quarterback, but he's a viable option for your No. 2 if your league allows you to play two QBs.
RB Marshawn Lynch:
Only three players have carried the ball more than Lynch (45 times). He has not yet busted off a big run, and he's only averaging 3.1 yards per carry. The Jaguars are struggling to stop the run, though, having given up 347 yards in the first two games.
Verdict:
Definitely start him.
WR Doug Baldwin:
Sidney Rice
should be the Seahawks' top receiver with
Percy Harvin
sidelined, but he has been battling knee problems for a while. Baldwin leads the team with eight catches, but seven came in the season opener.
Verdict:
You should have better options than Baldwin on your roster. Play him as a No. 3 receiver if you have to in deeper leagues.
WR Golden Tate:
Tate is healthy and has five catches for 70 yards. How much will the Seahawks throw the ball, though? If they're able to get a big lead and control the ball none of the receiver will get much work.
Verdict:
Same as Baldwin.
TE Zach Miller:
He has five receptions in two games and is a reliable target, especially in the red zone.
Verdict:
He's not a bad play if you missed out on the top 10 tight ends.
K Steven Hauschka:
He's a perfect 4-for-4 on field goal attempts, and he should get plenty of work.
Verdict:
Play him.
Defense/special teams:
The Seahawks lead the NFL in total defense and passing defense, and they're facing a Jaguars team that's last in the NFL in total offense and scoring and is still missing its top receiver.
Verdict:
There isn't a better defense to play this week.
September, 19, 2013
9/19/13
1:45
PM ET
SAN JOSE, Calif. -- The
Jacksonville Jaguars
know that to beat the Seattle Seahaks on Sunday at CenturyLink Field they're going to have to handle
Marshawn Lynch
,
Russell Wilson
, and the NFL's top defense.
And the crowd, too.
The fans that pack the Seahawks' stadium are the loudest in the world. That's not hyperbole, either. The crowd's noise registered 136.6 decibels during the second half of Seattle's victory over San Francisco last Sunday night. According to the team's official website, that broke the previous Guinness World Record of 131.7 decibels, which was set during a soccer match in Istanbul, Turkey, in 2011.
The Jaguars normally have music playing while they practice, but this week they're turning it up at the San Jose State University practice field to try and prepare for what will be the most hostile environment they'll likely face all season.
"It's just different," running back
Maurice Jones-Drew
said. "I think every team has crowd noise, depending on how the game goes will depend on how loud they get, if it's a good game or if you're winning or losing. Up there, it is a little bit different. The way the stadium is built, it's a little noisier."
Jaguars coach Gus Bradley is intimately familiar with the problem, only this time he's on the other side. He was the Seahawks' defensive coordinator the last four seasons and got the advantage of the crowd noise. Now he's got to figure out a way to handle it.
"They're a good crowd. They know when to yell and when to be quiet," Bradley said. "It is something that we have to address and make our players aware of especially last week with some of the false starts that we had in Oakland. It's going to be an even more difficult deal for us this week."
The record crowd of 68,338 actually set the record twice. Former Seahawks defensive lineman
Joe Tafoya
, who leads a group of fans called Volume 12, was recording the crowd on a decibel meter. It hit 131.9 in the first half and then 136.6 late in the third quarter. According to airportnoiselow.org , that's equivalent to the noise level found on an aircraft carrier deck.
The site also says a jet taking off 100 meters away would register 130 decibels. A sound at 150 decibels -- a jet taking off 25 meters away -- would result in instant eardrum rupture.
It's not going to be that bad for the Jaguars' offensive players, but it could be close.
"You do the best you can to prepare for it and you do have to try to simulate that element in practice but they've got a great crowd," guard
Uche Nwaneri
said. "I think the biggest way to solve that problem is stay on the field and score points, keep them out of the game so that they don't have such a big effect on our ability to communicate. It can be a factor if you let it, but we've got things set up with our game plan that will handle that noise if we've got to deal with it.
"The biggest key is being able to understand the concept of the plays and being able to communicate even if it's not so much verbally with your teammates on the field. You sometimes have to do a little bit of lip reading but this is part of the NFL. You have to deal with hostile crowds in away games."
Defensive players love it when they see the crowd noise bothering an offense. And it does have an effect, especially in Seattle. According to the team's official website, Seahawks opponents average 2.36 false start penalties per game at CenturyLink Field, and the
New York Giants
committed 11 in an overtime loss 2005.
But Jaguars cornerback
Alan Ball
isn't worried about how the offense will handle it on Sunday.
"When that momentum gets going and they start feeling themselves sand the crowd is there as the 12
th
man, I definitely see that is it can be an advantage if you use it right," he said. "But if you've got a team that's not worried about it -- like I'm sure our offense will be not worried about the noise -- go in and just execute like they're supposed to, it has no effect."
Even though the Jaguars are ramping up the volume of music at practice this week, it may not be enough to truly give the offense a glimpse of what it might be like on Sunday.
"Depends on how loud Gus wants to put it up," quarterback
Chad Henne
joked. "At times it can be just as loud, but you can never know what you're getting into. If it's third down or a key play in the game, they're going to definitely be into it and we have to adjust to it and do the best we can."
September, 17, 2013
9/17/13
2:30
PM ET
OAKLAND, Calif. -- The
Jacksonville Jaguars
stay on the West Coast to take on the
Seattle Seahawks
, who are fresh off an impressive pounding of the
San Francisco 49ers
.
This is a homecoming of sorts for Jaguars coach Gus Bradley, who spent the past four seasons as the Seahawks' defensive coordinator. He helped the Seattle defense rank in the top five in the NFL in eight statistical categories in his final two seasons.
The Seahawks are still thriving because of the physical defense that Bradley helped construct. They lead the NFL in total defense, passing defense and scoring defense. They've allowed only 10 points in two games.
Kickoff is set for 4:25 p.m. ET and the game will be televised on CBS.
Here's a look at the Seahawks:
Record:
2-0.
Last week:
Beat San Francisco 29-3.
Coach:
Pete Carroll, fourth season (26-23); eighth season overall (59-54).
Offensive coordinator:
Darrell Bevell.
Defensive coordinator:
Dan Quinn.
Series record:
Seahawks lead 4-2.
THREE PLAYERS TO KNOW ON OFFENSE
RB Marshawn Lynch:
Lynch is coming off the best season of his career (1,590 yards rushing) but so far hasn't been able to be as successful on the ground. He is averaging 3.1 yards per rush, although he has carried the ball 45 times in two games. He has scored three touchdowns (one receiving) and is the focal point of the offense.
Wilson
QB Russell Wilson:
Wilson has been efficient in his first two games, completing 63.5 percent of his passes for 462 yards and two touchdowns with one interception for a passer rating of 96.8. He has also rushed for two scores. He appears to be becoming more adept as a passer. He threw for a career-high 320 yards in Week 1 against Carolina.
WR Doug Baldwin:
Despite catching only one pass against San Francisco, Baldwin is the team's leading receiver with eight receptions for 142 yards. He's also averaging 17.8 yards per catch thanks to his only catch against the 49ers: a 51-yarder. His production will certainly go down once
Percy Harvin
returns from his hip injury, but for now he's the Seahawks' top target.
THREE PLAYERS TO KNOW ON DEFENSE
Sherman
CB Richard Sherman:
One of the staples of a Bradley defense is big cornerbacks, and Sherman certainly meets that requirement. He's 6-foot-3 and 195 pounds. But he can cover, too, as he showed Sunday night by helping shut down
Anquan Boldin
. He pairs with fellow corner
Brandon Browner
(who has missed the first two games with a hamstring injury but may return versus the Jaguars) to give the Seahawks two of the most physical corners in the NFL.
S Earl Thomas:
The unquestioned leader of the secondary is Thomas, who has started 50 consecutive regular-season games since being taken with the 14
th
pick in the 2010 draft. He has 10 interceptions and has averaged 75 tackles in his first three seasons. Plus, he's made back-to-back Pro Bowls and was named an All-Pro for the first time last season.
LB Bobby Wagner:
He was a second-round pick in 2012 who stepped right in and started 15 games as a rookie. He made 140 tackles, intercepted three passes and knocked down three passes. He's only 6-foot, but he weighs 241 pounds, which allows him to play the run as well as be effective in coverage.
ETC.
The Seahawks could be without starting left tackle
Russell Okung
, who suffered a toe injury during the first quarter of the San Francisco game. Carroll said Monday it's unlikely that he'll play. ... One option the Seahawks are considering, according to ESPN NFL Nation Seahawks reporter Terry Blount, is starting a rookie (
Alvin Bailey
and
Michael Bowie
) in Okung's spot at left tackle. Bowie is a seventh-round draft pick out of Northeastern State in Oklahoma and Bailey signed as an undrafted free agent out of Arkansas. Both players were inactive against the 49ers. ... Seattle is 2-0 at home against the Jaguars and has outscored the Jaguars 65-15. ... Wilson has gotten off to slow starts in the first two games, including going 0-for-6 against the 49ers. ... Defensive end
Cliff Avril
, the Seahawks' top defensive signee in the offseason, made his debut last week and recorded a sack and caused a fumble.